Fitness and Workout Myths: Introduction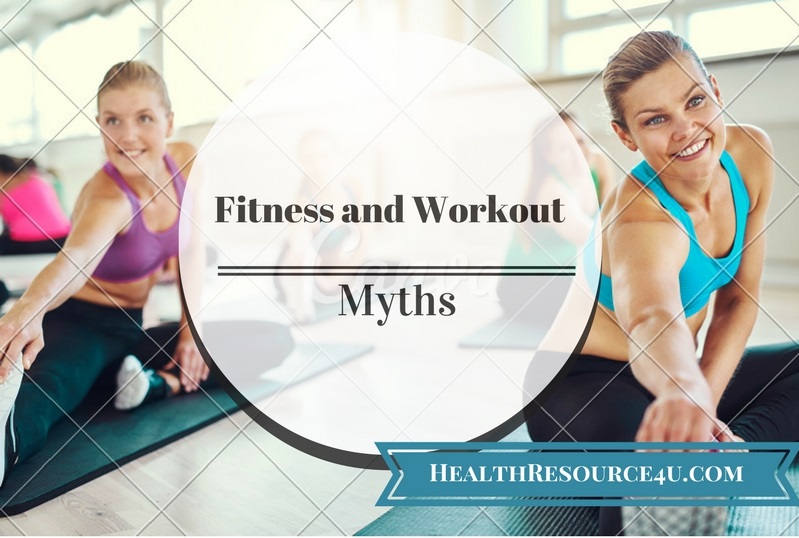 Keen to separate fact from fiction when it comes to fitness and workout myths? Then you have to read what follows to separate the truth from the lies when it comes to fitness and working out for women. A fitness journey can be a rough ride if you step in without mapping the groundwork. Check out these fitness and workout myths before you hit the gym– it could make a big difference to the outcome you attain.
Myth#1: Heavy People are Fat
When you commence with weight training, gaining weight is natural. Why is this so? Quite simply because there is stimulation of body to create lean muscles for boosting the metabolic rate. These muscles are also filled with water, so inflammation from weight training causes water retention. Some weeks of weight training may be followed by initial weight gain. However, don't panic because these are simply your new muscles which will help your body look lean and toned. When clothes fit looser, you may weigh more because muscle is dense but it takes up less area as against fat in the body. Small, muscular persons may, therefore, weigh more than larger people with greater body fat.
Myth#2 Veggies Don't Help in Muscle Building
For building the muscles, you need constant exercise, regulated calorific intake and a steady flow of nutrients for muscles to recover and grow. This is where veggies come in. Filled with complex carbs that are slow to digest, these are nutritional powerhouses with lesser calories. Enough veggies in combination with proteins can help you to gain muscles. Overeating is not a good idea, and you are loading up on fats to build muscles. With veggies, the plus point is you feel full and also lose out on unwanted weight gain. Without adequate calories, muscle building will be negatively impacted. So make sure you get enough nuts, dairy items and soy protein for a healthy body.
Myth #3 Women Cannot Build Muscles, They can Only Tone them
This is one of the biggest myths perpetuated by those with a lack of knowledge. The truth is that men and women build muscle in the same manner and toning and building involve the same process: hypertrophy. This is when muscles are stained by causing the fibers to grow larger. Resistance training stimulates the muscles. Men grow more muscles with a greater amount of testosterone, but that is the only difference. Reps for muscle growth range from 8-12. The whole point of a workout is to exert your body and add weight to your muscle store.
Myth#4 Long Breaks Will Cause Muscles To Become Fat
Muscles are created by increasing the exposure of the body to movement and growth through a workout. Muscle does not literally change into fat. However, it does slow down muscle growth with a slower metabolism. Accumulation of more fat causes muscle size to shrink.
Myth#5 You Cannot Be Ripped Throughout the Year
Ripped bodies are toned and you might have a hard time staying there if you do not exercise. Women have higher amount go body fat and this is why they are susceptible to muscle loss. Strategies are needed to replace what the body lacks. Carbs are the fuel for a challenging workout. All you need is discipline.
Myth#6 Carbs Are Bad For A Workout
If you want a muscled, lean and toned look, you need carbs. Burn more body fat during training by using carbs to fuel a challenging workout. Choose a diet plan based on your goals. Make sure you load up on protein if you have to ensure that your stamina does not falter. Small amounts of carbs are also needed to ensure brain functions optimally. The brain needs blood sugar to work. The body can be ketonic and turn from fatty acids to muscles, but the brain lacks this capacity.
Myth#7 Weight Training Can Make You Manly
If women lack muscles, it can be a major downer. We all have different body structures. Women may be straight or curvy depending on genetic factors. But the body image cannot make you less feminine. Attractiveness is subjective. Athletic women have a more than average basis of muscle mass associated with body mass. If you regulate diet along with exercise, weight training will not impact you in that way.
Myth#8: Train Hard and Use Fat Burners
For burning fat, calories have to be expended at a rate faster than the body. Heart rate rises with fat burners but this only aids in performance. Fat burners cannot make you thin.
Myth#9: Lose Fat By Avoiding Fat
Fats are needed to establish a healthy hormone level and check vitamins. Opt for muscle growth only if your body has healthy fats. Fat also helps to satiate the appetite and a carb cum protein diet will not work.
Myth#10 Don't Work The Upper Body
For a symmetrical look and to improve bone health, one should train the upper body. Women should be clear that the body will not benefit from the workout if upper body training is not carried out.
Myth#11 Only Do Cardio To Lose Weight
If weight loss is the goal, cardio along will not work. Weight training may not burn excessive calories, but the greater lean mass there is, the higher the rate of calorific expenditure will be and muscles require fuel all the time. This balances weight and ensures the loss of fatty accumulations on the body.
Myth#12 Metabolic Rate Slows Down After 30, So Don't Work Out
The reason the metabolic rate lessens is due to lower levels of hormone and fewer workouts. At any age, if you don't work out yet eat healthy food, you'll be out of shape. Untrained bodies are more apparent as age progresses.
Myth#13 Women Cannot Gain Muscle After 50
This is wrong. The fact is that you can build muscle at any age. Challenge your muscles and ensure they get proper nutrients and your body will react. Building muscles may be tougher as age advances, but it is possible.
Myth#14 Do Stomach Crunches to Get a 6 Pack
Flat bellies don't come from just stomach crunches alone. You need to be lean and if you eat too much, abs will be trapped below the body fat layer. Ab muscles are there for everyone- fat loss is essential to make the weight lessen and improve the toned look.
Myth#15 Max Heart Rate Matters
Everyone's max heart rate goes down with age. But research indicates that it lowers more slowly in women. More accurate heart rate estimations are needed. Calculations for heart rate need to take into account that present formulae overestimate the peak heart rate reached by women at an earlier age and vice versa.
Myth#16 You Peak in the Twenties
Studies have estimated that sprinters peak at their 20s but marathon runners can race well into the 40s. So, the fitness myth perpetuated that old age is a deterrent for effective workouts stands busted.
Myth#17 Running Destroys the Knees
Repetitive pounding is said to be the reason runner's knees get impacted. This is because when the foot strikes the ground, force 2-3 times the body weight goes through. Long distance running, however, actually exerts protection against joint degeneration. Runners take longer strides and have less contact with the ground. Strides are less in number though more impactful, meaning running and walking have the same impact on the knees.
Myth #18 Glucosamine Aids the Joints
Joints need glucosamine supplements– that is the biggest running and fitness myth. Research has found that glucosamine and its combination with chondroitin do not prevent osteoarthritis or protect the joint.
Myth#19 You Can Spot Reduce the Fat
Side bends and sit ups will not magically trim your waistline. Nor can sit-ups remove belly fat. A big stomach or flabby arms cannot be eliminated by trying spot fat reducing exercises. Posture, exercise, and diet are the only things needed for uniform weight loss and general toning of the body.
Conclusion
All sorts of fitness and workout myths are there from those saying training longer will not benefit you, or eating less will magically reduce weight. Diet is not a magic bullet for a fitter, healthier you. But it is an important part of your workout regimen. Similarly, exercise is the key to longevity only if it is consistent and regular, as well as correctly performed. A workout is effective if diet and exercise combine to create the perfect synergy. Time and again, research has proved age is just a number when it comes to fitness and workouts. Choose a comprehensive and holistic approach to workouts and fitness for a healthy body and a healthy mind and don't let age or gender bar you from challenging yourself to get the best results.