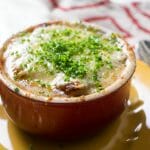 Print Recipe
Onion Soup
This is another easy recipe of onion that is easy to prepare and has amazing health benefits including weight loss effect. This is a very filling recipe and packed with nutrition. So you can consume it as your lunch or dinner menu to grab maximum possible benefit for your ultimate goal. This recipe tastes amazing and takes a few simple steps to prepare.
6

Large size red onions

peeled and chopped

3

Tomatoes

chopped

1

Cup

shredded cabbage

4

Cups

chicken or vegetable stock

Grated ginger root

2

Cloves

of minced garlic

1

Tsp

black pepper

2

Tsp

olive oil

Salt to taste

A handful of cilantro for garnishing
First, you need to peel the onion's skin and then chop them finely.

Place a soup pot on the gas stove and put olive oil in it. Add garlic and ginger in it and saute them for two minutes.

Now add chopped onions and vegetables in it. Stir and cook them for 30 seconds.

After that add chicken or vegetable stock whichever is available to you, black pepper, and salt as per your taste preference. Stir all the ingredients well and cover it.

Cook them for 15 minutes.

Your onion soup is now ready to serve. Transfer it in a soup bowl and enjoy its amazing taste along with grabbing its weight loss benefit.