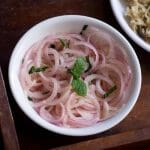 Print Recipe
Raw Onion
Eating a raw onion is the best way of grabbing weight loss and other health benefits. Onions contain phytonutrients that can be destroyed during the heating process. However, this can be kept intact if you consume onion raw without processing it anyway. This will ensure the best effect to reach your ultimate weight loss goal.
Toss the sliced red onion in a bowl.

Squeeze the lime juice on your onion slices.

Sprinkle the rock salt on it.

It is ready to eat. Consume them as a side dish in your lunch or dinner.

Enjoy its amazing taste along with ensuring its benefit for weight loss.