If you have rosacea, picking the right exfoliator for your skin can be a real challenge. People with rosacea are often suggested to keep their skin care routine simple and to make minimum use of exfoliators as that can aggravate the condition. However, using the Best Exfoliators for Rosacea in the right way can actually be helpful to control the problem. So, all the magic lies in choosing the right exfoliator that is mild enough for skin with rosacea.
Rosacea is a common skin condition amongst Americans but the interesting thing is that many of them do not even know it. Reddening of the skin near the nose and cheeks is the most common symptom of this condition. However, the symptoms vary widely from person to person.
To help you find the right exfoliator for your skin, here we have listed the Best Exfoliators for Rosacea. Read on,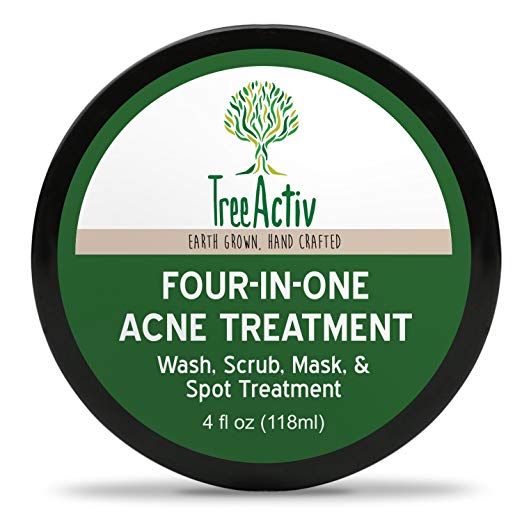 This product is not particularly formulated for rosacea but it is one of the best exfoliators that you can use if you have rosacea. This four-in-one acne treatment is actually a combination of different clay based mud which helps in removing the dead skin cells and unclogging the pores without causing any skin irritation or abrasion.
Rhassoul Clay, which is one of the major ingredients of this exfoliator, is rich with minerals and is a natural anti-microbial. Bentonite clay the other constituent of this acne treatment is ideal for eliminating toxins and impurities from the skin. It also has a natural calming effect on the skin that soothes any skin irritation or itchiness of rosacea.
Apart from these clays, the TreeActiv Four-in-One Acne Treatment also contains crystalized sugar, honey powder, grape fruit essential oil, lime essential oil and tea tree oil. These ingredients at one hand help in keeping pimple causing bacteria at bay and at the other help in nourishing the skin, leaving it soft and smooth.
You can buy this highly effective, one of the Best Exfoliators for Rosacea online from the next link,
This nourishing facial scrub has been formulated particularly for treating skin problems like rosacea, psoriasis, eczema and acne. It is gentle on the skin and removes the layer of dead cells through its fruit acid based formula. The Manuka honey present in its composition has natural skin clarifying and anti-microbial properties that helps in solving skin problems and leaves the skin with a natural glow.
This facial scrub exfoliator includes organic microbeads for scrubbing the skin gently and the 5.5 pH of the product ensures that your skin problem is not aggravated in anyway. The Organic Microdermabrasion Facial Scrub Exfoliator is completely free from fragrance, mineral oil, sulfate or petroleum which makes it suitable even for the most sensitive skin.
If you are looking out for an exfoliator that is particularly formulated to suit the needs of the skin with rosacea, the Organic Microdermabrasion Facial Scrub Exfoliator can surely fir your bill. You can buy this scrub exfoliator from the next link,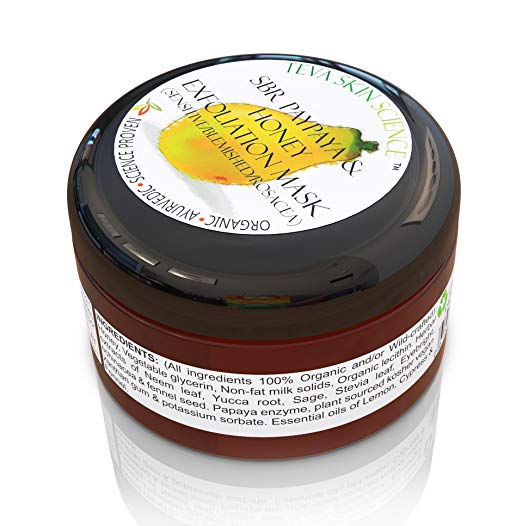 Again we have listed a skin exfoliator in the list of the Best Exfoliators for Rosacea which is not formulated particularly for treating rosacea. This organic mask based exfoliator is formulated with ingredients that promote gentle skin exfoliation without any scrubbing and hence is ideal for skin suffering with rosacea.
This product has been formulated with honey and enzymes of papaya which helps in exfoliating the skin naturally without being harsh on it. This Teva Skin Science Papaya and Honey Exfoliation Mask remove even the deep seated impurities from the skin and leave the skin brighter and clearer with even a single use.
Apart from being an ideal, no-scrub, exfoliator for sensitive skin with rosacea, this product also offers anti-aging benefits due to its Ayurveda based formula. This exfoliator helps in enhancing collagen synthesis in the skin which helps in improving the overall skin quality. Buy this amazing natural chemical-based exfoliator for rosacea from the below mentioned link,
Fruit enzyme based exfoliation is best for skin with rosacea. Mechanical scrubbing can be too harsh for sensitive skin and hence opting for natural enzyme based exfoliators like this one is ideal for rosacea. This Pumpkin Enzyme Peel By GreatFull Skin is enriched with natural enzymes and works more like a peel than a scrub.
This exfoliator is completely devoid of granular scrubbing particles. It is formulated with enzymes of pumpkin and pineapple which help in removing the dead skin cells without irritating the sensitive skin. It clears the skin pores and helps in getting rid of blackheads and acne. The product has been formulated without parabens, sulfates and phthalates to make it ideal for sensitive skin.
This no-chemical, no-scrub enzyme based exfoliator will also leave your skin healthy and glowing. This exfoliator is priced towards the higher end but is certainly one of the Best Exfoliators for Rosacea available in the market. You can grab this Pumpkin Enzyme Peel By GreatFull Skin right now from the next link,
Here comes another skin exfoliator that has been particularly formulated to meet with the needs of sensitive skin with rosacea. This natural rosacea treatment claims to offer deep cleansing and relief from inflammation and skin irritation from the first use. This exfoliator has a balanced pH and includes vitamins, minerals and amino acids that can be helpful to treat the rosacea affected skin gently.
This product combines herbal ingredients like Manuka honey, Aloe Vera, Shea butter, coconut oil, plumeria, hempseed and Olive oil which help in gentle skin exfoliation and also nourishes the skin leaving it soft and hydrated. This skin exfoliator has been formulated without any harsh chemicals, paraben, sulfate or fragrance to make it ideal for sensitive skin.
This product even comes with a 60 days money back guarantee if your rosacea condition is not improved after using it as directed. If you have tried different other treatments for your skin condition, it is time that you should give this Rosacea Treatment Scrub a try. You might buy this product from the below link,
This premium quality and expensive skin exfoliator has been formulated with ingredients that can particularly suit the needs of sensitive skin with acne or rosacea. This mask cum exfoliator has been formulated with real silver particles, which makes it anti-bacterial and also helps in healing rosacea. The pumpkin extract present in this exfoliator helps in dissolving the pore clogging dirt and dead cells helping in giving deep cleansing without irritating the skin in anyway.
Apart from giving complete exfoliation and cleansing effect, Revoderm Tightenup Pumpkin Face Mask & Exfoliator also improves the skin tone, texture as well as the elasticity of the skin. It offers notable anti-aging benefits to the skin leaving it hydrated and rejuvenated. This gentle formula also treats the problem of hyperpigmentation without any harsh effects on the skin.
Apart from silver and pumpkin enzymes, the formulation also includes Vitamin E and jojoba beads. You can buy this one of the most expensive exfoliators in the list of the Best Exfoliators for Rosacea from the following link,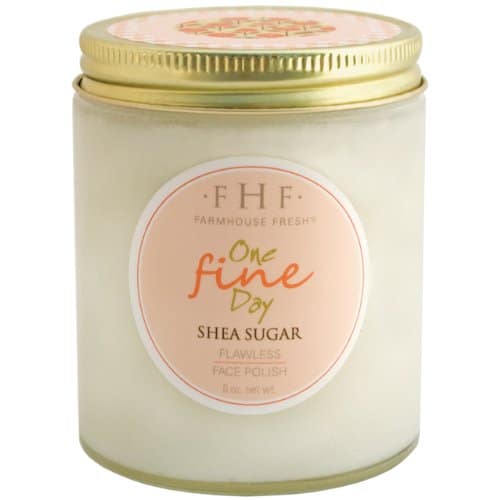 This sugar facial police enriched with shea butter have been reviewed by many users as one of the Best Exfoliators for Rosacea that comes in a reasonable price. This product has been formulated keeping the needs of dry and sensitive skin in mind. It gently exfoliates the skin, which makes it ideal for skin with rosacea. The product is free from gluten and has 96.5% natural ingredients that are nourishing and rejuvenating for the skin.
This One Fine Day Shea Sugar Facial Polish contains ingredients like beeswax, glycerin, grapefruit oil, lemon oil and grapefruit peel which helps in gentle exfoliation of the skin without irritating it. This facial polish comes with a mild scent and does not leave the skin dry or stretchy.
You can buy FarmHouse Fresh One Fine Day Shea Sugar Facial Polish from the next link,
Having informed you about the Best Exfoliators for Rosacea, now let us get to the question that you are most expected to already have in your mind, is exfoliation suitable for rosacea? Well, this is a question that every man or women with the problem needs to know. To understand the point better, first let us take a closer look to what is rosacea.
What is rosacea?
Rosacea is a chronic skin problem that can manifest in different ways in a person. Some people with rosacea experience facial redness and/or pimples or red bumps on the skin. Whereas, in some people rosacea manifest itself through thickening of the skin around the nose or through eye irritation. Now a person can have one or more of these symptoms and the symptoms can also vary from time to time.
Extreme oiliness or dryness of the skin, reddening and light inflammation on the face, extreme skin sensitivity with acne like red bumps, visibility of blood vessels on the cheeks and nose are some of the common symptoms of rosacea. Usually rosacea becomes evident in a person after 30 years of age. According to the latest reports, there is no exact cure for rosacea, so treating the symptoms is all that we can do. Researchers are not even sure about the exact reason of rosacea.
Is skin exfoliation suitable for rosacea?
If you have rosacea, using a normal mechanical skin scrub can actually add to the problem, making your skin even more irritated and inflamed. However, that does not mean that you cannot use an exfoliator. People with rosacea should use a skin exfoliator that is formulated particularly for sensitive skin and is devoid of harmful chemicals.
Natural and fruit enzyme based skin exfoliators are best suited for rosacea because these exfoliators remove the dead cells and cleanse the pores without any mechanical scrubbing action which can irritate the skin. Not exfoliating the skin at all does not help the condition in anyway; rather layers of dead skin cells and clogged pored can give rise to other skin issues along with rosacea.
So, if you have rosacea, instead of skipping exfoliation all together, pick the right exfoliator to match with the particular type and need of your skin. There are also skin exfoliators that can help in calming the irritated skin, helping in reducing the redness and inflammation caused due to rosacea. While it is utmost important for people with rosacea to chose only the Best Exfoliators for Rosacea, it is also vital to follow proper ways of skin exfoliation.
Some points to keep in mind while exfoliating skin with rosacea
If you have rosacea always make sure that you buy a gentle exfoliator only after going through its review. Skin with rosacea is highly sensitive and you just cannot afford to try out a product that can aggravate the condition. So, be careful about what you use on your skin.
Always opt for a patch test before you apply the product all over the face. Even a good quality product formulated for skin with rosacea might not suit your particular skin type. So it is best to first check it out through a spot test.
It is really important for people with rosacea to follow the right process while exfoliating the skin. While using a gentle bead based exfoliator, rub the exfoliator only for minimum time and wash off. For enzyme based exfoliators, leave the product on the skin only for minimum time as directed. Always Wash off the exfoliator with excess water.
People with rosacea should be careful about not over-exfoliating the skin as it will aggravate the condition. Use a suitable and gentle skin exfoliator only once a week or even less frequently, instead of using it on alternate days or thrice a week as other people do.