Mother's milk is the most precious and highly nutritious food for a newborn baby which no other external food can fulfill anyway. If you are the one who is blessed with the abundance of breast milk then at some or other point you will feel the necessity and importance of breast pump.
In this regard, our breast pump choosing tips will make your path easier while selecting out of multiple ranges of breast pumps available in the market. Each of these pumps is beneficial with their specific features and benefit for you as well as for your loving child.
However, you cannot pick any of them especially if it is concerned with the nursing and care of your little one. So this guiding article will surely make your confusion clear completely.
Whether you are a housewife or a working mother these breast pumps are equally important for all of you as to when you know its versatile features we are a hundred percent sure that you will not be able to say NO to this.
Out of those prior shopping lists that you do in preparation for the hearty welcome of your baby we hardly think about any such breast pumps need. It allows you the wings of freedom and assures the complete care for your little one.
You can easily express your milk at any point in time of the day or night whenever there will be overflowed milk to save those extra amounts of milk for further use. Once your pumping work is finished you can easily keep them in a hygienic container in the fridge or freezer for using this later on.
So when you will be out of your home either for your shopping purpose or to attain your job your baby won't have to compromise with your precious milk. Anyone can feed them in your place and your baby will get the same milk which is highly nutritious and irreplaceable.
Also even if you are at home and busy in certain work then someone else can easily feed this stored milk through a milk bottle to calm down the hunger of your baby. These breast pumps are very comfortable in usage and their benefits are no doubt amazing for every one of you.
So next time when you will be pregnant or even if you are pregnant now, don't forget to include this highly essential nursing product of your baby.
Breast Pump Types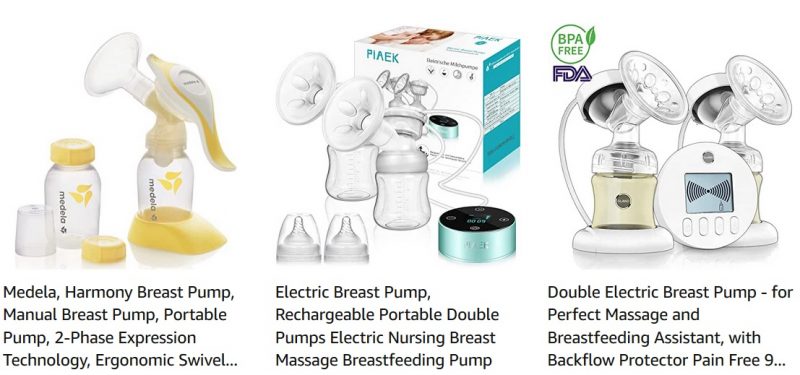 The breast pump is mainly of three types which you can easily avail either in a medical store or even through online shopping sites. All three types of breast pumps are described below:
Manual Breast Pump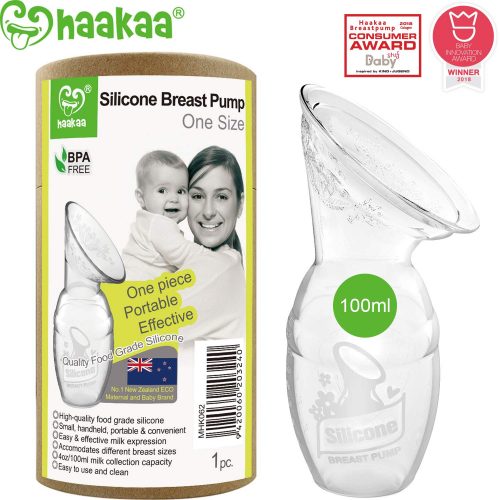 As its name suggests, the manual breast pumps are used and handled through your hands and it doesn't require any external electricity or power support to run this.
Your grip should be powerful to start and run the expressing process of your milk while using this type of breast pump. You need to move or press this pump handle continuously for expressing the milk.
This type of breast pump is designed for single mum pumping purposes only. The one hand is used to hold this breast pump to your breast's side and the other hand of yours used for operating it.
With a comparison to other types of breast pump that is an electric pump, it is much slower and time-consuming. It is best for mums who want to express their milk occasionally and even good for single mother usage.
Electric Breast Pump Retail Models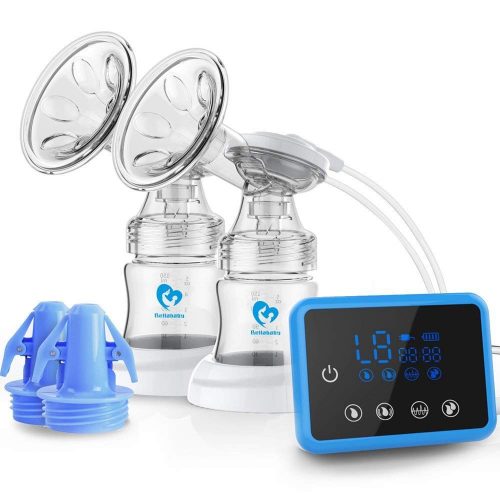 Electric breast pumps which one can easily avail in retail stores are specially designed for the single mum usage purpose. Here you will use the pump with the help of electric power. You only need to hold the breast shield over the breast and milk suction work gets done by the pump motor of this nursing device.
This type of breast pump can be used by plucking in the power board and even though the battery power which ensures easy mobility of this device for offering more comfort and suitability to the user.
The electric breast pumps are available in single or double pumping form. It is much faster and convenient than the manual breast pumps and even suitable for regular usage.
Electric Breast Pump Hospital Grade Models
The electric breast pumps of hospital grade models are the most perfect form of breast pumps for expressing milk. These types of breast pumps remain available in the hospital and can be hired on special requests.
One can only use this type of breast pump if it is recommended by the healthcare specialist or lactation consultants. This large-sized pump is designed for multiple users' facilities at the same time. It can be single or double pumping that depends on its particular design.
It can be easily and safely used by more than one mum at a time however each one of them needs to have their personal sterile pump kit. In the cases where you are hiring the hospital grade breast pump, you need to purchase a compatible sterile pump kit for using this.
How to Use
It is very crucial that you have a full grip and understanding regarding the usage procedure of your breast pump. The pumping should always be done before you go out of your home.  You must feed your baby once by own through the milk bottle so that your baby remains familiar with this and even when you will be out of your home they will not face any difficulty to have that stored milk.
Manual Breast Pump
You can use the manual form of breast pump easily by following the below-mentioned steps:
Wash your pump and its parts thoroughly along with your hands before using it.
Now place this breast shield over the nipple and areola. Make sure that the outer edge of the breast shield is touching your breast skin.
For starting the milk expressing process squeeze the handle or lever gently. You can even stimulate your motion for faster suction of milk.
Squeeze the handle or lever bit longer in order to collect sufficient milk out of one breast. By the -time the flow will reduce and then you need to repeat the same process on your other breast.
Once the milk collection is done make sure that you clean the parts of the breast pump thoroughly and let it dry fully before packing this so that it will remain readily available for the next time usage purpose.
Electric or Battery Breast Pump
You can use the electric or battery form of breast pump easily by following the below-mentioned steps:
Before using this type of breast pump make sure that this pump and its parts are thoroughly cleaned. Also, wash your hands thoroughly before handing the breast pump.
In case of a battery pump turn its button on and if it is an electric pump then plug its wire into the wall socket.
Now hold the breast shield over your breast or even you can attach this shield to your breast with the help of a nursing bra.
Most of the electric or battery pumps have control panels that are used for changing the suction level via a switch or dial. Initially set the suction level at the moderate level and stimulate later on depending on your baby's ability to suckle.
For collecting the milk for later use, stimulate the suction level to finish this task faster. Keep it continue until your breasts get drained totally for the time being.
Repeat the same steps over your next breast to collect milk out of it.
Once the pumping process is done then you require to clean all the parts of your breast pump thoroughly. Let it dry well and then store it in a safe place for further use.
Breast Pump Choosing Tips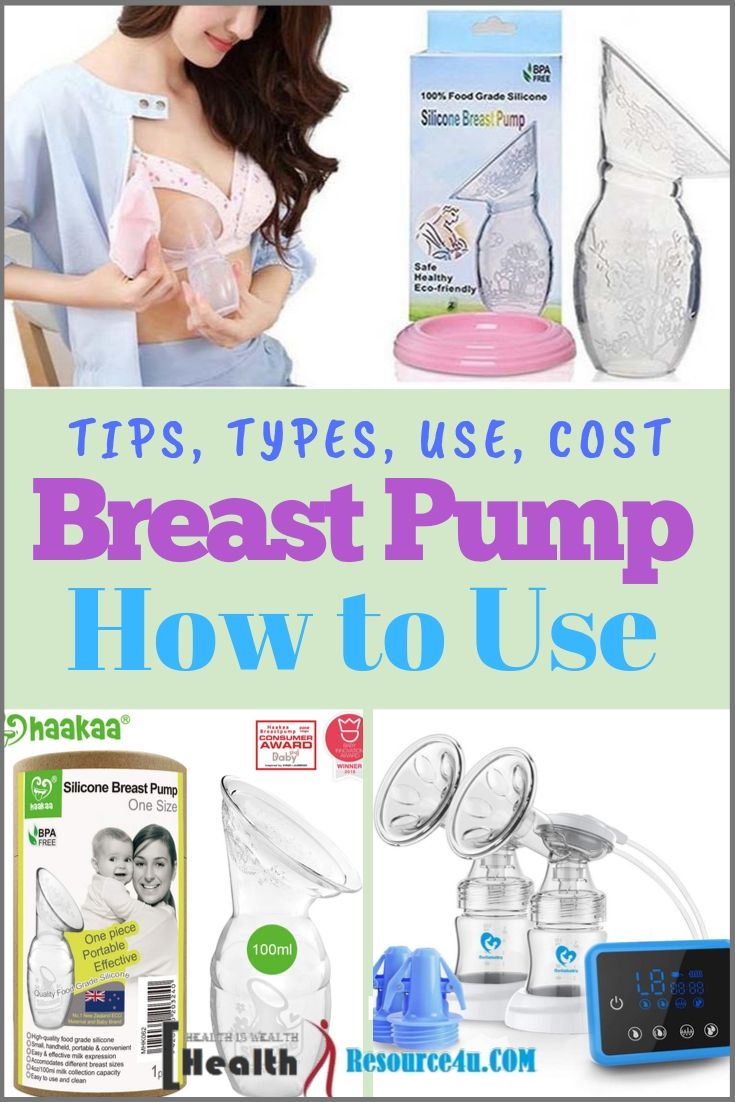 Choosing a breast pump is a very crucial decision as it is going to be used for your baby's nursing care so even a minor mistake is not allowed. Yes, it is true that every mum's condition is different and so is their need. However, you can consider the below-mentioned points as a vital one while selecting or picking a breast pump for your baby.
First Be Clear about your Requirement
Before taking a quick decision for purchasing a breast pump it is essential that you get fully clear about this new nursing device like why you need so. You can take the guidance of a lactation consultant who can make all your queries clear.
Then you will understand the worth of using such a pumping device. Also, they will determine how frequent you need to use this breast pump and how you should use them.
Apart from this a healthcare professional can assist you in selecting the right form of breast pump that suits perfectly in your individual conditions. Don't forget to follow up with your lactation consultant from time to time to understand whether your breast pump is working in a proper and expected way or not.
How Long You Are Going to Use Breast Pump
How many hours in a week you expect to do the pumping task is an important determining factor while purchasing a breast pump. If you are planning to pump occasionally then the manual pump is fine for you.
However, if you need to express your pump on a very frequent basis and you want a quick response then electric pumps are best for your need. You can also choose double electric breast pumps which will allow you to express your milk from both of your breasts at the same point in time. This will reduce your expressing time by half.
Consider Pros and Cons of Two Commonly available Pumps
You can compare all the pros and cons of two commonly available breast pumps in the market which are manual and electric pumps. This will help you to determine which one fits perfectly in your special requirement.
Manual pumps are cheaper by cost but they are time-consuming so best for occasional use. So if your breast doesn't contain an abundant amount of milk then this form of breast pump is suitable for you.
Electric pumps are of two type mains and in battery form. These types of breast pumps give speedy outcomes and are less lethargic with a comparison to a manual pump which needs your constant and active participation.
Yes, you need to pay more for purchasing the electric form of breast pump but it is best for regular and long term usage purposes.
Look for Available Cleaning Options
The breast pump brand that you are planning to buy contains its specific cleaning instructions that may or may not fit suitable in your case. So be very aware of different cleaning options available with different pump brands and pick the most perfect one for you.
Most of the breast pump parts can easily be kept apart and can be cleaned easily and their reassembling is also easy to handle. Usually washing with a dishwasher and then cleaning with hot water followed by drying out in the air is the normal procedure that most of the breast pumps manual comes with.
Apart from this common cleaning method, some other common ways of cleaning include hot water boiling, plug-in-sterilizer, microwave steam sterilizing, etc.
Remember that if you follow a wrong cleaning procedure then it can cause even damage to your pump so be very sure to follow the cleaning instructions.
Consider Your Nipple Size
It is very crucial that you consider your breast size before picking any breast pump randomly. Make sure that you use only the correct size breast shield or pump body as per your nipple size.
It is your breast shield that stimulates the right location so that milk expression work can be done easily and in good quantity. Under the condition of an unfit breast shield which is too large or too small or even a little bit unfit in your nipple size, it can cause an immense amount of discomfort and pain during milk expression.
Also, it will express very lesser with a comparison to a perfect fit and correct size breast shield as per your nipple size. Usually, most of the breast pumps come in a standard size which is mainly prepared for average-sized nipples. This may or may not fit in your breast leading to difficulty while expressing your milk.
So to avoid this issue it's better that you choose only those breast pumps which come with customized size breast shield feature. Some popular brands which offer this facility include Medela, Ameda, and ARDO which you can prefer to buy.
BPA Free
Make sure that the breast pump that you are planning to purchase is BPA free which you can easily know by going through its description. BPA or Bisphenol A is a harmful chemical that exists in a polycarbonate plastic. It has the ability to disturb the human hormone balance.
However, the good news is that most of the baby care products are BPA free so it ensures the safety purpose for your little one. Still, it is your primary duty to don't make any mistake by missing this essential point while planning to purchase a breast pump.
Also, make sure that all part of the breast pump is BPA free, not just any single part for getting the complete protection of your breast milk quality for your baby's care and health
Check for the Availability of Spare Parts
There are some breast pump brands whose spare parts don't remain available easily. So in such cases, if you lose or damage any of the parts of your pump your breast pump gets useless then, in the lack of the said pump parts.
So check with your retailer or pump brand that whether they offer spare parts or not. If they assure you about its easy availability in the case of need then and only you should plan to buy that particular brand's breast pump for milk expression.
After-Sale Support and Warranties
Last but not least this point is big very crucial to consider while selecting a breast pump for milk expression. Ask the retailer clearly about their after-sale services and warranty rules and terms.
If you find those extra support and warranty services satisfactory and reliable then and only plan to purchase that particular brand for nursing purposes.
There are some breast pump companies that provide very customer friendly support and services. They offer immediate response via call and emails. Also, they provide manual assistance in the case of necessity.
Warranty is a reliable factor to consider any breast pump so make sure the brand you are selecting is offering very effective and long term warranty benefits like staff handle warranty, spare repair and return facility in the case of damages, etc.
Cost
The costing of a breast pump will depend on its individual features, accessories, guarantees and support system. On average breast pumps cost around $20 and so on (many hundred dollars).
You can avail of the hospital grade breast pump even in thousands but these are only available for rental purposes. Again manual pumps are much cheaper than the electric or battery pumps but these are very slow and harder to use.
You can get a double breast pump with the range of $100 to $300 which is the first choice of working mothers who have less time and want to offer their precious milk to their babies even in their absence.
One can get manual breast pumps around $ 30 and even lesser than that. Some health insurance companies in the United States also give coverage to these breast pumps however that you need to get clear with your health insurance provider before claiming for such expenses.
In such cases, you need to present a recommend prescription by a health care specialist to your insurance provider for getting its coverage benefit.
Follow our above-mentioned guiding tips or breast pump choosing tips and bring home the most perfect, efficient and beneficial breast pump for you and enjoy your motherhood journey.
View Article Sources