The facial is a process in which different natural and artificial beauty products are been used on the face for enhancing its beauty and health. Out of different recognized facial verities, benefits of diamond facial is enormous.
Diamond is good for all types of skin as it can get rid of general skin problems like blackheads, aging, acne, uneven skin tone etc. By moisturizing your skin it lightens your skin tone.
Diamond facials are a little bit costly with the comparison to the other facials in the salon but if we consider its benefits then its charges seem to be negligible. The diamond specks elements in diamond facial can give you glowing and shiny skin just like a diamond.
So there is not a single reason to say no to this facial treatment. We all love our skin and want to look glowing forever but some external factors and aging effect breaks our dream. But with diamond facial nothing to worry about.
Benefits of the Diamond Facial for Skin: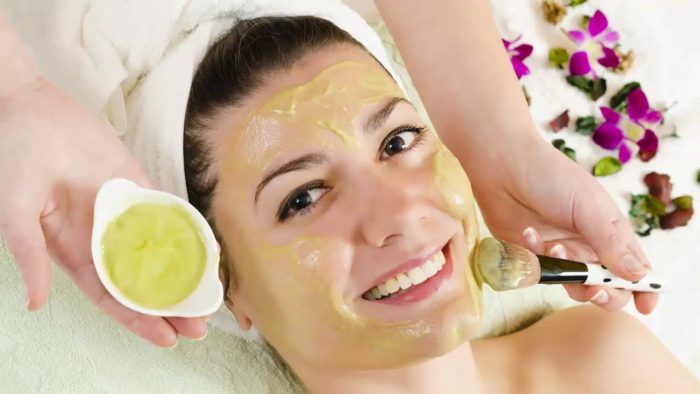 As the diamond facials are good for all skin types so everyone can reap its benefits. By removing some common skin problems like dullness, tan, aging effect, scars, blackheads and uneven tone, it makes your complexion much more glowing and fairy. Here we have enlisted the benefits of diamond facial:
Exfoliate Your Skin:
The diamond facial exfoliate your dead skin cells and remove the pre-aging effects on your face by removing the dead and rough skin. It regenerates your skin health by boosting the skin's metabolic process.
If you are facing aging issue like the visibility of fine lines and dark circles and tired of applying other facial treatments in the salon then don't get disheartened, the diamond facial will make your skin younger and attractive.
Treatment for Skin Flaws: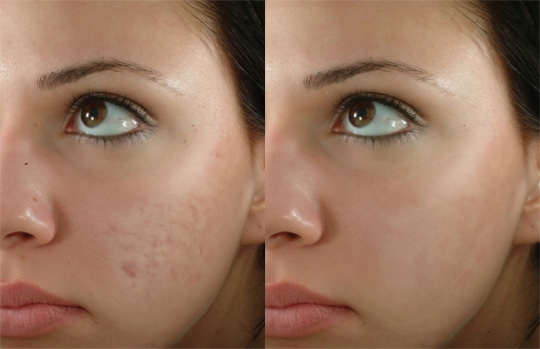 If your skin is much drier and tanned then soothe your skin with diamond facial. This is the best treatment that you have ever experienced in life. I am sure you are going to be its big fan just after its first use.
It helps in making your skin tone even and lighter. An uneven face tone really looks very dull and ugly. With only one time facial you can feel the changes in your skin and look. Get more confident with an attractive and flawless skin with the diamond facial.
Remove Aging Effects on Skin:
The anti-aging element of diamond facial helps in reducing and removing aging effects on your face.
Diamond purify your skin and increases its oxygenation property by removing the toxin. It enhances the health of your skin by enhancing its metabolism hence dead skins cells get removed and new and fresh look takes its place.
Make your skin attractive and get a young look by trying gold facial. As we start aging its effects at first be visible on our face which breaks our confidence and charm. As diamond facial can be applied to all skin types women so everyone can get benefitted out of its essentials ingredients.
Remove Fine Lines on Skin:

Different gestures that we made by our face such as smile, cry, stress, anger etc. creates some fine lines on our face. As we age these fine lines get darker and visible which makes our face ugly.
The diamond facial can remove these fine lines by making it less visible. If you are fed up with using costly cosmetic products for reducing fine lines from your face then you have absolutely reached to the right place. Your skin needs a diamond facial for getting instant rid of fine lines issue.
Increase Blood Circulation of Skin:
The diamond facial massage also increases the blood circulation of your skin which ultimately good for your skin health. It also helps in improving the complexion of your skin.
The facial massage also activates the collagen lying under your skin which helps in protecting aging effects like wrinkles. So get an even tone and younger glowing skin with diamond facial.
Protect Against Dust & Pollution:
We all have to go out of our home for the day to day work which cannot be avoided. So our skin easily gets into the contact of outside dust and pollution. When these dust particles get inside our skin pores, take the form of black head which really looks dull.
Here the diamond facial plays its role very actively by cleansing your skin from its deep pores and give you clean and clear face. Apart from that, the detoxifying element of diamond helps in guarding your skin from pollution.
As the diamond facial is beneficial for all types of skin so without any fear everyone can try this for getting rid of different skin related problems. Those who have dry and tanned skin and wants instant relief from it must try this facial on their skin for a guaranteed positive result.
Also, ladies who wish for lighten complexion can also reap the benefits of this facial massage as diamond elements work effectively on uneven tones and make the darker tone lightening. So for more fairer skin, one can try this.
Diamond facials are costly in salons so everyone cannot afford it. Its minimum charge is Rs.2000/ which is not affordable by all. But there is relaxation as many recognized cosmetic products manufacturing companies have made good diamond facial packs which are quite good and affordable too.
How to Do Diamond Facial in Your Home: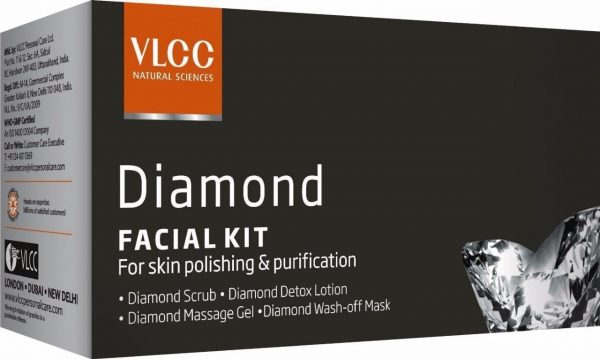 As the diamond facial packs come at affordable rates so you can do by yourself a diamond facial in your home. It also saves your time and money by going to any costly salon which you had to spend.
Whatever skin issue you are facing currently, the diamond facial is the best option for you for treating your skin. It will remove the dullness and dryness of your skin by removing all dead cells and nourish you with its moisturizing property.
Are you trying for diamond facial in the home and confused regarding its right procedure to apply. Here are the correct solution and guide for your total facial procedure. Just follow step by step and get glowing and younger skin.
Apply The Diamond Cleanser:
For applying diamond facial you need to clean your face thoroughly so that the diamond facial mask can be applied to your clean and clear skin.Take out a small amount of diamond cleanser from its pack in your palm. Rub this cleanser in both your palms and then massage softly on your skin in circular motion.Do this massage for twenty to thirty second. After that rinse your face with the cool water.
Apply The Diamond Scrub:
The diamond scrubber cleans your face thoroughly by getting inside the pores. It removes dust particles and blackheads from your skin and makes it clear.The miniscule granules element of diamond facial is of flecks and crystal which helps in exfoliating your skin by removing dead cells.Take out a small amount of diamond scrubber in the palm and dot your chin, nose, chicks, and forehead with the scrubber in your palm.Now massage your face just by using your fingertips in an upward motion. Repeat this action for next two to three minutes. It will help your skin to get rid of dust and dead skin cells.
Apply The Diamond Gel:
Massaging your face by the diamond gel will help in keeping the diamond facial for a longer time.Take an adequate quantity of diamond massage gel in the palms then dab on your face. By using your palms do a gentle massage in your face.Do this massaging for twenty minutes. This massaging process by diamond gel helps in increasing the blood circulation of your skin which helps to get your skin much more glowing and whitening.
Apply The Diamond Cream:
Once your face is clean and clear, it's time to apply the diamond cream for massaging your face. This cream is full of special ingredients which are good for your face and helps in enhancing beauty and glow of your skin.Do gentle massage on your face in circular upward motion with the diamond cream. This will helps in tightening your skin. Some diamond facial kit only comes with gel and there is no diamond cream. But if you have got both the cream and gel then do massage with both the products.Massage gently to your face with the diamond cream for twenty minutes. This massaging process will enhance the blood circulation process of your skin. If the kit consists both gel and cream then massage with each product for ten to fifteen minutes.
Apply The Diamond Face Pack:
Once all the basic process of facial is done then its turn to diamond face pack. This is the last and final step which completes the facial process. Apply the diamond pack on your skin by using your makeup brush.It should be applied in even quantity in your face for getting even tone effects. Once you have applied the face pack in your skin then leave it for fifteen to twenty minutes to get it dry.Clean your face with cold water after 15-20 minutes. Now your facial process is complete.We hope even a first time user can also find these simple steps understandable and can try to do home diamond facial by themselves without any need of taking help from anyone.
Important Points to be Noticed Before Applying Diamond Facial
Are you thinking for diamond facial to do this month for the first time? If the answer is yes, then you must be aware of some important points regarding this facial. Here we have mentioned some special guidance which you will find useful after reading it.
Anyone who goes for the diamond facial thinks that a miracle will happen only at one time facial and all their skin flaws will vanish like anything. If you are also thinking so then be practical my dear friend. Any procedure takes some time and patience to bring the expected result.
If you have done your facial with diamond then your skin needs extra care so that the glow and fairness which you got after this process can be preserved for a longer time. Protect your face from direct exposure to the sun as its UV rays are absolutely harmful to your skin.
After the diamond facial do massage of your face with ice cubes.
If a diamond facial is been applied on your skin then don't use any cosmetic product or make up for next twenty-four hours as it can harm your facial.
Those who do usually bleaching should get it done before the diamond facial. Remember, never think of any bleaching after the facial otherwise you cannot reap the benefits of diamond facials.
If you are pregnant or a newly born baby mother then diamond facial is never be recommended for you. You need to wait for sometimes.
Though diamond facial can be applied to all skin types it suits best to the sensitive and mature skin. So people with this type of skin get more benefit out of the diamond facial.
If your skin is suffering from pigmentation or blemish issue then you need to repeat this diamond facial many times at an interval as recommended by the facial specialist in the salon. In order to remove these skin flaws on your face, you need to go for many settings.
If currently there is a pimple or acne on your skin then this is not the correct time for the diamond facial as because instead of clearing out your skin the facial process will enhance your skin issue. Also, it can cause bleeding and pain during this facial procedure resulting in more scars on your face.
Always give attention to the tools which are going to be used during your facial procedure are clean and sanitized otherwise it can cause other skin issues.
Polluted makeup tools contain harmful bacteria. So instead of doing good for your skin, it harms your skin badly after facial. Once this bacteria enters your skin it breaks your skin health and makes it rash full.
Overall we can say that if you keep some important things in mind regarding this facial then you can easily avail the benefits of diamond facial for a longer time. So get a gorgeous look by today itself by applying diamond facial on your face.