A hypoallergenic body wash is specially formulated, keeping in mind the needs of sensitive and delicate skin. Such body washes assist in maintaining the skin's moisture barrier, leaving you with softer, smoother and healthier skin after just one shower. Designed with all natural and organic ingredients, these body washes suit all skin types.
There is such a wealth of these amazing body washes available in the market; one can definitely get confused about which one to go for. We have prepared this list of top 5 hypoallergenic body washes that you must surely get your hands on for a fresh and radiant skin.
Even if the beauty-holic in you is little skeptical, keep reading the post to find out your perfect shower goody.
Best Hypoallergenic Body Wash

| Picture | Product | Quantity | Packaging |
| --- | --- | --- | --- |
| | | 13.5 ounces | Flip top bottle |
| | | 16 ounces | Flip top bottle |
| | | 8 ounces | Pump bottle |
| | | 7.8 ounces | Flip top bottle |
| | | 17 ounces | Pump bottle |
Does Using Hypoallergenic Products Make a Difference?
Mostly, all skincare and cosmetic products used today contain some ingredients that are not really beneficial for the skin. They irritate and inflame the skin, causing zits and breakouts. Because of this, a lot of people are drifting to using hypoallergenic products and thus protect their skin.
Hypoallergenic products are now widely available in the market, owing to the constant increase in their demand. But how do you exactly benefit from such products? Well, by using a hypoallergenic product, you considerably reduce all chance of triggering any kind of skin infections or allergies.
However, is important to know that such products are not necessarily mild or gentle on the skin.
In fact, there are no stern standards to establish any product as hypoallergenic. There are no tests available that need to be conducted after which companies can use such a claim.
So, in order to be sure, just do not blindly purchase a product marked as hypoallergenic. Instead, take some time to carefully go through its ingredient list and see if it does not contain anything that can irritate your skin.
Top 5 Hypoallergenic Body Wash


Even & Bright Body Wash by St. Ives is a hypoallergenic body wash that makes your skin smooth, silky and subtle after every wash. It contains a generous amount of exfoliating beads that assist in unveiling a younger and radiant looking skin tone.
The best ingredients of this body wash are pink lemon and mandarin orange. Both these are rich in vitamin C, that plays a key role in making the skin whiter.
The product has a thick consistency and generates a very good amount of lather. It rinses off completely and easily, without leaving behind any kind of residue. The product has a sweet and citrusy type of smell that uplifts your senses.
Do not go for its pink color. It works equally as well for men as it does for women.
Pros
Doesn't dry out the skin, rather, keeps it moisturized
Features an extra exfoliating action
The fragrance is gender neutral
A little product goes a long way
Cons
Some people do not like the smell
The exfoliating beads may not work out for sensitive skin
Click to Purchase the Product on Amazon.com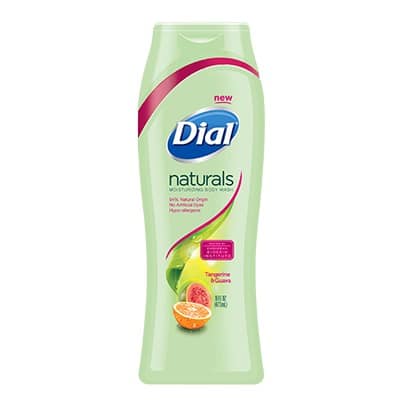 Naturals Moisturizing Body Wash by Dial is a 94% natural formulation that is European Bioskin Institute tested. There is the least possibility of going wrong with this product.
The bottle is green in color but the body wash is white. It has an amazing creamy rich texture that gives a soft cushiony feel when rubbed against the body. It also generates a decent amount of lather.
It is gentle on the skin and cleanses it without sucking its moisture. On the contrary, it keeps the moisture locked in for subtleness that lasts for long. It rinses easily without leaving any greasiness behind.
The smell of this body wash is just heavenly. It comes with a sweet, fruity and slightly tangy smell just like a tangerine and guava smoothie. You may even be tempted to taste it when you are in the bathroom.
We are also delighted that the product comes with a "body wash base smell". Such a smell is very commonly found in all body washes, but this one is surely different.
Pros
Has a delightful and tasteful smell
Creamy rich texture and thick consistency
Has the goodness comparable to expensive brands
Cons
It is not very easily available
May cause breakouts
Click to Purchase the Product on Amazon.com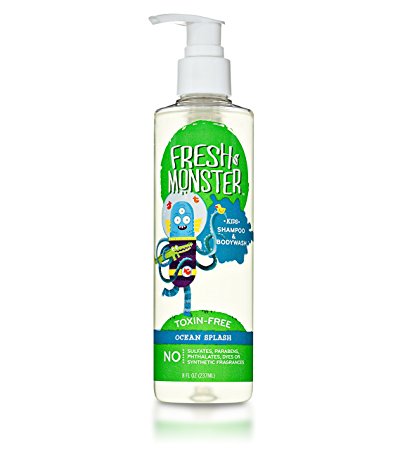 Kids Shampoo and Body Wash by Fresh Monster is a 2-in-1 product, free from all toxins, chemicals, and parabens. It is made with organic plant-based ingredients which is why it can also be used for children.
The body wash is very gentle and mild, and is great at cleansing and rejuvenating your hair and body without the use of harsh chemicals. The packaging comes with the pictures of numerous fruits, proving that it is absolutely free from all synthetic fragrances.
However, you should know that it is not a tear free formula. So be careful while using it around the delicate eye area. If it gets into the eye, rinse immediately.
Pros
All the ingredients are natural and plant based
Does not dry out the skin
Has a light and sweet fragrance
Packaging is very attractive
Comes in a pump bottle dispenser
Cons
Not very easily available
May not work very well when used as a shampoo
May cause breakouts
Click to Purchase the Product on Amazon.com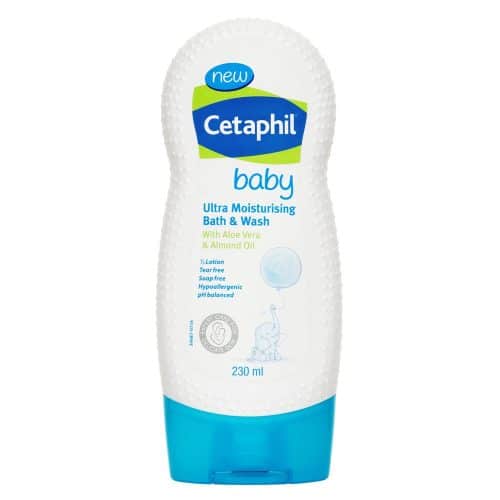 Ultra Moisturizing Wash by Cetaphil Baby is an intensely hydrating and moisturizing formula that helps in achieving baby smooth skin. It prevents the skin from getting dehydrated by locking in the moisture. It is specially formulated to work on baby skin, so there is absolutely no reason that it won't work for you.
This great body wash solution is made with 1/3 baby lotion content which is why it deeply hydrates the skin and restores its moisture barrier. It is also rich in organic calendula that seeks to calm irritated and inflamed skin.
Gentle and mild formula, the body wash is free from all preservative or parabens that damage the sensitive skin. It does not contain any essential oils, mineral oils, colorants or chemicals that may trigger some allergic reaction.
It has a rich and creamy consistency that works up a decent amount of lather and can be rinsed off easily. There is no greasiness or residue left behind. The scent is floral and sweet.
The only disliked thing about this product is its fragrance. I do not deny that the fragrance is great, but since the product is especially formulated for babies, adding a scent wasn't necessary.
Pros
Leaves the skin hydrated, moisturized and silky soft
Highly suitable for people suffering from eczema
The consistency is like that of a lotion
Unique and attractive packaging design
Cons
The product comes out too fast when the bottle is squeezed. This may cause wastage
May cause breakouts
Complaints of potent smell
Click to Purchase the Product on Amazon.com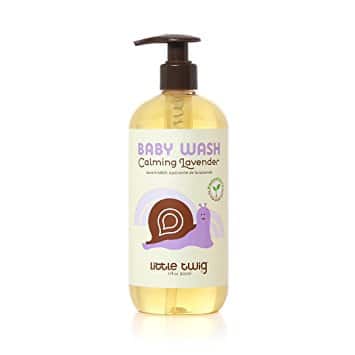 Baby Wash by Little Twig is a 2-in-1Ph balanced formula that is made by using all organic ingredients. It is suitable for all skin types.
This all natural body wash promises to softly and gently clean your skin, leaving it rejuvenated, moisturized and baby soft. It is a mild formula that can be used for new born babies as well.
The product has been tested by pediatricians and is certified as an all- around baby wash that is absolutely mild. It does not leave behind any greasy residue. Apart from being a shampoo and body wash, the product can be used as a bubble bath as well. It lathers well and can definitely make your bath time much more enjoyable.
It is available in pump dispenser packing. This is a big plus as it not only makes the product easier to dispense but also reduces the amount of wastage involved.
Pros
100% organic and natural formulation
Generates a decent amount of lather
Has a gentle and not very overpowering fragrance like that of a lavender
Does not burn or irritate the eyes
Cons
May cause breakouts
May dry out the skin
Packaging is not of superior quality
Click to Purchase the Product on Amazon.com
Can you Really Benefit from Using Products that are Hypoallergenic?
It has been generally seen that only people with an allergic or sensitive skin opt for hypoallergenic products so as to protect their skin. But, as a matter of fact, each one of us should go for such products, as they can greatly benefit us.
For children, one should necessarily opt for hypoallergenic products as they help in protecting the delicate skin of young infants.
Now, a lot of you must be wondering what exactly constitutes a hypoallergenic product. Since fragrance is a form of irritant, are fragrance-free products hypoallergenic?
The answer is yes, sometimes!
There is a need to clearly understand this term. Fragrance-free products signify a product that does not contain any fragrance, but, this is not true with the products labeled as unscented.
In simple words, unscented product means there is not distinguishable scent coming from the product. Even so, the product may be formulated with some harsh chemicals in order to curb the distinct aroma arising from the product.
Hypoallergenic and fragrance free products have some similarities and choosing these products over the scented ones is always beneficial for the skin.
Conclusion
More and more people are becoming aware of the benefits offered by hypoallergenic products and thus there is a constant demand for such products. They do not offer a 100% assurance against any kind of skin rash but still, they are a safer choice to opt for.
From the above-mentioned products, we have selected Even & Bright Body Wash by St. Ives as the best hypoallergenic body wash as it neatly refines all your skin imperfections to unveil a brighter and more even skin.
Now that you are well aware of the list of best hypoallergenic body washes, pamper your skin and give it the gentleness it deserves by buying one of these.