One of the most popular equipment for cardio fitness for gym or home use is undoubtedly the treadmill. Some of the best fitness equipment that can be purchased include these. The advantage of working out on a soft cushioned surface of the treadmill beats the hard tar or concrete of outdoors running. Locating the right treadmill can be a challenge and we understand this. Welcome to the definitive guide for the best treadmills of 2017, which will serve to inform you about the features of the top 5 treadmills. Get in-depth understanding of every model and learn how to choose a treadmill that matches your lifestyle, budget, and goals.
Best Treadmills for a Home Gym
Choosing the best home based treadmills may not be easy. This is because the capabilities you seek can differ from one person to another. Price is another crucial consideration, along with the type and brand of machine you are purchasing. Invest in a durable machine with a sturdy motor if you are choosing a treadmill for running. If your intention is to walk on the treadmill, a slightly less high powered machine may be more suitable. Whether you live in a small home or flat, space constraints are a fact of modern life. Workout programs are far easier to follow from home. But along with the plus points come the drawbacks, such as motivating yourself to get onto the machine.
While motorized machines have a functional belt with an electronic motor, these can come at different prices. There are also various features and designs and manufacturers divide them on the basis of their cost and value for the buyer.
Types of Treadmills for a Home Gym
Compact
Compact treadmills are a wonderful solution for space constraints. Home owners can benefit from the lighter than the usual frame and sturdy wheels for transporting. Compact treadmills are also foldable and offer an extra room. Affordable, these require less floor space and are portable and lightweight. If space is a premium, the compact treadmill should be your premier choice.
Folding
The budget folding treadmill has a running belt that is shorter. But this can work well for the occasional jogger or regular walker. There is a display for all features such as speed, time and calories burnt. This budget version also uses a lightweight material. Bear in mind that it may feel unstable because it is so lightweight and may appear small for the stride of an athlete or pro.
Providing extra features, the folding treadmills offer exercise programs and heart rate monitors. Durable, these are pure value for money.
Non-Folding
The non-folding treadmill is known for its sturdiness and durability. This also comes with a running belt that is elongated and broad, making it perfect for runners. This makes them an excellent choice for pro runners. Heavier construction means the treadmill can withstand wear and tear. With integrated heart rate monitors, top speeds, and steep inclines, these treadmills can suit any age or weight because they are robust and strong. On account of built in programs, these treadmills may, however, be costly.
What to Consider While Purchasing a Treadmill
#1 The Budget
When it comes to making purchases for the home gym, the budget is the real priority. This is a special issue since treadmills are costly and large. As far as fitness equipment is considered, you need to be aware of the price factor. Treadmills with built in programs and expensive exteriors may not even be just comfortable, but also easy to use and scoring high on longevity. Costly treadmills are built to last and it is a one-time investment( as it would be for a home gym) consider making a purchase of an advanced model.
#2 Powerful Motor
Another consideration you have to take into account is the motor.Assess the motor to see if the treadmill will have a long life span. The right engine can make a world of a difference to the performance. Treadmills generally have the motor commanding the belt as well as one to increase or decrease the angle of incline. Check the horsepower and other specs before shelling out money. Look for a continuous duty model with a horsepower of a minimum of 1.5. In case you are planning to choose a treadmill for daily use, the horsepower should be 3 or more.
#3 Running Surface Size
The first point to consider for a treadmill is the surface size for running. Largest surfaces range from 60 to 62 inches long and 20 to 22 inches in width. This is important because you need to be sure that the treadmill belt can adjust to a complete running stride. If it is too short, you can even trip or keep coming off the back. To get an effective workout, you need a treadmill that challenges your fitness levels instead of lessening your running stride.
#4 Angle of Incline
The best treadmills have an incline choice. Opt for varied incline features and make a thorough analysis of the same before committing to a purchase. The degree of incline on the treadmill is 15 percent. This is offered on plenty of models and it is important to get the job done. Main features you need to consider while purchasing an incline treadmill is the adjustability and electronic features. This is important because you may want to raise or lower the intensity while working out without stopping. Negative incline or decline is another consideration. The incline feature of negative decline has the same force as running downhill and can be a challenging and welcome addition to your workout.
#6 Heart Rate Monitoring
Heart rate monitor is nowadays provided on every treadmill. But the important point to consider is the accuracy of the heart rate monitor. The monitor can be activated by a finger sensor, contact sensor on the handle grip or a chest strap. The best and most precise of these is the third one. This chest strap permit adjustment in running style and prevents you from stopping to grab the handles or sensor to assess your heart rate.
#7 Computer Features
The treadmill should ideally have an inbuilt computer that provides programmed fitness routines formulated especially by personal gym trainers. This speeds up the treadmill and adjusts the incline to ensure a challenging workout. The top treadmills even run fitness apps or have one inbuilt from the manufacturer. What is the advantage of this? Quite simply put, you can download exercise data and track your improvement.
#8 Quality
While purchasing the piece, quality matters the most. Choose a treadmill that is durable, long lasting and comes with the specs and features you seek. Check out the construction of the belt, whether the treadmill is single or double ply. Consider a portable treadmill if you are short on space. Motor power generally ranges from 2 GHP or continuous horsepower to 4. The larger the engine, the more mileage and better performance you will get out of the treadmill.
Top 5 Treadmills for Home Gyms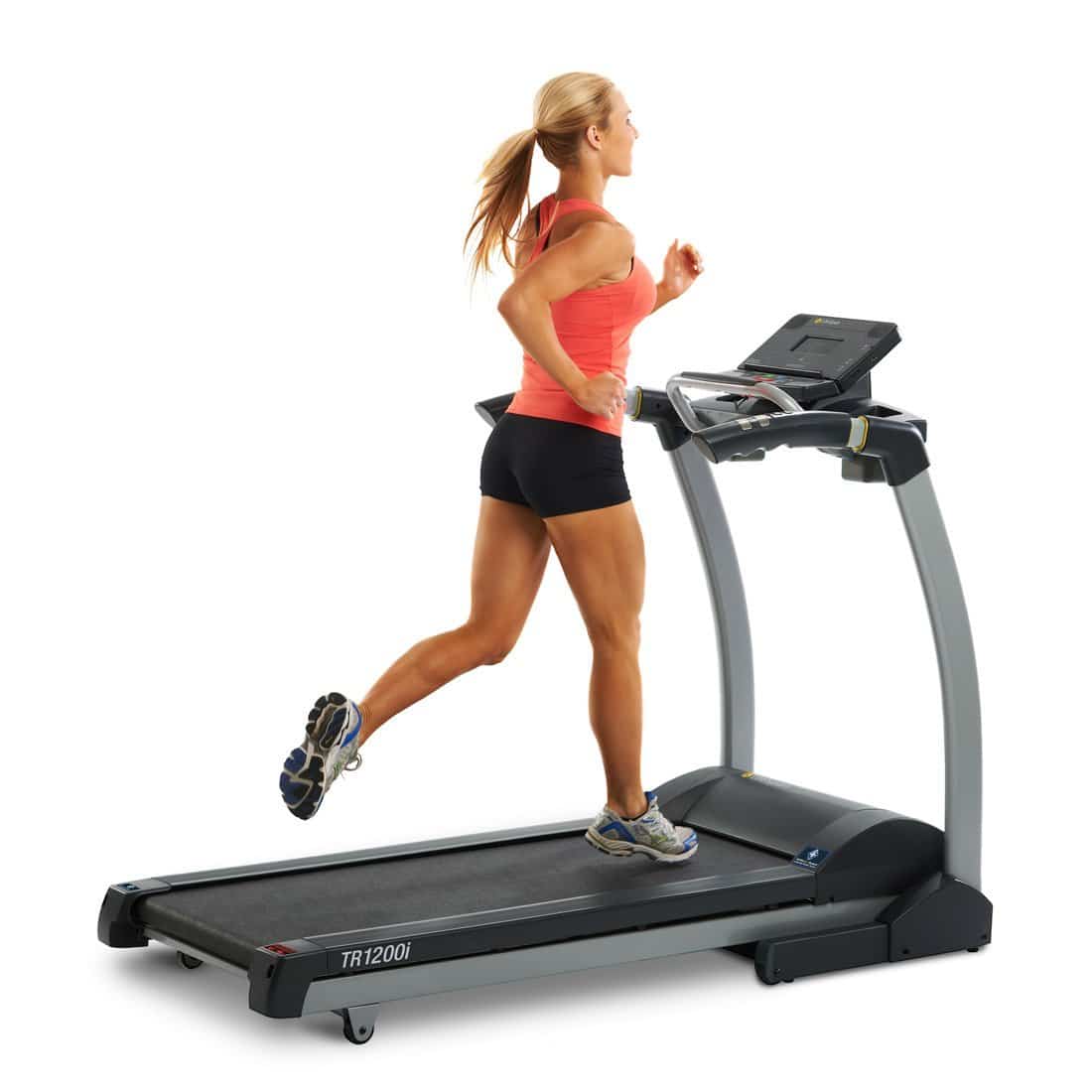 This model is a top overall treadmill and has many intriguing features. The design is a two and a half continuous horsepower motor allowing high speeds of up to 11 miles per hour. The 20 by 56-inch running surface commodities most sizes of runners. The 2.5-inch front and 2 inch rear rollers make this treadmill a smooth performer. The 2 ply belt has a durability you can rely on. The treadmill also provides an incline of 15%.
Pros
The Lifespan TR12000i has a patented Intelli-Step feature that senses the time when the foot lands on the belt and counts the steps taken therein. An easy to read console carries the details of the step count.
This safety feature ensures that the workout is stopped the minute you step away from the belt and start only once you return.
The model has 17 preset, programmed workouts. A complete membership to the LifeSpan Club also follows the purchase. These features ensure a lot of exercise options and the chance to track enhancements from one workout to another.
Durable, Highly Adjustable
The model is a durable, highly adjustable fitness equipment. It is considered one of the top treadmills in the price range. Additionally, there are features like Intel-Guard and Intel-Step. The treadmill also has a 2.5 continuous horsepower motor to ensure consistency of speed.
With its 15 levels of incline, the treadmill offers a challenging workout that takes your fitness to a whole new level.
The model comes with a lot of positive features such as compatibility with MP3 players, a book rack for easy reading while you work out and the chest strap monitor plus foldability that makes it convenient and easy to use.
Expanded exercise Options
Additionally, the treadmill also provides complete exercise options. Its dimensions (LxHxW) of around 70.25x33x55 inches is compact to say the least. Weighing 186 lbs, it can sustain a heavyweight runner, jogger or walker despite its portability and ease of adjustment.
Space Saving Application Which Syncs Your Data
The Lifespan treadmill also automatically counts each treadmill step and not only display it on the console, but also sync the information to an online club account. This space saving application offers easy storage too. The large 2.5-inch frontal rollers and 2-inch rears rollers permit static free, quiet movement.
The running surface of this treadmill is supported by independent compression absorbers which prevent shock to the knees, back, and joints by providing support and cushioning.
The massive silicone console buttons are perfect for simple, quick use. A tense durable surface of the 2 ply belt is an added advantage. Speed ranges from 0.5 to 11 miles per hour.
The maximum user weight is around 300 lbs. This is a massive plus point for those on the heavier side looking to use this treadmill.
Additional Advanced Features
Along with a multi color LCD screen, there's a quick start function with 22 program profiles. Workout data provides details such as distance traversed, calories burnt, steps taken, and heart rate reached.
The frame comes with a lifetime guarantee. So does the motor engine. Parts have a 3-year guarantee while labor warranty is 1 year.
Solid Machine with Great Components
The Lifespan treadmill is a machine with amazing components. Its powerful engine and intelligent pause feature are an added bonus. Programmed workouts enable you to track your workout progress. The model is cheaper than advanced versions, yet has the same benefits.
Provides Features That are Unique
This treadmill comes with preset workouts. There is enough variety for those who want a challenging and unique workout each day. Get more exercising options at the LifeSpan Club which tracks performance across workouts and even many top treadmills do not offer this feature.
Cons
Some users have reported this folding treadmill is not one of the quietest machines. Noise has been noted from the plastic motor cover vibrating. Some runners experience this as a major annoyance.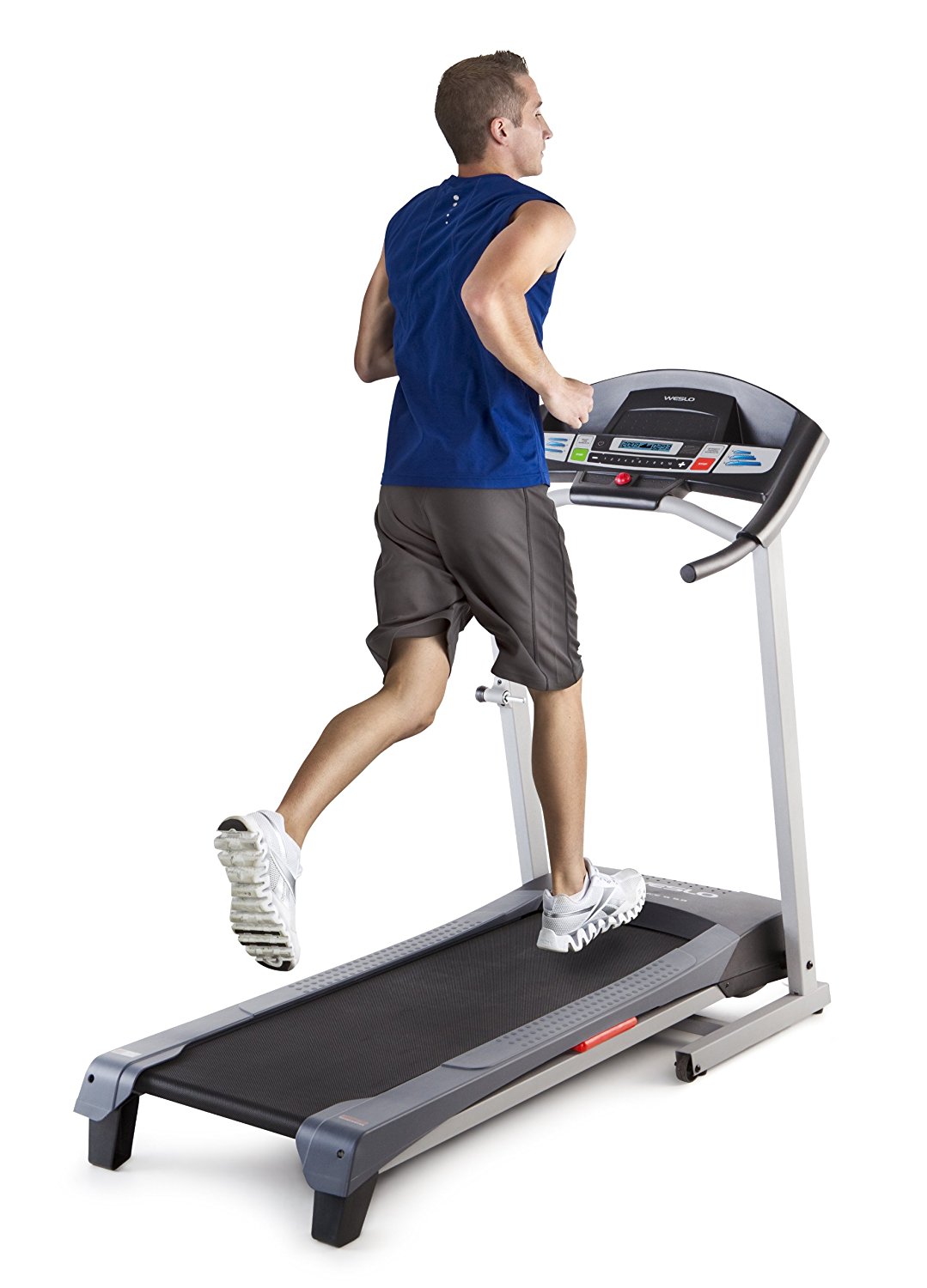 This treadmill comes at a budget price and offers a world full of benefits. It is ideal for those walking, running or jogging. Some great features this treadmill has which you would not find in a budget buy can offer you great value for money. The top features of the treadmill include a heart rate monitor and programmed workouts on the console. Heart rate monitoring is ideal for enhancing fitness. The Weslo Cadence treadmill provides you with a serious workout. To get six amazing programmed workouts at such budget prices makes this treadmill a real bargain.
Pros
Excellent for Intensity Training
This treadmill is specifically designed for intensity training and weight loss. The popular Welso Cadence treadmill can offer you the professional workout you would want in a home gym. With programmed workouts and fitness sessions to focus on weight loss and intensity training, it takes the guess work out of fitness training.
In addition to this, the Weslo Cadence treadmill has a two position manual incline and a foldable design as well as comfort cell cushioning to save the knee and the joints from the strain. The LCD display is of top quality. The motor can withstand heavy usage.
With a height of 55.5 inches, a width of 29 inches and length of 64.5 inches, and a weight of 117 lbs, this treadmill is sturdy yet portable. It has a running surface of 16×50 inches.
Lowest Stress, Increases Impact Absorption
Comfort cell cushioning reduces stress on joints and maximises stride impact absorption. The folding design offers space savings and efficient storage.
Speed ranges from 0 to 10 miles per hour with a 2.25 CHP Mach Z motor.
This treadmill also has a two position manual incline. Heart rate monitoring is possible through a thumb sensor.
The blue tint LCD display is excellent for optimizing viewing efficacy.
Heart rate monitoring is possible through the thumb sensor.
Excellent Value for Money
At the price it is sold, the treadmill offers excellent value for cash. This is perfect for those looking for a good deal.
Cons
This treadmill has a maximum user weight capacity of 250 lbs.
As opposed to other models, which offer as high as 22 programmed workouts, this treadmill offers only 6 profile programs mostly concentrated on weight loss and intensity training.
The motor carries a warranty of only one year, while the labor and parts are around 90 days each.
Another problem is that the operation of this treadmill results in a bit of noise. But as you acclimatize to the fitness equipment, this may be less of a nuisance.
Another point is that it has good components and will stand up to exercise. But the drawback is in the event of any malfunction, it is hard to locate extras.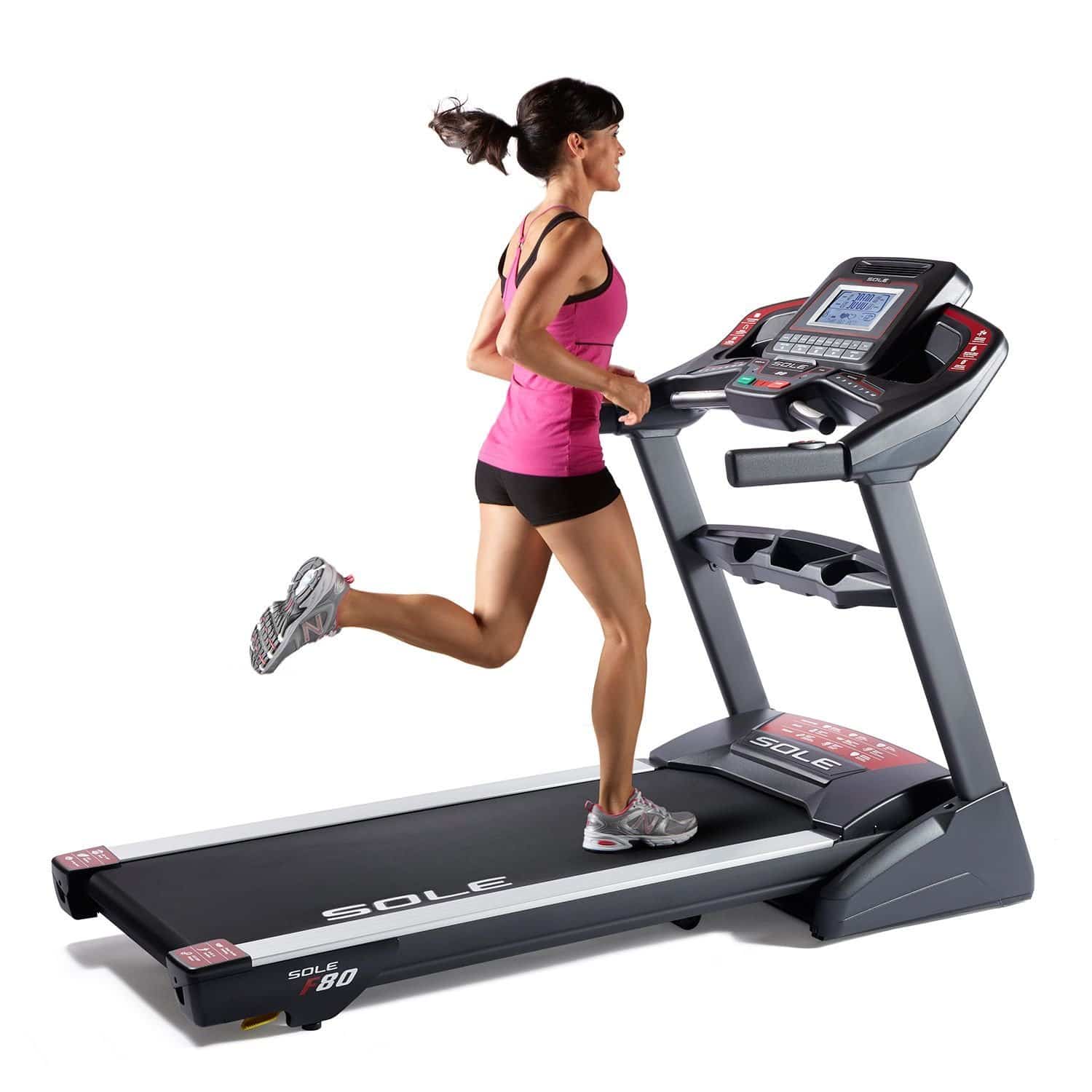 This Sole F80 treadmill is an excellent machine clinching the title for the best fitness equipment for the price it sells.
Pros
This treadmill comes with 15 program profiles focusing on cardiovascular health, fat burning and strength and simulates HIIT and interval training.
Chest Strap Heart Rate Monitor
This includes a chest strap heart rate monitor and also has compatibility with MP3 players. What sets the treadmill apart is the quality features for the price you get.
This treadmill offers a huge 22×60-inchh running surface powered by a massive 3.5 continuous horsepower motor and 2.75 high-end rollers. The belt of this treadmill is a double woven 2 ply over a middlemost PVC layer with a backing in nylon to provide smoothness and durability that is free from stretching. Get the pain-free and comfortable workout without straining your body.
The Easy Assist deck for folding basically unfolds itself and locks in place when it is folded. These design elements are those spent more on, but this treadmill is available at an extremely affordable rate considering these features.
If you seek reliable, user-friendly and top quality treadmills, the SOLE F80 is easily the best of the lot. Packed with top components and capacities that cannot be outdone by rivals, it also has a large running surface and offers the latest workout technology.
The height of this treadmill is around 58 inches and the width is 37 inches. The length of the treadmill is 83 inches. Its weight is 265 lbs.
This folding deck treadmill has a rack and pinion system that comes with a safety lock design. It locks the deck into place when the treadmill is upright. With the easy assist folding deck design, you can watch it unfold without any effort.
The cushion flex whisper equipped deck provides a workout which is noise-free and of lower impact of around 40 percent. Precision frame welded with care ensures durability and strength to handle a wide range of user heights and weights.
This treadmill is equipped with a top torque motor and its large radius helps in seamless operations. Get running or walking/jogging surfaces that are free from vibrations using the all steel with zin coating balanced flywheel. Its industrial strength flywheel is a real asset for treadmill users.
Wide Range of Speed and Incline
The treadmill with a 3.5 continuous horsepower motor undergoes speed variance ranging from 0.5 to 12 miles per hour. The heart incline rate is from 0 to 15 percent. Heart rate can be monitored through pulse grips and a provided strap around the chest.
The sound system of this treadmill is MP3 compatible. Additionally, it also has a cooling fan.
Extended Weight Bearing Capacity
The maximum user weight this treadmill can hold is a massive 375 lbs. Most other treadmills offer weight capacity of 250 to 300 at the most.
Advanced Computer Features
With its 7.5-inch blue LCD display and a manual program along with 5 standard programs, and 2 customized programs, this treadmill is a bargain from every angle. It also has two heart programs that lets you exercise to the point of 60 to 80 percent of maximum heart rate. The computer measures plus, time, calories burnt, level, RPM, and more.
The treadmill's frame comes with a lifetime warranty as does the motor and the deck. Its electronics warranty is around 5 years and labor warranty is another 2 years.
Cons
While assembly of this securely packaged treadmill is not hard, the machine itself is very heavy. So it can be hard to move this as and where you need it.
While the treadmill comes with 10 workout programs including 1 manual, 2 custom, and 2 heart rate as well as 5 programmed workouts, some users may want more.
Another strict limitation of this treadmill is that it cannot track performance over time. There is no workout app or ability to download fitness data. This feature is present in most other treadmills of this price range.
Some users have also reported issues with the console. Choose a reputed dealer if you want to avoid this problem.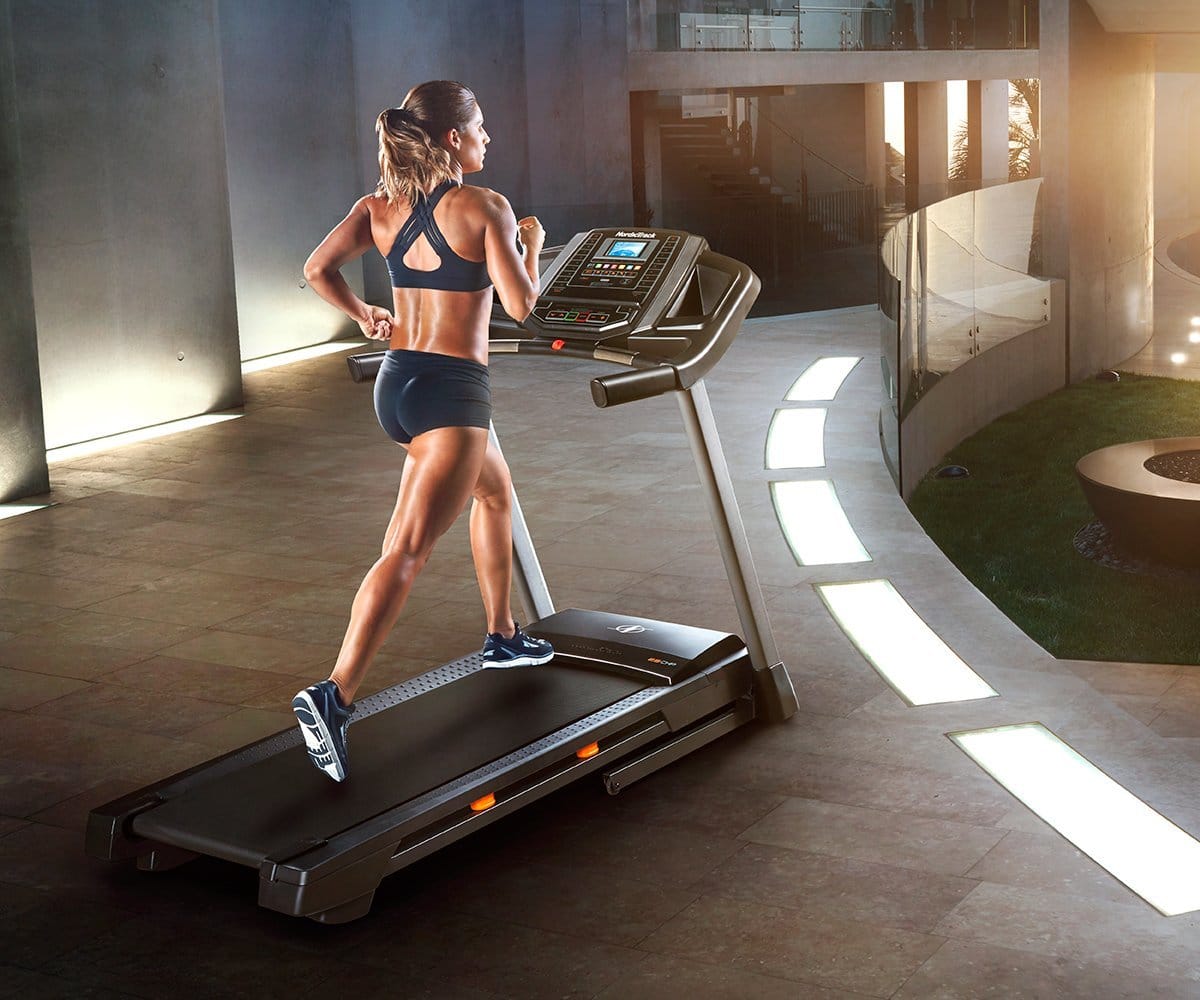 The best treadmill for home gyms is easily the Nordic Track treadmill, when it comes to safety and durability. Though it is considered a commercial purchase, it has won several positive reviews making it ideal for your home use. As it is a commercial model, it has a lot more features than other treadmills in this guide.
Pros
This treadmill can manage up to 300 pounds without incurring glitches. The motor is a powerful 3.9 CHP which moves the belt across a wide range of speeds moving from 0.5 to 12 miles per hour.
With an easy one touch control, it can help to change the incline and speed easily without much problem. This property of the treadmill lowers stress on the joints. It also works the varied muscle groups efficiently.
The add-ons include speakers that can pump out the music you like. Additionally, the 3 cooling fans on this treadmill also keep you sweat-free and simulate the wind as you run.
Accurate Incline and Decline
The Nordic Track featured a 15 percent incline and a decline of 3 percent. It can suit uphill and downhill running a feature that offers value for runners and those in training.
While the incline feature is common among treadmills of this range, the decline feature is rare and seen only in top treadmills like these.
The treadmill has a top speed of 12mph which is faster than most. It can be used at high speeds for a prolonged time.
This treadmill is designed for sprinters. It even has a strap for monitoring the heart rate connected to the system through Bluetooth. This is a critical feature for treadmills, as heart rate varies constantly while working out. The chest strap is monitoring the heart rate which is fed into the interface of the treadmill eventually. Live data across time will boost your running sessions.
Massive Number of Programs
This 72.25 inches long treadmill has a 34-inch width and a 61-inch height. It has 38 programs (which is a lot considering most other treadmills average around 15 to 20 only) and offers a quality interface. This is a treadmill that can be stored easily because it is foldable despite its weight. Perfect for numerous types of athletes, it has numerous analytical features with an interface that is intuitive and user-friendly.
Cons
The Nordic Track treadmill can be tough to set up. Though online videos are in place to help with this and reviews point to the quality of this fitness equipment, assembling it is not an easy job.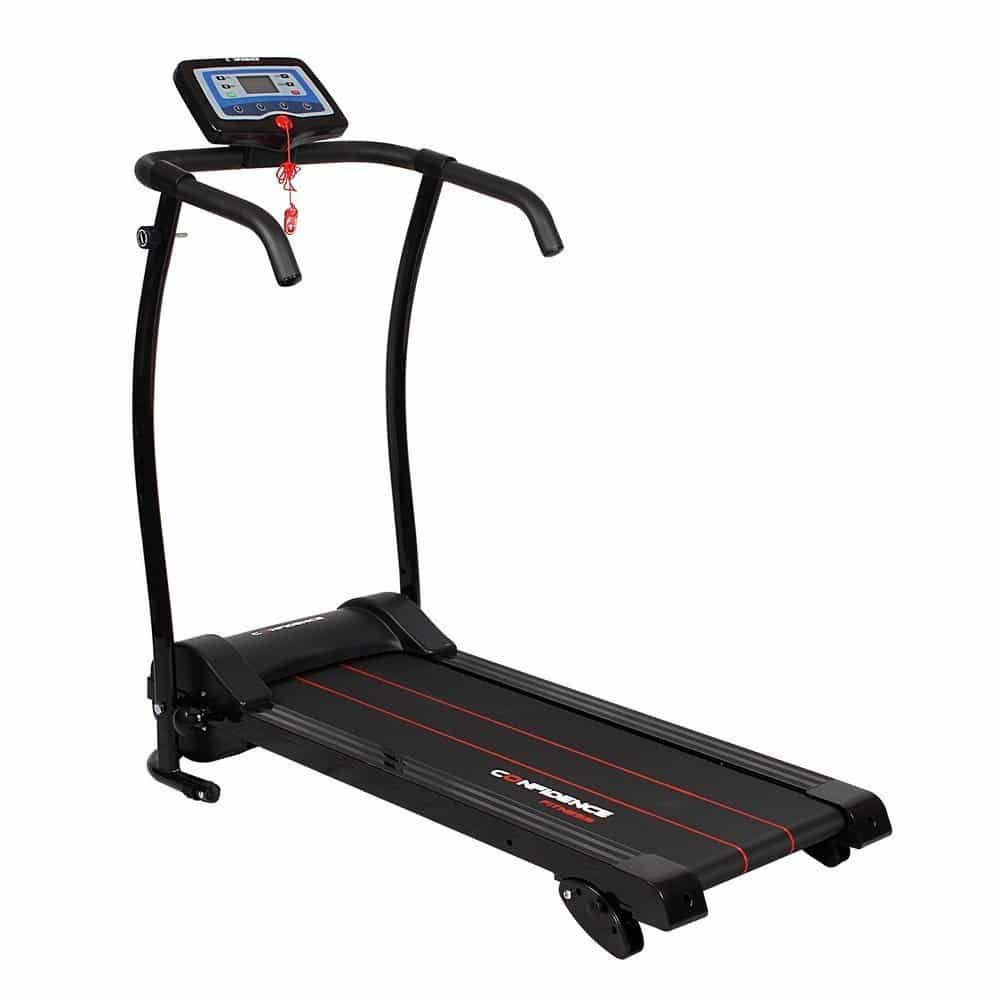 The Confidence Treadmill can reach speeds of only 6.2 miles per hour. Additionally, it has 12 inbuilt workout programs for users. The display of the device showcases the speed, time and calories. The incline can be adjusted up to 5 degrees. This treadmill comes with a 1 HP motor too.
Pros
This treadmill offers real value for money. It is compact, lightweight and portable making it easy to carry and use in space constraints.
It comes at a reasonable price. The confidence treadmill comes at less than 50% of the price of an average treadmill with the same quality.
The treadmill is easy to put together and assemble. This makes it simple to use.
12 Built in Fitness Programs
Not only does this treadmill come with 12 built in fitness programs, it also has 4 select pre-set speeds namely 1.86, 3, 4.9 and 6.2.
The LED display showcases the speed, distance, calories and time. You can adjust your fitness routine accordingly. This treadmill comes with an adjustable incline that is manual and ranges from 2, 3.5 and 5 degrees.
Confidence Power Trac is a treadmill that is known for its robust 735 watts or 1 HP motor. It can be connected to the folded position when not used. Confidence has fitted the treadmill with a 600W motor.
This treadmill comes with a stop clip for emergencies. Its fitness can also be monitored through the LED display screen.
Handy Dimensions, Excellent Weight Load capacity
The 14 x39 it folded arm length and the 22-inch dimensions when ready to use are handy and convenient. The length, breadth, and height of the treadmill is 49, by 24 by 47 inches when unfolded. Otherwise, the dimensions are 49x24x10 and the maximum user weight is 330 lbs
Cons
The device squeaks and has a noisy operation.
It lacks the power of fuller sized treadmills. Therefore, it cannot be used for runners, sprinters and hardcore athletes.
Treadmill is Small, Narrow
The treadmill is small and narrow for usage. This creates a major problem while working out.
Benefits of a Treadmill
Burning Calories
Running is one of the top exercises for burning calories, which the treadmill facilitates. Specific workouts such as HIIT and interval training are suited for calorie burning. Exercises on the treadmill improve heart health and promote weight loss. The mechanical features of a treadmill are not restrictive, unlike a stepper, elliptical or bike.
Intense Cardio
Intense cardio workouts can benefit the user of a treadmill. Get your heart rate up and running for a robust cardio workout. HIIT burns fat and raises the metabolism. High-intensity interval training also boosts the stamina and endurance. Running at slower rates for a longer time also builds endurance, which is why most health enthusiasts benefit from a home treadmill.
Less Impact on the Knees
Runners often experience injuries and joint pain. Thanks to the treadmill, you can forget about this. Treadmills are mostly designed to absorb the impact of movement and prevent vibration due to the motion.
Feel Fit
Heard of a runner's high? It is the reason runners become interested in notching their fitness levels. Running releases mood boosting endorphins into the brain and creates a mood varying response. Endorphins are the naturally created mood boosting neurotransmitters that can help you to feel great.
FAQs (Frequently Asked Questions)
Q. How do users ensure optimal maintenance of a treadmill?
A. Treadmill maintaining is a science. After intense workouts, fixing the treadmill is critical. Wipe down the equipment after a workout. Some treadmills also require oiling and lubrication, so research has to be done before you set out to buy one. Consider the warranty period as well.
Q. Can treadmills be impacted by weather conditions?
A. The treadmill's electrical parts can be damaged by heat, humidity, and cold. Excess water or moisture should be given a wide berth. The optimal chance of maintaining the treadmill at optimal conditions is to place it indoor in controlled climatic conditions.
Q. How do you decide which incline, decline suits you?
A. Most treadmills have an incline feature. Most advanced versions offer an incline angle of fifteen percent and decline of 3% which works for a wide and varied number of different types of workouts for treadmills. Choose an incline and decline angle which can be manually balanced.
Q. What is the importance of how wide a treadmill belt is and its dimensions?
A. Another critical factor while choosing a home based treadmill is the need to choose a comfortable surface you can jog, run or walk in without being squeezed into a small space. Smaller surfaces in the treadmill do not help in adjusting to hit the complete stride while running. When the complete length is comfortable, you can jog without shortening your stride. Choose a top long-lasting fitness solution for your needs.
Q. What computer functions does a treadmill have to benefit those working out?
A. The treadmills that are high end come equipped with computers that consider the monotony factor by developing innovative programs pushing one to work harder. Some computers have massive and intricate workout programs that concern factors like incline angle, duration, and speed. The best treadmills have fitness apps for taking your workout to the next level.
Q. How can you lose weight using a treadmill?
A. While losing excess pounds, more calories need to be burnt than consumed. For burning these calories, you need to push the complete body and not just some limbs. This is why a treadmill is really beneficial for losing weight.
Conclusion
There are a world of options when it comes to treadmills at every price level. Treadmills feature numerous options from an incline to a decline, cooling fans, heart rate monitoring, mobile device connection, preset exercise workout routines and MP3 compatibility. The goals need to be kept in mind while purchasing the treadmill you need. Get the bigger picture of what is available and how a treadmill can work wonders for you and make the step towards a trimmer, slimmer you easier.