We are aware of many types of disease names like cancer, tuberculosis, AIDS, etc. But when I heard the name I totally got numb and shocked by hearing the word what does this Kawasaki mean and started thinking about it. As it doesn't happen to everyone but it is most commonly found in children? In this article, I am going to tell you some tip in which you can cure this disease easily and all necessary information regarding this disease as much as we can.
What is a KD (Kawasaki disease)
It is an infection which involves swelling of lymph and redness to skin and mouth. It's normally starts with normal fever which slowly rise in high temperature and does not respond positively to the medicine which last for ten days. In some cases it is found that swelling is caused near the neck which totally look likes disease. Mostly affect small children and infants which are under the age of 5 yrs. This disease targets the blood vessels which are small and medium in size available in the body of specific parts in coronary arteries.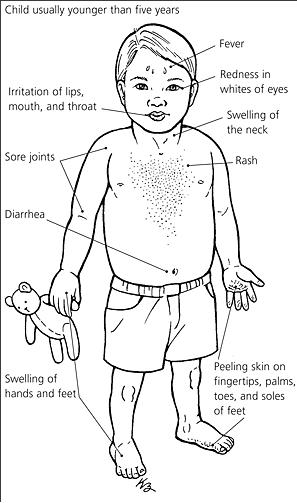 Signs and symptoms of KD (Kawasaki disease)
Rise in temperature
Redness and swelling occurs in the skin and tongue
Increase in swelling of lymph
Rise in body temperature
Color of tongue changes in red like strawberry
These are the basic characteristic of the disease and there are some other signs of this disease which are diarrhoea, vomiting, irritation in eye, abdominal pain, headache. To most of them, signs are directly related to the heart which can lead to various and serious problem like
Cardiac arrhythmia
Pericardits
Myocardits
Most disturbances occur in the ballooning part of the artery.
It is hard to understand these disease symptoms. The ratio which is found in occurring disease between male and female is about 2:1. In most cases it is found that the children of the lower classes are affected. The main difference between the normal body and the disease cause body is that the internal system through which blood is supplied to the heart which is coronary artery changes in disease body. This change is found up to 15% in the diseases caused body.
According to world survey it is found that nearly 3% of patient die due to this disease every year. This disease was firstly observe in the Japanese child during the world war2. This disease is not found through blood test but it can be found only through symptoms.
This disease is divided into 3 stages
In 1st stage this disease is characterized by fever and many other small problems in starting 2 weeks.
It occurs between the 2nd to 4th week of a month where the most of the platelets are seen as ballooned in the wall of the coronary artery.
This stage is recovery stage which  occurs in 1 month to 3rd month where all the check up and examination of the body is done and removing full blood vessel which are changing due to cause of disease.
Causes of KD
Till now it is not found what are the exact causes of Kawasaki disease, but there are particular infections which play a major role in causing the disease. This disease doesn't spread through by touching anyone, but there are chances of curing this disease. And these disease symptoms found in some patient sometimes only but the bad thing is it can occur again and again. This disease  does not come from our parents but due to genetic changes this disease can exist.It causes in child inform of uneasy feeling and the rise in body temperatures with an unwelcome note which last for 5-7 days. Because of rising in temperature it causes redness in the eye without having any wound in the eyes. It also causes skin rashes on the body of a child. It also causes common changes
Lips with a very red color as it appears to be wounded
Cracks fallen in dry lips.
Redness around the painful throat and tongue.
Redness and swelling occur in hands and feet.
Abnormality in immunization system of the body
According to doctors survey it has been found that due to virus or infection this disease happens. This disease illness can last from 1  week to more than 3 months.
By researcher's department the other reason is a unique bacterial toxin which causes this disease.
Treatment for Kawasaki disease
For mostly to cure this disease hospitalize before it gets more dangerous and with this you must get all the necessary information regarding this disease from expert doctor so it can help you in curing the disease as much early as possible. After this go through all checkups whether you have equipped with the disease or not and if yes then how much you are equipped with this infection.
Take high medicine doses to cure it as much as early as possible. If medicines have done their work than you could see the result in one day. Then also your body temperature is not going down then choose to have a higher medicine dosage.
And still you are not curing than take an injection of IVG medicine within 1 week from the time you have found your basic symptoms of this disease. By this method you can prevent your disease to get worsened in the future. There are many sites available on the internet's that will provide you more information about this disease in a more efficient manner.
This disease can be treated with medicines. First of all you should take care of yourselves which can include consumption of medicines. Secondly reduce your physical work from your daily scheduled and do regular check up of your body.
Another method is to minimize the heart problems is by consuming high doses of aspirin.
If your body is not answering back to the medicine than exchanging plasma is the best option to cure this disease.
If you follow the above method sincerely than you can handle this disease in an effective manner.
This is a guest post by Ashish Kamble from Collinschemist.com . If you are also interested to write for HealthResource4u, Please check our guest posting guidelines at write for us.