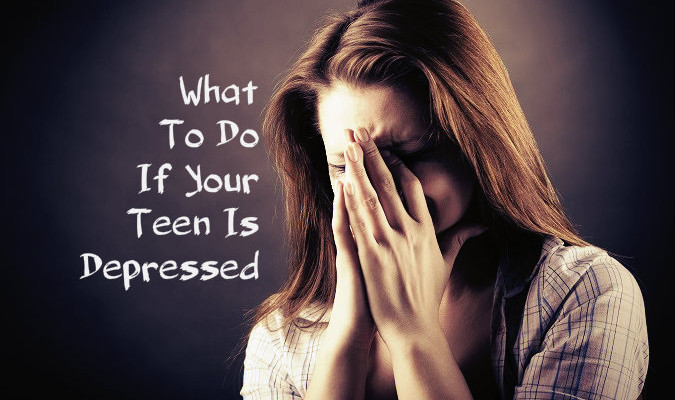 You need to watch out for signs of depression in teens nowadays, given the amount of stress and tension living in a modern, competitive world can build. If your teen is suffering from depression, you need to be able to spot the warning signals. If any symptoms of depression are noted, it's time to take action. Tomorrow may be too late. As symptoms of depression intensify, support is needed to bring your loved one back from the brink. If your teen is in denial about depression, the best help you can give is to be there and be non-judgemental.
Common Symptoms of Teen Depression
Common symptoms of teen depression may include:
Low self-esteem
Irritability
Difficulty in concentration
Change in sleep habits or eating patterns
Feelings of hopelessness and helplessness
Less interest in pleasurable hobbies and recreational activities
Loss or gain in weight
Consider thoughts of suicide
Anger and hostility
Tears or frequent bouts of crying
Withdrawing from company
Complete lack of interest in school or activities
Increased restlessness and agitation
Emotions of worthlessness and guilt
Poor self-image and low self confidence
Lack of motivation and energy
Sudden pain and fatigue
Teens are in a sensitive phase of their lives and they need parents, teachers or caregivers to realize their suffering and get them the help that is required. If you have an adolescent youngster grappling with depression, it is up to you as a parent to find the red flags and give the green signal for therapy or care as per the need of the hour. Teens who are depressed need not appear sad. Irritability, anger, and agitation can be the not so obvious symptoms of depression.
A certain degree of moodiness and acting out is not out of place for teenagers. Persistent problems in personality, mood or behavior are warning signs for a deeper issue. Is your child being a teenager and acting out or is he/she getting depressed, considering how long symptoms have been on. The severity of the symptoms, and the difference in your child from his/her usual nature point to a deeper problem.
While changes in stress and hormonal level can explain usual teen emotions, a continuous and persistent listlessness or irritation signals depression. Alarming and increasing suicidal thoughts are also something that should be heeded in time. Suicidal thoughts carry a high risk with them and it is the responsibility of the parent to seek treatment for clinical depression. For suicidal teens, depression is a disorder which can exacerbate high-risk actions. Teens who are depressed need to be closely watched for suicidal actions or thoughts.
Warning Signs to Watch Out For
Talking even lightly about committing suicide is a sign of deep depression. Saying things like "there is no way out of the situation" or "I am better off dead than alive" are statements that point to depression which is out of control. Even glorifying or romanticizing death can have serious consequences. Teens may also exhibit preoccupation with death, dying and suicide. Accidents or injuries or even reckless behaviour can be a signal of worsening symptoms ofdepression. Equally strong are the emotions such as saying goodbye to family or bidding farewell to friends and actively looking for means to do themselves in.
Teens may also exhibit a preoccupation with death, dying, and suicide. Accidents or injuries or even reckless behavior can be a signal of worsening symptoms of depression. Equally strong are the emotions such as saying goodbye to family or bidding farewell to friends and actively looking for means to do themselves in.
Teens are not children– they are making the transition to adulthood in one of the most difficult stages of life. As kids get older, problems can become more complex and parents need to change to a more supportive role if the teen is suffering from depression. Teens suffering from depression need help to get better.
Questions to Ask Yourself
One of the most important indications of depression is the symptom of sadness or irritability most days in a week for at least two weeks. Losing interest in activities he/she used to enjoy or change in activity levels are and hopelessness about the future coupled with falling grades are some of the clear signs of depression. When grades drop or there is difficulty in concentration levels, it could be a sign of underlying mental tension and hopelessness characteristic of depression.
What You Can Do
Be Empathetic and Supportive
Try to create empathy and a deeper compassion for your teen as he/she struggles through the emotions and support your child to make smart choices. Strengthen your relationship with your child and, building empathy and a keen sense of understanding by placing yourself in his/her shoes. Depression makes even the smallest activities seem like an insurmountable hurdle. So, you need to be especially supportive.
Validate Healthy Emotions
Check regarding your teen's emotional state and ensure you are clear about what is troubling him/her. Validate healthy emotions and don't ignore behavioural patterns. Be compassionate and caring without being emotional. It is very tough to remain uninvolved as a parent . Listening to him or her share his/her inner concerns and try to understand the problem rather than trying to fix it. Also give him/her the right to express words and emotions without being critical. Parents may feel that they are being passive, but it is essential to be accepting and strengthen your relationship with your teen at this crucial time.
Work Through To the Positive Things
Noticing positive things which your teen does is important. This could include holding down a part-time job, carrying out small errands or running chores. It is important to recognise what is good and reinforce it. Appreciating and recognising a good job done can make your teen feel better.
Consider Therapy
If your teen comes to you for help, do not hesitate to seek professional therapy either. Finding a therapist who can work out the solutions and help your teen to be able to deal with the issues is essential. Therapy involves management of symptoms more than looking for a single cure. Depression has multiple symptoms which require the skill of a trained therapist. Several different types of therapies are in place including:
Behavioural therapies
Interpersonal therapy
Dialectical behaviour therapy
Behavioural activation
Rational Emotive Therapy
Cognitive Therapy
Humanistic/Rogerian therapy
Medication May Be Needed
Many teens suffering from depression benefit from medication. This includes anti depressants. Therapy alone is effective with mild or moderate depression. A combination of medication and therapy is a must for severe symptoms. A board certified adolescent psychiatrist can also benefit consultation. Therapy requires trust and commitment to work. If you lay the groundwork for positive therapeutic benefits, your teen may turn to you for support when he/she is ready to. Teens are known to be egocentric and rebellious but depression is a disorder that affects 1 in 20 teenagers (Essau and Dobson, 1999). Depression is a serious mental health problem and it goes beyond moodiness, necessitating medication depending on the severity of the symptoms. Comorbidity with more than one disorder or medical condition is common enough in depression. Anxiety and depression frequently go hand in hand.
Teen depression is treatable. Treatments like CBT coupled with anti depressants can help. Research has found that 4-6 weeks of CBT can serve as a good treatment for mild to moderate depression. Fluoxetine or Prozac has been found to be effective in treating depression. Medication depends on the seriousness of the condition.
Learn About Depression
Make sure you learn all about depression. Parent education can empower your teen as well. Adhere to the treatment plan and even if the teen stops taking medications, depression symptoms may return. Communicate well with your teen and pay attention to warning signs. Work with the doctor and therapist to identify triggers of depression and how you can cope. Help your teen to stay off alcohol and drugs by talking with him/her and involving the therapist in a communicative therapeutic relationship.
Encourage Your Teen
Help your teen to maintain and keep healthy relationships. Positive friendships can boost the confidence of the teen and help him/her to stay connected with others. The teen should avoid relationships with people whose behaviour or attitude could worsen depression. Help your teen to stay active, be realistic about challenges and ask for help. Encourage your teen to open up and choose goals he/she feels committed to.
Join a Support Group
Depression is a serious condition and a life threatening disorder. Your teen as well as you need help and this is why the support group for teens and their parents can really work well. Choose the best psychiatric care and a friendly support group to act as a buffer when things get tough.
Conclusion
Depression is a difficult disorder to cope with, if you do not make the effort to understand your teen's emotions. Clinical depression carries a lot of behavioural, affective and cognitive symptoms with it. From pioneering research done by Martin Seligman on causes to research by cognitive thinker Aaron Beck regarding the effectiveness of treatment, depression has been studied for decades. While there are no easy answers, asking the right questions can help your teen to cope with this mental health disorder.