With increased instances of ADHD diagnoses, the need for medication becomes paramount, as a means of alleviation of symptoms, and their intensity. A most effective treatment which has gained popularity, when it comes to treating ADHD is medication. Vyvanse and Adderall are some of the popular drugs for curing ADHD. Medicines like Adderall, comprising 25 percent of levoamphetamine salts and 75 percent of dextroamphetamine, has become the top option for those seeking pharmaceutical treatment for this disorder.
This medication belongs to a class of drugs known as amphetamines. Another very popular amphetamine used for treating ADHD is Vyvanse. Essentially, the stimulants increase important chemical neurotransmitters in the human brain. Amphetamine is used for treating not just ADHD but also sleep disorders like narcolepsy. Vyvanse has the approval for treatment of binge eating disorders too.
What is Vyvanse
Vyvanse is a drug which is a used as a nervous system stimulant, which in basic terms affects the electrical impulses to the brain. It helps to control the electrical signals which cause hyperactivity and impulses. You will find that people over the age of 6 years of age and adults who suffer from ADHD (Attention Deficit Hyperactive Disorder) use this drug to help to control their behavior. This is drug is not used alone;it is used along with psychotherapy, social therapy, and educational therapy. Vyvanse is used for other medical conditions too, which are not mentioned in this article. Some of the simple side effects for the use of Vyvanse include:-
Loss of appetite, weight loss;
Sleep problems (insomnia);
Nausea, vomiting
Feeling irritable;
Mild skin rash;
Dry mouth
What is Adderall
Adderall is a drug which will be found in the use of illnesses or conditions such as Narcolepsy and ADHD (Attention Deficit Hyperactive Disorder). This drug is often recognized as a stimulant, but when the dose has been set to use for ADHD then it is used in such a way that it has a calming effect. When it is used in the medicating purposes of Narcolepsy, then it is used as a higher dose in order that it is used more as a stimulant.  As with all drugs which have been prescribed by your doctor, you will find that there are side effects of some kind, needless to say, not everyone who takes Adderall will suffer from side effects to a great degree. Most patients will claim that they cope quite well with the drug and the side effects, but any that there are with this drug is only mild, these will include:-
Dry mouth,
Insomnia,
Loss of appetite.
Weight loss.
Adderall Vs Vyvanse
The major difference between the two medications is that while Adderall contains amphetamine salts. Vyvanse contains lisdexamfetamine. which is converted to salts like dextroamphetamine before becoming active. Side effects of both medications are similar. Both medicines should not be taken with MAO inhibitor drugs such as phenelzine, transylcypromine, and Zyvox.
Additionally, using amphetamines such as these within 2 weeks of using MAO inhibitor drugs should be watched out for. Receiving antihypertensive medication while using these drugs can cause loss of BP. There are many options to treat ADHD. Stimulant medications lead to increased levels of brain chemicals known as neurotransmitters for improving concentration and focusing on reducing hyperactive and impulsive actions. Vyvanse and Adderall are both popular for treating ADHD. Here are the similarities, differences, dosages and side effects associated with each.
Comparison at a Glance
Adderall has been in use for a longer period of time than Vyvanse. While the former was approved in 1996, the latter has been available since 2007. Both are stimulant amphetamine medication, so they work the same way. The nervous system is stimulated and a number of neurotransmitters such as norepinephrine and dopamine are generated in the brain. Both drugs have been approved to treat those with ADHD in those 6 years and above.
These are first-line treatments for ADHD children to focus attention in the classroom for studying. Both are counted as controlled substance, carrying the risk of addiction if taken for a long time. Vyvanse is less likely to be addictive though because the body needs to break it down before working with it. With amphetamines, the potential misuse concern is always there. Vyvanse is safer because it breaks down in the body. While the Adderall is better suited for biochemistry in some cases, "prodrug" release Vyvanse is better. Vyvanse was released as an upgrade for Adderall in 2009, though.
Dosage of the Psychostimulants
Those opting for Adderall have the option of using IR or immediate release or XR where release is extended. The immediate release version is fast to act and tends to last for quite a few hours. The ER version can take up to twelve full hours.
Vyvanse, on the other hand, lacks multiple variations of release. It only comes in an ER capsule.
The IR version of Adderall can be taken two to three times at intervals of 4-6 hours in a day. The extended release form of Adderall is only found once per day. Vyvanse is taken once in a day because it has an impact for up to 14 hours. 

Dosage ranges between 5-30 mg in a single day for Adderall and between 30-70 mg per day for Vyvanse.
Recommended starting dose for treating ADHD is 30mg for adults in the case of Vyvanse and 20-30 mg once daily. At intervals of weeks, dosage may rise by 10-20 mg per day. Overall, the most amount of dosage that can be taken is 30 mg/day. Dose gradually rises by 20mg at intervals of a single week to reach the required daily dose.
When it comes to Adderall, doses are taken once or twice in a day. Dosage should be separated by 4-6 hours. The recommended dosage is around 60 to as low as 2.5 mg based on the condition being treated and the age of the ADHD patient. XR is taken once in a day for Adderall. The recommended dose is 5-40 mg given in the morning. Late evening dosages need to be avoided to prevent insomnia.
While Adderall comes in immediate and extended release doses, the difference between the two is that the XR or extended release capsule is filled with beads. The XR dosage provides dual dosage in a single pill. Vyvanse comes in delayed response capsules taken every day in the morning. The impact can last up to 14 hours.
For Adderall, adults take 20mg per day while children and teens increase with 10mg per day before dosage is raised. Vyvanse is a single capsule taken with or in the absence of food. It can either be swallowed completely or opened and sprinkled into water. The starting dose is 30 mg per day, which can increase in increments of 10 or 20 per week up to 70 mg maximum.
The Differences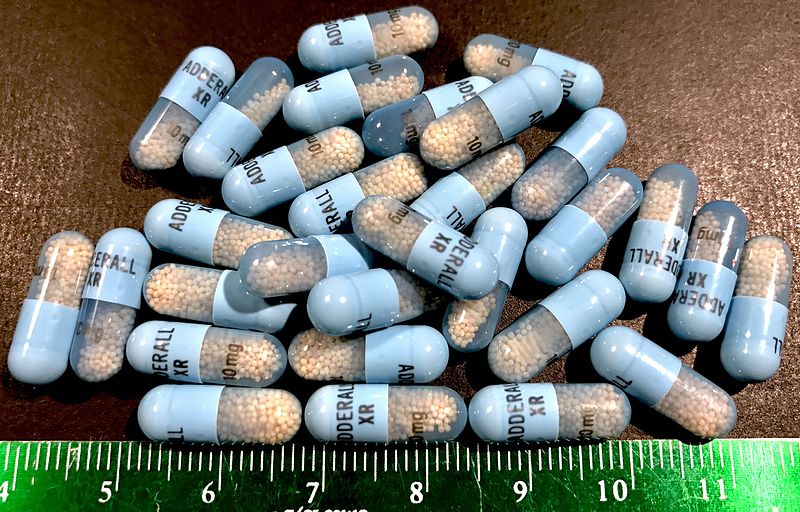 While Adderall and Vyvanse are similar medications in many ways, the difference is that Vyvanse has a prodrug effect which undergoes metabolization into dextroamphetamine and essential amino acid l-lysine. Adderall contains 25 percent of levoamphetamine and 75 percent dextroamphetamine. The onset of action is longer for Vyvanse as against Adderall. However, the prodrug characterized Vyvanse has a smoother release, lowering the chance of a crash. Adderall crashes are frequently experienced, but these less reported among those using Vyvanse.
Medical Usage
Apart from the fact that both drugs were approved for treating ADHD, they have different medical uses as well. Adderall was approved in 1996 for ADHD patients but is also used for treating sleep related conditions such as narcolepsy for decreasing the sleepiness. Vyvanse also has an additional use apart from ADHD and is used to treat binge eating disorders. This is associated with those people who have undergone weight loss. Vyvanse is consequently used for weight loss as well.
Mechanism of Action
Another question centers around which medicine is efficient. Both drugs have been found through extensive FDA testing to be effective and considered safe as well as well tolerated. But mechanisms of action differ as Adderall functions in terms of increase and inhibition of reuptake of stimulant neurotransmitters such as norepinephrine and dopamine. it also works as an inhibitor of VMAT2 and an agonist for TAAR1. Vyvanse works through a prodrug reaction. What does this mean? It is not an active drug and needs to be broken down into the body through enzymatic action leading to dextroamphetamine and i-norepinephrine from the sites for storage and prevent reuptake of these neural transmitters.
Generic Version and Half Life
While Adderall has a generic version, Vyvanse does not. Additionally, the former offers 11-13 hours of functioning and the latter, 10-13 hours.
Side Effects
The side effects of Adderall include abdominal discomfort, gastrointestinal disturbances, dizzy feeling, dry mouth, headache, fever, lack of sleep, irritation, nausea, anxiety, weight loss, and vomiting. Vyvanse, on the other hand, includes headaches and sweating as well. Adderall causes a temporary decrease in growth rate but does not affect the height during adulthood. Vyvanse, on the other hand, leads to a reduction in weight, height, and BMI according to studies.
Approval and Duration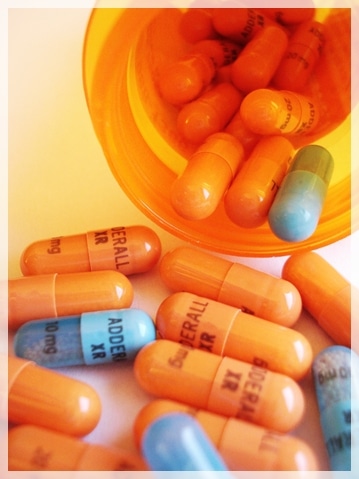 While Adderall was approved in 1996 by February 13, while in 2007, the date of approval was February 23 for Vyvanse. Adderall is not to be taken during the time of early pregnancy or within 14 days of taking MAO inhibitory medication. It can lead to serotonin linked syndrome when combined with SSRI medication such as Zoloft, Prozac or more. Vyvanse should not be taken in times of pregnancy or within two weeks of MAOI medicines.
Withdrawal
Another factor on which these two medicines differ is the withdrawal. Adderall is a habit forming drug and withdrawal can range from insomnia to fatigue, irritability, and depression. Vyvanse has lesser side effects. It still has withdrawal effects if abused including mood swings, psychosis, cardiac irregularities, depression. and exhaustion. Designed for exerting less addictive effects than Adderall, this drug has side effects if abused though. Vyvanse also leads to psychosis, heart problems, mood swings, depression, and fatigue.
Abuse
Adderall and Vyvanse both find applications in improving focus and concentration. This makes it liable to be abused by students. Both medications are Schedule 2 which means there is a chance for abuse and dependency. Adderall is considered more addictive because it has an immediate effect. Drug addicts also get a high by sniffing this drug.
Vyvanse is a prodrug taken orally and metabolized by enzymatic action to gain an impact. The release of this medicine over a longer period and a smoother effect makes it less addictive, according to some experts. Additionally, Vyvanse undergoes metabolization into 100 percent dextroamphetamine, while Adderall contains only 75% of this, making it less addictive, according to others.
Cost
Differences are there in the cost of the two medicines. While Adderall is more expensive than brand name Vyvanse, generic Adderall is available at a much more affordable rate.
Absorption
Additionally, Vyvanse is a prodrug, which means it has a smoother absorbing power. This is less likely to produce a crash effect when the drug is wearing off. Adderall lacks this release action, so it can create a crash like sensation when it is wearing off.
Ingredients
While Vyvanse comprises lisdextamfetamine, Adderall comprises mixed salts. It contains only 75 percent dextroamphetamine and 25 percent levoamphetamine. It is only during the metabolization process that lisdextamfetamine breaks down into l-lysine and dextroamphetamine.
Means of Taking
While both medicines are taken orally, some addicts and drug abusers also sniff Adderall. Vyvanse however, has a pro drug reaction so cannot be taken in the latter way.
Onset
Vyvanse takes around one to two hours to work, while Adderall produces immediate changes in the neurotransmission. Vyvanse users can take the drug and only feel its impact within a couple of hours.
The Similarities
Apart from the differences, the two drugs have many similarities as well.
ADHD treatment
The first important commonality is that both drugs are considered the most efficient first line of treatment for ADHD and are primarily prescribed for this purpose.
Efficiency
Both drugs are highly effective as against medical placebos. Slight variations may be there in individual reactions, but from a universal perspective, both are considered equally impactful.
Interaction Effect
Both the medicines, Vyavanse and Adderall,  also interact with the same range of chemicals and drugs. Contraindicated when using these medicines are similar drugs like Monoamine Oxidase Inhibitors, acidification, and alkalization agents. Subtle differences may persist in the contraindicative effects, but mostly, there is a reaction.
Psychostimulants
Both drugs Vyvanse and Adderall are psychostimulants in that they raise the level of arousal. Manufactured by Shire Pharma, both drugs increase the concentration of norepinephrine and dopamine in terms of extracellular concentration and lead to higher mental energy, enhanced cognition and more arousal physically.
Side Effects and Withdrawal
The side effects of both drugs are the same. Common side effects include irritability, anxiety, abdominal pain, loss of appetite, and sleeplessness. Both drugs have severe withdrawal symptoms when associated with high doses.
The Side Effects
Side effects of Adderall and Vyvanse are remarkably akin. Both psychostimulants have the same action namely increasing extracellular concentration of norepinephrine and dopamine. Small differences in the mechanism of action and ingredients lead to slightly different side effects. But many common side effects are there, such as appetite loss, muscle tension, and nausea.
Weight Loss: Vyvanse and Adderall
Both the medicines result in weight loss. This is because they lead to a reduction in appetite, an increase in metabolism and enhanced physiological energy. Both the medicines also cause height loss temporarily.
Common Side Effects of Vyvanse
These include the following. Dryness of mouth, giddiness, loss of weight, nausea, stomach ache, difficulty sleeping, decreased appetite, irritability, and vomiting are some of the side effects. Other side effects include stunted growth in children, seizures for patients with a history of the same, blurred vision, increased BP, hypertension, sudden death in those with heart attacks and cardiovascular symptoms. Worsening of aggression or psychiatric symptoms may also be noted.
Common Side Effects of Adderall
These include anxiety, restless feelings, excitability, giddiness, insomnia, fear, convulsions, hallucinations, and tremors. BP and heart rate may rise and cardiac palpitations may also be experienced. Other critical side effects include sudden death, stroke, depression, heart attack, manic episodes, aggression or hostility, psychosis, growth suppression, withdrawal, and dependencies.
Common Side Effects of Both
Priapism or painful penile erections lasting more than 4 hours have been reported in patients treated with these stimulants. These psychostimulants can also be abused. Associated with social disability, psychological dependence, and tolerance. this can lead to withdrawal symptoms and mental depression.
Around 10 percent of patients with Vyvanse report insomnia. Weight loss, sleeping issues, ab pain, and headache are also common. Other symptoms include diarrhea, irritation, seizure, nausea, stunting of growth and development issues. Less than 5 percent of the patients report problems such as hyperhidrosis, rash, increasing heart rate and BP, tics, vomiting, and instability on the emotional front apart from tremors and giddiness.
Post medication studies also show a risk of Tourettes, blurred vision, fatigue, allergies, ventricular hypertrophy, MI, chest pain, and dependency.
Premarket studies have shown that around 20 percent of those taking Adderall report weight loss, appetite loss, insomnia, abdominal pain, and headaches. Other studies show around 10 percent report emotional lability, dyspepsia. Fever and diarrhea, dryness of mouth, fatigue, nausea, and tachycardia as well as anxiety, weight loss, and vomiting result. Adverse reactions have also been reported in after marketing studies such as cardiomyopathy, psychosis, blurring of vision, constipation, allergies, and palpitations. Also noticed are sexual malfunctions and Raynaud phenomenon as well as Rhabdomyolysis.
Conclusion
ADHD is a condition that can be treated fairly easily and effectively if detected in time. The use of modern drugs such as Adderall and Vyvanse ensure that the patient feels maximum comfort and minimum side effects. Under medical supervision, this disorder can be treated and managed with efficiency and efficacy.