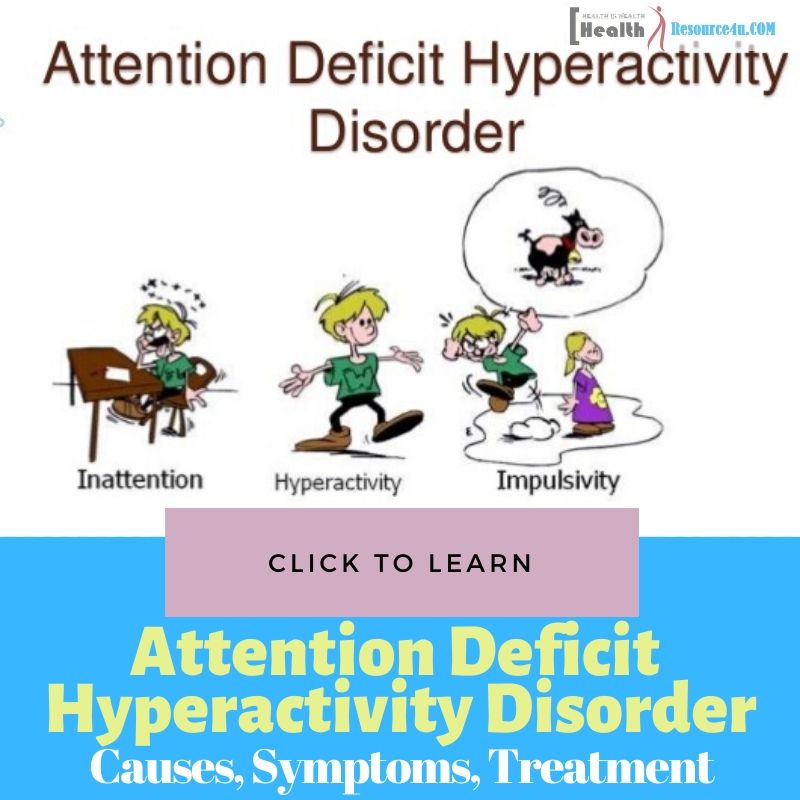 Reading Time: 5 minutes
Attention Deficit Hyperactivity Disorder (ADHD) is a common neurobehavioral disorder, with symptoms often presenting themselves in childhood and continuing on throughout adolescence and adulthood.  Although ADHD is not curable, symptoms can often be managed and may also improve with age.  Learning the signs and symptoms could be the first step to helping your child or loved one.
According to MedicineNet, ADHD is one of the most common disorders of childhood and occurs two to four times more commonly in boys than girls.  Approximately 8% – 10% of children satisfy diagnostic criteria for ADHD.
Different Types of ADHD
There are three types of ADHD:
Inattentive:
The individual finds difficulty organizing or finishing tasks, paying attention to detail, or following instructions and conversations.  Others might note that the individual gets easily distracted or forgets details of daily routines.  This is sometimes referred to as ADD.
Hyperactive-Impulsive:
The individual fidgets, talks often, or has difficulty sitting for extended periods of time, such as at a meal or while doing homework.  Younger children might be physically active constantly and run, jump, or climb often.  The individual might often feel restless and exhibit impulsive behavior, such as interrupting others, grabbing things from people, or speaking at inappropriate times.
Combined:
The individual will exhibit a combination of the above symptoms.  This is the most common type of ADHD.
Causes
ADHD causes are not known, but it is speculated that genetic factors play a roll in its development.  While research is ongoing to identify genes that make a person susceptible, several tests have found that there is a link between ADHD and brain structure, brain chemicals (dopamine and nonrepinephrine), and areas of the brain that deal with attention and impulse control.
Certain behaviors exhibited by a pregnant woman can also increase the risk of having a child with ADHD.  Smoking while pregnant increases this risk because of fetal nicotine exposure, leading to more signs of attention deficit.  Alcohol and drug abuse have also shown to reduce activity of neurons that produce neurotransmitters.
Toxin exposures also may contribute to ADHD.  Pregnant women, as well as young children, who are exposed to certain toxins or environmental poisons, such as paint containing lead, pesticides, and certain household cleaners, are at an increased risk of developing ADHD.
Studies are currently being conducted on the role of food additives and ADHD, although there is no research that supports the long-held belief that ADHD is caused by consuming too much sugar.  Additives might, however, make symptoms worse by affecting hyperactivity.  For example, food coloring and certain preservatives like sodium benzoate can potentially worsen symptoms.
Diet may also play a factor in ADHD.  Although no research has been able to support the idea that diet plays a significant role, a recent Australian study found that adolescents with diets high in fat, refined sugar, and sodium were two times as likely to be diagnosed with ADHD as other children.  Diets rich in Omega-3 fatty acids seemed to boost brain health and help some children reduce their ADHD symptoms.
Symptoms of ADHD
Signs and symptoms of the disorder must appear before age seven in order to be diagnosed with ADHD.  It's possible that signs of ADHD are apparent in children as early as two or three years of age.
Symptoms of ADHD fall into three groups:
Inattentiveness symptoms:
These symptoms may not become noticeable until the child enters school.  An adult with ADHD may experience these symptoms at work or in social situations.
Has trouble paying close attention to details
Does not seem to listen
Is easily distracted
Forgetful in daily activities
Avoids or dislikes tasks that require sustained mental effort
Has trouble following instructions and completing tasks
Exhibits disorganized work habits
Hyperactivity symptoms: 
These symptoms may be apparent in very young preschoolers and are nearly always present before the age of seven.
Fidgets often or squirms while sitting
Has trouble remaining seated
Is always "on the go"
Talks excessively
Has difficulty engaging in quiet, leisure activities
Running or climbing excessively at inappropriate times
It should be noted that hyperactivity manifests itself differently according to age.  Toddlers and preschoolers with ADHD are often in motion and have difficulty participating in sedentary activities.  School-age children display similar behavior, but not as often.  These children typically talk excessively or have trouble sitting still.  Adolescents and adults may feel restlessness and difficulty engaging in quiet activities.
Impulsivity symptoms: 
These symptoms often lead the child to accidents and may influence the child to engage in potentially dangerous activities without considering the consequences.
Interrupts or intrudes on others conversations
Difficulty awaiting one's turn
Difficulty delaying responses; often blurts out
Initiates conversations at inappropriate times
Impatience
Some children are incorrectly labeled with ADHD, and many who actually have the disorder are left undiagnosed.  A doctor should evaluate the child if ADHD is suspected.  The American Academy of Pediatrics has standard guidelines for diagnosis.  Information is often gathered from several sources.  There might be a series of parent/teacher questionnaires, psychological evaluations of the child and family, as well as a complete developmental, mental, nutritional, physical, and psychosocial examination.
Treatment of ADHD
Treatment often revolves around a partnership between the health care provider, parents, and the child.  A combination of medication and behavioral treatment is common.  Stimulants, nonstimulants and antidepressants are primary ADHD medications.
Stimulants are the most commonly used ADHD drugs and some examples are as follows:  Adderall, Focalin, Dexedrine, Ritalin and Concerta.  Because medications have different effects on different people, it may take some time to find the correct dose for the child, but they can help with behavior problems at home and at school.  Side effects of these medications include decreased appetite, weight loss, sleeping problems, and irritability.  Stimulant drugs are available in two forms:  short-acting (about four hours) or long-acting forms (between six and 12 hours).
Nonstimulant drugs, such as Strattera and Intuniv, were approved as a form of treatment in 2003.  Although nonstimulants do have some side effects, such as fatigue, sleepiness, and stomach pain, the effects are supposed to be less bothersome than those of stimulant medications.  It's also less common for someone to become dependent on nonstimulants, as opposed to stimulants
Antidepressants like Imipramine and Desipramine have been a beneficial alternative treatment when stimulants and nonstimulants give the child bothersome side effects.  Drowsiness in the first few days of treatment is common, as well as dry mouth.  Children using these drugs should be carefully monitored because heart rate changes and rhythms are also common when taking antidepressants.
Behavioral therapy can also help children gain control of their ADHD.   Creating a routine for the child, like implementing a consistent schedule, is often a beneficial part of therapy.  Incentive programs for the child, such as rewarding appropriate behavior, prove helpful.  This therapy also includes goal setting as a tool, but it's important to keep the goals realistic. Some forms of behavior therapy have little effectiveness in treating ADHD patients, but behavioral management therapy has had success with or without medications.
Outlook
About half of children with ADHD will continue to experience symptoms of inattention or impulsivity as adults.  ADHD can have detrimental effects on a child as he or she grows, including problems in social settings such as school and work.  Early identification and treatment, along with careful monitoring of progress, can prevent many of the problems associated with ADHD.