In order to get and maintain beautiful, healthy looking skin, it is important that you have a good skincare routine. Every day the factors like the sun, extremes in temperatures, pollution, and air conditioning can all have a negative impact on your skin.
One way to combat this is to use a vitamin C serum on your skin. Vitamin C is a well-researched ingredient which has proven antioxidant properties. Vitamin C also rids the skin of free radicals, which is one of the reasons for the appearance of wrinkles.
One of the most popular serums on the market at present is ArtNaturals Enhanced Vitamin C Serum. In this review, I'm going to see if the Enhanced Vitamin C Serum by ArtNaturals is an effective skin serum.
What is ArtNaturals Enhanced Vitamin C Serum
This Vitamin C Enhanced Serum contains a large percentage of pure vitamin C as well as vitamin E and hyaluronic acid. This means that ArtNaturals Enhanced Vitamin C Serum is packed with antioxidants which help to keep the skin looking great.
The addition of hyaluronic acid to the serum means that your skin also benefits from advanced hydration, thus reducing the appearance of fine lines and wrinkles. The overall effect from this Vitamin C serum is healthier skin.
ArtNaturals Vitamin C Serum is also a quality product because it has been developed using only natural and organic products without the addition of harmful chemicals like parabens.
ArtNaturals has developed the serum so that it can be applied easily and doesn't leave a greasy feel on your skin. This sets ArtNaturals Vitamin C Serum apart from other vitamin C serums on the market, which tend to be difficult to apply and greasy.
How ArtNaturals Enhanced Vitamin C Serum Works and Ingredients
ArtNaturals Enhanced Vitamin C Serum contains a potent mix of vitamins and extracts which work together to rid your skin of free radicals and provide needed nourishment.
The main ingredients are:
20% vitamin C
11% hyaluronic acid
Witch hazel
Jojoba seed oil
Ferulic acid
Vitamin A
Vitamin E
Vitamin C
The body doesn't produce enough Vitamin C for its daily requirements; therefore, we need to get it from another source. Vitamin C is a powerful anti-oxidant which kill off free radicals. Free radicals on the skin are one of the reasons why the skin ages, and applying vitamin C direct to the skin reduces the appearance of fine lines and wrinkles
Vitamin C is also an important ingredient to reduce the appearance of age spots on the skin.
The type of vitamin C is Sodium Ascorbyl Phosphate which has been shown to also boost collagen.
Hyaluronic Acid
Hyaluronic acid has been called the "anti-aging nutrient." Over half of the body's hyaluronic acid is found in the collagen of skin. Hyaluronic acid as the ability to retain over 1000 times its weight in water. Adding hyaluronic acid in a serum helps to get moisture right into the skin. The effect is that it smoothes out the skin, reducing the appearance of wrinkles and fine lines. Many skin experts say that it is more important than collagen for the skin.
Vitamin E
Vitamin E is essential to the skin to keep it looking healthy. It is an antioxidant and will help to reverse age-related skin damage. Some say that it is even better than vitamin C for its antioxidant properties.
Vitamin A
Vitamin A helps the body to produce collagen, therefore, this will help to smooth out your skin and reduce fine lines.
All the ingredients together make sure that you have all the nutrients the skin needs to keep it looking healthy and youthful.
What is the percentage of vitamin C?
ArtNaturals Enhanced Vitamin C Serum contains 20% vitamin C, which is more than many other serums.
Who should use ArtNaturals Enhanced Vitamin C Serum
Using a face serum is recommended for any woman over the age of 20. This is because as we age, our bodies don't produce as much collagen as before. We are also exposed to more environmental factors which can damage the skin causing it to lose it elasticity and make fine lines and wrinkles appear.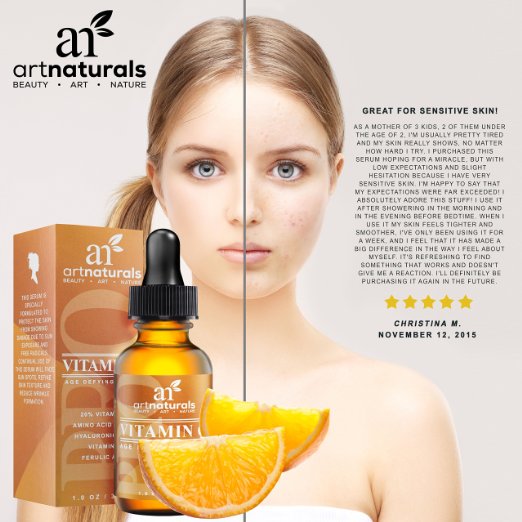 How to apply it on the face?
First of all, you should cleanse your skin. Then massage a small amount of ArtNaturals Enhanced Vitamin C Serum onto your skin and then let it absorb into the skin.
Should this be used over makeup or under?
The Enhanced Vitamin C Serum should be applied to your skin before putting on makeup. Because it absorbs into the skin very quickly, you can apply makeup straight after using the serum.
Can this be used as a moisturizer under makeup
The hyaluronic acid in the serum means that you get amazing hydration right into your skin. However, if you still want to apply your favorite moisturizer, you can do this after applying the serum.
Do you need to apply Hyaluronic Acid Serum after applying it?
Because the ArtNaturals Enchanced Vitamin C Serum already contains hyaluronic acid, there is no need to apply a separate hyaluronic serum after.
Does it really work?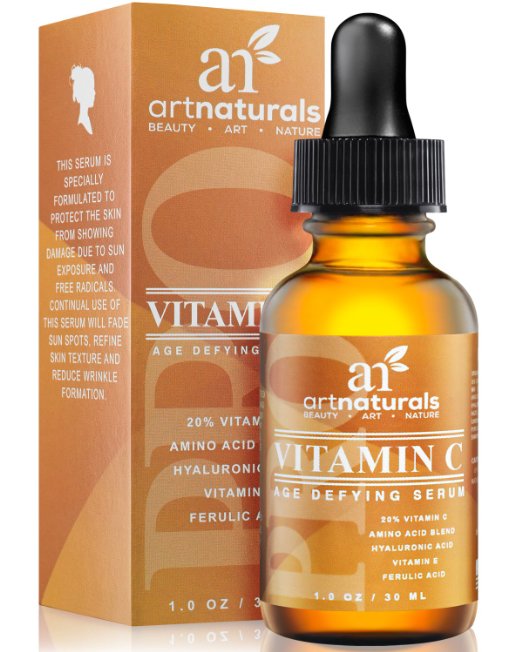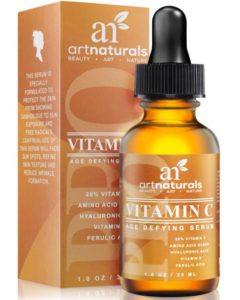 Yes, it does! Many users report that they begin to see results very quickly when they start using this vitamin C serum. It has also helped many to reduce the appearance of age spots, sometimes within a week or so.
What are the benefits
There are many benefits to your skin of using ArtNaturals Enhanced Vitamin C Serum. You will be able to see noticeable benefits very quickly. You will also help slow down the skin's aging process so that you can enjoy healthier looking skin for longer.
More benefits include:
Firmer skin
Reduce wrinkles and fine lines
Soothe itchy skin
Reduce inflammation
Helps the skin repair itself
Get an instant glow
Is there any side effects
The ingredients of ArtNaturals Enhanced Vitamin C Serum are all natural and there are no recorded side effects from using them.
Some people with very sensitive skin may notice some irritation at first. So, it is always best to try some on your skin on a small test area first of all.
What do customer reviews say?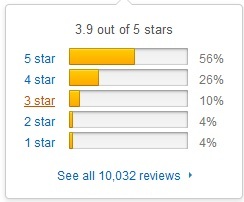 Most reviews of ArtNaturals Enhanced Vitamin C Serum show that users highly rate this vitamin C serum. The majority of women who use this say that it absorbs very quickly and that it is easy to apply.
Most say that they have seen a noticeable improvement in how their skin looks and that the serum has helped their skin to glow.
Where to buy and what is the price?
ArtNaturals Enhanced Vitamin C Serum can be bought at most online stores. It costs around $10 for a 1 oz bottle.
Purchase This Product On Amazon
Conclusion
The Enhanced Vitamin C Serum by ArtNaturals represents a high-quality product for a very reasonable price. It contains a high percentage of vitamin C and the fact that this has been enhanced by vitamins A and E is an added bonus. The hyaluronic acid in the serum means that you get extra moisturizing properties as well which will leave your skin feeling smoother and looking younger.