Ascariasis is a type of infection in the small intestines that is caused by a species of roundworm known as the Ascaris lumbricoides. It is mostly prevalent in warm tropical and subtropical climates such as in Southeast Asia and Sub-Saharan Africa.
The eggs of these roundworms are usually found either in soil contaminated by human feces or in uncooked food that are contaminated by the soil that contains the eggs. When the eggs are accidentally ingested, they hatch inside the intestines and the larvae will either penetrate the intestinal wall or it could potentially pass through the bloodstream and reach the lungs. In some cases, when the larvae reaches the lungs it can cause an uncommon form of pneumonia known as eosinophilic pneumonia.
Some of the roundworms travel to the throat from the lungs. From there, the worms in the throat will either be coughed out or swallowed back into the intestines. Those that travel back into the intestines will develop into adult worms that can grow up to 6 to 13 inches long and it can be as thick as a pencil. Without proper hygiene and sanitation, this cycle will continue for years because these adult female roundworms will lay eggs (usually up to 240, 000 eggs per day), pass this into the feces and continue to contaminate the soil. These adult worms that lay eggs can live for up to 24 months.
Compared to adults, children from ages 3-8 years old often get infected more because they tend to put their hands in their mouths and their hygiene standards are far lower than that of an adult.
This type of infection mainly occurs in places with inadequate sanitation and lack of proper modern hygiene.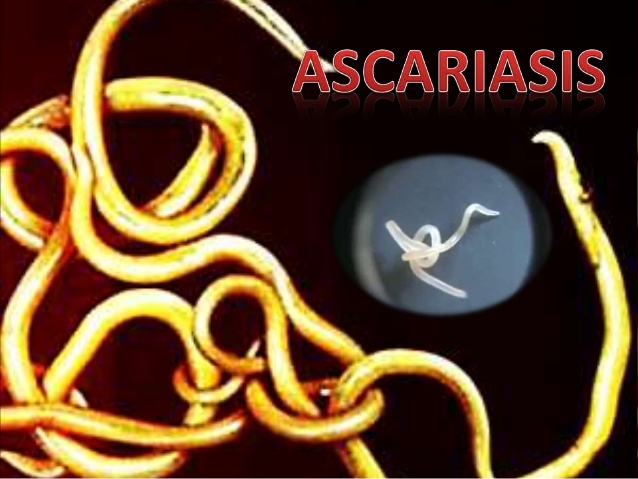 Symptoms of Ascariasis
Unfortunately during the early stages, it is very difficult to detect any symptoms of the infection. The only real clue is slight abdominal discomfort. In order to properly diagnose the infection at an early stage, the doctor may need blood and stool samples or use an abdominal X-ray.
However, as the infection grows, the following symptom may be experienced by the infected person:
Cough
Bloody Sputum
Low-grade fever
Worms in Stool or vomit
Abdominal Swelling or Abdominal pain
Malnutrition and Loss of Appetite
Shortness of breath
Stomach pain
Wheezing
Nausea
Worms exiting through the nose or mouth
As soon as the doctor diagnosed ascariasis, additional tests may be recommended in order to identify the number of mature worms in the body, where the majority of them are located and whether they are located near the internal organs. It is important that the doctor determines how long you've had this infection so they can evaluate the risk of complications.
Treatment
In order to treat the infection, antiparasitic drugs like albendazole (Albenza), ivermectin (Stromectol) and mebendazole could do the trick. These drugs either paralyze or kill the worms. The stool may be examined again after three weeks from the start of the treatment in order to check for eggs and presence of worms. Most often, children diagnosed with ascariasis should also be checked for presence of other intestinal parasites.
Note:- Please consult your doctor before using any drug.
There are people who recover without undergoing treatment. The symptoms go away on their own although some of the worms generally still live in their body. However, sometimes these worms can lead to several different complications. Large infestations can cause the worms to move from your intestines to organs like pancreas, appendix or bile duct. Complications can be any of the following:
Blockage in the intestines if the worms continue to multiply in numbers. This could cause vomiting and the infected person could experience intense pain.
Blockage in the ducts when the worms are found obstructing the passageway to either the liver or the pancreas.
Poor growth and nutrition since the infection can lead to loss of appetite. Most of the children are at risk therefore growth is stunted.
If the infestation is unusually large then surgery may be recommended. This is only usually needed if there is intestinal blockage or bowel obstruction. Unfortunately, there is no vaccine yet for ascariasis therefore, precaution and prevention is necessary.
Prevention
Ascariasis is one condition that is happening worldwide. It is in fact considered as one of the most common parasitic infections. Of the developing countries, up to 10% of their population is infected with intestinal worms and this accounts for approximately 60,000 deaths per year. The best way to combat this is to improve sanitation and hygiene. Water should be made available to use for personal hygiene, human feces should be disposed of properly and properly functioning toilets must be installed. This should help in decreasing the number of cases.
Proper education and information dissemination should be considered. People should be aware of what they can do to prevent them from getting infected.
They should stay away from soil that may be possibly be contaminated with human feces.
Their hands should be washed with soap and water prior to handling their food.
All raw vegetables and fruits must be washed, peeled and properly cooked.
Keep food away from the soil and wash or reheat any food that comes in contact with it.
Keep your environment clean and sanitized.
If you are visiting a remote area, take the necessary precaution and boil your drinking water and avoid unclean common areas.
If you can, check the food preparation facilities to make sure that it is clean and sanitary.
When To Call Your Doctor
Because this infection is asymptomatic, you won't experience the symptoms early on. However, if you have visited a high-risk area and you noticed the symptoms mentioned above, do not hesitate to call your doctor so the appropriate tests will be given, diagnosis will be made and the treatment will be provided. If you are already under treatment and either there is no improvement or a new symptom is experienced, contact your doctor immediately.
Note: – This article is guest posted by Shannon Kingsley. After her second child Shannon was left with large stretch marks and is now passionate about helping others prevent and help reduce their own stretch marks. She can be found at CuresForStretchMarks.com . Want to submit a guest post? Read HealthResource4u guest submission guidelines.