Sensitive skin calls for a lot of care. You really need to take pains while choosing any skin care product to make sure you do not aggravate the skin condition.
Sensitive skin can be intensified by using potent foaming agents or artificial fragrances present in almost all soaps available nowadays. The skin becomes inflamed, itchy and reddish due to a reaction caused by any ingredient in the soap.
What your skin needs is a mild, non-irritating formula that not only protects the skin but also offers all day long moisturization and nourishment. If you're wondering how there are a few soaps available in the market that are specially formulated to cater to the needs of sensitive skin. Such soaps are often creamy and they do not dry out the skin. They seek to seal in skin's moisture, making it look radiant and fresh. In our post today, we have compiled a list of Top 5 soaps for sensitive skin that gently cleanses and protect the skin.
Best Soap for Sensitive Skin

| Picture | Product | Quantity | Features |
| --- | --- | --- | --- |
| | | 4 ounces | Contains Aloe Vera and Chamomile |
| | | 4 ounces | Contains Vitamin E, olive oil, and chamomile |
| | | 4 ounces | Contains green tea, cucumber, and ¼ moisturizing cream |
| | | 16 fluid ounces | Infused with natural plant moisturizers |
| | | 100 grams | Organic, antiviral, antifungal, antibacterial, and cold-pressed |
Bar Soap vs. Body Wash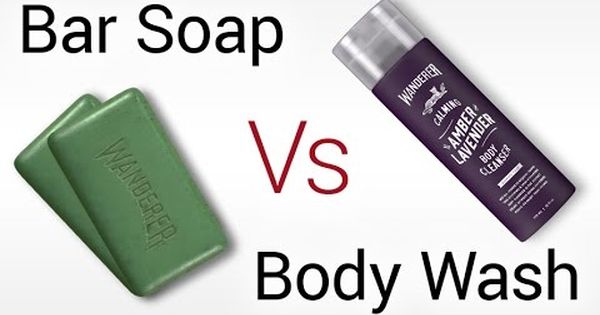 The soap aisle is shared by two types of products- the bar soaps and the body washes. Both these have different reactions on sensitive skin. So how do you know which one is better? Well, let's have a look.
A good thing about body wash is that they offer intense moisturization. This is very important for people having a dry skin. however, on the other side, body washes tend to be brightly colored and full of fragrances as compared to the bar soaps. This is a great disadvantage for people having a sensitive skin as they may trigger a reaction to hard dyes and chemicals.
A lot many would think of bar soaps as outmoded. It is difficult to hold on to and many believe that it breeds bacteria, which is not true. But as far as sensitive skin is concerned, nothing can beat the benefits offered by bar soaps. They are gentler on the skin and are formulated without the use of any dyes, fragrances or chemicals, as opposed to body washes. However, they have a higher pH and thus sometimes really dry out the skin.
So, which kind to go for? Well, without a doubt, the answer is bar soap. You might feel little disappointed if you are quite a fan of those brightly colored body washes, but take our word, bar soaps are much more beneficial. They generally do not irritate the skin and also, it is quite easy to locate several bar soaps made for sensitive skin.
How to Find The Best Bar Soap For Sensitive Skin?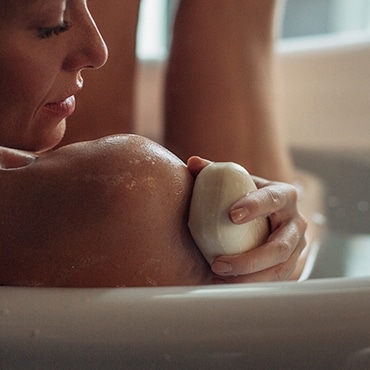 Well, now that you can cut down half of your soap aisle, it is time to limit the choices. You know you need a bar soap, but what kind?
To begin with, never forget to go through the ingredients list. If you find the ingredients of a product too difficult to read or pronounce, just avoid buying it. Go for a natural ingredient such as almond oil, olive oil, oatmeal, etc. Such ingredients are not only healthy for the skin, they also promise no hostile reactions.
Look for soaps that contain moisturizers. Bar soaps tend to dry out the skin, so those containing moisturizers are definitely better. For example, Cetaphil is highly recommended by several dermatologists as it moisturizes and nourishes the skin with petrolatum, also called Vaseline. Other commonly founding moisturizers are aloe vera, sweet almond oil, Vitamin E, etc.
Go for exfoliator soap. If you have excessively dry skin that causes skin flaking or have poor circulation, you can perhaps try a bar soap that exfoliates the skin. A lot of bar soaps contain natural scrubbing ingredients such as orange seed, oatmeal, etc. that remove all dead skin cells and helps to achieve a bright complexion.
Choose a bar soap that contains glycerin content. If you are facing acne, eczema or any other kind of skin problem, go for a bar soap that contains a high concentration of glycerin. It will soothe and cleanse your skin and prevent further skin aggravation.
See to it that the bar soap you buy is labeled as "fragrance-free". This term ensures that the product is essentially free from as much as 3,000 chemicals that may cause acute skin problems. Check out the ingredients list carefully which should not contain the word "fragrance". On the other hand, if you really want a product that smells good, look for essential oils such as lavender oil, juniper berry, citronella, etc.
Avoid harsh detergents, dyes and other preservatives that may trigger an aggressive skin reaction.
Few More Tips
If you have a sensitive skin, you also need to be careful with the way you wash your skin. Avoid using hot water in your bath as that may dry out your skin too much and cause irritation.
When washing or scrubbing your face, make use of a washcloth.
Avoid using pumice stones or loofahs as too much rubbing may cause burns and rashes.
Massage the soap gently into your skin in slow circular motions to create adequate lather.
After you take a shower, do not forget to moisturize your skin well with a nice daily lotion or cream.
Top 5 Soap for Sensitive Skin Review

Sensitive Skin Bar by Basis is the mildest and purest form of soap available which is absolutely free from all skin irritants. Formulated with Chamomile and Aloe Vera extracts, this bar soap cools, soothes and comforts the sensitive and irritated skin.
Specially designed for sensitive skin, this soap is also a good option for oily skin beauties. The skin feels, light, moisturized and totally oil-free after every wash. It doesn't leave behind any kind of residue.
The soap has a pH level ranging between 5 and 6 and doesn't aggravate irritated skin that has a pH of around 4 to 5.5. Also, it is formulated with only 16 ingredients, none of which is harsh on the skin.
It is highly recommended by dermatologists.
Pros
Ideal for sensitive skin
Makes the skin soft and nourished
The soap bar lasts for a very long time
Cons
May cause little tingling sensation when used around the delicate eye area
It is not very easily available
Natural Beauty Bar Sensitive by Tom's of Maine is a great cleansing and moisturizing formula that gently cleanses all skin dirt while preserving the natural skin's moisture levels. Combing the power of Chamomile, Olive Oil and Vitamin E extracts, this bar soap makes the skin fresh and moisturized.
Apart from this, the product is made from 100% recycled materials. The packaging is immensely attractive, drawing attention towards saving our Mother Earth.
This soap is well suited for mature skin. Some users claim it to reduce signs of aging, making the skin feel soft and supple.
It is free from all artificial ingredients and skin irritants and is dermatologist-tested.
Pros
Does not cause any breakouts
Penetrates well and moisturizes deeply
Does not dissolve rapidly
Cons
May sometimes leave a thin layer of residue on the hands
May cause little tingling sensation or maybe burn a little when used around the delicate eye area
Go Fresh Cool Moisture Beauty Bar by Dove is a great product for sensitive skin. Made with ¼ moisturizing cream content, the product offers long lasting moisturization. Also, it contains Cucumber and Green Tea extracts that refreshes and revitalizes the skin.
The soap does not dry out the skin and is ideal for everyday use. It can also be used on the delicate face area. It cleanses mildly without leaving behind any greasy residue.
This bar soap is also great for use as a hand wash. Hands being the driest body part can become much more hydrated and soft after the wash. It is highly recommended by dermatologists.
The only sad part about this product is that it contains artificial fragrances. Scented products should be avoided by sensitive skin at all times, however, if you are ready to take a chance, definitely try this one out.
Pros
Great for sensitive skin
Penetrates well and moisturizes deeply
The shape of the soap is very comfortable. Offers a good grip
Cons
Contains artificial fragrances
It melts away quite easily
NonSoap Cleanser, Sensitive Skin by NutriBiotic is a highly moisturizing formula meant for people with normal to dry skin. Enriched with Panthenola and Aloe Vera extracts, this soap nourishes the skin and improves skin hydration.
Apart from that, this liquid soap contains Citricidal, also known as grapefruit seed extract. It comes with several benefits for the skin as owing to its antibacterial, antimicrobial and antifungal properties.
This soap is non-comedogenic and removes even the smallest traces of dirt from your skin. it is formulated with special plant moisturizers that restore the skin's moisture level and preserves the skin pH balance.
It does not contain Sodium Laureth Sulfates, which is why the product does not create too much lather. However, the presence of vegetable glycerin gives you a soft and subtle soapy feel. it is free from all artificial dyes and chemicals and is pH balanced. It does not cause any sort of skin irritation.
More so, the soap offers relief from excessive dryness and itching.
Pros
Improves the skin texture
Suitable for sensitive skin
Packaging is very convenient and giving
Cons
Very thin texture
Excessive use may sometimes dry out the skin
Virgin Coconut Oil Soap, Pure & Unscented by OrganicGOLD is a gentle hydrating formula. It contains high concentrations of glycerin that makes it a heavy moisturizing solution. Formulated with all skin-friendly ingredients such as p-Coumaric Acid, Monoglycerides, Ferulic Acid and Vitamin A, C & E, this cold pressed formula locks in the skin moisture, making you look fresh all day long.
Another great ingredient of this product is Lavender extracts that not only soothe the skin but also heal and balances the skin. The product exhibits antiviral and antibacterial properties that combat skin bacteria, fungal infections, and body odors.
The soap is free from fragrances. It is non-comedogenic and effectively wards off all dead skin cells, dirt and grime. It gets quickly absorbed into the skin without leaving your skin feeling greasy or sticky.
These soaps undergo curing process for as much as 6 months in order to make them free from any lye that may cause a serious health threat.
Pros
Moisturizes the skin well
Exhibits antiviral, antibacterial and antifungal properties
A little product goes a long way
Cons
May cause little tingling sensation when used around the delicate eye area
Very expensive
Conclusion
It is essential to use the right products if you want to keep your skin ever-glowing. Go through the above-mentioned products to choose the most appropriate one for your skin type. We have selected Sensitive Skin Bar by Basis as our hero product today. The amazing formula does not only protect your skin but it also leaves it feeling hydrated and well-moisturized after every wash. It is made with all natural ingredients that soothe and cool down the inflamed and irritated skin.
If you too have an excessively sensitive skin, we highly recommend the use of this wonder product.