Dry skin calls for extra care. Nobody wants their skin to look flaky and uneven. For this purpose, the best product is a foundation which is meant primarily for dry skin.
In case you have a skin which is naturally dry, it is recommended that you use a foundation that hydrates your skin along with providing the coverage which stays on the skin all day sans any flaking. Mature skins are more prone to the problem of dryness but all thanks to latest technology that foundations meant for dry and uneven skin are ever improving. These foundations well target the other skin issues as well that includes sun damage, wrinkles etc. Some foundations even make your skin tight along with concealing, thus providing you a beautiful, natural-looking skin.
How do I choose the Best Foundation for Dry Skin?
When you are searching for the best foundation for dry skin, check out the ingredients first. This will give you an idea about what product to choose. Use a product which has ingredients which will comfort as well as hydrate your complexion. The foundation should offer you natural coverage. It should stay all day and also provide healing properties. Just do a proper search lest you will be wasting your money on useless beauty products.
In case you have a dry skin you need a product which is not totally matte as this will further dry out your skin. And if your foundation is too oily you will have a lunchtime make-up melt. So, you basically need a product which is not dry but at the same time stays on the skin without any melt down.
How To Wear Foundation When You Have Dry And Patchy Skin?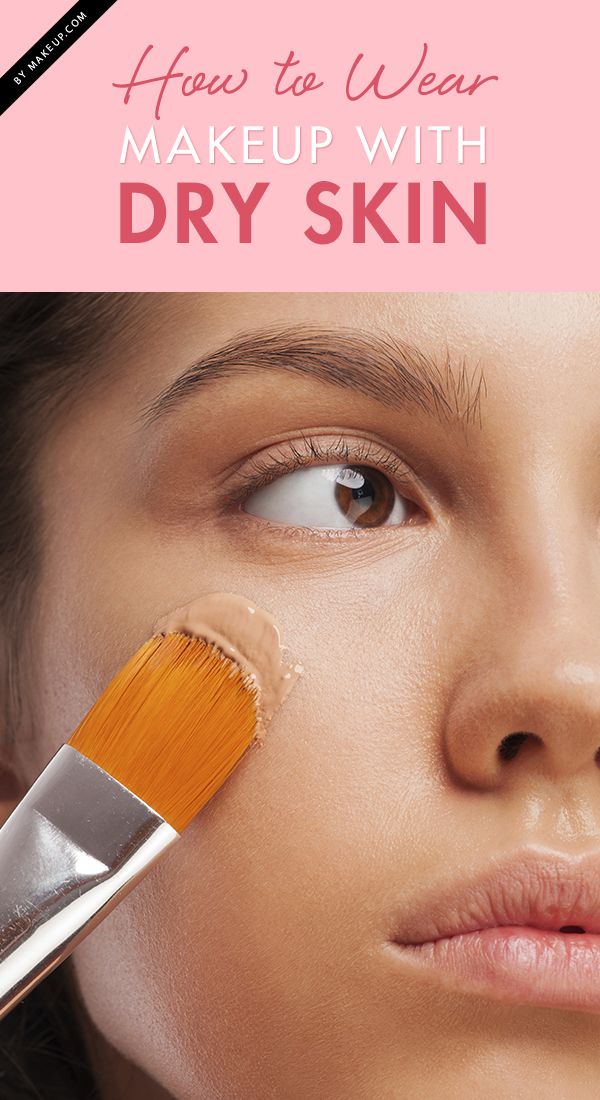 People with dry skin can face real time problems trying to make the foundation glide over patchy skin along with covering the dry, flaky and irritated skin. If the foundation gets into the fine lines, it will only make you look like a peeling statue.
Here's our easy guide that will help you to apply foundation on your dry skin in 5 simple steps with absolute perfection:
Exfoliate: The skin around your nose and in the crease of your chin area is more prone to dryness. Therefore if you directly apply a foundation on your dry skin, it will only make you look worse. It is very important to remove all skin flakes in these areas before going to bed each night. Use an exfoliating tool to get rid of this dead skin layer.
Moisturize: Even if you are using a dewy foundation for your dry skin, it will not rule out the need for applying a good hydrating moisturizer. Always hydrate your skin prior to applying a foundation. But be careful with the products you use, for example petroleum based products will not get absorbed into your skin and they will only leave you looking greasy.
Choose a Dewy Foundation: Even normal skin foundations can dry out your skin, especially if they are oil control or waterproof. You should go for the ones that have "luminous", "dewy" or "aqua" in their names as they will be more forgiving for your dry skin.
Go for Cream Products: Dry skin needs a lot of care. Make sure you always go for cream products as they can help to reduce the skin flakiness. Avoid powder and cream-to-powder products because they will make your dry skin even drier.
Apply the Foundation Using Appropriate Tools and not Fingers: This is a good rule to be followed in general, especially for dry skin. If you apply a foundation or concealer with you fingers, it will quickly get absorbed into your skin and the resultant will be a patchy and flaky finish. Use a sponge or a brush for perfect product application.
Best Foundations for Dry Skin
Below I have compiled a list of top 8 best foundations for dry skin that will ease out your skin dryness and give you a soft natural looking skin.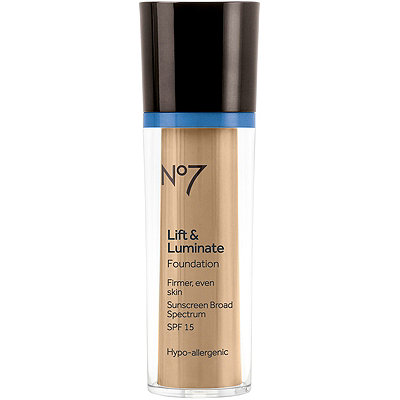 This wonder product is basically a tinted moisturizer which offers you the much-needed coverage. This product is not good for those who are suffering from a serious skin issue. For others, it is a lovely solution which is ideal for dry skin. The texture of it is very light. It is like a silky serum which quickly sinks into your skin, making it look plumped, even and glowing. What's more, your skin will also get a much-required boost from the blend of antioxidants which will keep at bay the dull effects of pollution.
Product Features
Provides advanced protection from environmental stress
Skin perfecting product
Offers an instant shot of moisture
All day lasting hydration
Light in weight
Offers maximum skin comfort
Enhances skin radiance and provides flawless complexion
Boasts of patented antioxidant formula
Contains SPF 15 which defends against aging effects of sun
Pros
Offers instant moisture boost
Available in three different shades-Fair, medium and medium/dark
Protects against environmental stress
Offers UVA protection
Light in weight
Easy application
Cons
Not suitable for oily skin
Choosing the perfect shade can offer little problem
Little expensive
Verdict
No7 Lift and Luminate SPF 15 is an ideal product for you if you have dry skin. This multi- tasking product offers sun protection along with necessary coverage.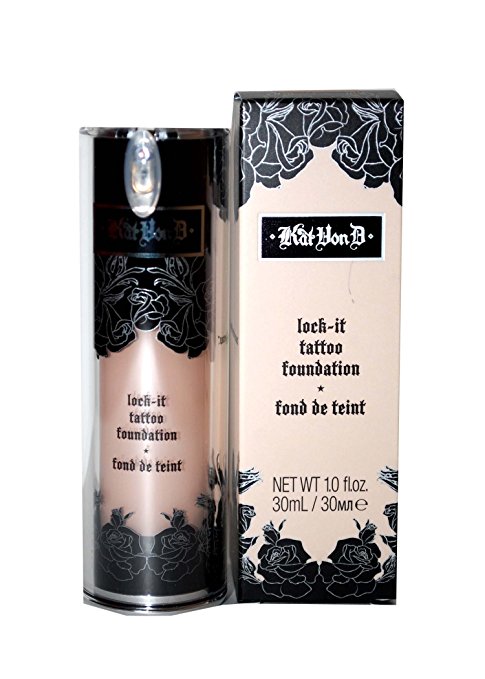 This is a big myth that dry skin needs a light foundation. In case you have oily patches on your skin, small spots, veins etc. then go in for a product which offers muscular coverage along with hydrating benefits. A wonder product Kat Von D'LockIt is an ideal product in such a case. This full coverage foundation contains a tiny amount of cream. This highly pigmented formula needs extra blending so that your skin looks naturally flawless all day. You can easily get a color for all skin tones. The product is in a pump bottle. This prevents spilling or oxidization.
Product Features
Creamy as well as pigmented
Long-wear liquid formula
Application with brush or sponge
Velvety matte finish
Exclusive blend of siliconic esters and siliconic elastomers
Transfer proof
Pump bottle ensures measured dosage with every pump
Pros
Offers a perfect matt look
High staying power
Beautiful packaging
Easy to apply
Gives full coverage
Ideal for people with sensitive skin
Airless chamber avoids any kind of contamination of the formula
Cons
Not meant for people with oily skin
Choosing the perfect shade can offer little problem
Expensive product
Verdict
Kat Von D'LockIt is ideal for those looking to cover their dark spots and fine lines with a full coverage cream. It is a wonderful product which comes loaded with a high-tech blend of silicone elastomers as well as silicone esters.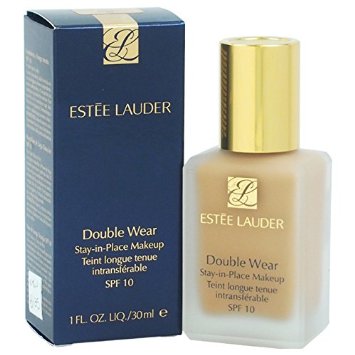 This product is time tested. It covers unevenness and pigmentation. Estee Lauder Doublewear Nude Foundation does not cake or clog pores. This less matte product can be used by people with both oily and dry skin. It is available in 22 different shades so that you can choose a shade as per your complexion. Always take expert opinion as to which shade is suitable for your skin.
Product Features
This product contains SPF 10
Offers medium coverage
Semi matte finish
Long wearing product
Ultra-light as well as easy to wear on skin
Leaves a natural, flawless complexion
Pros
Lightweight make-up formula
Gives you a natural glow
Stays on for 15 hrs
Fragrance free
Does not clog pores
Cons
Difficult to blend
Does not offer full coverage
Expensive
Verdict
Estee Lauder Doublewear Nude Foundation is a wonderful product which does not change color. It does not smudge and offers your skin a flawless semi matte finish.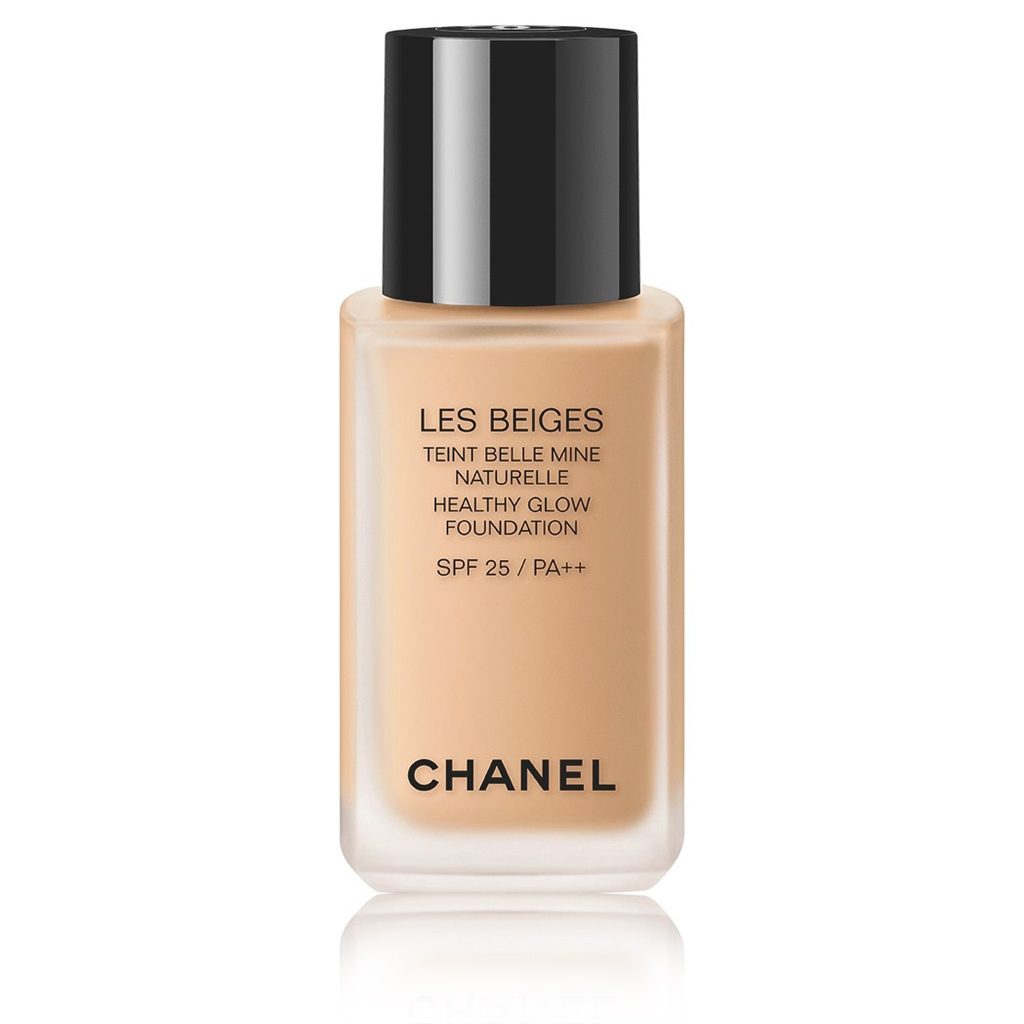 Chanel Les Beiges Healthy Glow Foundation is ideal for dull, dry and tired complexions. This lovely product captures the light rays which reflect on your cheekbones lending you a youthful as well as radiant glow. Chanel Les Beiges Healthy Glow Foundation is infused with antioxidant-rich kalanchoe extract. This ingredient is simply fantastic. This everyday base will stay on your skin for long. The coverage offered is medium to full. There is always little difficulty in blending but Les Beiges' high-tech texture easily glides on fingertips and as a result, there is no need to put one layer upon the other. Along with a foundation, you also get sunscreen properties which makes this product all the more beneficial for your skin.
Product Features
Available in 14 natural-looking shades
Defends your skin against any kind of environmental stress
Offers broad-spectrum sun protection
Contains SPF 15 sunscreen
Pros
Lends your skin a natural glow
Glides easily on your skin
Evens out your skin tone
Akin to a glow serum
Offers sun protection
Cons
Offers very less coverage
Has little fragrance
More of a tinted moisturizer
Very expensive
Verdict
Chanel Les Beiges Healthy Glow Foundation is a good product but does not cover dark spots. It basically just lends your skin a natural glow.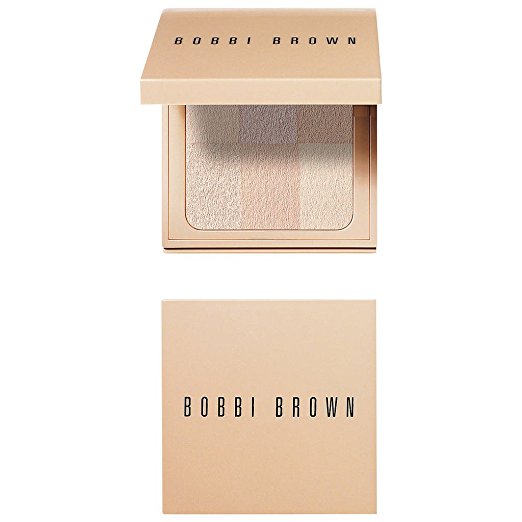 Bobbi Brown Nude Finish Illuminating Powder will make even the dullest skin look glowing as well as fresh. This base is ideal for cold weather. Try it and you will without any doubt feel the difference. It offers a beautiful translucent illuminating effect which is hard to miss. You get medium to full coverage when you use Bobbi Brown Nude Finish Illuminating Powder. When the hydration is locked in, it protects your skin from dryness as well as signs of aging. Just simply apply this ultra-soft, translucent pressed powder on your face with an angled face brush and see the transformation which happens. Make use of the narrow edge of brush to apply powder on high points of your face. Your skin will get a natural glow because of the skin brightening botanicals present in this illuminating powder.
Product Features
Subtle as well as natural light-reflective powder
It is ideal for people with all skin tones.
Varying levels of pearlescent pigments to offer a naturally luminous effect.
Contains skin-brightening blend of Grape, Mulberry and Scutellaria Extracts
Also contains Sodium Hyaluronate which serves as a moisture magnet
Pros
Lends your skin a natural luminous glow
Has skin brightening qualities
Moisturizes the skin
Cons
Expensive
Not ideal for those with dark or oily skin
Some people do not like the glitter effect
Verdict
Bobbi Brown Nude Finish Illuminating Powder is a lovely product with lends your skin a nude smooth finish. So, if you want sheer coverage, go in for Bobbi Brown Nude Finish Illuminating Powder.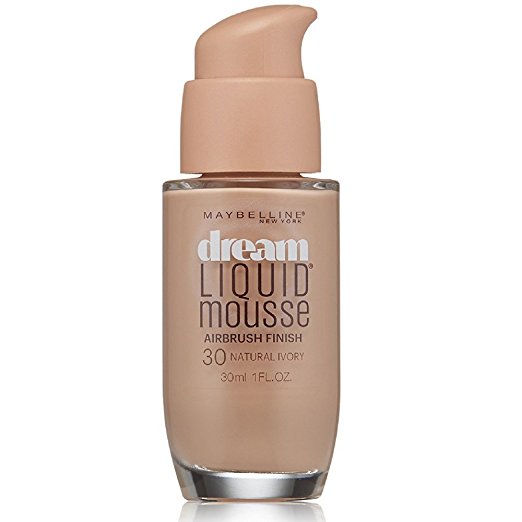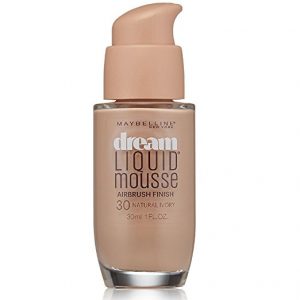 The texture of Maybelline Dream Liquid Mousse Airbrush Foundation is smooth. It offers full coverage just instantly. It is ideal for sensitive skin. It is non-comedogenic so your pores will not get clogged if you apply this mousse on your face. Just evenly spread it on your face and neck. Add a layer if you require extra coverage. Maybelline Dream Liquid Mousse Airbrush Foundation does not contain any kind of fragrance. It is a dermatologist tested product which will not cause any kind of allergic reaction in your skin. You get an airbrush finish without spending too much money. The skin looks simply poreless. This long-lasting product is a boon for those with dry skin
Product Features
Full coverage foundation
Last for to 16 hours wear
Just perfect for normal skin
Pros
Smooth and lightweight, feels like satin
Offers full coverage
Lends the skin an airbrush feel
Long lasting
Cons
Difficult to find the right color
Not high coverage makeup
Not meant for oily skin types
Verdict
Maybelline Dream Liquid Mousse Airbrush Foundation is a pretty decent foundation which easily glides over your skin making it look pore less and smooth. Just work hard on choosing the right shade and it will do wonders for your skin.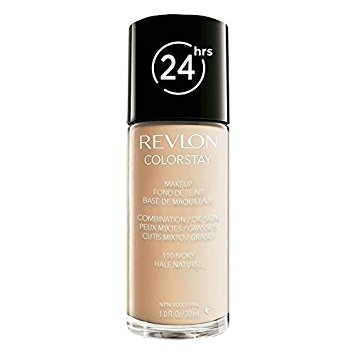 You can take the name "Colorstay" literally, as this amazing lotion offers a coverage that lasts long. It is a lightweight solution that does not cake, fade or rub off. It comes with the amazing time release technology that is ideal for dry skin. It provides deep skin hydration making your skin appear radiant and glowing.
Product Features
It offers flawless skin, the formula is just weightless and provides 16 hours of coverage
Meant for both normal and dry skin
It is oil-free, moisture-balanced formula
Lends medium to full coverage
Comes with SPF 15 protection
It will not come off the skin with normal use
Pros
Inexpensive formula
Long lasting coverage
Available in various shades
Cons
Not meant for oily skin
Tough to choose color type
Feels great on skin
Oil free formula
Looks fresh all day
Verdict
Revlon Colorstay Makeup For Normal/Dry skin is a superb product which people with both normal and dry skin can use to cover any flaws in their face. It is light in weight and lasts all day.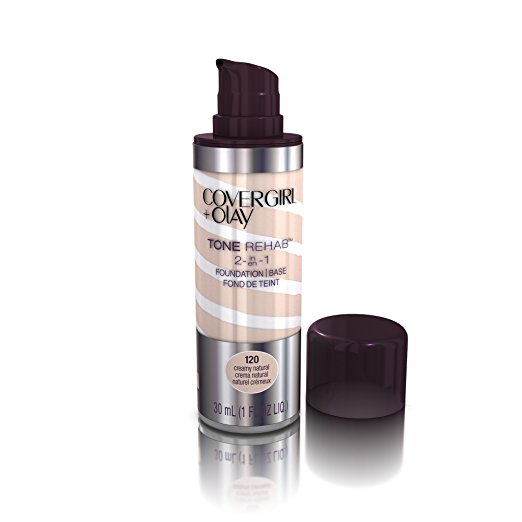 This lovely product is ideal for a busy modern girl of today as it offers features of both toner and foundation thus making your skin look fabulous. This hi- intensity hydrating serum is available in a creamy formula which glides smoothly on your skin and what you get is sheer coverage to offer you fresh dewy skin.
Product Features
This wonder potion takes care of issues such as discolorations, wrinkles, and fine lines.
Helps to make better skin tone over span of time
Focuses primarily on tone discoloration as well as age spots
Offers lovely even coverage
Pros
Targets age spots and discoloration
Easy to apply
Lead to even skin tone
Comes with toning qualities
Cons
Difficult to choose the right shade
Not meant for oily skin
Oxidizes really fast
Verdict
COVERGIRL and Olay Tonerehab 2-In-1 Foundation is a dual purpose solution that not just tones the face but also offers lasting coverage. It makes your skin look natural and glowing. Just apply a small amount and you will see a definite change in your appearance.
Conclusion
These are few of the best foundations meant for dry skin which will make you look like a dream. Never use a substandard product for your skin as it will do more harm than good to you. A good foundation is your long term partner for beauty. You can wear it to your office as well as to your party with equal ease. Just be wary that you choose a shade as per your complexion. If you choose a shade which is too light or too dark you will look like a clown so choose your foundation with proper care as well as caution.