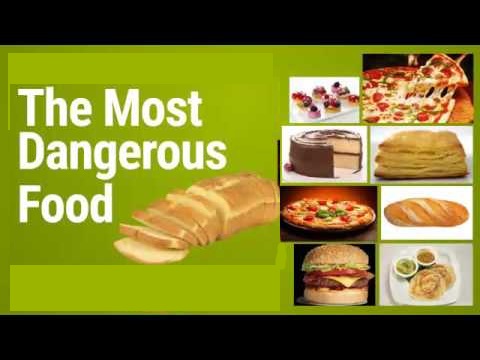 Processed, fried, junk, fast food– the monikers are many but the danger is singularly strong. Canned goods, processed items, and calorie rich junk food is probably the single most dangerous food invented. IN the year 2015, WHO reports documented how eating processed meat leads to bowel cancer. Red meat can even cause cancer. WHO has also classed hot dogs, sausages, and bacon with tobacco, diesel fumes, and asbestos as known carcinogens. No other food has so much potential to make you fat, sick or even kill you.
Eating fast food leaves you overweight and undernourished. It is the single most dangerous thing you can do when it comes to a diet that damages your body. Junk food contains meat-linked carcinogenic substances, increased calories, and saturated fats. It is the principle source of the rising chronic medical conditions on account of dangerous trans fat. But the delicious taste acts as a siren call, fueling a multi-billion dollar industry. Conspicuous consumption of fast food has become the single most important factor in the rising rate of physical and even mental illnesses.
Junk food creates a culture which initiates danger. Fast-paced, frenetic lives aided and abetted by junk food makes us all candidates for serious health conditions. The rising rate of obesity among children, teens, and adults is creating a generation of food obsessed and chronically unhealthy people. Most people are aware processed, fast food is not ideal for you. They don't understand the consequences of excessive calories, saturated fat, and carcinogens.
Trans Fat: The Deadly Ingredient
Fast food is lethal because of trans fats. These are man-made fats that were unknown to humans till 1911. Adding hydrogen to polyunsaturated oil makes it saturated and turns it into a stable fat at room temperature. Partially hydrogenated fats are this type of fat, created due to the addition of hydrogen to polyunsaturated fat. More saturation makes it stiff and solid. Though trans fat does not go rancid easily, but it does damage your heart health and organs and is terrible for blood cholesterol. Deep frying is another no-no. Why is this so? Quite simply because this frees up free radicals from the fat and causes oxidative stress leading to diseases such as cancer and heart disorders.
Fatal Fries
Trans fat is one of the most dangerous ingredients known to man. Nowhere is this more evident than fast food chains where burgers and fries are reeking of partially hydrogenated oil. Health buffs and food critics, as well as animal rights campaigners, have talked about high-fat content and increasing health dangers of fast food. Doctors and nutritionists have written so many informative articles on this. Yet, people freely eat junk food, punishing their bodies and pandering to their taste buds. Consider that a typical cheeseburger and fries combination packs a powerful calorie punch of around 1000 and you will realize just how dangerous fast food is. People enlarge their appetites by eating beyond a limit and pushing their health to the limits, in turn. Fast food is available just about everywhere. It is easily accessible. Whether it's ice cream, salty snacks, soft drinks, candy or bakery goods, processed items have no nutritional value. What they do have (and in plenty is) calories, fats and salts.
From Damaging the Waistline to the Brain
Adding some unwanted inches to your waist is not the only problem of eating fast food. It also causes brain damage! Regular consumption of junk food traps you into eating disorders, depression, and emotional eating. The more junk food is eaten, the fewer nutrients are consumed. Here's the lowdown on how dangerous junk food can be.
#1 It Leads to Memory and Learning Issues
An American Journal of Clinical Nutrition study found that healthy people snacking on fast food performed badly on tests for attention, mood, and speed. Eating junk food has been conclusively linked with memory problems. This is because toxins in junk food inflame the hippocampus, the area of the brain responsible for remembering and recognition.
A sugary, fat rich diet also surpasses brain peptide called BDNF or brain-derived neurotrophic factor. This assists with learning and memory formation and lack of this peptide can impair both processes. Synaptic links between nerve cells for learning and memory weaken and malfunction as a result of consuming too many calories.
#2 Rising Risk of Dementia
This is one of the biggest problems associated with consumption of junk food. Insulin is generated in the pancreas and aids in the transportation of fuel in the form of sugar to the body. Insulin also plays a vital role in transmitting nerve signals and formation of memories. So imbalances can lead to a real problem when it comes to neuro-degeneration.
With higher levels of insulin, the brain develops a resistance to it. This comes in the way of correct recall, accurate memories, and efficient cognition. This raises the chances of developing dementia. Alzheimer's is even considered a diabetes of cognitive type by researchers.
#3 No Appetite Control
Too much partially hydrogenated oil in the form of trans fat affects the satiation centers of the brain and impacts your ability to process what you have eaten and existing hunger levels. This causes overeating. Healthy brain functionality requires essential fatty acids like Omega 3 and 6. So many brain related mental disorders like ADHD, Bipolar and dementia stem from poor eating habits, say researchers. A study in 2011 found trans fat makes inflames the hypothalamus. Why is this area of the brain important? The lateral and ventromedial hypothalamus control the capacity of the brain to detect hunger and satiation levels. This can, therefore, damage the ability of the person to know when to stop eating and contribute to obesity and poor impulse control. It may even stimulate addiction and substance abuse disorders.
#4 Chemicals In Your Brain?
Numerous studies have shown that consuming foods which are excessively high in fat and sugar changes the chemical activities of the brain. It also makes it dependent on junk food. Withdrawal symptoms can even result if junk food is discontinued. Imbalance of fatty acids and loss of essential acids like amino tryptophan which contributes to depression.
#5 It Can Lead to Cravings
Eating a sugar filled cupcake is not a good idea. What makes junk food so dangerous? This spikes your blood glucose levels, initially leaving you satisfied by eventually leaving you in negative moods. Fast food contains a high amount of carbs causing fluctuation in blood glucose levels. With this process in place, eating too fast leads to more craving for food. It can also make you hyperactive with sodium benzoate, an ingredient found in most junk foods. Food adds energy to your body and serves as fuel. It can impact your health in myriad ways. The addictive aspects of junk food make it so very dangerous for you.
#6 Digestive Imbalance
Junk food can trigger digestive issues. Those into junk food are likely to cause acid reflux problems like GERD and IBS. Junk food is rich in trans fat which increases acid production. Oil from the fast food gets deposited on the lining of the stomach wall, increasing acid production. Inadequate consumption of fiber also leads to digestion problems like hemorrhoids and constipation.
Fast food and sugary, fizzy drinks have a lot of calories and carbs. This the increases the level of blood sugar and pancreas increase the amount of insulin. As Sugar absorption causes blood glucose levels to drop, releasing a hormone called glucagon. This signals the liver to utilize stored glucose. When there are frequent spikes in blood sugar due to ingestion of junk food, this hampers insulin resistance and leads to diabetes.
#7 Poor Heart Health
Additional sugars in the junk food items lack in nutritional value but have a high calorific value. American Heart Association states that twice is much sugar as is required is consumed by US citizens. Extra calories equal obesity. But trans fat also raises LDL cholesterol and lowers good cholesterol known as HDL cholesterol. This increases chances of developing heart problems such as coronary diseases, arteriosclerosis and much more.
#8 Strain on the Kidneys
Excessive sodium leads to water retention. This, in turn, creates feelings of puffiness and bloatedness. Salty food goes beyond triggering hypertension or enlarged heart muscles. Congestive heart failure, cirrhosis or kidney disease are the results of excessive salt as this builds up fluid.
#9 Respiratory Problems
Obesity causes respiratory problems as well. Shortness of breath, wheezing, sleep apnea and other factors can trigger shallow breathing and lead to respiratory conditions like asthma and rhinitis.
#10 Central Nervous System Damage
CNS responsible for the condition of brain synapses or nerve junctions that transmit signals and form the basis of mood, emotions and brain functioning can be damaged due to excessive junk food. This one's a no-brainer. Junk food impacts molecular basis of memory and learning and this, in turn, leads to cognitive deficits.
#11 Bad Skin, Teeth and Bones
Greasy junk foods are a serious problem when it comes to acne. High in carbs, they spike blood glucose levels and lead to acne. When you eat foods high in sugar and carbs, bacteria in the mouth generate acids. This destroys tooth enamel and leads to the development of fragile bones or osteoporosis.
#12 Chronic Fatigue
This is another problem associated with junk foods. They lack the nutrients needed to boost energy levels and act as fuel for the body's energy needs. This fails to meet needs for instant energy and increases feelings of weakness and fatigue over time. Junk food lowers energy levels as it becomes tough to perform even basic tasks.
#13 Liver Damage
Junk food over a steady period of time can have the same effect on the liver as consuming alcohol on a regular basis does. Liver enzymes show a change in those who gorge on junk food and avoid exercise. High level of trans fat is found in junk foods leading to liver dysfunction and deposition in the liver.
#14 Raise Chances of Cancer
The dreaded disease associated with terminal outcomes, cancer comes last on this list. But this in no way takes away from the seriousness of this disease or the grave implications it has for junk food eaters. According to the European journal of prevention of cancer, too much junk food leads to colorectal cancer. Fried foods increase the chance of prostate cancer too.
Conclusion
Health should remain your priority because a medical condition can make you lose out on life. Don't fall prey to junk food and the deadly medical conditions associated with it. Opt for organic, whole grain and healthy fats if you want health to remain in your hands.