What is constipation?
Before we find the natural remedies for constipation,, let us first get to know what constipation is and what its causes are. Constipation is a condition in which you defecate less than that of the usual. People usually observe that they just defecate around three times a week. In addition to this, people who are constipated are also having a difficult time to do so. They often describe their stool as being hard and difficult to pass out.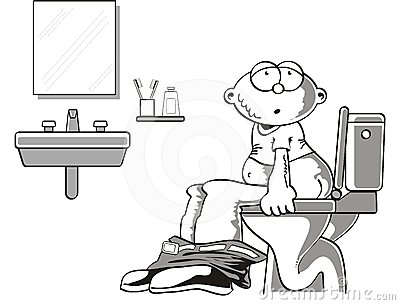 Causes of constipation
There are a lot of causes of constipation and knowing the cause of your constipation will greatly help in finding the solution to your problem. To be able to find the cause of your constipation ask yourself these 4 questions.
What kind of diet do you have?
One of the causes of constipation is your diet. If you do not take in a lot of fiber in your diet, your stool would also harden up. There are a lot of foods that are rich in fiber. You just have to find the ones that you like to eat and stick with it. Water is one of the natural remedies for constipation, it is also very important in one's diet. You should keep yourself well-hydrated and drink around 8 glasses of water every day. You may also take other fluids but be sure that you take fluids such as juice. You can also take in coffee and tea but be sure to take them in small amounts because they are diuretic agents and they help you to produce more urine. When it does this, the amount of water in your body is lessened because it is already excreted.
What types of medicines do you take?
Another cause of constipation is due to the medication that you are taking. The medications may have side effects that could lead you to be constipated. If your doctor prescribed the medication, you could ask them if you could change the medication to something that would not cause constipation. You could also ask them if there is something you could take in to reverse the side effects such as constipation.
Are you sick?
There are also other diseases that can cause constipation; such diseases may include muscular dystrophy, hypothyroidism, diabetes, Parkinson's disease, colon cancer, cystic fibrosis and many more others. There are diseases that show constipation as one of their symptoms. If you think that there is something wrong with you, you should let your doctor check you up.
Do you go when you need to go?
In children, it is usually observed that they hold back their stool. This has varying causes as many children may be afraid to defecate because they felt pain on their previous defecation. In adults, this might also be true. Adults resist the urge to defecate because they are too busy with their work. Often times, they ignore the need to go to the bathroom because they will be late for work.
Remedies of constipation
Depending on the cause, constipation could be successfully treated if you focus on your body's needs. Here are a few remedies of constipation you could choose.
Alter your diet.
If constipation is caused by your diet, then you should do something about your diet. Foods rich in fiber should always be included in your meals. At the same time, water and other fluids should also be always taken in.
Check your medication
Constipation due to medication may be remedied by asking your doctor's advice. Your doctor may change your medication or may give you another medicine so that you will not be constipated.
Find a cure for your disease
Constipation that is due to other diseases may also be remedied when you find cure to your current disease but there are also other things that would help you prevent being constipated while you still have the disease.
Take in laxatives
The other remedies on constipation include taking in of laxatives. Laxatives are medicines designed to soften your stool. Too much of this may also lead you to having diarrhea, before you take any medication, be sure to ask your doctor about it. Enemas could also help in releasing the stool that is difficult to excrete. Natural remedies for constipation are also available. These are safer than the over the counter medicines that are available in pharmacies.
Go to the bathroom when you need to
Avoid resisting the need to go to the bathroom. You need to go when you need to go. This will ensure the smooth flow of your bowels. If you stop it, there is a tendency that your poo will just be stuck in your intestine. More water will be reabsorbed and your stool will harden.
In any remedy you choose to use, be sure to carefully do it. It is also advisable that you seek medical help especially if your constipation has been present for prolonged periods of time. Constipation may not be the only problem you have; there are times that constipation is just a symptom of a disease. If you cannot find the cause of your constipation, it is best to ask an advice from an expert. The doctors would be willing to check-up on you to find out what may have caused your constipation.