As a matter of fact, eye creams are usually placed last on the list of your cosmetic diary. They are generally considered as an unnecessary extra, or more often, they are forgotten altogether, simply owing to the whirlwind of cleansers, toners, and moisturizers. But, believe me, once you unveil the benefits of an under eye cream, you will begin to use it religiously.
The extremely sensitive eye area differs from person to person. A direct result of this is that the market is flooded with numerous unique products that promise to offer absolute protection to your under-eye skin. Whether it's dark circles, crow's feet, puffy eyes or simply weary eyes, there is a cream for all of you. Yes, these under-eye creams not only protect and revive your gorgeous eyes, they also come with essential nourishing benefits. The skin under your eyes is delicate. So always make sure to apply these creams with your ring finger, without applying too much pressure.
What is an Eye Cream?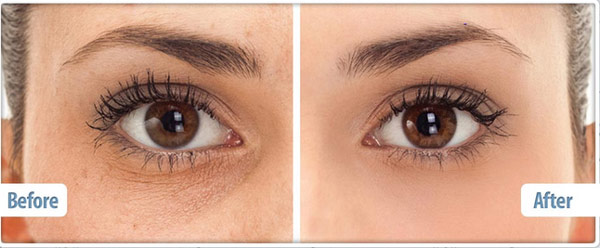 The skin around the eye area is extremely delicate and fragile. It is more prone to dryness and showing fatigue. As a result, the area experiences the signs of aging a little before than the rest of your face. The constant movement of your eyes also initiates the process of appearance of fine lines and wrinkles. The fluids accumulate under the eye area and cause dark circles and puffiness. Eye creams are specially formulated creams for addressing these eye problems.
What is the Cause of Puffy Under Eyes?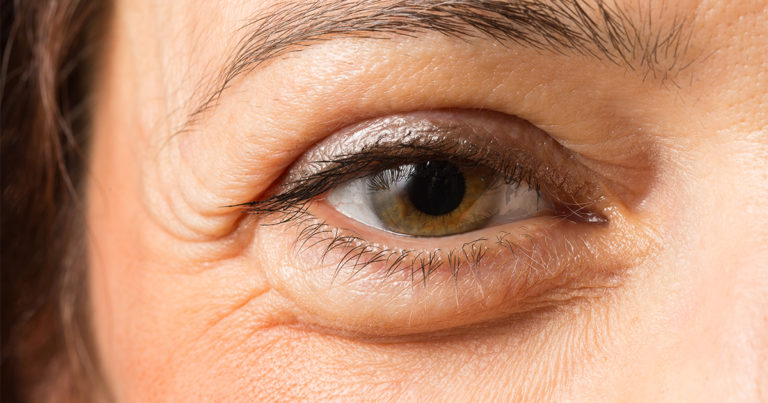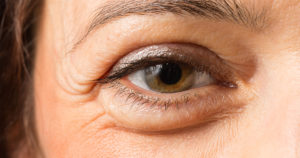 As you age, the soft tissues and the eye muscles that support your eyelids begin to weaken. The skin starts to sag and all the fat that is distributed to the area around the eye gets accumulated below the eyes. The fluids also get collected under the eyes making the eye area appear swollen and puffy.
Best Under Eye Creams for Dark circles (TOP 8)
A little eye contact goes a long way. So before heading out for any event, just consider the latest crop of under-eye creams and treat your beautiful and very delicate eye area. Whether you wish to plump your fine lines, correct the puffiness or eliminate dark circles, these ingenious eye formulas will simply set your sights right.
Scroll down to know about the few that we have personally tried and tested and choose the one that suits you best.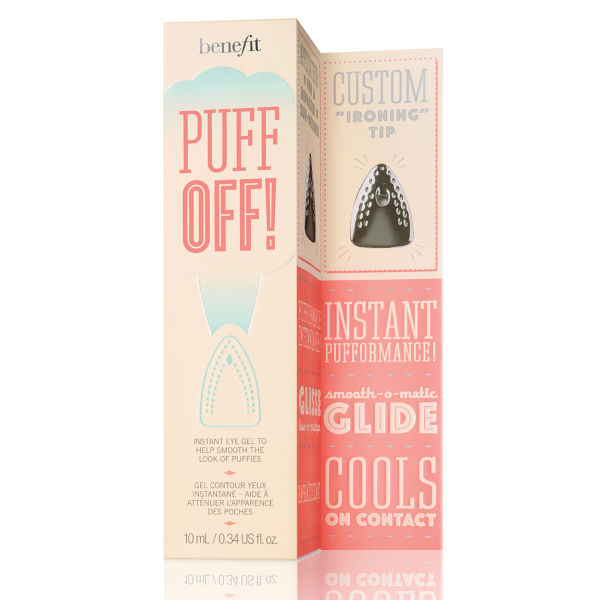 Benefit Puff Off Eye Gel is an amazing under-eye product that vouches to instantly soothe sore and inflamed eyes. It treats the dark circles and greatly reduces the appearance of fine lines and wrinkles. You will soon see the puffiness and creases formed around the eye go away, giving you a satiny smooth look. It comes with an extremely handy applicator brush which has an "ironing" tip that fades all the puffiness in an instant.
How to Use
Squeeze the tube and make a dot application under each eye.
Glide the cream on using the "ironing" tip.
You can use the under-eye cream on your bare skin as well as over your makeup. In case you are applying it on your makeup, just pat very gently, using your ring finger to blend.
Pros
Lightweight
Gives a very neat and smooth look
Instantly soothes puffy eyes
Gives a cooling effect
Very easy to use
Cons
Verdict
Overall, the under-eye gel cream bags great reviews from users. 94% of the people who used it, proclaimed that it effectively soothes the eye area.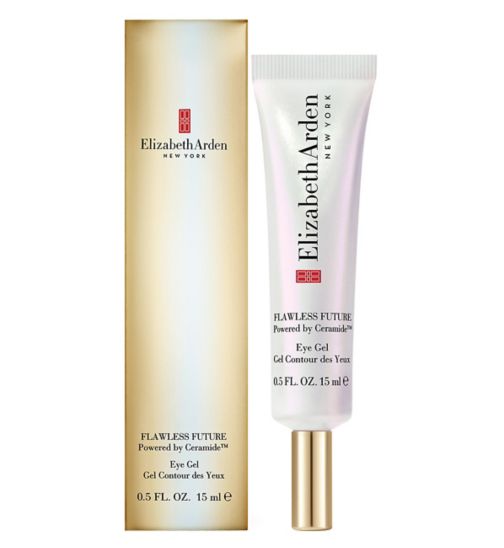 Specially formulated for the youth market, Elizabeth Arden Flawless Future Ceramide Eye Gel is an ideal option if you are in your 20s. this under-eye gel is lightweight and extremely gentle to be used from an early age, as it will assist you in preserving your good skin for the future years. The coolness of the gel will de-puff the under eye area instantly and provide a refreshing sensation. It contains Algae Extract Complex that helps to reduce the early signs of crow's feet and treat dark circles, reviving your weary looking eyes.
How to Use
Dab a small amount of the cream and gently pat it around the eye contours, primarily focusing on the outer corners.
Pros
Offers intense moisturization and hydration
Improves skin texture, giving you a brighter and radiant looking complexion
Relieves the signs of stress and tiredness in the skin
Cons
Temporary effect
Sometimes causes irritation to eyes
Verdict
This amazing under-eye treatment cream bags positive results. The users claim that it lightens the dark circles and diminishes the appearance of fine lines and crow's feet. Therefore, it is a must try!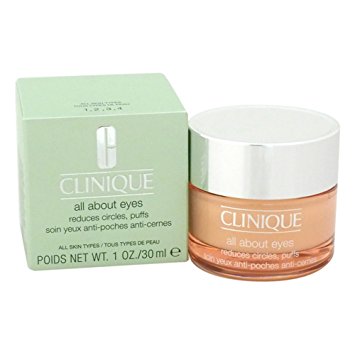 Clinique All About Eyes is a lightweight, non-creep gel formula that helps in diminishing the appearance of dark circles as well as under-eye puffiness. It very well vanishes into the skin, leaving it soft, healthy and hydrated. It can also be used as a primer that keeps your makeup in proper place all day long. You can simply apply a small amount of it over your eyelids before wearing your makeup to flaunt a neat and well-settled eye makeup.
How to Use
Take a small amount of the under-eye cream and apply it to the entire eye area with your ring finger in a gentle patting manner.
For best results, use it twice a day, morning and night time.
Pros
Ophthalmologist tested. Safe for the under eye delicate area
100% free from all artificial fragrances. Allergy tested
Easily absorbs into the skin
Instantly brightens up the skin
Reduces the appearance of dark circles and fine lines
Makes the eye-makeup stay fresh and intact for prolonged hours
Cons
Expensive
Results are not too quick
Verdict
It is a great product that guarantees results. For all the people who are distressed with their dark circles, must surely try this product. I am sure they won't be disappointed.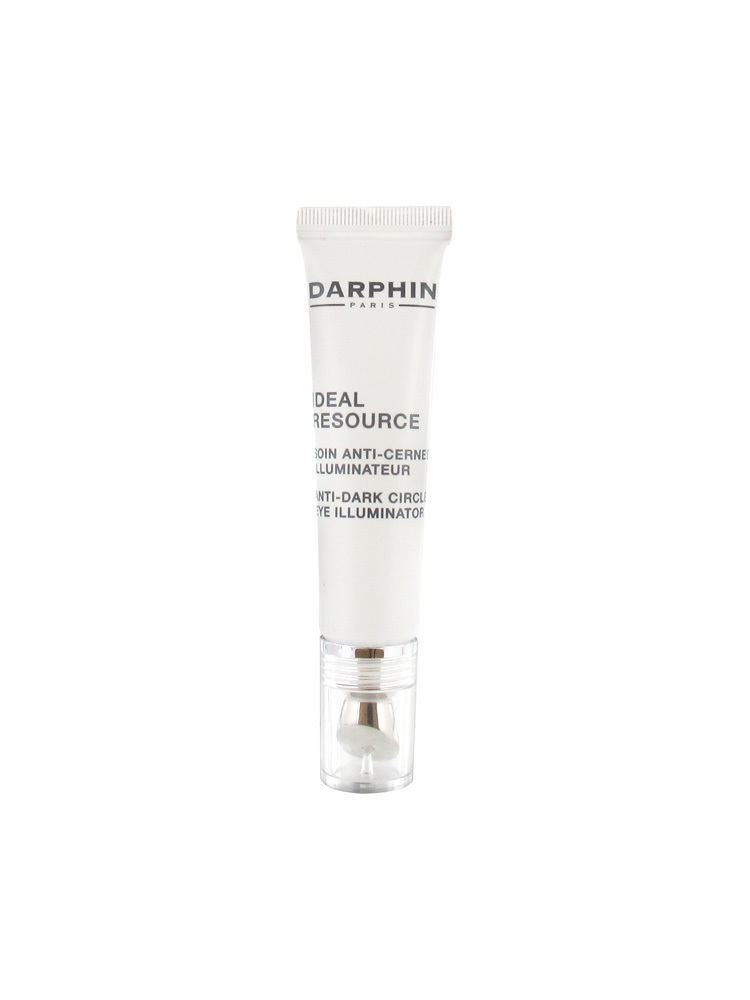 Darphin Ideal Resource Anti-Dark Circle Eye Illuminator is a handy solution for treating dark circles (especially after those late nights). When you apply it on your eyes and under-eye area, you will notice a translucent sheen that will instantly brighten your eyes. It contains peptides and vitamin C that extend long-term benefits in treating the dark circles as well as signs of aging. It comes with a metallic cooling tip brush that offers instant suppleness to the under-eye area.
How to Use
Take a little amount of the tinted cream and apply it gently over your eyelids and the under-eye area.
Pros
Cons
Verdict
The product is a hundred percent yes yes, for the people who are seeking absolute repair and radiance to the eye area. It proffers long term benefits which makes this under-eye cream a favorite choice of many. Over time, you will witness a brighter and more luminous eye area.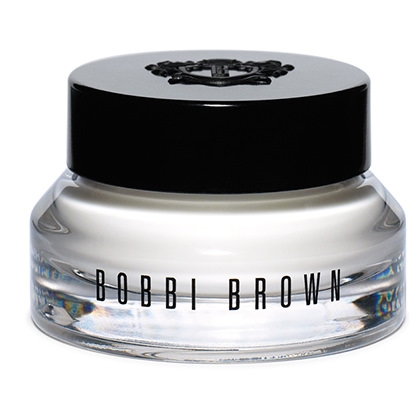 Bobbi Brown Hydrating Eye Cream is a concentrated cream that gets instantly absorbed into the skin, leaving you with a hydrated skin texture. It is ideal to apply this eye cream prior to your makeup application, as the emollients in the cream will impart a lightweight texture that will facilitate the further application of your makeup concealer. It is advised to use this cream during the night time as well so that your skin recharges and rehydrates during the nightly repair. It assists in improving the overall texture of the skin, making your eye area look healthier and refreshed up to 24 hours.
How to Use
Dab the cream around your eye area and gently pat with your finger. Do not apply any pressure.
Also, make sure that the cream is properly absorbed into your skin before the application of the concealer.
Pros
It vanishes into the skin, moisturizing it from deep within
Keeps the skin fresh and soft for as long as 24 hours
Leaves a flawless finish
Cons
It sometimes causes tightness in the under-eye area
Verdict
This eye cream may not solve your elaborate issues but it is perfect for people in their 20s. It will make your skin rich and hydrated. It is non-stick and hence, is very easy to apply. It is a great product for daily usage.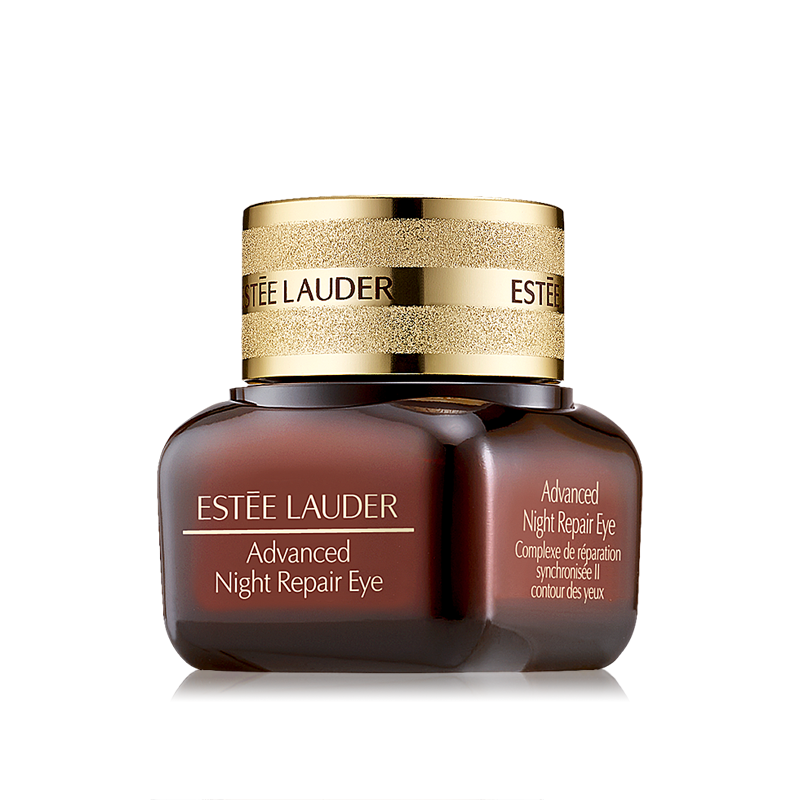 Estée Lauder Advanced Night Repair Eye is the most comprehensive anti-aging eye cream that is known to correct eye puffiness, dark circles, visible signs of aging, dryness and an uneven skin tone. It features the amazing ChronoluxCB technology that helps to revive your gorgeous eyes of all the fatigue, age, and pollution. It has a silky gel consistency that makes the eye area comfortable and moisturized.
How to Use
Dip the applicator into the cream jar and apply 3 small dots to the properly cleaned eye area, twice a day. With the help of your ring finger, gently blend the cream. Do not forget to rinse the applicator after every use.
Pros
Prevents the visible signs of eye aging
Treats dryness, dullness and tired eyes
Cures puffiness, dark circles
Rich gel crème
Non-acnegenic
Dermatologist, ophthalmologist tested
Free from all fragrances
Suitable for all skin types
Cons
Verdict
It is a greatly recommended product that helps to eliminate all eye and under-eye issues. It easily gets absorbed into the skin, not making the area feel heavy or oily. It does not contain any scent and therefore can also be used by people with a sensitive skin type.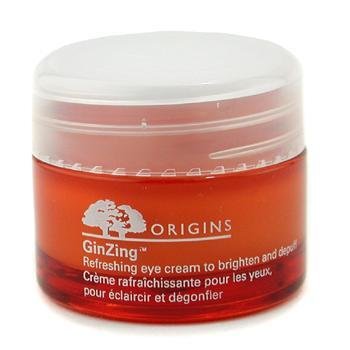 Origins GinZing Refreshing Eye Cream to Brighten and Depuff is an instant solution for treating tired eyes. Formulated with caffeine extracts, mognolia extract, optic brighteners and panax ginseng, this efficient morning-after eye cream assists in preventing dark circles and unsightly puffiness. It helps to restore a radiant complexion, giving comfortable cooling sensation to your dreary skin.
How to Use
Lightly dab a small amount of the cream around your eye area, using your ring finger, every morning.
Pros
Brightens and rejuvenates your skin
Gives an instant cooling effect
Provides deep and intense moisturization and improves the eye area texture
Helps in a better application of makeup concealer
Free from all artificial fragrances and parabens
Cons
There is no instant effect on puffiness and dark circles
Expensive
Verdict
The product offers long-term results. It is little expensive but if you use it judiciously; it will stay with you for long. Overall, it bags positive reviews from all users.
Shiseido SunCare Sun Protection Eye Cream is a rich crème formula which is an ideal choice for combating the approaching summer heat. It reduces the appearance of wrinkles, UV-induced lines, dark circles and fosters a healthy looking and radiant eye area texture. The concentrated cream solution protects the delicate eye area from the harmful UVA UVB rays. It is however advised to use the treatment cream all-round the year, even when it isn't shining.
How to Use
Take a little amount of this under-eye cream on your fingertip and evenly apply it all around the eyes.
Pros
Dermatologist and ophthalmologist tested
Non-greasy, quickly absorbs into the skin
Lightweight formula that makes the skin look bright and shining
Provides deep moisturization
Long lasting
Smells great
Cons
Verdict
It is a highly recommended product that will save your delicate eye area from the harmful rays of the sun. All the users are quite satisfied with the results that have been achieved.
How to Choose the Best Under Eye Cream for Your Needs?
The eye area is often more drier as compared to the rest of the face. It lacks firmness and quickly shows up dark circles. In order to address these issues properly, there is a need for a luxurious and enhanced formula that this is exactly where under eye creams excel. While looking for the bet eye cream in the market look for the following:
It should be a supplemented and dense formula that keeps your eye area hydrated for long.
It should be an absolutely fragrance-free formulation that does not harm your sensitive under eye area.
It should not contain any skin aggravating ingredients like skin-sensitizing plant extracts, fragrant plant oils etc.
Before going out to the market in order to buy an under eye cream, there is a need to identify your specific skin needs. Whatever your list of grievances, there is a cream for all.
Look for the following ingredients when treating the listed ailments:
Dark Circles: Vitamin K or niacinamide, a powerful form of vitamin B3 as found in nutrient-rich foods like milk, meat, eggs and fish.
Under Eye Puffiness: Caffeine
Visible Signs of Ageing: Hyaluronic acid and shea butter
For Collagen Loss: Peptides and vitamin C
For better results, the eye creams that contain retinol, a vitamin A derivative is preferred as they augment the rate of skin turnover and stimulate the collagen production.
Note: Prescription grade retinoids such as tretinoin might prove to be extremely harsh for sensitive under eye skin area. So avoid retinol in case you have a sensitive skin type. Also, it is advisable to apply eye creams at night only so as to avoid skin irritation. It is imperative to apply a layer of sunscreen before heading out in the sun as retinol can increase your skin's sensitivity to the sun.
Conclusion
So, are you tired of finding ways to deal with those unsightly dark circles? Now no more!
Makeup can only cover up your dark circles as long as it stays on your face. But since you all know, wearing cosmetic products that contain numerous chemicals and artificial extracts will do more harm than good to your sensitive skin; it is advisable that you cleanse your skin and the under-eye area properly before going to bed. If you are in a trans about how to get rid of these under-eye problems without using makeup, do not delay in picking up one of the above mentioned under-eye treatment creams. These creams are a healthy and convenient way of providing the much-needed care and nourishment to your eyes.