Trying to locate the best makeup products for people with an acne prone skin can be quite an intimidating task. They need products that are labeled as "non-comedogenic" and do not cause further skin breakouts. But what exactly are non-comedogenic products, and are they really safe? In this post, we have addressed some important concerns of acne prone people as well as laid out some of the best powder foundations for acne prone skin.
Best Powder Foundation for Acne Prone Skin
| Picture | Product | Quantity | Form |
| --- | --- | --- | --- |
| | | 0.27 Ounce | Pressed |
| | | 0.5 Ounce | Loose |
| | | N/A | Pressed |
| | | 2.1 Ounces | Pressed |
Does Makeup Cause Acne?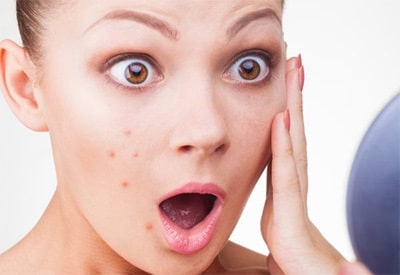 You have to be careful with a plethora of factors if you are dealing with acne, and of course, makeup is one. However, it is not the sole reason for all those breakouts.
A lot of times, you may not be removing all traces of makeup at night, especially if you are wearing a heavy base. This may lead to the clogging of pores and undoubtedly the next morning you will wake up with more breakouts. Try using a soft washcloth or cleansing brush with your makeup cleanser to properly clean your face before the night time.
It may also be possible that the makeup you are using contains certain stringent ingredients that are further aggravating your skin condition.
Is Non-Comedogenic Makeup Better For Your Skin?
A lot of makeup products today come with a "non-comedogenic" tag, serving as a guarantee of not clogging the skin pores. Unfortunately, you cannot trust their claim of being 100% non-comedogenic as there are no regulated or approved standards for these claims anywhere in the world.
It is hilarious how sometimes even the thickest and creamiest foundations are labeled as non-comedogenic. As a rule of thumb, the thicker and denser the product, the more likely it is to clog the skin pores.
Next, I would also suggest you be cautious of the "oil-free" claim. A lot of products contain ingredients that make the skin feel greasy even after proclaiming that the product is absolutely "oil-free". Oil further clogs the skin pores and increases the rate of skin breakouts.
Makeup and Foundation Don'ts for Acne- Prone Skin
Say NO to fragrance-loaded and alcohol-based products: This is a universal advice for people with all skin types, but very essential for the oily and acne-prone skin as such ingredients further aggravate the skin condition and cause more oiliness and breakouts.
Sidestep from using thick or dense makeup products: Thick makeup products such as creamy compacts or foundation sticks contain dubious ingredients that keep them in solid or semi-solid form. Such ingredients are extremely harmful to acne-prone skin as they only lead more breakouts. A lot of you I am sure must be tempted to use such thick products to perfectly conceal all your acne and redness as they come with high coverage, but it will only make the condition worse. Luckily, there are a plethora of alternatives to such products. Let's have a look at some of the best ones.
Top 5 Expert Powder Foundations for Acne-Prone Skin

Clinique Stay- Matte Sheer Pressed Powder is an effective oil-free formula that comes with an excellent sheer texture imparting a perfect matte look. This shine absorbing product is ideal for oily as well as acne-prone skin. It helps to maintain a fresh and radiant look for a long time, ruling out the need for frequent touch-ups.
How to Use
The foundation comes with a sponge applicator. Use that for a neat and smooth finish.
The product can be applied all over the face or just on the acne prone area.
Wash the sponge applicator properly with soap before the next application.
Pros
It is a lightweight pressed powder foundation. Highly suitable for all skin types.
It does not clog the skin pores or cause breakouts.
It controls the excess skin oil for as much as 4-5 hours.
It can also be used as a setting powder over a foundation or primer.
The product does not impart a specific color, thus it can be used as an everyday face powder.
The sponge applicator included in the foundation is of good quality.
Packaging is attractive and travel-friendly.
Cons
The product doesn't last more than 5 hours.
The effect is extremely sheer. It doesn't cover the acne spots and scars completely.
It is not the perfect solution for dry skinned beauties.
If you use a generous amount of the product, it may highlight the fine lines and dry patches.
It is little expensive.
Click to Purchase on Amazon.com
Smashbox HALO Hydrating Perfecting Powder is a high selling product that extends a beautiful luminous glow. This anti-aging powder can be used as a foundation as well as a finishing powder. Formulated with 48 minerals, pure gold, 11 amino acids and potent peptides, this formula seeks to rejuvenate and revitalize the skin, revealing a brighter looking complexion.
It offers instant results. You can witness a considerable reduction in the fine lines and wrinkles just after 10 minutes of application.
How to Use
Rotate the shaver, twirl the brush into the powder and apply the product on the face. This will help in a smooth application, giving the skin an even look.
You can wear the product alone or on top of a primer and foundation for a heavy coverage.
Pros
A great foundation or perfecting foundation that can be used for all skin types.
It is very lightweight. You can use it all day every day.
It blends well and imparts a beautiful radiant skin glow.
It is formulated without fragrance, oils, talc, parabens, phthalates and sodium lauryl sulfate.
It doesn't cause skin breakouts and is suitable for sensitive skin as well.
It lends a natural and soft dewy look for almost 7 hours apart from absorbing all excess oil and shine off the face.
It doesn't oxidize.
The packaging is hygienic and travel-friendly with nominal spillage issues.
Cons
It only covers minor skin imperfections without perfectly concealing all scars, acne spots and blemishes.
It does not offer heavy coverage.
It is not very suitable for people with dry skin.
It does not include an applicator brush.
It is quite expensive.
Click to Purchase on Amazon.com
Chanel Le Teint Ultra Tenue Compact is a great product that helps in achieving a long-lasting, smooth and ultra-natural look. This velvety powder formula comes in a sleek refillable compact form that includes a double-sided applicator brush for a flawless application. The product is enriched with the light-diffusing complex which offers a natural and subtle luminosity and essential absorbent powders that extend a matte finish to the skin. It also contains amino acid pigments that deliver lightweight and long staying coverage.
How to Use
The two-sided applicator brush serves a dual purpose. The spongy side is used for achieving heavy and intense coverage. The velvety side, on the other hand, offers a sheerer finish. You can build coverage, from medium to full, as per your requirements.
Pros
It is super long wearing.
It offers great and dense skin coverage.
It is ideal for people suffering from rosacea, pigmentation, and acne.
The formula is finely milled and blends in well to reveal a perfect matte look.
Packaging is great and extremely travel-friendly.
Cons
It is not very suitable for people with dry skin.
It doesn't come in a huge range of color options. There is not much choice for darker toned skin.
Click to Purchase on Amazon.com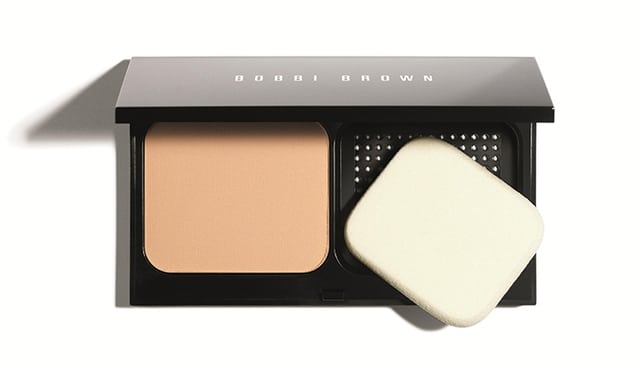 Bobbi Brown Skin Weightless Powder Foundation is a smooth, velvety, cashmere-like powder that delivers a flawless and polished looking skin tone along with a luxurious glow. This oil-free powder has a creamy texture and blends very well into the skin. The product offers the best way to camouflage all acne spots, pores, and other skin imperfections. It absorbs all oil and keeps the skin shine-free throughout the day. It can be used as a setting powder as well.
How to Use
It is suitable for all skin types- normal to oily who are looking for a sheer natural coverage.
If you are looking for a medium to full coverage, use the dry sponge included in the compact. For a sheer coverage, dust the powder using a soft powder brush.
Pros
The powder is finely pounded and has a smooth creamy texture.
It extends a matte look without drying it up.
It offers both full and sheer coverage depending upon the type of applicator brush used.
Skin looks fresh and healthy without making it too heavy after the application.
It can be used as a foundation as well as a setting powder.
Does not cake up or settle into the fine lines.
Packaging is functional and aesthetically attractive.
Comes in a huge range of 20 true-to-you color options.
Cons
The compact is non-refillable.
Click to Purchase on Amazon.com
Shiseido Sheer and Perfect Compact Foundation is a great product if light and sheer coverage is what you are looking for. The foundation offers great radiance, glides on smoothly and blends onto the skin easily, giving you a slightly blurred and luminous complexion. It comes with SMK Glow Up Powder as well as Color Noise Cancelling technology that extends a beautifully photoshopped look.
Pros
It is a finely pounded pressed powder compact that seeks to even out the skin tone by offering sheer-to-light coverage.
A very faint glow that looks extremely natural.
It is available in a huge variety of color options. You can choose the one that meets your precise complexion.
It is fragrance-free and also provides protection against the sun.
Cons
Some of the shades have an odd pinkish undertone.
It offers SPF 21 which is below the standards for optimal sun protection.
Click to Purchase on Amazon.com
How to Prevent Acne in the First Place? (Few Tips)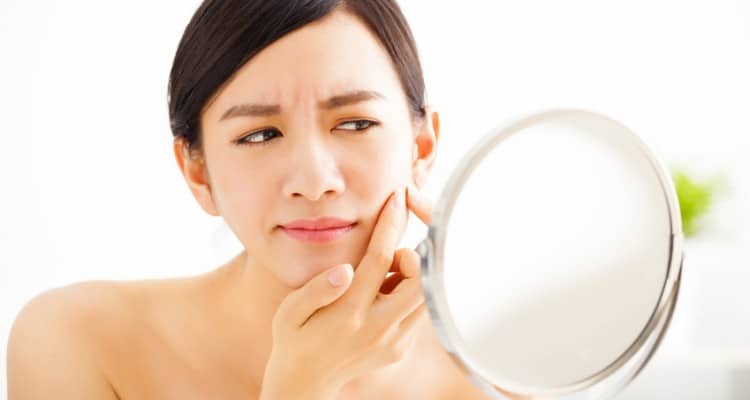 Apart from using a good foundation for acne-prone skin, there are few other points as well that you can keep in mind to protect your skin and avoid further aggravation. Here is a quick rundown of the same.
Modifying your skincare routine a bit to toss away all products that are causing skin irritation.
Avoiding all makeup and skincare products that contain high concentrations of denatured alcohol.
Avoiding all solid and semi-solid makeup products.
Always removing every trace of makeup before going to bed.
Do not over cleanse your skin. Use a mild cleanser and wash your face twice a day.
Say no to bar cleansers.
Avoid using loofahs, hard scrubs, and other rough skin cleaning brushes.
Use salicylic acid for exfoliating the skin. It doesn't clog the skin pores and keeps the skin free from all debris.
Protect yourself from the sun. Use a good sunscreen lotion before stepping out in the heat.
Use benzoyl peroxide regularly on the acne-prone areas to prevent eruptions and breakouts.
Conclusion
Dealing with acne is not easy. However, following these aforementioned points can certainly help you in controlling frequent eruptions. Be gentle on your skin, avoid heavy waxy products and include one of these powder foundations in your daily makeup routine to find a considerable change in your skin.