Millions of people in the world suffer from fingernail fungus (Onychomycosis). A toenail or fingernail fungus can happen quickly and also spreads quite fast to other nails. If it is not treated in time, it may spread and can look unsightly and embarrassing. This can be a real problem if it is on fingernails as you cannot walk around wearing gloves all the time.
Although fingernail fungus may occur anytime during humid and warm months, but bacterial infections can plague tissues and keratin any time. Fingernail fungus problem is accompanied by cracking, pitting, and yellowing of nails, while underlying skin will also be infected within a short time.
Actually, the fungal growth builds up under the nails surface. The bacteria enters the nails through small holes or cracks in the surface, or by some forming on the exposed tissues. This bacteria thrives in moist and warm climate, such as clothes, latex gloves, or when hands are exposed to chemicals, dirt and continuous sweating.
Once the nails are infected, it cannot be removed except extensive treatment. This fungus won't go on its own and you cannot cut it away as such. At the onset of this infection, nails may look yellowish and pale, but would turn dark in color as infection progresses and it then begins killing soft tissues and keratin. Even though fungus may infect nails in the beginning, but it will eventually damage your skin and may cause severe infection accompanied by tenderness, soreness and inflammation.
Picture of Fingernail Fungus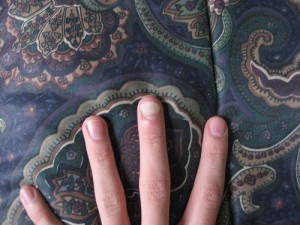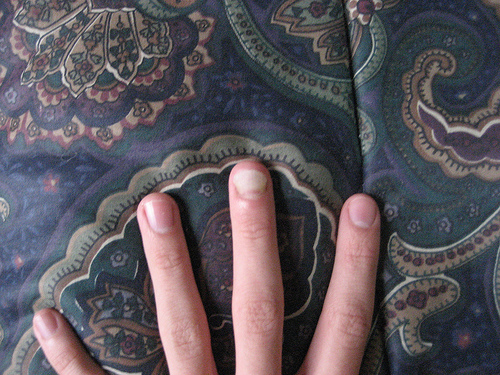 Image Source: –toenail-fungus-treatments.com
Fig:- White Toenail Fungus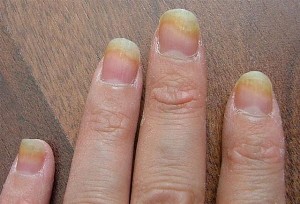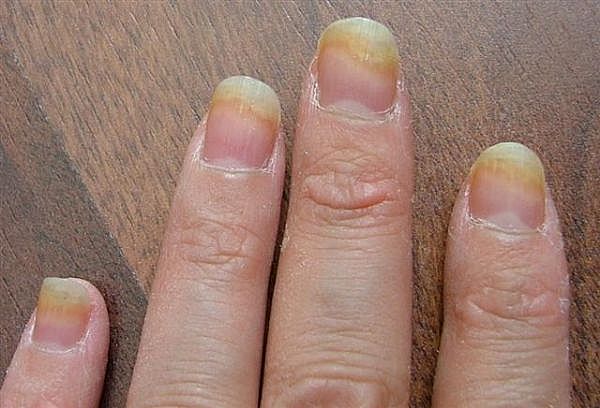 Image Source:- toenailproblems.net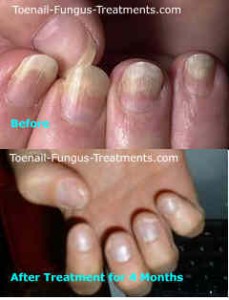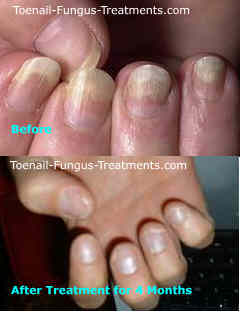 Image Source: –toenail-fungus-treatments.com
Causes of fingernail fungus
Trauma- When nails hit something hard, they may lift from the nail bed resulting in the fungus creeping under the nails.
Environment-when nails are exposed to warm temperatures, high humidity, wet areas or alkaline environment, this may set appropriate conditions for fungus to set in. All those who are vegetarians are more prone to this fungus as their diet is mainly alkaline.
Weak immune function- If your immune system is not functioning in a proper way, it won't be able to fight infections due to fungus and bacteria. You can strengthen your immune system with rest, diet, supplements and diet.
Poor blood circulation-Without adequate blood flow to any areas, immune system won't be able to function properly in that particular area. This may result in this fungus setting in such areas. Aside from that, poor blood flow leads to poor nutrition of nails which may result in nail bed getting traumatized easily. This trauma may lead to nail fungus.
What steps can be taken to prevent toenail fungus?
Wear rubber sandals-As and when you use various public facilities such as showers, gymnasiums and showers, you should wear rubber sandals on feet. This is also necessary when you are out at water pool.
When you immerse your feet in water such as when getting shower or going for a swimming session, you should dry off your feet and hands thoroughly. Avoid going around in wet socks.
Keep your toenails well groomed and short so as to avoid buildup of fungal environment. You can get assistance from a good pedicure salon.
You should use preventive fungal sprays in shoes and socks and change your shoes and socks frequently.
You should never pick your hangnails or toenail skin as this could break it and may allow in fungal elements.
Eating a well balanced diet is a good solution to fungal infections. This is the main reason why many senior citizens suffer from toenail infection than younger people.
Treating Fingernail Fungus Problems
You should try to expose your affected nails to direct sunlight as this will help you in minimizing fungal growth. Toenail fungus thrives in moist environment so you should try to minimize and avoid it. Aside from that, this fungus also likes dark areas, so you should remove nail polish to avoid further infections.
You can also use many household items for treating toenail fungus. For instance, 50 percent hydrogen peroxide, cider vinegar, and Clorox (bleach) can be used. Mostly, infected areas are soaked in these solutions for some time. This should be performed every day and results will be evident within few weeks or months.
Many people use certain oils such as Lavender oil, tea tree oil, olive oil for treating fingernail fungus because they have strong anti fungal properties. Some use it alone whereas others use it in combination with various other oils. Neem oil is obtained from Neem tree and has strong anti fungal and anti bacterial properties that makes it good for treating infection.
Certain homemade remedies using Listerine have show significant results in removing toenail fungus. With various advancements in treatment for toenail fungus, you can get various solutions that can not only provide you quick relief, but can also rebuild keratin providing long term relief from this problem.
Many tropical applications and creams have been developed in the past few years using Tolnaftate, which stops the growth of bacteria and also inhibits the fungal growth within a short time. When it is used with Emu and Tea Tree oil, you will get a well-rounded and powerful solution that can clear your nails and also improves the keratin production.
Both Emu and Tea Tree oil can penetrate deep into the skin thereby bringing immediate relief. Aside from this, Emu oil has natural anti-bacterial and anti-inflammatory properties. In fact, these oils are being used since centuries for healing wounds, skin rashes and burns. It is widely used in various skin care solutions and works well in destroying bacteria.
As compared to the other ingredients such as Grape Seed extract, Peppermint, and Menthol formulations help in healing the damaged skin tissues and also restore healthy nail growth. There is no more swelling, splitting or discoloration.
The good fingernail fungus treatment will help in cleaning nail problems, restores natural keratin growth, and also kills harmful bacteria responsible for the problem. Doctors usually prescribe oral drugs such as Lamisil for treating this condition. Various other remedies include topical creams, Lacquer nail polish, and OTC medications such as Naftin.
Lastly, there are many surgical and laser treatments for removing fingernail fungus problem. This kind of treatment would need doctor's approval depending upon your condition.
This is a guest post by Myke Thomas from VitaminsAndMinerals.net.You can follow him on Google+ and Twitter . If you are also interest to write for HealthResource4u, Please check our guest posting guidelines at write for us.