Dealing with sensitive skin is not easy. And shaving with such conditions is even tougher. One wrong stroke and you may get razor burns, cuts or ingrown hair causing too much pain and discomfort. So, what can be done to save yourself from such situations? Well, the foremost way of having a good shaving experience is making use of the right tools and at the forefront of such is the razor.
I will divide this post into two parts. The first would include some highly recommended products, especially for sensitive skin.
In the second part, I will be sharing with you some important shaving tips that can help you in having a world class shaving experience.
I have heard countless stories of people simply switching their razor to solve the skin issue they are facing. Well, not anymore! Here are our top 5 product recommendations if you have a sensitive skin type.
Best Razor for Sensitive Skin
| Picture | Product | Type | Features |
| --- | --- | --- | --- |
| | | Electric | Battery-operated, portable |
| | | Electric | Battery-operated, portable |
| | | Traditional | Contains Aloe, Vitamin E, Hypoallergenic, Fragrance Free |
| | | Traditional | Slim head and longer tapered handle |
| | | Traditional | Lubrastrip, Elastomer handle, and Precision Balanced Handle |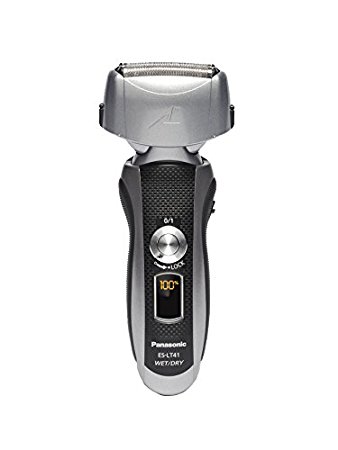 ES- LT41-K Arc3 3-Blade Electric Razor by Panasonic is an effective 3blade cutting system that comes with a well-defined pivoting head. This is especially suitable for serving sensitive skin as the multiple blades offer lesser skin irritation and its pivoting head permits increased precision while shaving.
All three blades are molded in a 30 point angle so as to remove hair from within, offering better accuracy. Also, the blades are hypoallergenic and casted in stainless steel to avoid all skin irritations.
The best part about the razor is that it is absolutely waterproof. You can also use it in the shower along with your shaving cream or gel for an even shave. It makes all movements easy and convenient and is extremely travel-friendly.
This is a rechargeable product that offers quick shaving at the speed of upto 13,000 cpm. It features a 10 step LED that acts as a charging indicator and displays the remaining battery. It takes almost one hour to fully charge after which it works well for about 12-15 uses.
The razor is quite easy to clean. Simply place its head under water and allow the excess to be cleared by its Vibration mode.
Pros
Adaptable
Offers an accurate and smoother shave
Features a lock button control
Cons
It sometimes pulls out the hair instead of removing them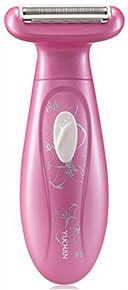 3-Blade Women Shaver, Cordless by Betevo Youchan is a 3-in-1 blade design that successfully removes all hair comfortably and quickly with causing any pain or discomfort.
The head comes with a thin layer of shaving foil along with two hair trimmers which make the razor absolutely ideal for use on the underarms, arms, legs and bikini line.
Also, the designing of the product is quite attractive. It has a comfortable and relaxed grip handle that makes the elimination of short hair extremely easy and quick. The product is a great alternative to messy hair removal practices which may otherwise burn or damage your sensitive skin.
The razor is travel-friendly. It is very compact and you will not find any problem making it fit into your bag. Also, it is battery-operated so no cables are required to use this shaving razor.
However, you need to take care as the product may easily get damaged when it comes in contact with the water.
Pros
Great for removing short hair and quick retouches
Battery-operated
Very portable and comfortable
Ergonomic handle
Cons
The battery drains down very fast
Not for removing facial hair
The blades may get clogged with hair.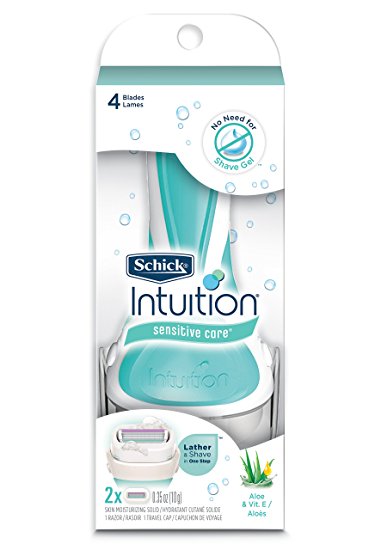 Intuition Sensitive Care Razor for Women by Schick is a pivoting head razor that comes with four specially designed blades. Enriched with Aloe Vera and Vitamin E, this razor moisturizes the skin intensely, making it look radiant.
The product consists of Skin Conditioning Solids that are infused with moisturizing particles which make the skin feel fresh and smooth after the shave. They basically lather as they come in contact with the skin.
Multiple heads help in getting the task accomplished in just a few strokes. Therefore, the chances of triggering any skin irritation are largely reduced. A pivoted head is especially meant for serving women and their curves.
This product can really help you have a quick and easy shaving experience. Also, the best thing about this is its comfortable and efficiently-designed handle. The soft grip helps in a convenient hold and better control.
Additionally, the razor is available in an eco-friendly packing which claims to be 50% made out of recycled material, unlike its previous packaging that was 100% plastic.
Pros
Cons
May dry out the skin
May cause razor burns
The moisturizing particles can melt very quickly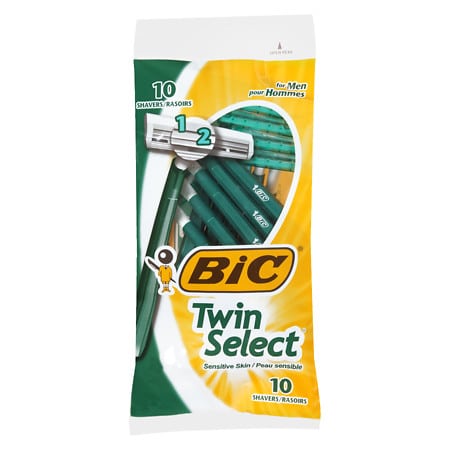 Twin Select, Sensitive Skin by BIC is a specially designed product for serving sensitive skin, focused on offering a closer and comfortable shaving experience. It comes with twin blades made from stainless steel to ensure they do not rust quickly.
These razors have a tapered and much longer handle as well as a thinner head to offer greater control. The head of the razor is narrow and fixed, thus ensuring better reach to sensitive areas. The blades are quite sharp and extend an immaculate shave. It comes with Aloe Vera and Vitamin E, both of which help in keeping the skin healthy and moisturized.
Furthermore, these razors are extremely lightweight. This is because of the absence of all heavy materials. Those who find using heavy razors very cumbersome will surely love this product.
The functionality of the razor in comparison to its price is much higher and this is one significant reason for its popularity. In case you are looking for a good disposable razor option, this one is ideal.
Pros
Has a narrow compacted tip
Its blades are very sharp
It has long handles which mean better grip
Cons
May become dull quickly
May sometimes cause cuts on the face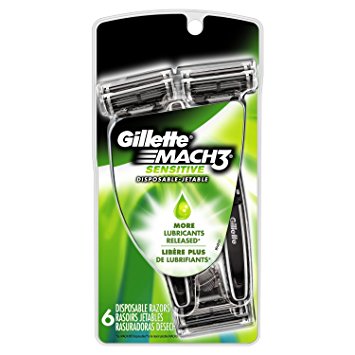 Mach3 Men's Disposable Razor, Sensitive by Gillette comes with the perfect set of properly aligned Mach3blades that extends a painless shaving experience. With this razor, you only need fewer strokes that mean lesser irritation.
It has Advanced Microfin Comfort Guards that allow for a closer and comfortable shave by following the shape of the face. All three blades are covered in a Diamond Like Coating (DLC) so that they remain strong and sharp for a longer period of time. It also comes with an open Architecture System.
The razor has lubra strips that help in giving you a smoother glide. After you have fully benefited from these strips and they no longer can offer an effortless shaving experience, they turn to white that serves as an indicator.
The product features an ergonomic handle that offers an augmented control each time you shave. Moreover, the handle is covered with an elastomer that offers a better grip.
The product packaging is travel –friendly and it goes a long way.
Pros
Great angle precision
Travel-friendly packaging
Not expensive
Cons
May sometimes cause burns and cuts
Tends to rust easily
Shaving With Sensitive Skin- Some Important Tips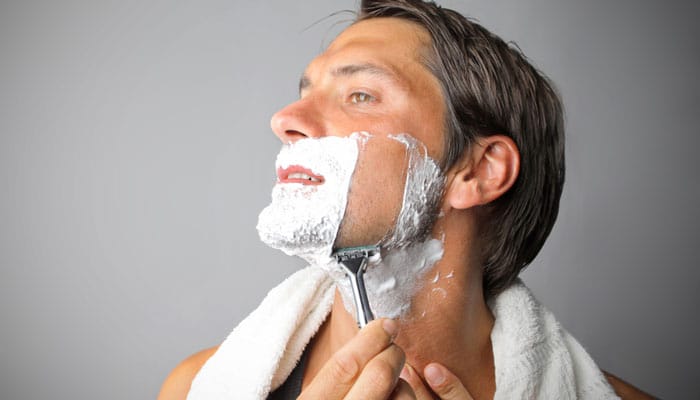 Ditch the cartridge razors and consider using a safety razor!
Well, if you haven't already done this, then I suggest that it's the foremost thing that you do. Cartridge razors come with multiple blades and specially designed with efficiency and speed in mind. However, this multiple blade approach is extremely harsh, especially if you have a sensitive skin. It causes ingrown hair, razor burns, and irritation in a majority of people with a sensitive skin.
Shave using sharp blades
Investing in sharp blades is particularly helpful for people with a sensitive skin as the blades easily slice through the sideburns without pulling out hair or causing any skin agitation.
Shave with the grain
You may find shaving against the grain quite inviting as that will allow you to get a super close shave. However, since sensitive skin is highly prone to rashes and ingrown hair, you should definitely avoid this to protect your skin.
Additionally, on your first pass, you can shave with the grain and on the second one, you can try out shaving against the grain. This will greatly reduce your chances of acquiring a skin trouble.
Take a hot shower before shaving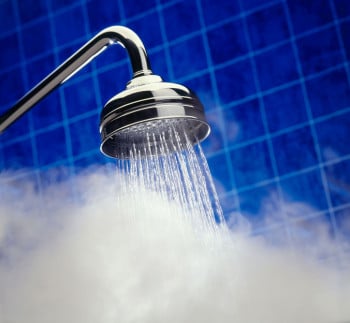 It is extremely important to take a hot shower before shaving as it does two things-
Softens the facial hair facilitating a comfortable shave
Removes excess oil or dirt from the face that may have clogged the blades
But in case you cannot take a shower, simply washing your face with hot water and following up with a gentle facial cleanser can serve the purpose. Additionally, you can soak your face and neck using a hot water towel.
Wash your face with a mild facial soap/cleanser
Preparing your face for an easy and effective shave is quite important. So, you need to properly wash your face with a nice soap or cleanser that suits your skin type. The product you choose should be free from all detergent and alcohol traces as they may potentially dry up your skin.
Invest in a quality shaving brush and cream
Shaving cream adds a layer of lubrication to your skin that protects it and makes the process of shaving easy and convenient. You can apply the shaving cream with your hand, but to make the most out of it, I suggest you use a good quality shaving brush.
With a shaving brush, the application of the cream becomes even. It also lifts up your hair follicles and naturally exfoliates your skin.
Always rinse with cold water
Hot water opens up the skin pores and softens the facial hair to help you have an easy shave. But I am sure you don't want to leave these pores open so that all the dirt accumulates in them. Well, rinsing your face with cold water closes all skin pores and prevents bacteria from entering it.
Use Witch Hazel and Argan Oil to treat skin irritation
If your skin experiences rashes or inflammation after a shave, then there must be either of the two reasons for it:
Your skin is getting infections in each pore OR
It is not getting adequate moisture
You can apply argan oil or witch hazel to lessen the effect of any irritation caused after shaving. Witch hazel is known for its anti-inflammatory properties and argan oil, on the other hand, is rich in oleic acid content and therefore, serves as an amazing skin moisturizer.
Clean your blade more often
Generally, people perform multiple strokes with a single side of the razor prior to cleaning it if with water. But I suggest you clean your blade after every stroke if your skin is prone to rashes and irritations. While it may increase your shaving time, it will limit your chances of clogging the blades that cause irritation.
Choosing the Right Type of Razor that Suits Your Skin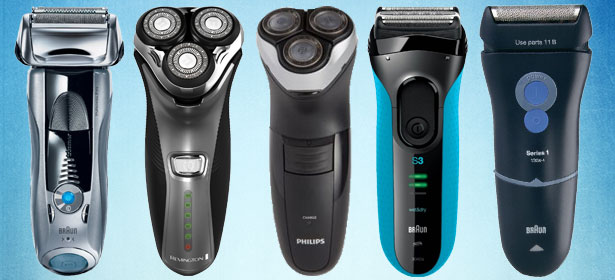 Choosing the perfect razor is particularly important for sensitive skin as even a minor nick may cause intense skin agitation. Broadly, there are two types of razors available in the market – an electric razor and a traditional razor.
The traditional razor can further be categorized into two types- disposable and safety razors. While disposable razors fall cheap, they commonly come with bad quality blades that may trigger a skin irritation. Safety razors, on the other hand, are little expensive but they are the ideal choice for removing stubborn hair or for sensitive skin.
It is equally important to make the right choice while selecting a shaving gel or cream, as it acts as an emollient between your skin and the razor and prevents any bumps and rashes. After applying the cream, wait for minimum 3 minutes to soften the hair growth.
Electric razors generally are not very helpful if you are looking to get a close shave, but, they are much less likely to cause any kind of skin irritations. While buying an electric shaver, go for the one that features a flexible head and releases a mild emollient for a comfortable shave.
Women should opt for an electric razor when shaving underarms or leg area. Buy the one with a flexible head so that it works perfectly for your curves.
Another thing to be borne in mind while selecting the right razor for your skin is that the blades should be sharp. You can buy a single-edged blade or a multiple blade razor, both are good. Just make sure that the blades are sharp to avoid burns or ingrown hair.
Final Thoughts
Shaving with the correct equipment can really add to your looks. People generally overlook it but using a good razor that fulfills your skin needs is pretty important.
Our hero today is the ES- LT41-K Arc3 3-Blade Electric Razor, Cordless by Panasonic. It is waterproof and comes with a powerful 3blade cutting system. The blades are super sharp 30 degree Nanotech, that are specially designed for offering a close shave without any difficulty. It also comes with a pivoting head. But since this is an electric product, naturally it's a little expensive. But keeping in mind its multifarious benefits, many of you wouldn't mind spending a little extra for this worthwhile product.