A recumbent bike is accessible exercise equipment. But it is a whole lot more than that. The recumbent bike can also be used to get an excellent workout for those with joint pain or mobility problems. These exercise bikes are seen in homes, gyms, and fitness clubs as well. Let's zone in on the best recumbent bikes for your home gym.
Best Recumbent Bikes
| Picture | Product | Console Display | Resistance | Programs |
| --- | --- | --- | --- | --- |
| | | LCD display | 25 Levels | 29 |
| | | LCD display | 32 Levels | 35 |
| | | 9'' LCD display | 20 Levels | 10 |
| | | LCD display | 8 Levels | No |
| | | LCD display | 8 Levels | No |
Buying Recumbent Bikes
These are popular in clubs and gyms. But home gyms are also an ideal place for further workout routines. For a fulfilling workout session, it is advisable to purchase a recumbent exercise bike. The bike will serve to motivate you for additional workout sessions. It is the perfect way to take fitness and health to the next comfort level. The recumbent bikes include features and price levels across various models and brands. The critical point is that while shopping for recumbent bikes, you need to find one that suits the fitness goals and budgets. In the price range of one to there hundred dollars are the Exerpeutic 900XL, the Exerpeutic 1000 and the Schwinn A20. The price range of more than 300 unto 400 USD includes the following excellent recumbent bikes: Nautilus R614 and Schwinn 230. In the highest price range of 400 dollars and above come the Schwinn 270, ProForm 315 CSX, ProForm 400 ES, and Diamondback 510 and 910 SR. There are also high priced bikes such as the Sole Fitness LCR Light Commercial Recumbent Bike for USD $1499.
Top 5 Recumbent Bikes 2019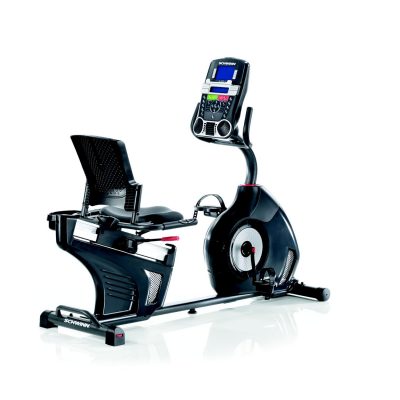 This equipment is one of the best recumbent bikes in the market, with 25 resistance levels, 29 workouts with programming and a lot of essential features such as Bluetooth, heart rate monitoring, speakers, and fans making workouts genuinely impressive. The DualTrack Monitor system is a display with innovation that permits you to place devices or books ahead of you on display. The LCD secondary screen ensures that workout data is visible.
The Schwinn 270 recumbent bike has flywheels with perimeter-weighting to provide a real momentum and excellent cycling workout. Workout data can be downloaded on MyFitnessPal or Nautilus Connect through Bluetooth. The bike's console speakers are another plus point if you want to listen to the MP3 player in the USB port. Schwinn is a known name for quality. It is a step up from the Schwinn 230 and comparable to the Nautilus R616.
The Schwinn 270 recumbent bike is hi-tech, durable, and reliable challenging others with intense yet low impact exercising in the home gym or a club. The reclined bike has a lot of plus points as well as some drawbacks.
Features
The Schwinn 270 is loaded with 29 preset workout programs, including several fitness routines and two tests that are monitored for heart rate changes. A 4 user profile, adjustability, and range of resistance make this bike an excellent choice for home workouts or gym routines.
The bike's flywheel weighs 17 pounds, which is the ideal weight for toning the lower body but not high-level training.
Price factors are another plus point. Though officially priced at US $799, the recumbent trainer sells for less than US $500. The price is inclusive of an electrical adaptor and the best bike warranty. This warranty equals 2-year worth protection for electrical and mechanical parts.
Benefits
Much like other recumbent bikes, it is easy to get on the 270. There is no obstacle to access the chair, and the bike is lower to the ground than upright bikes.
A critical factor determining the benefit of the bike is the seat. The Schwinn 270 has a cushioned seat which offers a chair like comfort and excellent lumbar support. The back is conducive to letting air in to keep you fresh.
The machine lacks heaviness. The Schwinn 270 is lightweight at 88 pounds. It has a capacity of 300 pounds. There is support at the center for additional stability.
Excellent Brake Resistance
Brake resistance used is quiet eddy current in nature. The 25 level brake resistance is excellent for those who want a comfortable ride.
The bike has a four user profile, so four people can customize programs and personal data and save workout information.
The bike ensures advanced tracking of fitness levels and goals. The USB drive attached to this bike stores fitness data which can be connected to the Schwinn Connect website. The interface is also in compatibility with MyFitnessPal.
This app integrates data from numerous sources to create a complete picture of workout activity.
Additional training support is offered through 29 program modes. There are 12 profile workout sessions and nine heart rate control workouts. These are for starts, advanced, and custom. Exercise enthusiasts can save up to 4 programs and take fitness tests. This bike also offers advanced monitoring and programming capabilities compared to other Schwinn bikes.
The Schwinn 270 has a beautiful grip heart rate monitor. Through wireless telemetry, the heart rate is monitored. The chest strap is not included for wireless monitors.
The Schwinn 270 has an excellent acoustic system for playing MP3 music. The pure sounds and excellent acoustics make for value for money purchase.
The bike has a water bottle holder, a 3-speed fan and a USB charging port as well as an accessory tray.
The maximum user weight capacity is around 300 pounds or 136 kilograms.
Disadvantages
The console has many choices. This can create a problem for not so tech-savvy users.
The flywheel weighs around 17 pounds which is light in comparison to standard models. This is why a heavier flywheel is needed for smooth riding and stronger resistance.
This bike is not suited to tall riders, as there is less room to extend their legs.
A manual monitor is not ideal. But the bike also has wireless pulse monitoring.
Why Buy the Schwinn 270?
This recumbent bike is one of the few to offer multiple user profiles. It is used for safe and low impact designs. The fitness machine provides effective cardio workouts. It is excellent for lower body workouts. The bike is best suited to those about 6 foot in height or less. This is better than other small priced bikes. It offers options such as programming and working with a wireless chest strap. This bike is an affordable option for those who want value for money.
Specifications
This recumbent bike has 25 levels of resistance.
Its flywheel weighs around 17 lbs, and the weight capacity is 300 lbs.
The bike is 13x67x27 in dimensions.
This is a bike that has everything you need for a recumbent bike. This bike is comfortable to adjust, durable, and aesthetically pleasing with an impressive warranty period. The technology of the Diamondback 910SR is fantastic. It offers somewhere around 35 workout programs and an astounding 32 levels of eddy current brake resistance. This bike challenges you, and you will continuously be tested to ensure there is something new to work. This bike also has an adjustable console and a fantastic digital monitor controlling the functions and displays of the workout information in a user-friendly, intuitive way.
With a Polar compatible wireless receiver, heart rate monitor, two user profiles, iPad, iPhone, and iPod as well as MP3 player inputs, this is an awesome bike. It even has extra accessories and a transport wheel system. This bike can carry up to 325 lbs of weight. It has a warranty for life on brakes and frames and a 3-year warranty on parts and electronics.
Features
This is the top recumbent bike for novice or advanced users. Durable and rich in features, it has the right price for those looking for a bargain. It offers a great cardio workout. It is also perfect for rehabilitation therapy, calorific burn, and strength training. With a 40 pound flywheel, it has quiet resistance and magnetic features.
This model offers a practical yet comfortable exercise with 35 workouts and 32 resistance levels. These are needed for gently rehabilitative strength training for intense rides felt the next day. This unit updates the 510SR model, which offers less upper-level tension.
This bike costs US$999 in regular pricing with inclusive shipping costs.
The Benefits
The Diamondback 910SR is impressive in terms of its spin. With a 32-pound flywheel, you get the power resistance and a sensation like you are riding a real outdoor cycle. The lighter drivers may feel out of gear, though!
The Diamondback Fitness adjusts to the tension of the bike using magnets. The resistance system is without friction to ensure smooth and seamless operations.
Adjustable Seating
The chair type seat has a supportive back and offers excellent stability and lumbar support. The end is made of mesh with metallic brackets. The seat has padding and can be adjusted ergonomically to suit anyone.
Session heart rate and data are displayed on a bright screen. The LCD has a split-screen to show several types of data in one glance.
The console has over 35 predetermined workouts. This includes programs for controlling heart rate and targeting fitness goals. Console buttons also make it easy to adjust to the applications.
A wireless heart rate monitor with contact grips is part of this bike. The pulse data is useful for programs that seek to workout aimed at the heart rate. This adjusts the intensity to ensure trainees are kept in a given target heart rate zone.
This is a console with attachments which offer arm support. It can be angled to suit the needs of those with different heights.
The iPod matching jack and speakers are built into the 910SR.
The USB Port can charge iPods, phones, and other devices.
Magazine Rack & Other Extras
The bike also has a magazine rack that can be folded away. There's even a Premium Hydration Station to hold your water bottle and three-speed cooling fans to ensure stamina during the workout.
High Capacity and Solid Warranty
The bike offers five years of protection for the frame, two for most parts and a year for labor. The bike also has a 325 pound capacity for withstanding the weight.
Disadvantages
For people who are below 5'3, the model is not suited as the pedals will be placed too far away.
The machine assembles in a few hours. It is awkward for those who don't have experience with assembly.
Finally, this bike is 64 inches in length and 23 in width, making it take up more space than upright bikes.
Why Buy the Diamondback 910SR?
This is comfortable for average to tall persons. This bike is right for exercise as well as rehab. Starters and those just beginning indoor cycling should opt for this bike. It gains strength and tones muscles. It is also essential for creating endurance and building calories. In this price category, it offers a lot of benefits, such as a wide range of resistance, seamless functioning, and built-in workout applications.
Specifications
This recumbent bike has 32 levels of resistance and a 32 lbs flywheel.
It bears a weight capacity of 325 pounds and has the following dimensions: 50x23x64.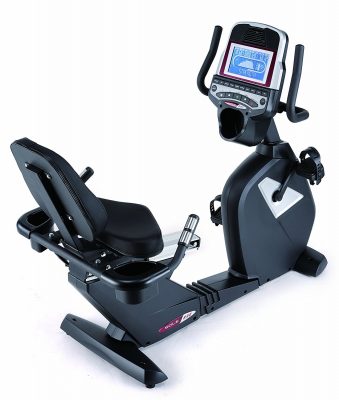 This is the cheapest and best recumbent bike sold by Sole Fitness. It has all the benefits for those who want to access the best biomechanics and place low stress on the joints and feet. This bike is excellent for gently rehabilitating injured people too.
Features
The bike has an aluminum frame made of steel. Its twenty-pound flywheel offers a lot of benefits. The 9 inch LCD and a water bottle holder are additional benefits. This bike has music speakers, a water bottle holding unit and it is Bluetooth enabled for syncing seamlessly in association with mobile fitness apps. It has a standard warranty with 3 years of protection on electronics and parts. Its new sale cost is US$999, and MSRP is 1799.
The Benefits
The bike is suited for excellent value for money bargain hunters who want the best fitness equipment. The customer service is also very prompt.
The Sole bikes have a lifetime guarantee. This R92 model is created out of heavy-gauge,solid steel tubing, and sealed with aluminum. The bike  offers a lifetime warranty. It weighs 152 pounds and comes with a weight-bearing load capacity of 300 pounds.
Owners don't get a lot of noise from this soft, smooth, and seamlessly functioning brand. A magnetic resistance system associated with the R92 recumbent bike aids in making the change in levels.
This twenty-pound flywheel bike offers a trouble-free ride for a majority of the cyclists. This is excellent for novices and those lacking weight.
The deals have narrow spacing to ensure low impact workouts that don't harm the body. More wide and tilted slightly towards the inner side, the pedals are intuitively designed.
2 heart rate control linked workouts, 6 standard programs, and two user-created programs make this bike superb when it comes to onboard programming. The applications can be adjusted up to twenty resistance phases. The 9 inch LCD shows multiple workout data and performance on several parameters.
Apps like Safari or YouTube can also work in the background with a tablet station and an extensive Bluetooth connection for alternative workout display.
This Sole R92 bike comes with a chest strap for monitoring heart rate wirelessly. The monitor has grip sensors for determining pulse on the handlebar. Workout programs managed by heart-rate information are included.
Seats With Optimal Adjustability
The well-cushioned seat with adjustable backrest can be adjusted based on your convenience levels.
Handlebars That Can Be Adjusted
The handlebars are moveable, behind, front and back for a customized fit.
The audio facilities on this bike are fantastic. They're an inbuilt jack and speakers for MP3 players in the cycle. There are built-in bottle holder and workout fans. The machine has transport wheels as well for easy portability.
High Capacity, Affordable Price, and Great Warranty
The maximum weight capacity for users of the bike is 300 pounds. The web discount price of US $999 includes a frame lifetime warranty. It offers a year of in-home support and three years warranty on parts and electronics.
The Disadvantages
The bike is less pricey, but the Sole Light Commercial may be better for smooth rides and durability if you don't mind an increment in the cost.
The Sole R92 bike is also not space-saving, though it is not oversized. The inbuilt workout fans are weaker compared to other models.
Why Buy Sole R92?
The R92 bike is low impact and perfect for home-based gyms. Lose weight or gain strength using this bike. It is ideal for toning muscles and cardio workouts without added physical damage or injuries. It has an affordable sale price and an active warranty. It is perfect for weight loss, toning, or physical rehab. This choice is sensible for trainees.
Specifications
This recumbent bike has ECB resistance of 20 levels and a 20-pound flywheel.
It has a weight capacity of 300 lbs and the following dimensions: 57x30x50.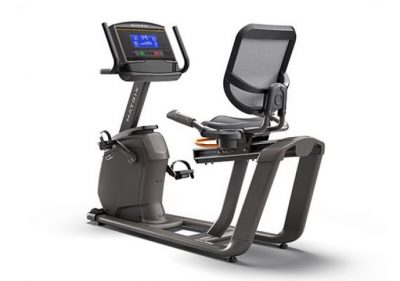 This is a joint-friendly exercise bike for use at home. It is easy to access with a step-through design and a high-backed chair seat. The bike frame has many consoled and is perfect for adding some music to your workout. With social media apps, speakers, and more, there's plenty to do as you workout.
Features
The Matrix R30 is an affordable recumbent bike. It offers excellent support for the lumbar region and has a magnetic drive with resistance levels numbering 20. The R50 also has an induction brake with 30 resistance settings. With a footprint of 63×26, the bike is around 155 pounds and has a weight holding capacity of 350 pounds (the heaviest by most standards) along with lifetime frame warranty, five years on console and parts and two labor years.
The Benefits
The Matrix R30 has a 70 kg steel frame, which comes with a lifetime guarantee. For recumbent bikes, it is very compact, with dimensions of 63×25.6 in floor space and 48.4 inches in height. This bike has a step-through design making it easy to climb on and off.
The Matrix R30 has magnetic braking, the most common type used in high-end bikes for home gyms. As against contact braking (commonly found across many models), magnetic braking offers quiet and durable movement. With the R30, the trainee can select anywhere from 20 levels of resistance and make digital adjustments.
Monitor for the Heart Rate
This recumbent bike supports heart rate monitoring with two methods. Firstly, the grip pulse sensors are built into the handlebar. Three bike consoles come with wireless receivers.
The home exercise bike can be paired with XR, XIR, and XER consoles. The XR console is default with 8.5 inch LCD, five classic programs, data logging wirelessly and readiness for interactive Virtual Active video with a home television.
The console lets footage adjust as per changes in speed. XER is an update with a 6-inch touch screen and ten standard workouts as well as built-in tourism, passport readiness, and an 8-week high-intensity training. Apps for social media use an XER console such as YouTube, Hulu, and more are available. XIR has a bigger touch screen, web browser, and an extra program for a workout.
This outdoor bike has scenic real-life destinations with the Matrix bike. HD views of breathtaking locations on several continents abound. The videos are built into XIR and XER consoles. Passport media players are also needed.
This training app is built into XIR and XER consoles for a HIIT training session. Riding for just 20 minutes per day is enough to activate fat trimming, and work your way to leaner muscle mass, improving cardio health.
The seat of this bike comes with a mesh back that provides instant lumbar support and excellent airflow. The bike is better than other brands and interchanged easily with different types of seating for personalization.
These have straps for security and can be self-balanced for easy access. They can be interchanged with standard bike pedals.
Matrix R30 is connected to consoles on ViaFit. The consoles XIR and XER have MyFitnessPal built-in. Speakers are built into the consoles as well. My Media is an app the XIR console has.
This bike is stable and can withstand up to 350 pounds in user weight capacity. The matrix console extras built-in like bottle holders.
This small bike measures 63×25.2 x48.4 inches. It has a lifetime warranty for the bike frame and five years for a part or console as well as two years for labor.
The Disadvantages
A lack of cooling fans and lack of portability and foldability are some of the negatives. Using the Matrix cardio trainer with trimmings involves spending more cash than the advertised price. Upgraded consoles cost extra, and Passport Plays are separate from the bike.
Matrix R30 is not the top value for those looking for more extended warranty and superior resistance.
Why Buy Matrix R30?
This bike offers a low impact route to sculpt the lower body. It keeps the heart-healthy. The degree of magnetic resistance provided by the 23-pound bike flywheel is ideal for those working on high to intermediate skill level. This recumbent bike can hold up to 350 pounds and has easy seat adjustment.
Specifications
The recumbent bike has a magnetic resistance of 20 levels. It has a 350-pound weight capacity.
It also has a 23-pound flywheel and the following dimensions: 63×25.2x 48.4 inches.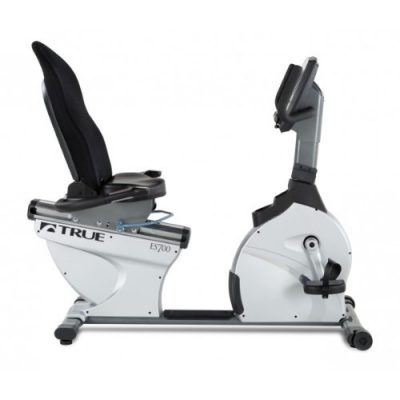 This recumbent bike is exceptionally durable though pricey. The bike has over ten years of part and electronic production. Quiet resistance, conventional controls for tension adjustment, and light commercial construction make it ideal. With multiple consoles, the ES700 recumbent can be paired with a standard or unique consoles adding to the base price. The consoles offer program variety and heart control that is wireless. The transcend console offers a complete color touchscreen, Bluetooth for audio and sending fitness apps and other bonuses.
The Benefits
Overall, the recumbent bike has a higher quality than the average home exercise bike. Its frame is made of sturdy steel, and it is robotically welded. The seating is adjustable and plush. Pedaling is smooth with the perfect resistance. For each console, electronics are covered for ten years.
This bike is 163 pounds yet easy to move because of the transport wheels. Its footprint is 58" L by 26" W, which makes it great for space conservation.
High backed chair type seats make cycling comfortable even for those facing back pain. The seats are constructed with adjustable angles for lumbar support. Adjusting the position for height is easy too.
The ES700 is a silent machine which works on magnetic resistance as opposed to a gear system. Resistance can be adjusted or put on autopilot to adapt to exercise. The watt settings range from as high as 450 to as low as 40. The recumbent exercise bike with more economical intensity option is ideal for physical rehab.
The Emerge Console and Transcend console offers value for money. Ten additional workout programs, a 9-inch full-color touchscreen, and detailed Bluetooth connectivity make this an ideal bike for those who want a smart fitness apparatus.
High Capacity, Long Warranty
The maximum weight this bike can bear is a massive 350 pounds. Its 10-year warranty includes lifetime coverage for the frame and a year of labor.
The Disadvantages
This ES700 recumbent bike costs more than home constructed models. It has a low cost per day across the long run. But, upfront the price is more. The ES700 also is shipped with a power cord and does not generate it as you cycle, signaling more consumption.
Why Buy ES700?
This is an excellent choice for those looking for rehab exercises or family fitness equipment. It is gentle and adjustable to user strength and size. It can be used for low-intensity workouts and extensive cross-training. The ES700 can bear a lot of weight and gives the comfort of a recumbent bike with a challenge of high-end fitness equipment.
Specifications
This recumbent bike can bear 4 to 450-watt settings and a load of 350 pounds. It offers magnetic resistance and compact dimensions along with the benefit of high capacity.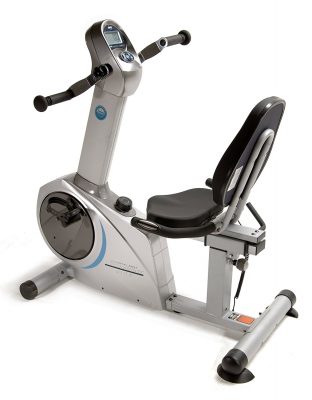 This recumbent bike works the limbs and core without harming the joints. It supports whole-body workouts measuring up to 85% of the trainee's heart rate at maximum.
Features
The Stamina Elite is perfect for those engaging in strength training, upping their metabolism levels, and toning their muscles. It has low impact motion for physical therapy patients. The bike is too comfortable and provides excellent upper body workouts also. Semi-reclined, the seat is chair type offering adjustable handrails and lumbar support. The price is US$799.
The Benefits
The two in one machine offers rotating handlebars to work the back and arms besides acting as a recumbent bike.
Exceptionally Strong Frame
With a chunky steel frame. This machine weighing 120 pounds, can support a 250-pound user.
The comfortable seat is padded with handlebars for excellent stability. It is incredibly adaptable for those from 5 to 6 footers and taller still.
This machine runs quietly, and magnetic resistance offers a challenge for lower as well as upper body workout.
The battery-powered monitor provides feedback about speed, distance, time, calories burnt, and heart rate. The scan function serves as a button for specific data.
This machine's data is battery powered, and the console is without cord.
Assembly and Heart Rate Monitor
The clear instructions provide for easy assembly, and Stamina even provides free tools. The heart rate monitor guides workout intensity.
The Disadvantages
Just five years of warranty, 250-pound weight capacity and too light an upper resistance make this machine have its drawbacks. Additionally, there are no transport wheels or preset programs.
Why Buy Stamina Elite?
This is a multifaceted trainer for reclining and exercising with an easily accessible frame for those with mobility problems. Light to moderate resistance can help in burning calories, gaining stamina, and getting top to bottom toning. This has a maximum weight capacity of 250 pounds, which is a lot considering its weight.
Specifications
The Stamina Elite has a weight capacity of 250 pounds and is a 2 in 1 bike. It offers a lot of benefits like adjustive seats, heart rate intensity monitor, and battery power for the monitor and consoles.
How to Buy a Recumbent Bike
You need to consider factors such as data tracking. The time, distance, and calories tracked, and the ability to switch between users is essential. Your recumbent bike should have a resistance that is achievable yet tough. The pre-programmed workouts paired with heart rate monitors, are perfect for a toned look. Some recumbent bikes have the feature to download data which offers a steady record of your progress. Fans, speakers, charging USB ports and flywheels which are optimal are essential for purchasing the perfect recumbent bike. Adjustable seat, warranty, and high weight capacity are added features you need.
Benefits of Recumbent Bikes
Intense, Low Impact Workout
Many exercises require a lot of wear and tear to give you the toned look and stamina. But, the recumbent bike offers a high intensity, low impact workout which allows you to stay in comfort while you workout. This makes it easy to challenge yourself and attain high fitness levels.
Calorie Burn, Cardio Workout
Another benefit is the toned look you get. Minimum of 20 minutes of activity a day raises the heart rate to cardio fitness and is part of the journey to good heart health. Based on the weight and fitness levels, hundreds of calories can be burnt in just 60 minutes on these bikes. Build muscle and increase your metabolic rate using a recumbent bike.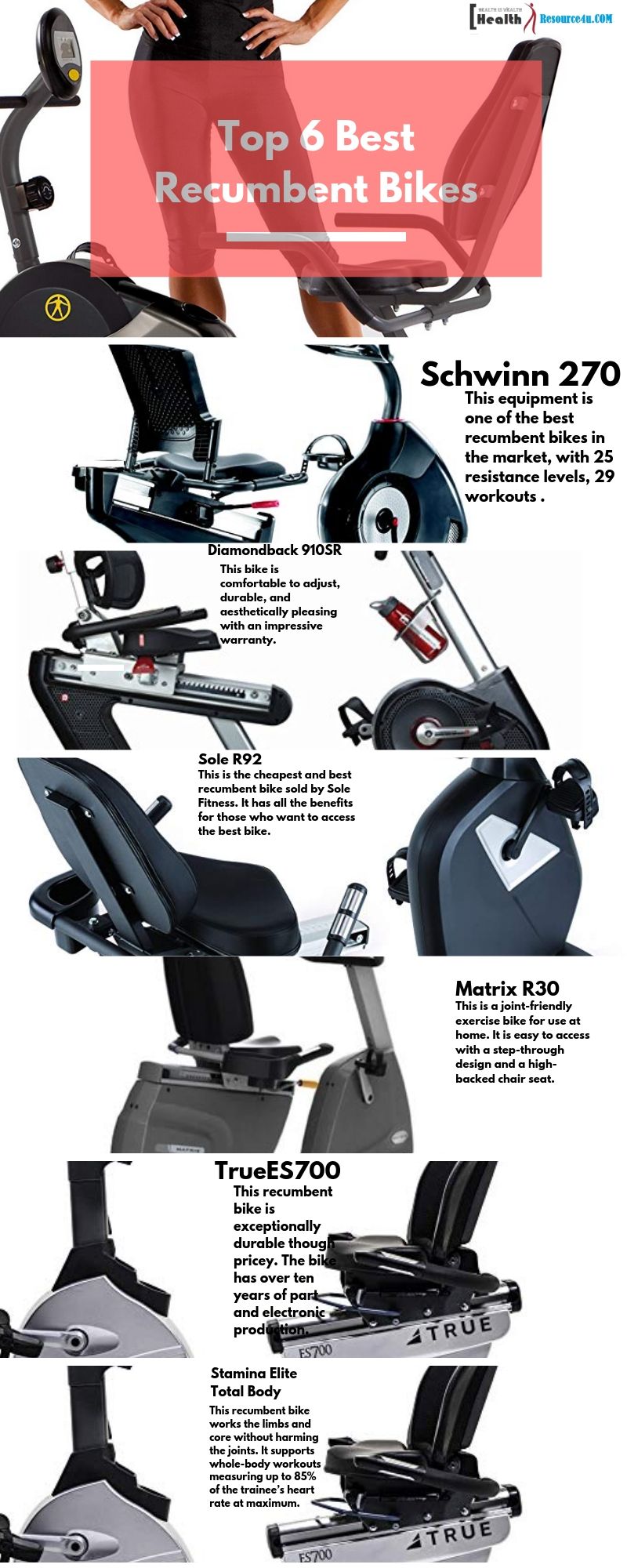 Cost-Efficient
Recumbent bikes are a great way to exercise cost-effectively in your home gym or even a club. These bikes offer a lot of features at a meager price, making them perfect for your fitness routine.
Conclusion
For maximizing the potential of your recumbent bike, ensure that you have the right gear and clothing to make the training session comfortable. Accessories like cooling fans and music add to the quality of the workout too. Recumbent bikes are an excellent way to exercise, at any age or in any setting.