Hives can be somewhat of a mystery.  They can come and go quickly without ever knowing the exact cause.  Hives can be particularly upsetting to any parent or caregiver discovering raised, blotchy red and white welts on a child's skin.
What are hives?  What caused my child to get hives?  What type of treatment does my child need?  Do hives warrant a trip to the pediatrician? Let's investigate to find the answers to these questions.  In the meantime, rest assured hives are usually not a medical emergency situation and can be easily treated at home.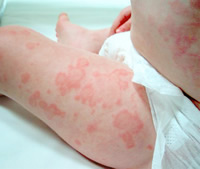 What Are Hives
Hives also known in the medical field as urticaria is an allergic reaction from your child's body. It is a common skin condition. Your child is exposed to something that triggers the body to release the chemical histamine under the skin creating the hive condition.  It is most common for these raised, blotchy red and white welts to be found on the chest, stomach and back. Hives can however show up on any part of the body and even the face as well in rarer cases.  Rapid swelling of the face, particularly the lips and eyes, is called angioedema. Swelling from angioedema can also occur around your hands, feet, and throat. Swelling of the throat may make breathing difficult therefore seek immediate medical attention.  The shape and size of the welts vary ranging from tiny pin dots to large as a dinner plate.  The welts may be accompanied by itching and mild burning sensation and usually lasts from 1 to 2 days.  Hives can last longer however; if the condition lasts for more than several days you should arrange for an examination by your child's pediatrician.  Hives falls into two categories:  acute hives which lasts less than 6 weeks and chronic hives lasting 6 weeks or more.  The majority of cases of hives fall into the acute category.
What Causes Hives
Hives in children are most commonly caused by infections including the common cold, strep throat, sinus infection, bronchitis, urinary tract infections, infectious mononucleosis and hepatitis, or other viral infections.
Think about what your child may have recently eaten.  Food allergies are another common cause of hives.  Certain foods such as peanut butter, eggs, tree nuts, milk, shellfish, soy, chocolate, strawberries or food additives can trigger an allergic reaction.
Certain medications can be the cause of hives in your child.  Antibiotics are the most common culprit however other medications such as aspirin, codeine and morphine can trigger the release of histamine in your child's body.
External irritants such as insect bites, poison ivy, sun exposure, hot or cold temperatures, soaps, detergents, animal dander, dust, pollen, grass, mold and even stress can cause hives in your child.
Medical conditions such as lupus, thyroid disease, kidney or liver disease can be the cause of chronic hives.
Even though an actual cause of hives is most often undetermined some good detective work may help you to discover why your child got hives.  You may want to keep a log of what your child eats, what medicines are administered and activities.   This will be particularly helpful if your child comes down with a subsequent case of hives.  Hives can occur just one solitary time in your child's life to never again return.  Nonetheless as a preventive measure keeping a log would be a good way to help identify and avoid suspected triggers.  Chronic hives requires more investigative work and a visit to the pediatrician to determine if there is indeed an underlying medical condition.
What Are Symptoms of Hives
Hives is an inflammation of the skin and appears as raised, blotchy red and white welts often accompanied by itching and burning sensation.  The inflammation can be isolated to one part of your child's body or cover larger areas of skin.  If your child has a viral infection hives may accompany a sore throat, cough or runny nose.  In extreme cases, seek immediate medical attention if your child is experiencing facial swelling, throat tightness, difficulty breathing or vomiting.
How to Diagnose Hives
Your pediatrician may ask questions such as when the rash appeared and if your child was exposed to new foods or activities.  These questions will help determine the cause of your child's hives.
Blood tests generally reveal very little about acute hives and often do not result in answering the question of what caused your child's hives.  However, if your child has chronic hives, your pediatrician will want to perform an examination and routine tests for other medical problems that can cause hives such as lupus, autoimmune conditions including thyroid or liver disease and chronic infections.
How To Treat Hives
Treating hives can be a simple remedy. First, if you do identify what caused the hives avoid exposing your child to that particular trigger. A hive condition may be short lived and disappear on its own.  If your child is uncomfortable try applying a cool compress on the affected areas to reduce swelling and inflammation.  In addition, avoid giving hot baths to your child and dress in lose fitting clothing.  If the hive condition is more persistent and lingers try an over-the-counter antihistamine such as Children's Benadryl (diphenhdramine), be aware that this medication causes drowsiness   For non-drowsy over-the-counter antihistamines you can try Claritin (Loratadine) or Zyrtec (Cetirizine).  Be certain to follow recommended dosage specified by the manufacturer for any over-the-counter medication.  If the hive condition does not resolve itself in several days bring your child to the pediatrician for further examination.
Although hives can cause discomfort to your child it is a relief to know that the condition most often resolves itself within a relatively short period of time.  Over-the-counter-medications are readily available to help reduce swelling, inflammation and itchiness.  Remember to keep a log of food, medications and activities to help identify those triggers in your child and then to avoid them in the future.  Don't be surprised if you never identify what triggered hives in your child's body. The mystery of what caused the case of the hives more often than not is never solved