Coconut flour is one of those special types of flours which is known for its real and natural nutrient and health value. Moreover, it is grain-free and low in carb which makes it a perfect choice for everyone.
If you are a food lover and want something delicious but at the same time healthy too then the grain-free coconut flour pancakes will be the healthiest diet option for you.
Coconut flour is the ultimate source of multiple varieties of nutrients such as protein, fiber, etc. As its carb value is very low so you need not worry about crossing your daily carb limit intake of food.
Pancake is one of the most popular and favorable foods of the west, but its truly delicious taste is no doubt capable to tame the taste bud of people across the boundaries and all age groups.
Especially if you are a caring mother and want to serve your little one with something that can easily fill their stomach and at the same time can fulfill the sufficient requirement of nutrients in their body then this is the most perfect food option for you.
Whether you are on a restrictive diet plan or want to serve your family with a nutritious and tasty breakfast this coconut flour pancake is best in all respect. Yes, you can try some other alternate type flours as well for preparing the pancakes but it must be added here that coconut flour is far better than any other flour as it is gluten-free, low in carb and keto-friendly which no doubt makes it an ideal choice for your every food lover.
The below step by step guide for this delicious, nutritious recipe will make your way easier even though you are preparing a pancake very first time in your life. So try this less time and energy consuming breakfast for you and your family to give an amazing weekend surprise to everyone.
Grain and Dairy Free Coconut Flour Pancakes
This pancake recipe of coconut flour is highly nutritious and grain-free. Its high protein and fiber content keep your hunger level in check for a longer duration. Also as it is low in carb so it is even good for your fitness routine to maintain your weight to a healthy level.
Grain-Free Coconut Flour Pancakes
This Coconut Flour Pancakes recipe is a great low carb alternative. It is amazingly fluffy and naturally gluten-free.
Ingredients
½

Cup

coconut flour

4

Large size eggs

2

tbsp

maple syrup or sugar-free syrup or plain water

2

tbsp

olive oil

1

tbsp

vanilla extract

¼

tbsp

sea salt

1

tbsp

baking powder

check note
Instructions
For preparing this low carb and paleo-friendly pancake recipe you need to take one large size bowl and mix all the ingredients in the above-mentioned quantity in it. With the help of a whisk, stir this mixture well to get a smoother texture. Make sure that no lumps would remain.

Now take a greased skillet and pour three tbsp of pancake batter in it on medium-low heat. Let it cook for at least 4 to 5 minutes until you can see bubbles in the middle of your pancake.

After that flip it to the other side to cook another side of the pancake as well. Cook it for 4 minutes or wait until both the sides take golden color form. Make sure that you maintain the same medium heat while cooking this pancake otherwise the outer part of the pancake may burn whereas the inner part will remain uncooked. Also, the increased flame will not let your pancake get fluffy

Once your one coconut flour pancake is ready to eat, cook the remaining coconut batter in the same way as you cooked the first one. This way you will be managed to prepare approx six small size pancakes.

Serve the hot pancake directly on the breakfast table or you can add some fruit or nuts toppings to enhance its taste, whatever suits better to your taste bud. This well-prepared grain-free coconut flour pancake can be easily stored in an airtight container for three days. So it will be a great readily available breakfast for the next three days.
Notes
In order to get fluffy, tasty and healthy coconut flour pancake it is very crucial that you won't ignore some important points. If you want to make your pancake keto-friendly then use either sugar-free syrup or water instead of maple syrup.
It is important to add eggs in this particular recipe in order to make it fluffy. So you cannot skip this important ingredient. In case you prefer veggie pancake then this particular recipe is not for you.
To make your pancake purely grain-free make sure that you choose baking powder made with arrowroot starch, not the cornstarch. You can use ¾ tbsp baking soda as well but it will not let your pancake that much fluffy.
With this, your grain-free, paleo, and the keto-friendly recipe are ready to serve. Enjoy your day with this delicious and stomach full breakfast.
How coconut flour pancake is beneficial for your health?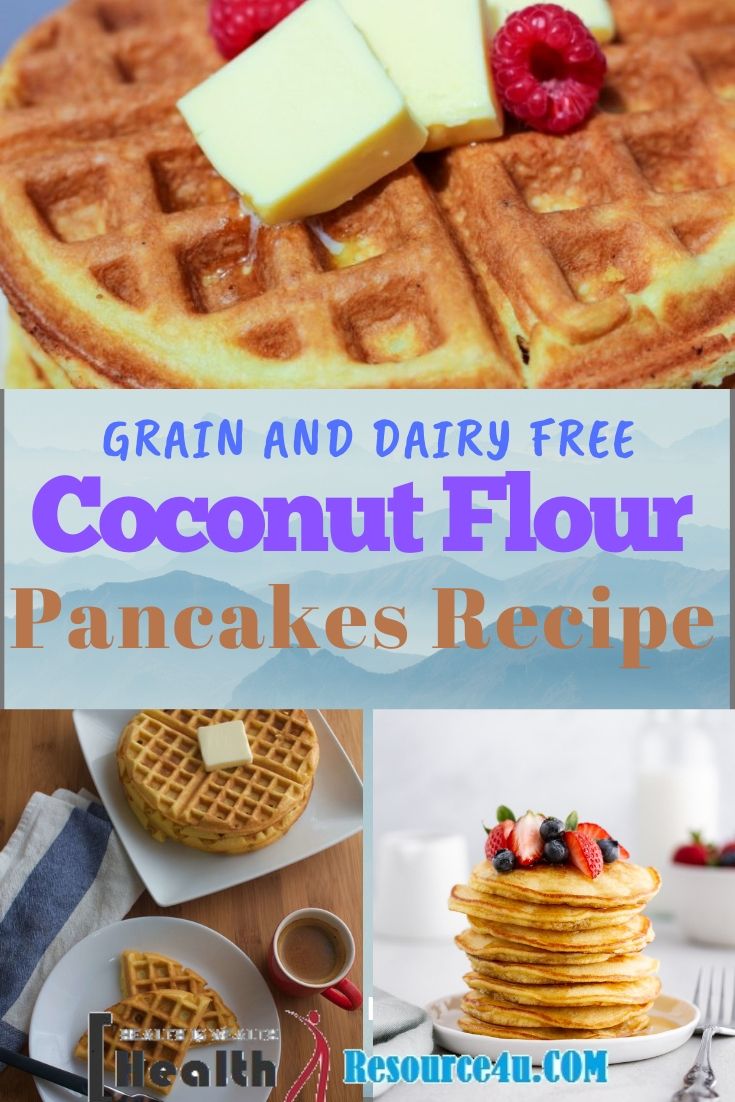 You can understand the health benefits of consuming coconut flour made pancakes under the following heads:
Coconut Flour made Pancake is for Everyone
Coconut flour pancake is one of those daily recipes which is liked by the people of all age groups not only for its good taste but its healthy nutrient value as well which benefits everyone equally.
So it can also be said as an ideal and easy breakfast that can comfort you and at the same time, you can please the hunger of every member in your family to give them a refreshing start for the day.
As this particular flour is gluten-free so people who are on certain health plan that requires to avoid gluten will find effective for them. To make this recipe paleo-friendly one can easily mix coconut milk made yogurt in its ingredients.
In order to make it keto-friendly which is one of the healthiest foods for children's health, you can mix water or sugar-free syrup in the ingredients of this pancake which will taste amazing along with nourishing your kid's health. Also if you are on a low carb meal plan for controlling your body weight, this amazing recipe is absolutely perfect for you as its carb value is too low.
Coconut Flour can be Baked
We all know that baked foods are all-time best and healthy with a comparison to highly refined or fried foods or meals. This is because all-important nutrients of a good get burned or destroyed during the processing period and the remaining nutrients of the said food are extremely low.
However, with the coconut flour recipe, you need not worry about this issue as you can even bake it to keep its all nutrient essence intact. The coconut flour is very dry and heavy in texture so it needs such an ingredient to mix in its recipe that can easily fulfill the necessity of water level.
Eggs which are an essential part of the pancake recipe is best to compensate the watery level to prepare this recipe very easily. Make sure that you won't plan to mix any other flour like wheat flour as it happens with other recipes that can easily tolerate the mixing of two types of flour.
Otherwise, if you will try to mix any other flour with the coconut flour it will simply mess your prepared pancake taste and look. Also, it is good as well because the single ingredient is enough to fulfill all your health requirements then what is the need of adding any other flour specially when you are planning for a grain-free pancake.
Coconut Flour Pancakes are Very Delicate
Coconut flour pancakes are very soft and delicate that easily melts in your mouth and its useless to mention here that you or anyone would easily feel tempted to have this highly yummy breakfast more and more.
However, along with the goodness of delicacy, it is crucial to mention here that to attain its ultimate texture you need to be very attentive in its preparation process. The very delicate texture of this particular pancake makes it simply difficult for a spatula to flip this on the other side.
Yes, but my tested ingredients for this recipe will surely not let you face that much difficulty during its preparation still be very careful when you need to turn this for cooking another side of this coconut batter pancake.
You can use a very thin and flexible spatula to do this task in a much comfortable way. A little discomfort is fine when you are rewarding with such a delicious and nutritious pancake.
Coconut Flour Pancakes are Very Delicious by Taste
The recipe that I have used to prepare this grain-free coconut flour pancake will prepare a superb delicious pancake for you. The added vanilla extract and low carb sweetener are enough to enhance its taste. Moreover, you can do toppings with your favorite fruits which will enhance its taste dual along with increasing its health value for you.
The best part of these two ingredients (vanilla extract and low carb sweetener) is that it can easily cover the high flavor of the coconut itself which is a great benefit for those who don' like the taste of coconut still wants to eat a pancake made with its flour.
Also, you can add little bit cinnamon powder in this recipe to mask its taste if you are not a fan of coconut flavor. Yes, you might get a very low flavor of coconut but under any condition, it won't be too strong that you would dislike eating these small-sized, yummy pancakes.
As per your taste-bud, you can even reduce the number of eggs from 4 to 3 if you feel the batter is getting too much eggy or creating an eggy taste in it. Also to reduce the eggy taste you can add some amount of water or some extra amount of cream.  Apart from this serving this pancake with low carb maple syrup or butter is enough to make your pancake much yummier.
Best Tips to Prepare Delicious Pancakes
Some below mentioned tried and tested tips can help you in preparing more delicious pancakes of coconut flour or of any other ingredients.
The coconut flour pancakes freeze very easily. So if you want to eat them later on then instead of defrosting, heat the stack in the microwave which will make delicious, hot ready to serve pancakes in no time for you.
For easy cooking of the pancakes keep its size always small. Like you can prepare 2 to 3 inches diameter sized pancakes as it will be easy to flip and will be well cooked. Also, it will be easier to prepare many pancakes.
For preparing the extra number of pancakes for quick and handy breakfast meals for other days you can increase the number of ingredients on the basis of your desired quantity of pancakes. In this way, you can prepare many pancakes without deteriorating its real taste value.
If you want to get perfectly round shape pancakes as you get in shops then you can use a round pancake rings. This will help you in preparing uniform round shape coconut flour pancakes.
The prepared batter should have a good thickness so that it would not pour too easily or pour with difficulty. In order to get the perfect thickness of your batter, you can add a little amount of coconut flour if it is too thin. If your batter is too much thick then you can add one extra egg or water or cream so that it can be poured easily.
The making of a grain-free coconut flour pancakes recipe is quite easy so that with the right measurement of ingredients just in the first approach you will be able to make a perfectly sized and tasty pancake for you and your family members. So it's your turn now try this easy-going recipe and stay ready to avail all those essentials nutrients that this truly healthy and delicious breakfast contains for you.