I'm going to talk about depression in teens here, because children in general, but teenagers in particular, are the true victims of our craziness.
According to the World Health Organization (WHO), depression is the second most important disease in the world, and affects more than one hundred million people, and is still on the rise.
Depression is a real illness producing real suffering and sometimes fatal consequences. Despite this, I call depression the "philosophical" illness because it stems from thinking patterns relating to ourselves and our perception of reality.
One additional problem depressed people have to face is the stigma connected to their condition. We shouldn't stigmatize depression; rather we should listen to it, because it has something to say about the issues within modern society.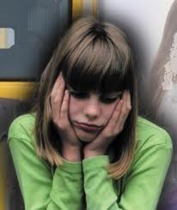 Causes of depression
It's said that bad events can be among the many causes of depression in teens.
Bad events which could occur include the following;

academic failures
bullying
a family break-up
abuse
experience of prejudice and social isolation because of sexual preference
rejection by peers
moving to another town or country
the death of a relative
any number of others
As the last point in the list I have written 'any number of others', because anything can happen in life and each of our situations is unique. It's sign of great maturity and psychological balance to be able to face positively everything life throws at us.
The problem is that modern people perceive themselves as commodities to be sold at market. They have in their mind a precise 'value ladder' where one person occupies higher rungs and another lower ones. They give society the power to classify them and to put them on higher or lower rungs of the ladder.
It should be the other way round. We should classify society according to its ability to serve us and our truly human needs.
Until we collectively begin to regain the power of seeing society as a tool as opposed to an all-powerful judge, the reality is that many people will continue to feel ashamed of their low value, and others fearful that they may one day fall from their high rung.
This guilt and fear invades their homes, and consequently the minds of their children. It is no wonder that there are so many depressed teenagers.
Being modern people worried with the rung assigned to them by society, they have little tolerance for any negative event life may throw at them. These negative events could very well toss them down from their lofty place.
This wouldn't be a tragedy in itself. It's a tragedy because modern people give so much power to society in deciding their value. Making themselves powerless in the face of society, modern people can only react negatively to bad events as any powerless person would do.
Teenagers simply learn from their powerless parents to become powerless as well. Some of them do it too well and become depressed. Depression is the sense of feeling powerless, entirely powerless.
The solution is to refuse to participate in this insane game society wants to play with us.
I will pass over other causes like hormones and genetics. The power of the social environment to transmit fear to people accounts for a much greater proportion of the blame.
Symptoms of depression
Depression destroys the faith we have in ourselves, and a lack of faith produces depression. It is a perverse spiral that has to be stopped as soon as possible.
We are strange animals, with a desperate necessity to have faith in ourselves in almost everything we do.
When in the evening we go to bed, we need faith in ourselves to fall asleep. If we have little of it, we can end up suffering from insomnia or sleeping too much. Animals don't have this problem. Their instinct will do the job for them.
Sufferers of depression will have a big problem with anything that requires having faith in themselves. Such acts can include;
sleeping
eating
any leisure activity
concentrating
Their mood will often be angry, irritable or hostile. If we examine these feelings deeply, they can easily be associated with fear.
Don't tell me that anger means to be aggressive. True aggressiveness is calm.
It has to be said that depressed teenagers will tend to most often show anger, irritability and hostility, while depressed adults will more likely be sad.
Many times depression manifests itself in more physical ways, like unexplained aches and pains. This is because what can't be expressed in words, often finds a way to manifest itself in the form of physical conditions.
Possible Treatments
The first thing that comes to mind is drugs. Depression is a "philosophical" illness and thus shouldn't be treated as any other illness. However, if it is in an advanced stage, drugs can be life-saving.
A drug eliminates the necessity of having faith in yourself. If you lack the faith in yourself you need to fall asleep in the evening, drugs will do the job for you. Drugs aren't a solution, however. The growing consumption of psychotropic drugs is a sure sign that we are gradually destroying ourselves.
We use drugs for everything nowadays; to calm down, to pay more attention, to steady restless behaviour, to concentrate. This is the progressive transformation of human beings into robots.
If our production and consumption obsessed society wants us to be efficient at all times, performing and producing like machines, then we have to rather follow our intuition. Society is wrong; we are not machines!
Many people feel guilty for not performing as well as machines. It should be the opposite! Society should feel guilty for not being able to function according to human nature.
The best solution for depression in teens takes into account the "philosophical" aspect of the depression. Depressed teens have to change the way they perceive themselves and reality. This is why CBT, Cognitive Behavioural Therapy, is so effective in treating depression.
Art therapy is also very useful. Through artistic expression depressed teenagers reconcile with their feelings. A trained therapist encourages them to write, to paint, to sing, or to dance as a means of expressing feelings that they usually find difficult to communicate.
Physical exercise has demonstrated itself quite useful too.
Depressed people are often encouraged to keep up with social activity.
This isn't always necessarily productive however. A depressed person lacks the energy for social interaction, and they can feel guilty at not being able to interact well. In a society obsessed with performance, this is a big problem that worsens the already difficult condition of a depressed teenager.
Depression in teens requires only one thing; rest.
A depressed teenager shouldn't be pressured to go out, socialize, or anything else.
Firstly, they shouldn't be pressured to socialize because often this act becomes an obsession, and makes the unfortunate teen conform to society.
Pressure for conformity is very strong in Western societies, and it is one of the biggest symptoms of the sickness of society itself.
It can be that teenagers get depressed as a subconscious reaction to the idea of being 'one of the herd'. An obligation, that already C.G. Jung considers to be inhuman and leading to the nullification of man.
These depressed teenagers see what everyone around them fails to see.
This is a Guest Post by Denny Dew from Depression Teens Help. If you are also interested to write for HealthResource4u, Please check our guest posting guidelines