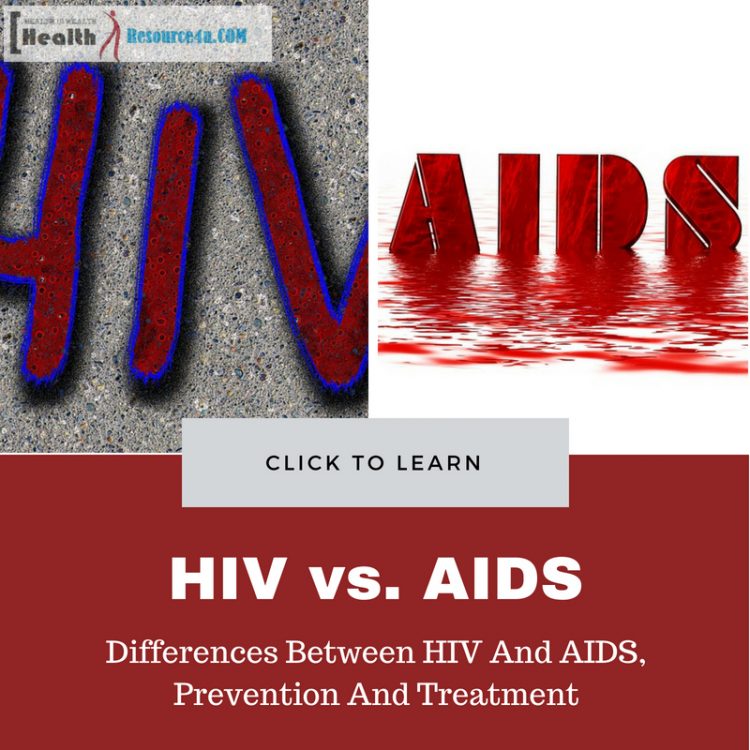 Often people assume that HIV and AIDS are same. It can be easy to confuse. Although they are different diagnoses, they do go hand-in hand and are often used interchangeably to describe a specific disease. To add to your knowledge, there is indeed a difference between HIV and AIDS. When a person is infected with Human Immunodeficiency Virus (HIV) we say that he/she is 'HIV positive'. It is a condition that destroys the body's immune defense system and lives in the White Blood Cells. These cells protect the body from different diseases. The organisms are virus which is incapable of reproducing itself. It produces by taking over the machinery of human cells.
However, a person who has HIV is classified as having AIDS if one of the following things happens
If the CD4 count in the body drops below 200/cc
If the body develops HIV –related infection or HIV-related cancer.
Acquired Immune Deficiency Syndrome (AIDS) is a condition in which HIV virus impaired the body's immune system. It makes the body vulnerable to certain diseases known as 'opportunistic functions'. An individual is considered to have AIDS if he/she is HIV positive and has developed illness related to AIDS.
HIV is a virus
AIDS is a medical condition
You can have HIV infection without acquiring AIDS. It has been diagnosed that people with HIV live for years without developing AIDS. However, anyone diagnosed with AIDS already has HIV. AIDS is the final stage of HIV infection.
What is CD4?
Our body's immune system contains different types of cells that work in collaboration to fight infections. CD4 are one of the immune cells. CD4 cells are also called T- cells are they are the 'head' of immune system team. They help other cells to function properly. As soon as HIV virus enters the body, it turns CD4 cells into small 'factories 'and makes more HIV. Initially, the body is able to produce more CD4 cells to replace the lost cells due to HIV. However, the process eventually exhausts the CD4 cells and makes the body create fewer CD4 cells. As a result, the body becomes less capable to fight infection and germs.
A higher count of CD4 means a stronger immune system. Most people have 700 to 1,000 CD4 cells. But a count of at least 500 is considered normal. However, if the count is below 200, a person is diagnosed with AIDS.
How do people contract HIV?
People develop HIV infection through different ways
Specific body fluids like semen and blood
These fluids can be passed into a body through different means including sharing HIV contaminated injection equipment's such syringes or needles. Also non-injectable drugs and abuse of alcohol can increase the risk of HIV infection by lowering people's inhibition and increasing trade of sex for money and drugs.
HIV pregnant woman
An HIV positive woman can transmit the fluid to her unborn child. Virtually, all forms of sexual contact carry a high risk for spreading HIV.
Sexual transmission
There is a myth in several countries including The United States that heterosexual is not at risk of HIV as it is completely a 'gay disease'. HIV can happen whenever there is contact with sexual secretions. Unprotected sex with someone infected with HIV spreads the infection.
PLEASE NOTE: – You do not get HIV by shaking hands, sneezing, sharing towel, casual kissing, using the same toilet, hugging, eating with someone with HIV or mixing with HIV infected person.
What are the symptoms of HIV?
People infected with HIV will usually show the following symptoms
Fever
Throat pain
Severe fatigue
Muscle aches
Night sweats
Ulcers in the mouth
Non-itchy rash
Swollen glands
Lymph nodes
These indications are called Acute Retroviral Syndrome. They last from a few days to few weeks. The virus can get you sick enough to feel extremely unwell. An HIV test can detect the virus during this period.
What are the symptoms of AIDS?
People with AIDS have their immune system severely damaged by HIV. They are susceptible to infections that do not normally develop in people with healthy immune system and may show the following symptoms
Swollen lymph glands
Chilis
Fever
Weight loss
Weakness
Rash
Sweat
How to prevent HIV?
HIV Test
The immune system of an HIV infected person produces antibodies against the virus. A saliva or blood test can detect those antibodies and determine if you have HIV. However, this test is effective only several weeks after the infection. In addition, there are other tests which can look for antigens and proteins produced by the virus PCR test and can detect HIV just after the infection.
SEX with Protection
Use condom as an effective measure to prevent HIV while having vaginal or anal sex
Abstain from using sex toys and sharing it with someone infected with HIV
Limit your number of sex partners
Get tested and treated for STDs and encourage your partners to do the same
Use dental dam a small sheet of latex that works as a barrier between the mouth and vagina or anus to lessen the risk of infection being spread during oral sex.
Do not share needles and injecting equipment
Do not use or share any injecting equipment including needles, syringe spoons or swabs as this could expose you to HIV and other viruses found in the blood especially Hepatitis C
HIV positive mother should take precaution
Consult a doctor if you are HIV positive and think you may be pregnant. Medicines can reduce your baby's risk of being HIV positive
HIV positive mother should not nurse a child. The infection can be transmitted via breast milk. Physicians will instruct for an alternatives to nursing your baby.
HIV vaccines
You can opt for two types of HIV vaccines – preventive and therapeutic.
How to treat HIV?
Once HIV has developed into AIDS, life expectancy drops significantly. It becomes difficult to repair the immune system at this stage. However, proper treatment can enable people with virus to live a long and healthy life
If you are diagnosed with HIV , get regular blood test done to monitor the progress of the virus before staring the treatment. The weakening of the immune system is determined by measuring the CD4 levels.
Antiretroviral drugs or Anti-HIV medication
HIV is treated with antiretroviral drugs (ARVs) which slow down the spread of the virus in the body. Doctors instruct to take three or more types of ARV medication to a few patients. This is known as combination therapy or antiretroviral therapy. The combination therapy consists of the following pills
TDF – Tenofovir
3TC – Lamivudine or FTC – Emtricitabine
EFV – Efavirenz –
ARV treatment is also available to prevent pregnant woman from passing HIV to her child. The aim of antiretroviral treatment is to keep the amount of HIV in the body at a low level and have to be taken every day for the rest of a person's life.
Emergency medicines
Post-exposure prophylaxis or PEP is given to those who are exposed to the virus within last 72 hours. The earlier PEP is started the better it is (ideally within hours of coming into contact with HIV.
Antifungal cream Ciclopirox
Ciclopirox is a widely used antifungal cream if used along with Deferiprone helps to remove excess iron from the body and eradicate HIV cultured cells.
You may also find several other medicines to treat HIV infection.
How to know that the treatment is successful?
CD4 cell count: when the amount of HIV in your blood is lowered by medication, it allows CD4 cells to reproduce and increase in number. The higher the count, the better you are able to fight the HIV infection.
Physical examination: measuring things like your weight, lungs and heart helps the doctor to know the level of the infection.
Most importantly, missing a dose of medicine encourage HIV infection to multiply. This also increases the chance that the combination theory does not work well and the patient may develop resistance. Therefore, it is crucial for a patient to take the medicine as directed.