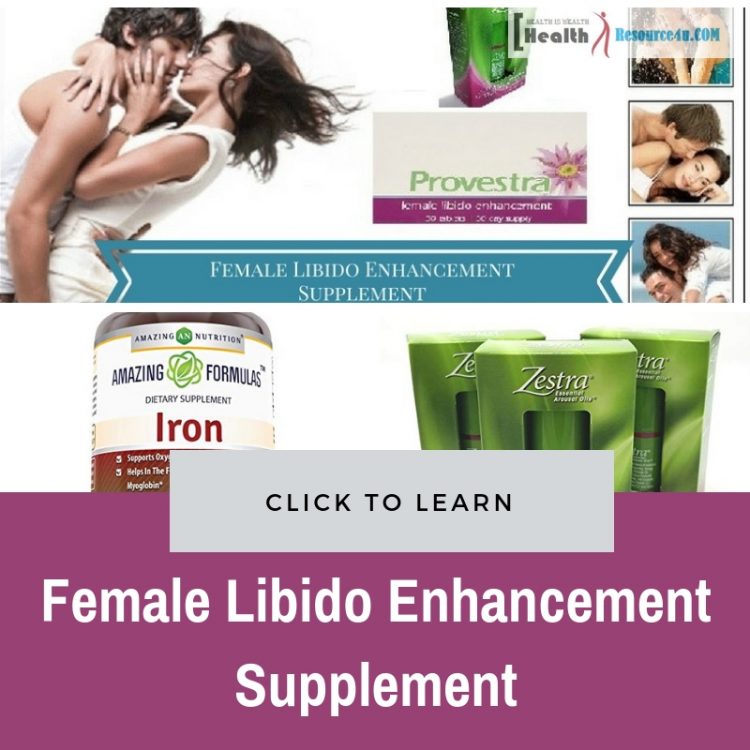 What is the best female libido enhancement supplement? Sex is a subject associated with taboos and myths. Whatever be your sexual orientation, the female libido plays a powerful role in influencing your sexual health. Whether you are from the LGBTI community or a heterosexual woman, sex enhancement is something which can boost fertility levels and increase the compatibility you experience with your male or female partner.
Before trying a herb or a supplement, think about how it may affect your life. Side effects can create a real problem. So instead of getting an enhanced sex drive, you may end up losing out on good health. Consider the constituents of each supplement carefully and see if its ingredients don't clash with your medical conditions or medications you may be taking. When it comes to female libido supplements, it is better to be safe than sorry.
Consider factors like weight loss, exercise, pre-existing medical conditions or changing medications before you opt for sex enhancement supplements. Age is not the only deterrent for improved sex drives. Other factors can also contribute to failure to engage effectively in the sexual act. This includes stress, lack of interest and lack of time.
Don't be afraid to talk to a sexologist about your sexual health. This can make a difference to your overall health outcomes too. Most talk of supplements centers on men. But women, whether gay or straight, deserve equal importance when it comes to the sex drive. What are the options available to you, natural or otherwise? Read on to know more about the best female libido enhancement supplements for women.
Best Female Libido Enhancement Supplements
#1 Iron: Strength and Vitality For Your Libido
Low on iron? This could limit your libido. In research that has been conducted, women have been shown to have increased improvement in their sex drive after opting for iron to correct the nutrient shortfall. But much like everything else, too much iron is not good for you. More than 20 mg of iron per day can lead to constipation and stomach upsets. More than 60 mg at one point can be lethal.
#2 Puncture Vine: Add Life to Your Sex Drive
Tribulus terrestris is a Mediterranean plant covered with spines. It produces fruits and is also referred to as puncture vine. This herb was considered a medicine for a vast number of conditions. Fruit, root, leaf of the Tribulus plant also served to enhance sex drive and reduce difficulty during intercouse with your partner, according to researchers.
#3 Maca: Revitalize Yourself
This is called Peruvian ginseng. This is a herb which originated in South America. This root vegetable is essential for maintaining your sex drive. Those with estrogen-linked cancer or conditions can suffer if they opt for this supplement, though. Side effects of medical can also be countered and so can female impotence. Loss of fertility is a serious problem in countries with a low birth rate. Using natural supplements can prove beneficial.
#4 Provestra: Boost Your Libido
This is the top female sex enhancement product for you, regardless of what your sexual orientation may be. This is safe, efficient and works wonders for your sex drive. It uses everyday supplements from natural ingredients and several chemical aids for boosting sexual performance and libido. This is a natural female sex enhancement process safe for women. Your sexologist may recommend the same. It contains Gingko Biloba, found in most pills and adds safety additives that make it free from side effects. Hops are also part of this medication for estrogen production and lubrication of the organs. This supplement contains estrogen which promotes blood flow and cancels any obstructions in the vaginal area. Mucuna prurience has been found to increase levels of neurotransmitter dopamine for best results. It also contains aphrodisiacs like Epimedium sagitattum.
#6 Zestra: Enhance Sex Drives
This is a female enhancement product. It is essential for the effective functioning of the clit and the labia. It boosts the sex drive and works to enhance your chances of conceiving a child. The effects commence 3-5 minutes of application and last for a total of over forty minutes. This supplement contains coleus, theobromine and evening primrose oil for the best results.
#7 HerSolution: The Perfect Solution
This is a female sex enhancement product made from natural ingredients. It is perfect for gay or straight women to boost their libido. Achieve better lubrication and improved genital health using this supplement. This supplement can also be used for menopause symptoms and PMS relief. It contains a lot of active ingredients.
#8 Arginmax: An Answer for Impotency
This is another efficient female enhancement supplement. It contains gingko calcium, iron, L-arginine, and damiana to boost your sexual health. It also contains vitamins A, C, E and B-complex vitamins. This is perfect for women experiencing little or no action. It enhances the libido and increases the sex drive.
Conclusion
These supplements, both natural and chemical, have a value for diminishing sex drives due to advancing age, lack of vitality, use of medication or accompanying medical conditions that make it possible to reduce the libido. The foundation of a successful marriage or partnership is intimacy. Without it, the relationship is like a dead battery. So, if you are not getting enough out of your relationship, opt for the sex enhancement supplements to make sure your relations don't fizzle out.
For bringing children into the world, fertility and potency are very important. Both married or live in couples planning for birth should understand the importance of healthy sexual relations for maintaining a positive relationship, rather than a dead end one. Whether you are planning for birth control or not, the act of engaging in intercourse can be a painful one for many. Reduce the risks associated with impotency and lack of libido by opting for these supplements. They can boost your marital or live-in relationship with your special someone in the best way possible.