If you are looking to improve your fitness and overall health, then a fitness watch maybe your answer to enjoying a better quality of life. Having one of these handy gadgets strapped to your wrist can help you see where to make changes in your daily activities.
One of the top brands when it comes to fitness trackers and watches is Fitbit. In this review, I am going to review the Fitbit Blaze Smart Fitness Watch to see how this ranks up against all the other fitness wearables that are currently on the market.
Introduction
The Blaze Smart Fitness Watch by Fitbit is their latest model in wearable fitness trackers. The first thing that you notice about the fitness watch when comparing to others is that it looks really slick and stylish. It doesn't just record your fitness activities, but also boasts a Caller ID when you link it to your smartphone, a calendar and it also displays text.
With these extra functions, Fitbit has still made sure that the Fitness Watch does what it is supposed to do – keep track of your fitness regime and help keep you connected.
This is the perfect fitness tracker for professional people who love going to the gym after work and running at the weekends.
So, is this fitness tracker perfect for you? Continue reading the Fitbit Blaze Smart Fitness Watch review to find out.
httpv://www.youtube.com/watch?v=YAK7cOgjWOg
Source: Youtube.com
Design and Features
One of the first things that you notice about Fitbit's Blaze Smart Fitness Watch is that it looks very stylish with the black fitness tracker in a stainless steel frame. Fitbit has also made the fitness watch possible to customize by offering interchangeable wrist straps. This means that you can use the fitness watch on any occasion.
The design of the Blaze Smart Fitness watch straps comes in 3 different colors – Black, Blue, or Plum. However, for more style and sophistication, you can also order a leather or metal wrist strap. So, it means that you can use it during the day in the office with a leather strap, and then change to the standard plastic strap when going to the gym.
Another great design feature of the Fitbit Blaze is that it is very thin and is no bigger than a standard-size watch.
What are some of the other great features of the Blaze?
25-inch touchscreen 16 color display
3 physical buttons, two of which are customizable
Tracks all your activities – steps, distance, floors climbed and active minutes
Calculates calories burned
Multi-spot tracking for all kinds of sports
GPS connectivity through a smartphone
Power saving feature and responsive touchscreen
Gorilla glass screen
Weighs just 1.5 oz (43 g)
The Fitbit Blaze Smart Fitness Watch also comes out top in reviews because it incorporates guided training sessions on the watch, which are supplied by FitStar.
Accuracy
Another great feature of the Blaze is its amazing accuracy. It is just as accurate as some of the leading fitness watches on the market. It also does a great job of accurate sleep tracking, even registering the times during the night when you get up.
Exercise tracking
A review of Fitbit Blaze Smart Fitness Watch shows that it has everything you need when it comes to tracking different exercise regimes. So, you can choose between cycling, weights, running, open workouts, and elliptical. Again, when it comes to accuracy, the Blaze does a great job of recording accurate results.
Heart Rate Monitor
It can sometimes be difficult to get accurate heart rate results when you don't have a strap on your chest. The Blaze does a great job of recording accurate heart rates when resting of engaging in light exercise.
Performance and Battery Life
To increase performance time and battery life, the screen is in black mode when you are not using it. This helps to save on battery power. However, unlike other models, the fitness watch is very responsive and there's no lag when you flick your wrist to see the time. Battery life is excellent when compared to other fitness watches, as you should get about 5 days out of one charge. Although this depends on how often you sync it with your smartphone.
Pros and Cons
There are a lot of positive Fitbit Blaze Smart Fitness Watch reviews about the pros of the fitness tracker. It sits very well against some of the more expensive fitness watches as regards features, performance, and design.
The pros of the Fitbit Blaze Smart Watch are:
Great all round performance for the price
Excellent fitness watch for beginners but enough features to please other fitness watch owners
Battery life is excellent
There are a few negatives with the Fitbit Blaze Smart watch:
Just basic guided workouts
The heart rate monitor is a bit erratic in long, high-intensity training
The GPS features are used through a smartphone
Should I buy the Fitbit blaze?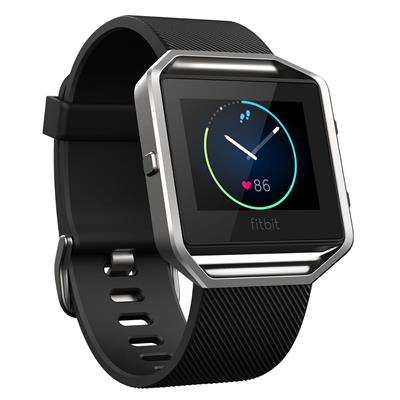 If you are looking to start monitoring your fitness levels and get into shape by using a fitness tracker, then my Fitbit Blaze Smart Fitness Watch review shows that this is an excellent choice. It has all the features that you need from a fitness tracker, and more. You get features like Caller ID, music control, text message display, and it has interchangeable straps you can use it on any occasion.
What does Customer Feedback say?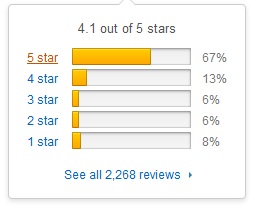 Most Fitbit Blaze Smart Fitness Watch reviews highly rate this activity tracker, especially if you wear big watches. Many customer reviews on the Fitbit Blaze say that the Smart Fitness Watch has a great and clear screen and any text messages or phone notifications are easy to read.
Also, many users who have, in the past, used fitness watches from Apple, Jawbone, and Garmin review the Fitbit Blaze Smart Fitness Watch as far superior when it comes to its many features and great design.
Where to Buy
The Fitbit Blaze can be bought at various online stores and costs around $199. If you want to have an additional wrist strap, then this has to be bought separately.
Purchase This Product On Amazon
Final Verdict
The Fitbit Blaze Smart Fitness Watch review shows that this is a great all-around fitness tracker and one of the best that Fitbit has produced so far. There are plenty of features of fitness enthusiasts. It is a very user-friendly fitness watch and is perfect for people starting out with a regular exercise regime.