High blood pressure or hypertension is a precursor to several cardiovascular diseases. When the individual's hypertension is left uncontrolled, it can lead to kidney disease, stroke, and any other heart diseases. High blood pressure has affected millions of people from different races worldwide. In fact, it is one of the most common causes of premature death.
If an individual suspects that he has high blood pressure he should immediately see his health care provider right away. The patient and the doctor must work together in order to control the latter's blood pressure. The two of them must agree on the level of blood pressure that must be achieved or maintained. Fortunately, there are so many ways to keep one's blood pressure under control. Some of these are the following: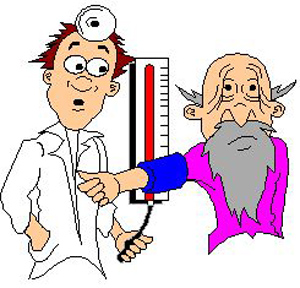 Image Source: –goodbyehealthissues.com
Tips to control your blood pressure
Eliminate vices.
Alcoholic beverages and cigarette smoking must be eliminated. This may seem easier said than done. But, one must remember that these vices do nothing at all to improve your health. As a matter of fact, alcohol and nicotine only increases your risk of developing cardiovascular diseases. Nicotine can literally decrease oxygen flow to your heart. Furthermore, when alcohol gets into the bloodstream, it interferes not only with the oxygen flow. It also interferes with process of distributing essential nutrients to the vital organs of the body.
You may start coming up with a list of activities that you can do in order to forget about these vices. List down all the reasons why you need to stop these bad habits. It would also be good to join support groups for people who want to stop smoking cigarettes and drinking alcohol.
Find ways to achieve your ideal weight.
Be always on the lookout for your BMI and waist circumference. Your BMI or Body Mass Index will serve as your indicator whether you are obese or overweight. If you found out that you need to undergo a weight loss program, make sure to do it gradually. Don't jump immediately to highly strenuous exercises in order to lose weight faster. You may be tempted to starve yourself for several hours just to lose weight. Unfortunately, these things will only do more harm than good. You may ask for some advice from your doctor or dietician to help you achieve your ideal body weight. Once you have achieved your ideal body weight, see to it that you maintain it.
Observe a healthy eating plan.
You should be tracking everything that you eat and drink. Otherwise, you will gain weight and increase your risk of experiencing very high blood pressure. Learn to manage your weight by eating those foods that contain the following nutrients:
• Potassium (banana, cantaloupe, cucumber, etc.)
• Magnesium (broccoli, halibut, spinach, etc.)
• Vitamin C (guavas, kiwi, dark leafy vegetables, etc.)
Healthy eating can best be achieved if an individual will stick to home cooked meals. Another crucial thing to remember if you are hypertensive is to reduce your sodium intake. It has already been a proven fact that reducing sodium intake can lower an individual's blood pressure. Try to use more herbs and spices as your substitute to salt when preparing meals. With home cooked meals, you can easily choose which recipes are nutritious. You also need to avoid the following kinds of foods:
• Frozen and canned food items
• Salt and seasonings
• Processed meats
• Foods high in saturated fats
Stick to your exercise regimen.
Studies have shown that regular exercise does wonders to control one's hypertension. Exercise has been known to improve coronary blood flow. Exercising at a moderate intensity is enough to lower your systolic and diastolic blood pressure up to 7mmHg. You may exercise for thirty minutes or for more than an hour each day. It does not matter how long you exercise. What matters most is that you do it regularly. This is a must especially if your job exposes you to sedentary lifestyle. You can do some brisk walking in the morning. You may go biking outdoors. If you want you can go swimming. Do anything to get your body moving. The more you move the easier it will be for you to lower your blood pressure.
Reduce your stressors.
Find all means to reduce your stressors at work and at home. Stress and anxiety can pose real risks to people with hypertension. Too much stress and anxiety can lead to overeating and poor sleeping habits. It can also increase one's tendency to use prohibited drugs and drink alcoholic beverages. One way to reduce stress is to avoid bombarding your body with too much work. Make sure your activities for the day are not too much for your heart to contain.
Some people ignore what their physical sensations tell them in times of stress. Do not work too much. Remember that your health is far more important your work. See to it that you give yourself a break every day. Ignoring break times in the workplace will put you at risk of suffering from stress and anxiety. As a result, your symptoms of hypertension are exacerbated.
Learn some relaxation techniques.
Practicing some relaxation techniques can definitely lower one's blood pressure. A relaxed state of mind can bring one's heart rate back to normal thereby lowering the blood pressure. You may indulge in Yoga to make yourself feel more relaxed and calm. Transcendental meditation, self-hypnosis and massage acupuncture are also effective ways to relax your mind and body. These relaxation techniques will help your blood flow smoothly to your blood vessels.
These are some of the most effective ways to lower one's blood pressure. Incorporating these tips into your lifestyle will help you achieve an optimal health. Always remember that taking medications is not the only solution for hypertension. Each prescribed medicine must be coupled with healthy lifestyle habits. Do not rely solely on what your doctor can do. You need to help yourself lower your blood pressure otherwise your doctor's efforts will only be in vain.