Ayurvedic massage as a massage form is really popular but you may not have an idea what it actually is if you haven't been updating yourself about massage trends. Basically, everything starts from Ayurveda, which is a unique natural health care system that appeared in India. This system includes yoga, herbal remedies, meditation and massage. Ayurvedic massage is commonly referred to as Abhyangha and will usually be performed by one or 2 professional therapists with the use of different herbal oils and by utilizing special techniques.
Although there are different elements present in Ayurveda, Ayurvedic massage stands out as one part of the system that is known all around the world. Even western countries are using it now in order to help improve circulation and to assist the body to quickly remove metabolic waste and toxins.
Basic elements in Ayurvedic massage
Ayurvedic massage will include marma point massage techniques. Marma is the name used to describe different pressure or vital points in the human body. In addition, the techniques utilized will also target energy points (known as chakra). It is easy to notice the fact that this massage type is different than the typical tissue massage noticed in the western culture. In most cases, Ayurvedic massage will be repetitive, hypnotic, quick and rhythmic. There are many long strokes that are used along the muscles and round different joints.
What happens during an Ayurvedic massage session?
A regular Ayurvedic massage session cannot start without an initial consultation. This is done in order to know Dosha, which is the term used to describe body constitution. Taking into account age, constitution, season and disease type, an idea about the best approach to take during the massage would be formed. The massage is usually performed by using pastes, herbal powders and simple friction by using cloth. It is also common to notice the use of round wooden balls whenever oils are utilized.
The main goal of Ayurvedic massage is to loosen Ama, which is basically toxic residue that will accumulate because of daily stress, negative emotions, improper diet and other reasons. The residue will get stuck to tissues and will appear in organs, muscles, connective tissue and fluids. Ayurvedic massage will be oily due to the fact that Ama will be fat soluble.
Health benefits associated with Ayurvedic message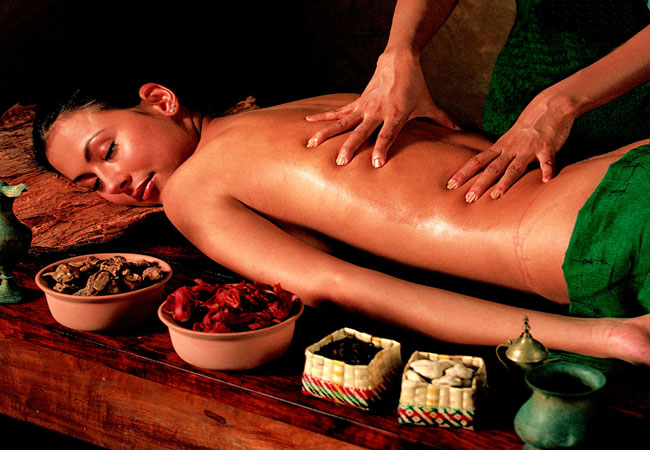 A good Ayurvedic massage session is going to remove skin dirt, cleanse the pores and improve the functioning of the lungs, kidneys and large intestine. It is considered as being an immunity massage due to the fact that it is going to increase the body's immunity and its natural capability of fighting of disease. The massage will increase blood circulation and this immediately aids in dead skin cell exfoliation, skin toning and even in increasing the speed of the rejuvenation process. In addition, skin texture will be improved. There are absolutely no side effect associated with the techniques used and oils that are utilized.
Can you find good Ayurvedic massage locally?
The short answer to this question is "Yes" but it is a necessity to make sure that the spa or massage center that you go to employs Ayurvedic massage specialists. Contrary to what you might think, not everyone will know how to utilize Ayurveda techniques well!