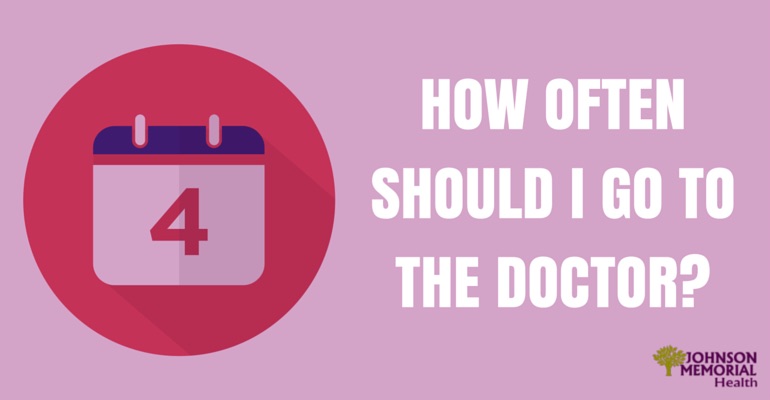 There is no timetable for how quickly the individual needs to visit a doctor. While some people go many times per year, even when they are healthy and well, others forgo seeing a doctor till they are really sick. The right approach is to strike a balance. It can also differ for different people. Here are the factors to consider while deciding how frequently a doctor needs to be seen.
Factors to Consider
When was the last time one went to a doctor? Once a clean bill of health is given, don't start skipping visits.
Another important factor to consider is whether anything has changed since the last time one has gone to a doctor. Have you been ignoring a symptom or a mole that seems larger than it once was?
An important factor to consider is whether the doctor asked you to do a follow-up. Was it 6 months back or 2 years? Ask for the variations on schedules for routine tests on the basis of previous test results. Commencing at age 21, women should start getting pap smears every year.
A key factor to consider is if something one wanted to follow up on with the medical practitioner is prevalent. For example, there may have been ways to change the lifestyle and bring it back to normal if you are experiencing high blood pressure. It is important to follow up if the goals have to be met for good health.
Another crucial determinant is the family medical history. Knowing the family history is important as it can impact the risk of specific diseases and suggested screen testing that needs to be undergone. If a parent or first-degree relative, for example, has contracted cancer or a heart disease, it is high time you should be screened for the disease. The timing of how often the doctor needs to be visited varies.
Another important consideration is when was the last time the doctor was visited. Even if it has been too long, it is important to have an annual checkup. Bad health habits and consequences can sneak up on you. Proper diet and exercise play a critical role in health and genetics often come into the picture. If you have a family history of numerous cancers, high BP, sleep disorders, allergies or mental health issues, detect the same using yearly physicals. Early detection is vital for continued safety and health.
Age matters too. The national average for visits to doctors totals around 4 times in a year. Everyone sees a doctor at least for these number of times. Babies may visit the doctor with a higher frequency of around 9 times in a year. Children may visit a doctor only twice yearly. Uninsured individuals are also less likely to visit the doctor.
Some people only go to see a doctor when they have an emergency, and they need to visit the ER. Studies have shown poor people often go for extended periods without care. Early detection can save many a life. For example, if someone faces a stroke on account of blockage, they need to have a checkup and ensure that proper medication is taken. High BP is another thing to watch out for. After infants, persons with health conditions are next when it comes to visiting the doctor. Those with hypertension need to visit a doctor 4-6 times a year and ensure medications are refilled or adjusted. Patients associated with conditions such as chronic pain and injuries may even visit their doctor once every month or every two months. Pregnant ladies need to see doctors from the initial stages of pregnancy to the weekly basis.
Patients with more critical conditions may need to see a doctor every few weeks during chemo. Patients with dialysis treatment may need to see doctors and nephrologists several times in a week for treatment. Annual checkups are a hot favorite with most, but here's the lowdown on when to see your primary care physician, dentist, dermatologist, and gynecologist.
Primary Care Physician
You need to undertake checkups with the PCP involving comprehensive physical exams, including vital signs, heart and lungs and screening tests for detecting bad cholesterol that may lead to heart disease.Till the 1980s, influential groups like American College of Physicians and American Medical Association had indicated these visits should take place on an annual basis. New research shows that those lacking chronic illnesses who do not take medications do a bad job of combating illness or lessening the risk of serious and chronic medical conditions. Annual exams can also lead to unnecessary tests and over treatment.
Leading professional organizations like US Preventative Services Task Force have recommended that annual physicals should not be the aim. Instead, one should opt for an age and disease-specific approach to routine exams. It is important to find the right percentage of visits suited for you. If BP is below 120 by 80, once in a couple of years is sufficient. If it is higher, one needs to be annually checked. The benefit of seeing the PCP on a regular basis establishes a rapport and builds a medical history.
How often one has seen a general practitioner is based on numerous factors. It is based on everything from the insurance plan to the specific personal disease risks for your years. Once the age of forty is reached, you need to go for a general check-up including blood pressure, cholesterol levels, and weight. If you are young, not unhealthy and not at a great risk, it may be beneficial to stick to a regular check-up regime. Regular check-ups do not impact mortality rates. This is more so for cancer or heart difficulties. As per the recommendations, weight, blood pressure and skin tests are required each year. Check whenever a vaccination booster is needed for instance.
Gynecology
As far as gynecologists are concerned, all women should check their practitioner on an annual basis for routine health assessment. Annual visits include internal pelvic exam, and the American College of Physicians has reported that annual pelvic exams do not benefit healthy, low-risk ladies and lead to unwanted surgeries or distress. Despite such findings, an annual pelvic exam for women 21 years or older is critical.
Annual visits are a must. Along with a breast exam, mental and physical health and well-being, fertility and reproductive health are important. An important reason for annual visits to discuss cancer screening schedules is based on familial history and age. Consider the pap smear. This test is for detecting cervical abnormalities. It is performed one to give years for 21 to 65-year-olds. Annual mammograms are another factor you need to consider. Low-risk women need not opt for STD screenings on a regular basis, as opposed to active women.
Dentistry
Oral checkups are less negotiable. Adults need to see dentists every 6 months, irrespective of how old they are. This includes oral condition, diet and how well oral health is maintained to recommend the frequency of checkups. Limiting dental checkups involve brushing and flossing each day and lowering sweets consumption. This includes natural sugars in honey and fruit. If the hygiene routine is skipped, the result can be tooth decay, gum disease, and gingivitis. This will necessitate more frequent trips so make sure to consider this while skipping visits.
Dermatology
1 in 5 Americans develops skin cancer over the course of life. Seeing a dermatologist once per year for full body examination is recommended. Those with a familial history of family/personal skin cancer or moles may need to see the skin doctor more frequently. If there is a new spot or growth, make an appointment to get it checked. Skin self-exam is important and professional evaluations are useful.
Optometrist
If you wear glasses or contacts you should get your eyes checked once a year. Your optometrist will check to see if your eye prescription has changed any from your last appointment. They will also do some tests and examine your eye for glaucoma and other eye diseases.
If you don't wear glasses then it's suggested you should get your eyes checked every two years until you hit 40, then it's every year. Of course, if your vision starts to get blurry or you're getting headaches when you read you can book an appointment before your yearly check up. The key is to seek help before it turns into a serious problem.
Therapy
Asking how often to see the therapist is not quite the right way to approach it. The key part of effective therapy is the process of building a trusting relationship with psychologists, psychiatrists, social workers, and counselors, based on the nature of the therapy. The therapist should fit in your schedule and give you a chance to work through your issues. Many therapy programs commence by suggesting weekly sessions, as there is a degree of intensity based on progress and a firm therapeutic relationship within a short instance. A more relaxed schedule is needed in other cases. The key point here is the quality of the relationship, not the number of visits.
Preventative healthcare measures are always better than reacting to an illness. Getting regular checkups for your body, teeth and eyes will help you to stay healthy and catch any problems early on. It's also important for maintaining a health record so that your healthcare professionals know what your health is like when you aren't sick.
Of course, if you feel sick or are having issues with your health, you shouldn't wait until your yearly check up before seeking medical help. Book an appointment as soon as possible. But make sure that you are getting your regular checkups. They can be a life saver.