Abilify and Its Side Effects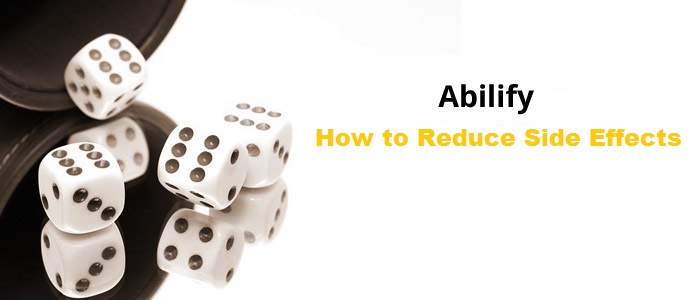 To minimize the side effect of Abilify or aripiprazole, an antipsychotic medication, experts often recommend that patients should refrain from taking the medicine more or in greater frequency than the doctor recommends. Abilify can make you feel light-headed or giddy. So if you have been lying down, don't suddenly get up or sit. Move at a slower pace and rest the feet on the floor before getting up. Abilify makes it harder for the body to become cool again, so excessive exposure to heat should be avoided. Also be careful while exercising. Ensure that you drink plenty of water and other fluid.
Another important precaution to take while you are on this medicine is to avoid drinking alcohol, as this can cause excessive drowsiness and harm the sleep cycle of the body.
Certain medical conditions are associated with side effects caused by this drug, Be sure to check your medical history before choosing Abilify as well. It can react with some medicines as well. So check with your doctor regarding any prescribed or OTC medicine you may be taking and supplements you may have ingested.
Certain side effects of Abilify can be tough to handle. Minimize these effects by checking with medical professionals if any of these symptoms are experienced:
Changes in vision
Uncontrolled body or face movements
Seizures
Fast/Slow heartbeat
Cardiac Arhythmia
High fever
Sweating
Rash, hives or itchiness
Swelling of different parts of the face or limbs
Problem in breathing and swallowing
Tightening of neck muscles
Throat tightness
People in their 20s are also susceptible to suicidal ideation due to ingestion of aripiprazole. Check with your doctor in case you feel any of these mental symptoms:
Severe restlessness
Anxiety and agitation
Panicking
Irritability and aggression
Impulsivity
Severe restlessness
Overexcitedness and hyperactivity
Inability to sleep
How Does Abilify Work?
Maintena or Abilify (also called aripiprazole) is an atypical medication used to treat psychosis, conditions such as schizophrenia, bipolar conditions, and depression as well as aggressive behavior, mood swings, temper attacks and self-injury pertaining to autism in children. This medicine inhibits certain neurotransmitters such as dopamine implicated in extreme moods associated with mental disorders such as psychosis. It also prevents the action of serotonin in the human brain, lowering excitement level which is abnormal.
Abilify is a partial agonistic drug as far as dopamine receptors are concerned. It is not a total agonist or suppressor, unlike other anti-psychotic drugs. This drug has been popular. It is considered the most successful drug in the pharmaceutical industry which is the 2nd highest selling drug in the United States.
How to Lessen Side Effects
Countering an Overdose
The amount of medicine needed to overdose is based on factors such as body weight, the length of usage, and individual chemical balances. Different chemistries mean that people will experience an overdose from varying amounts of the drug.
Overdose signals include excessive confusion, chest aches, irregular or fast heartbeats, slowness of heartbeat, problems in swallowing and breathing, seizures, hives, inflammation of face or lower limbs, odd tongue movements or tongue that protrudes from the mouth, motor actions that are unwanted called tardive dyskinesia, muscular stiffness, uncontrolled body movements, vision changes, high fever and sweating.
Abilify, if taken in excess, can cause death. Overdoing the medication often results in mild irritability to increased heart rate all the way to a life-threatening outcome. This is called the serotonin syndrome. Immediate action needs to be taken in the event of an overdose. Aripiprazole can interact with other drugs and cause complications as well. If overdose is recent, certain medicines may be given. A tube can also be used to pump the stomach. Once the drug has been absorbed by the body, no way of removing it fast exists, however. Supportive treatment may revolve around fluid through an intravenous drip, seizure medication or other drugs depending on the complication.
Battling Sleep Problems
Often, people complain that the medicine is causing them to feel sleepy and they are unable to function well. Abilify is correlated with drowsiness. Why is this so? The nature of the medicine is such that it affects areas of the brain associated with energy and awareness. Abilify can initiate extreme drowsiness, so be careful. Extreme tiredness can create a lot of problems for a person with Abilify.
Some people find they get drowsy with even 1 mg dose. without experiencing tiredness. For those who become bed ridden due to aripiprazole, the alternative drug may be considered. Experiment by taking the drugs at different points in the day. Some people may find they function best when they take Abilify in the morning while others function better at night. If the drug makes you feel tired, opt for taking it at bedtime. Sleep apnea or trouble sleeping can create a problem, so use sleep gels or an alternative to aripiprazole if you want to avoid this problem.
Depression and Aripiprazole
Abilify is good at lowering depression in some people. Others may experience new or rising depression from Abilify. When people respond well to the drug, it is very beneficial. But a downside is that it tires you out, you may want to choose another medication. Be alert regarding changes in mood after taking Abilify.
Abilify and Tardive Dyskinesia
Tardive dyskinesia is a rare movement disorder caused by excessive ingestion of antipsychotic or neuroleptic medication. It is generally associated with older drugs such as Haldol and newer ones such as Risperdal and Abilify as well. Abilify has a greater risk of tardive dyskinesia than olanzapine and risperidone. This movement disorder can be permanent and can come on after the drug is stopped.
It involves unwanted twitching and often occurs in areas such as the face, neck, shoulders, arms, legs, and torso. The onset of tardive dyskinesia tends to be slow. Most cases do not advance till 3-6 months of exposure, while some have occurred after just a few doses. In physically healthy patients. the chance of developing the movement disorder varies from five to eight percent. In the elderly, the risk is at 20 percent or more in the year. This is the reason why the drug is not taken by older persons prone to dementia.
Weight Management and Abilify
Whether you lose, gain or remain the same weight with Abilify depends on your own physiogeny. Once they start taking Abilify, most people experience a dramatic rise in appetite and often lack satiation. Medicines can also lead to drug interactions within the body. It is known to cause resistance to insulin and trigger a metabolic syndrome. Weight gain can settle down once the dosage is adapted to. Abilify is less likely to cause weight gain, Drugs such as Luvox for curing OCD have been known to enhance the impact of aripiprazole drugs.
So how can you avoid this side effect? Here are the steps:
#1 Eat a wholesome, healthy, nutritious diet
Include numerous vegetables, fruits, whole grain and low in fat and/or fat-free milk and dairy items. Opt for healthy proteins such as legumes, beans, eggs and lean meat. Don't eat too much sugar, salt or unhealthy fats.
#2 Avoid Snacking
Eat 5-6 small meals in a day to feel fuller. Do not snack through the day as this can increase calorific intake and lead to overeating. When you are hungry, check the signals the body is trying to send and cope with it.
#3 Limit Alchohol
Do not drink alcohol. This is because liquor is high in calorific value and drinking water all through the day is better. It prevents overeating. Drink 6-8 cups or glass full of water each day.
#4 Exercise Regularly
Exercise for at least 30 minutes in a day. This can reduce the lethargy and tiredness and stave off weight gain associated with Abilify.
If the gain in weight continues despite efforts, suggest a meeting with the doctor and work out an alternative solution. Check with your doctor before opting for exercise or diet regime to assess if it is safe for personal health.