If you love natural remedies for skin care, how can you forget about "Medicine in a Bottle"! Here we are talking about "Tea Tree Oil". It has been consistently used in skin care for centuries. In present era this essential oil has gained tremendous popularity across the globe for its varied and natural beneficial uses. Tea tree oil is extracted from the leaves of Australian Melaleuca alternifolia tree. Many people believe that tea tree oil and tea oil is the same thing. This is not true! Tea tree oil should not be confused with tea oil; tea oil is a sweet seasoning and cooking oil from pressed seeds of the tea plant.
If we talk about the color, it is clear with a beautiful yellow tinge. It is aromatic but not fragrance oil. Tea tree oil has clinically proven properties that make it an efficient natural agent for curing all three types of infectious organisms: fungus, bacteria, and virus.  Five of its versatile properties include:
Antibacterial
Antifungal
Anti-infectious
Anti-inflammatory
Antioxidant
It's extraordinary healing properties makes it one of nature's finest antibiotics and effective at killing bacteria. Following are five out of many surprising skin benefits of using this inexpensive vial of Australian gold.
Benefits of Tea Tree Essential Oil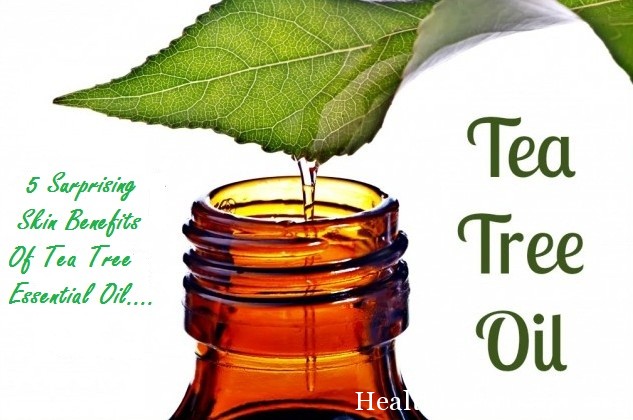 1. Tea Tree Oil for Skin Rash
Rashes are always unpleasant and annoying and when it comes to treat rashes on skin, nothing works better than tea tree oil. Its soothing and healing properties makes it best natural remedy for rashes. You need to mix tea tree oil drops with coconut oil and applying the blend thoroughly on the rash. You can even use aloe vera gel and tea tree oil, whichever is available. Tea tree oil not only relief the itching, it also repair the skin damage.
2.  Tea Tree Oil for Skin Acne
People face a hard time to treat acne; they are stubborn and make you feel uncomfortable. However few suffer from a small outbreak of pimples, while others get covered entire face with acne. One of the most common uses of tea tree essential oil is to get rid of acne breakout. If acne refuses to leave your life, give tea tree oil a chance. Its antiseptic properties help treat blemishes and its antibacterial properties control the spreading it further. Mix organic jojoba oil with tea tree oil and apply it to the entire face after cleansing. I will result into glowing skin and reduce the chances of future acne issues.
3.Tea Tree Oil on Skin Tags
Tea tree oil is one of the effective natural ways to get rid of embarrassing skin tags. Using tea tree oil to remove skin tags is a pain-free treatment that gives positive results. This treatment option can save you from huge unwanted medical bills. You need to first wash and clean the area before using this essential oil. Best way is to use a cotton ball to apply tea tree oil to the skin tag. This treatment needs to be repeated two to three times every day until the skin tag falls off within 2-3 weeks.
4.Tea Tree Oil for Skin Pigmentation
Tea tree oil is a mild and harmless treatment to cure light pigmentation on skin. It a literally works to reduce redness and even out the skin tone more quickly. When we talk about hyper pigmentation, which is a condition where the skin produces too much melanin. The more melanin in your skin the darker the pigmentation can appear and be very frustrating to deal with. I've noticed that as more of an antiseptic treatment, tea tree oil would have little effect on treating dark pigmentation.
5. Tea Tree Oil for Skin Fungus
Antifungal properties of tea tree oil make it best solution for fungal infections such as athlete's foot. It works perfect for relieving symptoms of skin fungal infections, including scaling, inflammation, itching, and burning. For a soothing, healing treatment, mix equal parts tea-tree oil with olive oil or aloe vera and rub the blend of two oils on affected area twice a day. Tea tree oil solution appears to both relieve symptoms and clear up the infection in about half of people who try it for 4 weeks.
Except for these five uses, tea tree oil is often used to cure a number of health problems including athlete's foot, nail fungus, wounds, lice, thrush, cold sores, dandruff, skin lesions treat cuts, scrapes, insect bites and stings and many more.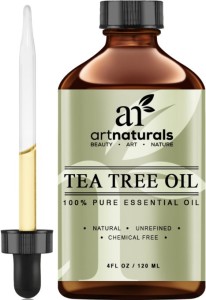 Tea tree oil on skin can be used in following ways:
Directly on your skin in the area affected: For cuts and sores, add 1-2 drops to targeted areas.
Mixed with carrier oil: Mix 3 – 5 drops with carrier oil and apply to skin after a bath or shower.
Healing bath: Add 6 drops to your bath water for a soothing soak.
Diffused: Using an essential oil diffuser is next option. Tea tree oil may be diffused into the air, creating a medicinal antiseptic.
Here are few words of caution to keep in mind:
Remember tea tree oil can cause skin irritation when not used properly. Therefore to get the best out of it consider following cautions:
Never take it orally: As tea tree oil is strong ingredients, it can harm your internal system. Even if it's taken in incredibly small amounts, it can cause severe reactions when ingested.
Dilute it first: If you have sensitive skin, using the oil directly on skin may cause rashes, blistering and itching. In such cases it is wise not to use it directly on skin; rather dilute it first with carrier oil.
Away from sunlight: Keep it away from the sunlight. Keeping it in the dark bottles, which are designed to keep out sunlight, are best.
Avoid using those expensive, unnatural, chemical-ridden skin treatments. Make it simple, just dab a drop of tea tree oil on a damp cotton ball and apply to trouble spots. Above all I believe consistent gratitude and positive energy helps you to heal the skin fast than anything else in this world.
Stay Happy Stay Healthy!