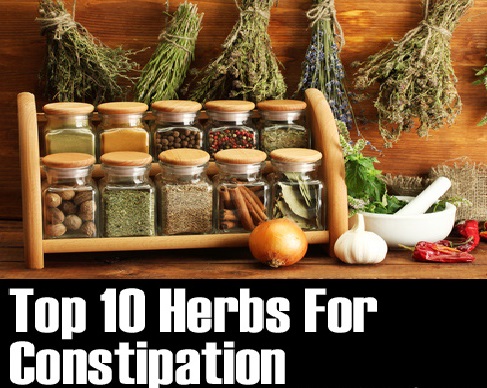 Constipation makes anyone uncomfortable, no matter what their age or gender. If you are feeling heavy or bloated and you want fast relief, these herbs should be able to help you out. Use these natural remedies and relieve the problem of constipation without chemical medications or laxatives.
What is Constipation? Know More
Constipation is less than 3 bowel movements in a single week. This can happen once or twice or can be a constant problem, especially for those with IBS. Certain symptoms of constipation include hard stool, difficulty in bowel movement, blocked feeling in the bowling, need for laxatives, stomach pain in the abs, feeling of nausea and bloating.
What can cause constipation? Anything from inactivity to surgery, medications to lack of water or poor diet and stress or overusing laxatives can be the reason. Herbal remedies for constipation abound. In fact, many of these OTC drugs contain these herbal remedies. Many laxatives are rich in anthraquinones that stimulate the intestines. These laxatives draw fluids into the colon and enhance peristalsis. Peristalsis is the contraction of the intestine that releases material through for elimination. Consider these herbal remedies if you want to avoid chemical laxatives.
#1 Psyllium
Psyllium is a plantain plant species which is a natural fibre that improves ease of elimination. Psyllium is for treating chronic forms of constipation combined with other laxatives. It can, however, lead to side effects such as allergy, nausea or stomach pains in some people.
#2 Rhubarb
This herbal plant has a fruit which can be used for treating constipation. Rhubarb is a potent laxative. The studies conducted so far have found antidiarrheal effects on account of increasing content of tannin. Rhubarb can be used for curing constipation.
#3 Senna
Senna is a herb used for treating constipation for clearing the bowel before the medical process can be carried out. The fruit has a less potent effect than the leaf. It should only be tried in the short durations and at doses recommended by the herbalist. Long term and high dosage cause liver scarring. The Senna plan's leaves and pods are medicinal and well known for laxative effects. It has been found in OTC remedies including Senokot.
Some people find the particular herb is not so effective, while others find it useful. If you have suffered from any medical condition, be sure to check with the doctor before taking this herb.
#4 Slippery Elm
This miracle herb stimulates neurological cells or nerves in the gastrointestinal tract. This causes an overproduction of mucus providing relief from constipated symptoms. Less research has been done to assess the long-term impact. Slippery Elm coats the GI tract, reducing absorption of certain medicines if taken during the same time.
Other herbs don't treat constipation directly. But even these can make a difference such as mint tea and chamomile which can relieve pain and ease constipation. This herb is found by health professionals because it has a soothing lubrication effect on the GI tract. Much like Aloe Vera, the Slippery Elm heals, nourishes and is excellent for IBS or stomach pain and cramps.
This herb is a natural emollient, which can lubricate the intestine tract and provide soothing relief for mucus filled membranes. It improves digestion and soothes gas and cramps. This soothes an irritated GI tract which makes it easy to ease constipation related to IBS. This herb can also be used for dealing with diarrhoea.
#5 Aloe Vera
Aloe Vera has been used for topical purposes but it can also be ingested as a laxative. Aloe vera juice can make for excellent treatment. The herb can be perfect for the liver. It is a gently cleansing herb which works as a natural laxative besides causing inflammation. Juice can be consumed every day or aloe vera can also be taken in the form of gels.
#6 Fenugreek
This is a cooking herb yet its seeds are prized at settling the GI tract and relieving constipation. This is also rich in fibre and contains some vitamins and minerals. Fenugreek can be added to gravies and dishes with ease. It has a constipation-relieving impact too.
#7 Dandelion
This is a natural laxative and it can be consumed as a tea too. This herb's leaves can be added to summer salads and wash them well first.
#8 Nettle
Nettle can be had as a tea and is a natural laxative.
#9 Sorrel
This herb has a slightly sour taste but is a potent laxative. It can be used in cooking and even has value as a tea which can be drunk by steeping leaves in warm water.
#10 Sea Buckthorn
Sea buckthorn is a herb that is perfect for dealing with constipation problems. Those who don't drink enough water will also make their problems go away by choosing this herb. Sea buckthorn also contains an essential fatty acid called Omega 7, known for helping coat the GI tract and ensure lubrication of the mucous membrane and improve healthy digestion. More fluid movement of stools through the bowel movement helps through the herbs. Sea buckthorn is rich in vitamin A and B vitamins.
Buckthorn is gentle enough to be used for young and old patients alike. Sea buckthorn or cascara sagrada and slippery elm make for a perfect cure for long-standing, chronic constipation. It is used by herbal experts to even treat associated GI conditions like gallstones, ulcerative colitis and liver congestion. This comes from bark extract of species of buckthorn. This irritates the colon enough for the promotion of the bowel movements. While using it for the short term is fine, in the long run, it can cause liver damage. It can also cause pain in the abdomens and electrolyte variances. Long-term use may also cause liver failure. This herb is non-habit creating, so it can be used without any fear of either addiction or habituation.
Triphala
This herbal remedy is a combination of the following three fruits:
Amalaki
Bibhitaki
Haritaki
This is revitalising and rejuvenating besides cleansing the bowels. Herbalists have effectively used this herbal remedy for a diuretic, weight loss and relieving constipation. This popular remedy in Ayurveda is a means of balancing the dossier or constitutional typologies of individuals. By adding the element of water or kappa, it balances the body and eases bowel movements.