Weight Loss Principles: The Science Behind Eating Right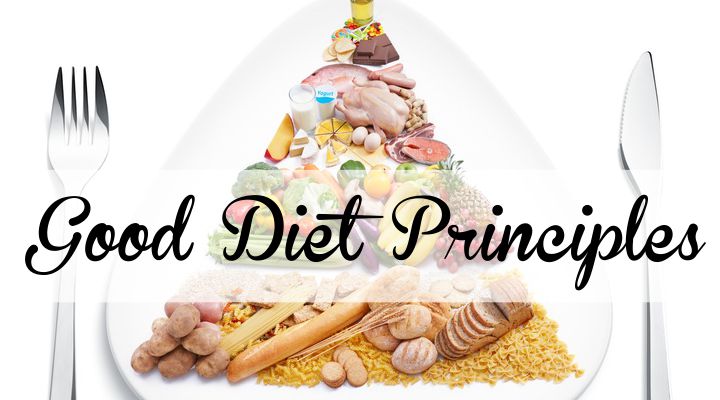 When it comes to weight loss, it's not the details that count, but the principles that after. Whether you rely on a well-known food diet guru or a medical nutrition representative from a scientific body, skilled nutrition experts will always agree that there are some basic principles of weight loss that apply across the board. These principles form the essence of a good diet plan when it comes to eating right. Permanent weight loss and optimal health cannot be had without following these principles. Bear in mind that when it comes to health and weight loss, there's no single right way, but many. The principles of weight loss through diet, however, form the core of each of these ways.
While most nutritionists stress that successfully handling calories is all about eating less than one burns, the math is not so simple. Weight loss is not a straightforward event across time. Cutting calories does not always mean weight loss. For example, 100 calories of sweet corn syrup will have a different impact on your weight than 100 calories worth of steamed greens like kale or broccoli! The cardinal rule of weight loss is to abandon calorie dense foods that do not satiate you and go instead for low-calorie foods that satiate you.
Another crucial point is that the manner in which the body stores fat after consuming carbs is also important. When a meal is consumed, carbs enter the blood stream as blood sugar. To keep blood glucose levels normal. the body needs to burn the glucose before the fat. Insulin which is secreted for this purpose prevents fat for the body to burn in the form of energy/fuel, and creates adipocytes/fat/adipose cells for storing this. More weight gain and more fuel requirement propel you into a cycle of eating more. Insulin burns carbs so it becomes a cycle that is hard to break away from.
Controlling Emotional Eating
Eating is not simply to beat hunger. We use food in times of stress and anxiety as well. Worries, boredom or loneliness could also act as food triggers. Check the habit of emotional eating if you want to curb food intake and consequent weight gain. Look for healthy ways to keep your cool such as meditation, yoga or a hot batch. If you are losing out on energy, try substituting calorie dense foods with healthy snacks.
Staying Motivated
Sustained weight loss is only possible if you make healthy choices when it comes to life attitudes and food options. Use your motivation and will power to sustain you. Social support can also help which is why programs like weight buddy systems can help. Whether it is friends, a support network or a family member, you need all the encouragement you can get. Try tapping long term goals such as focusing on how eating right and weight loss can pave the way for a healthier, slimmer you.
Sleep Coupled with Diet Control Helps
Make sure that alongside eating right, you sleep well too. Remember that it is a lack of proper sleep or insomnia that whets your appetite so you need to ingest more food when you are tired. It can also prevent satiation, so avoid sleep deprivation and make sure you get 6-8 hours of sleep every night.
Cutting Down on Sugar-Rich Foods and Carbs Works
More consumption of sugar rich and refined carbs than healthy can prove to be very detrimental when it comes to watching your weight. Remember that sugar can lurk in the unlikeliest of places including pasta sauce, bread, and even low-fat margarine! All this sugar is nothing but piling on empty calories. Soft drinks are an even bigger culprit. These include sodas and energy drinks as well as the ever popular coffee.
Consider that one soda can or a moderate sized shake contains as much as 12 teaspoon-full sugar. Diet soda is an even worse solution because it can cause sugar craving and exacerbate weight gain. Switch to water with juice or ice tea instead and watch those health benefits pile up. Sugar in any diet should be slowly lowered and refined carbohydrates such as white rice, any bread that is not whole wheat, or pasta should be given a wide berth. This is because these foods can cause a spike in blood sugar and add inches to your waistline.
Belly fat is also associated with insulin resistance and spike in blood sugar levels. Calories found in sugar rich and processed, or artificially flavored foods is likely to add further to this.
Don't Think Low Fat, Go For Good Fat Instead
Nowadays, a fashionable diet plan talks incessantly about low fat or even no-fat snacks, milk products and packaged items. But one crucial factor is missing– that of a balanced diet. Low-fat meals have done nothing to lower obesity. Animal and dairy fats are being set aside for empty calories and refined carbs. Healthy fats are associated with a balanced meal and a healthy, trim body. These healthy fats increase the satiation and better the quality of the diet.
Opt for Fiber Rich Fruits and Veggies
Less food does not mean more weight loss, even if you are cutting calories. High fiber foods, however, can help. These take more time to digest and they also increase the level of satiation. This is ideal for losing weight. Whole fruits can be had across a profusion of colors from strawberries to apples, nectarines, oranges, berries , and plums. Leafy green salads and green vegetables of different kinds can make a welcome addition to your diet. For example, consider edible legumes like black beans, split peas, lentils, pinto beans and chickpeas. Whole grains are another great way to increase the fiber in your diet.
Eat the veggies raw or steamed, not fried or overcooked. Add different kinds of nuts and cheese products and healthy salads and dressings for better results. Low sugar cereals can be made nutritious through the addition of anthocyanin-rich, polyphenol imbued blueberries. Use veggies like tomatoes, lettuce, and cucumbers for snacking on. Try carrots and celery.
Tune into What You Eat
In a fast moving existence, eating fast and consuming junk food is becoming a way of life with many people. To eat much more than you need is one of the things you should avoid. Rather than eating mindlessly, pay attention to what you are eating. Avoid distractions and concentrate on the food instead. This will ensure that your portions are right. Another trick is to stop eating just before you feel satiated because the brain signals a full stomach after some delay only.
Take Charge of Food Habits
How much is eaten is important and the kind of foods that are easily available become part of your diet. Cooking meals is a good way out. Packaged and restaurant portions are high in sugar, fat, and calories rather than food cooked. Save yourself from fat and carbs and serve smaller portions.
Eat Early, Eat Right
Another principle of using diet for weight loss is to eat few calories at dinner than breakfast. This can control your metabolic rate and optimize weight loss. Eating a good breakfast ensures you feel less hungry throughout the day and you can cut down on the calories, by burning more of these.
Drink Your Way to Good Health
Water is an essential element of the body. Remember that thirst can be mistaken for hunger as well. By drinking water, cut down on empty calories.
Balance is the Key
From the cabbage soup to the popcorn diet, unbalanced eating can have severe repercussions on your health and the nutritional value of the food that you eat. Instead, you need a diet that is balanced yet healthy. Gaining a balanced diet does not mean you stock up on animal products, fried foods or processed foods. Popular diets that don't encourage fresh, natural foods are a waste of your time and effort, when it comes to weight loss.
Time Your Food Right
The right timing is as important as what we eat. Optimization of body composition is only possible when energy intake and energy expenditure are balanced. Calories are used optimally when they are eaten at a time there is a strong demand for them. For instance, mornings are the period when there is a huge demand for calories. These calories are also more likely to be used for energy than stored as fat. Those who skip breakfast are more likely to be prone to obesity. Smaller meals is a better way to coordinate food intake with energy needs.
Monitor Yourself
Paying attention and heeding what you eat is a good way to reduce calorific intake. National Weight Control Registry which has listed individuals with a weight- loss of over 65 pounds stable over 6 years states sell monitoring to be the most critical part of the diet. Counting calories and fat grams may actually be good for your weight loss plan. Weighing yourself is also a powerful motivator to eat right.
Forbidden Foods? Selective Restriction Works
Most weight loss programs have a list of forbidden foods. No weight loss can succeed without avoiding certain kinds of food– these are bad fats, found in processed and animal foods and bad carbs in sweets and processed items. But don't take food restriction to a point where you feel deprived and eat an unbalanced meal. Soft restrictions can work, though.
Consider Caloric Density
The concept of energy density or calorie density refers to calories per unit in a given food. Foods packed with calories are a strict no-no. These include refined, sugar rich and processed food items. Research has shown that caloric density is critical for losing weight.
Healthy Eating Habits Are a Must
Healthy eating is not like a flu shot, that once taken grant immunity for life. You have to be consistent and wholesome in your eating habits, to maintain a healthy body weight and have a trim waistline. You need to make sure you are ready for change and set your goals. Commit to a healthy diet, eat mindfully and track your progress.
Some of the important steps to take to ensure healthy eating habits are:
Don't skip meals, eat regularly.
Eat plenty of fruits and veggies
Stay active
Drink water
Eat fiber rich foods
Read food labels and ingredient information
Avoid alcohol and calorie dense foods
Stick to small portions, rather than giant servings
Use healthy food snacks as substitutes for comfort foods.