In this fast-paced, highly technical world of instant gratification and an infinite stream of ideas and information to ponder and analyze, relatively few people realize the benefits of daily meditation. Perhaps you've tried it and quickly dismissed it without allowing yourself to reap the fruit of the seed that was planted within you. Perhaps you have so many things to "do" that you have no time left to simply "be." In our results-oriented society, what advantages are there to sitting quietly and thinking of nothing at all? Here are just a few of the many benefits to practicing meditation regularly:
Benefits of daily meditation -It reduces stress.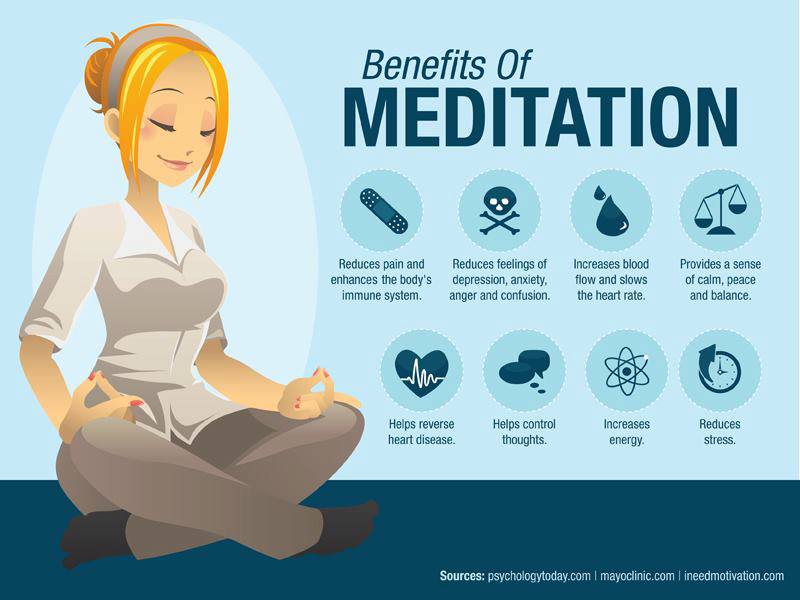 Perhaps the most widely known and pursued benefit of daily meditation is its propensity to reduce stress. The incredible number of decisions, responsibilities, and problems we all shoulder from day to day is enough to make one's head spin. If you can make the time to simply be quiet and sense the world without the interference of thought, you will find that it is an incredibly calming experience that leaves you feeling rejuvenated and better able to deal with stress.  Or, perhaps, you will even realize that your awareness has allowed what you once perceived as stress to dissolve into nothingness.
It allows you to experience peace.
Separating yourself from your mind and connecting to a consciousness that is bigger than your own personal ego is a very freeing sensation and one that brings about a sense of inner peace—the peace of knowing that you are not your mind, you are not your emotions, you are something much greater than the totality of your parts. Once you realize this, your every mistake, negative thought, or personal failure no longer seems so vitally important.
It reduces the pressure to perform.
By making the commitment to meditate daily, you are making meditation the goal in and of itself rather that attempting to achieve something external through meditation. This may seem like a small distinction, but it is a very important one. If you are expecting to immediately gain something through meditation, you are putting undue pressure on yourself and the process, thus inhibiting it.
It allows you to take control over your mind.
In a highly meditative state, you are fully aware that you are not your mind, nor or you the thoughts that inhabit it. This puts you in the position to transform your state of being from one that is controlled by the mind to one that uses the mind as a tool to bring about positive results. You can simply allow the negative thoughts to pass by without reacting to them or energizing them while you selectively grasp on to the positive thoughts, thus bringing them to fruition. After a while, you will find that the negative thoughts dissipate significantly because they are not being fed by your energy. The end result is that you are able to think more clearly, enjoy the happiness that results from more positive thinking, and increase your ability to focus on the thoughts that you invite into your being.
It helps you realize who you really are.
Or at least, realize what you're not. Perhaps the most enlightening result of daily meditation is the realization that you are not your mind. When you achieve a state of higher consciousness that does not involve thought, you suddenly become aware that you are separate from your thoughts and thus, separate from your mind. Over-identification with the mind and the ego is one of the root causes of human suffering, so to conquer this misconception is to open yourself up to the possibilities of who you really are.
If you feel that meditation may be beneficial to you, take the first step, and try it out for yourself. As you begin your daily meditations, recall that meditation is a practice—something that you get better at and reap more benefits from the more you rehearse it. At the same time, practice patience and allow the meditative states you achieve, no matter how brief, to heighten your awareness and allow you to move beyond the limited reality that your mind can comprehend and into the realm of a higher consciousness.
Learn more about meditation techniques and relaxation techniques