Fitness professionals and health experts hold that weighing yourself is the way to a healthy body weight. Tracking daily weight in a journal or app can work well. But if you're more into accurate detection you can rely on, digital bathroom scales are the way to go. With the introduction of new technology, knowing about the best scales can weigh things heavily in your favor, when it comes to staying svelte, trim and slim.
Benefits of Digital Bathroom Scales
The obvious health benefits apart, the top bathroom scales offer a lot of advantages consistently across the board. While many clinics and hospitals come with this benefit, there comes the problem of dropping by just to get your weight measure. The best time to step on a digital scale is in the morning, as soon as one wakes up. This is because this is when you are at your least weight, without the food and water you consumed yesterday.
#1 Convenience Factor
So, the first benefit of having a bathroom scale that is digital is that you can harness technology to measure your weight at any point in time. Whether you have odd and uncertain hours or can't find the time to visit a hospital or clinic, a weighing scale ensures the convenience of being able to weigh yourself from the comfort of your home.
#2 Consistency
Another advantage of digital bathroom scales is the consistency with which you can weigh yourself and track the weight each day. Consistency is what gives your fitness plan staying power. A digital bathroom scale can do just that. Being digital in nature, it can even provide accuracy as compared to a counterweight or analog scales where fractions have to be calculated (or more likely guessed!).
#3 Better Than Manual Scales
Digital beats manual, every time, more so for bathroom scales. The digital scales are not just more consistent than analog or counterweight scales, but LED screens are also easily readable. The screens are backlit permitting these to be visible even in dark or poorly lit conditions. Certain digital scales can sync statistics on an automatic basis as per a mobile health app streamlining any weight loss plans or fitness goals.
#4 Unlimited Add-Ons
While analog or manual scales are good for taking the weight, they don't do anything else. Digital scales measure not just the weight, but muscle mass, body fat, and other health metrics.
Why You Need to Buy A Digital Bathroom Scale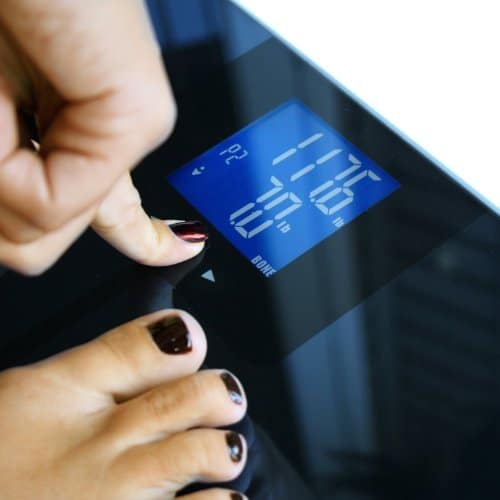 There are many reasons why a digital bathroom scale should be purchased. Here are the few ones that are most important.
#1 Upgrade From Old Scales
If your old scale is rusting, looks dinghy and old or does not have the accuracy your weight loss plan demands, it's time to switch to the digital scale. Additionally, analog or counterweight scales can be bulky, big and take up excessive space on the floor.
#2 Achieve Weight Loss Goals
A top digital or electronic scale provides the accurate measure of weight each time it is stepped on. If you place it in a prominent position in your home, like the kitchen, it enforces healthy menu choices.
#3 Use It For all Family Members
This includes seniors, women, and children. This helps to track progress and state of health. Measurements can be recorded for use.
#4 Use It for Maintaining Healthy Body Weight
While people who don't follow a fitness program need to also ensure their weight remains okay, the digital bathroom scale can work well for not just the fitness fanatic, but everyone who wants to maintain healthy body weight. Studies prove that weighing one's self consistently increases the chances of losing weight. This is because frequent weightings make a person aware of how their diet is affecting their weight. There are wiser food choices across the long term. The outcome is lower calories consumed and greater weight loss.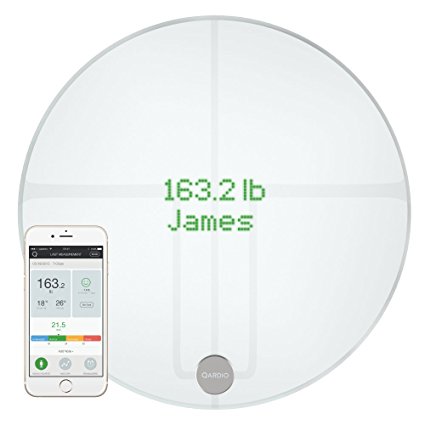 Facing the number on the bathroom scales is not easy. But it matters when it comes to tracking your health. The Qardiobase 2 is the perfect equipment for this. This digital bathroom scale does more than just weighing you. Apart from weight, it even tracks complete body composition and body mass index.
What It Claims
This Qardiobase 2 digital scale records data wirelessly on the phone. It includes smart modes for pregnancy and those with implanted medical devices. If you don't want a number, you can even track your weight with emojis. Excellent when it comes to design and flexibility of use, the Qardiobase 2 is the best choice for a smart scale that offers a whole lot of benefits.
Features
#1 Circular Body
The Qardiobase 2 is around weighing machine which stands out as against the square or rectangle design of most scales. Measuring 6.7 inches in radius, it stands at a height of 0.9 inches. This is an inch more than the original Smart Scale by the same brand.
#2 Greater Stability
As compared to the first Qardiobase, this one has more stability. It offers smart improvement. Additionally, there are more color options in the second more up-to-date option. The choice is now between Volcanic Black and Arctic White.
#3 Better LED Display
Green readouts from the center of the LED display on the scale notwithstanding, the LED is crisper and brighter. It also comes with a new haptic feedback for the scale to vibrate once the weight has been measured.
#4 Rechargeable Battery
Unlike other brands, Qardiobase 2 features a rechargeable battery that lasts for about one year. The scale comes with a micro USB charging cable. You don't have to wait for using this scale. It's charged straight from the parcel, and ready to use. Many smart scales are still based on batteries.
#5 Comprehensive Metrics
This scale measures basics like BMI and weight and gives a complete breakdown of the water, muscle, bone, and fat percent composition of your body. It offers a measurement range of 9 to around 396 pounds and offers accuracy up to 0.2 pounds.
#6 Useful App
The setup is a breeze, and once the scale has been freed from its packaging, the free Qardio app can be applied, whether you are using Android or iOS. Register with Qardio and get the full benefits of this smartphone device. Fill your profile with birth date, weight, height and more. The app guides you with wireless and pairing set up. You can select from as many as 4 smart modes – smart feedback, pregnancy, weight only and normal weight. Weight only is for those users who have pacemakers or other medical devices and body composition tracking is disabled because metrics are measured through an electrical signal. Normal mode lets you see all the possible metrics for readout. Smart feedback permits a weight goal target and rather than opting for numerical device readouts, you can get emojis. Get detailed app metrics on the scale. Pregnancy mode is a blend of smart feedback and weight only. It does not allow readouts for body composition and displays the weight as an emoji. You can even enter the dates for pregnancy starting, due date and pre-pregnancy weight for the monitoring purpose.
#7 Straightforward Operations
The Qardio app is straightforward. It shows the present weight in the upper left box. One can tap for the complete breakdown. There's a box with an emoji indicating weight goal progress. Beneath these boxes is the complete BMI. The history tab records all measurements which can be viewed in graphs. There are also reminders tab where notifications can be seen.
#8 Apps are Simple to Integrate With
Qardiobase 2 integrates with Apple Health, as well as Android Wear and Apple Watch. The smartphone apps offer simple and handy ways to keep an eye on data when the phone is not connected.
#9 Multiple Users
Qardiobase 2 is tested and it is oriented towards making easy and automatic smart tracking. There is no problem in receipt of notifications and haptic vibrations on the scale offer the best experience. Smart scales offer Bluetooth enabled varieties, which can be analyzed for full body composition. Much like other smart scales, this device detects five users in a single setting. All the fresh users have to do is download apps, create the account and finish the pairing process. The scale does not support too many users though. Some scales like Garmin's support over 16 users. The scale can automatically detect and save data for the right profile. Qardio is associated with many stellar iPhone linked products though and this smart scale cum body analyzer is one of them.
#10 Unique Design
Qardiobase 2, is the second iPhone connected smart scale. Qardio has made a lot of improvements to the model and offers better products than most brands. This simple circle scale comes with a clean glass top for easy visibility and simple accent lines on the front. It has many hidden LEDs under the glass to display information such as weight. With this scale, there's less taper and a massive base overall, so there's stability no matter how you step on it.
#11 Accuracy
Tracking metrics such as body fat percentage, weight, muscle mass, bone, BMI, water content and BMR, it employs bio-impedance for measuring body mass. sending signals through the scale's top to the feet via electrodes. Body composition can be calculated by weight, height, and electrical impedance. The scale comes into contact with bare feet for effective measurements of body composition. It provides weight information. One needs to remain still for seconds though. Movement prevents the accuracy of measurement.
Body composition metrics are estimates, but there is only a single percentage digit discrepancy as against hydrostatic weighing using body composition analysis through water displacement. So this machine weighs you with unerring accuracy. The aim is to track progress over time rather than a single measurement. Whether one aims to lose weight, cut down on fat or gain muscles to track body composition changes across time and though the measurements
#12 Track Changes in Body Composition Across Time
Whether one aims to lose body weight, cut down on fat or attain muscles, it is easy to track body composition changes across time, though initial measurements lack accuracy. Body composition measurements are accurate when employed at the same time and in similar conditions. If you take a measurement post a heavy meal, intense sports activities, high levels of alcohol, dehydration or body type, it is important to ensure reliability by tracking changes. For estimating BMI and body composition, all the Qardiobase 2 needs is your weight and height. Weight goals can also be entered and the app displays progress along with more recent measurements. Measurements across time are displayed with every day, weekly or monthly graphs for BMI, fat and body weight.
Measurements can be sorted through time and date, with calendar views displaying the time schedule for the weight measurement taken. In-app choices to remind you to take weight are also there. Body composition can be disabled through the app by switching on the Weight Only Mode. This works well for those who have electronic medical devices implanted as well. Pregnancy and Smart Feedback Mode alongside the normal mode display fat and weight percentage across measurements. This weighing scale also displays emojis making the journey to weight loss easier. Additionally, the body composition and weight are stored for reference in the app. For using the scale with multiple users, tapping with the foot to change accounts facilitates this process.
User Experience
This Qardiobase 2 scale has got positive reviews for a whole host of reasons. It offers different modes which can be used to customize or display information as you want it. Accuracy and consistency are the key benefits of this amazing scale. It syncs with a vast number of users so everyone can try their own account. To ensure complete use of the scale, the app which is compatible with a wide range of devices can be used. Setting long-term goals and evaluating trends on the basis of this app offers benefits. Additionally, calorie, meal and water intake can be measured. The scale offers a lot of benefits such as a clear three-year warranty longer than scale warranties. The Qardio website offers online manual support as well and a comprehensive FAQ page and blog.
Pros
For those with fitness or weight loss plans, this smart scale provides an additional motivation and a tangible means of tracking progress over time using metrics other than weight.
People can track a wide range of health data for overall metrics and indicators for health.
It offers a lot of benefits for uploading onto the health app.
It also offers benefits in terms of accuracy and design.
Weight measurements offer consistency and the set up is easy.
Touches like haptic feedback can be used for marking measurement.
Lots of users can create profiles and sync scales to iOS or Android devices.
It is a versatile performer with a lot of bells and whistles
It comes with sleek and appealing designs, pain-free setup and customized modes along with comprehensive metrics.
This is one of the smartest scales on the market right now.
Cons
This is an expensive scale.
The company associated with this brand does not offer phone customer care services.
It has a weight limit of 396 pounds
Final Verdict
This is quite a versatile and good scale that offers a wide variety of customizable options to fit any individual or family. This Qardiobase 2 device offers a comprehensive view of health. This smart scale also measures BMI, weight and other health stats. The measurements can be sent to the Qardio app which stores data in a secure cloud. Measurements can also be shared across social media. This digital bathroom scale connects Wi-Fi to the home so every time one steps on the scale, the app can be used for sending measurements across Wi-Fi. Additionally, the scale measures body fat percent, the mass of muscle, BMI, weight, bone and water composition.
To buy the Qardiobase 2 digital scale, try the next link.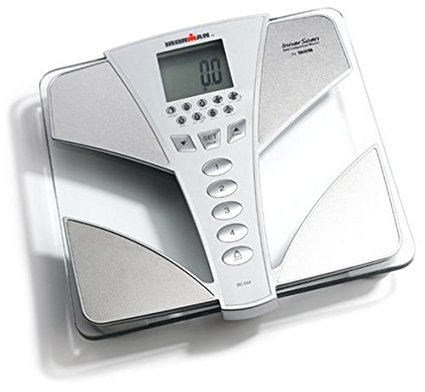 This Tanita model is the top rated body scale designed for tracking and analyzing fitness plans and goals. This high-performance scale is the right choice for those who want to track their health metrics and their weight.
What It Claims
While many of the other scales are oriented towards the measurement of body fat, BMI or weight, this Tanita digital bathroom scale also provides a measure of fitness levels, metabolic age, and bone mass. It also does so many more things such as enabling users to monitor their weight over a period of time.
Features
#1 Accurate Tracking of Wide Metrics
Metabolic age is associated with the metabolic rate of the body and helps in the maintenance of a minimum number of calories or energy required while resting or sleeping. This is measured by the Tanita scale. It also comes with a measure of your body fluids as a percentage of body weight.
#2 Aesthetic Design
This Tanita scale is a size of a regular bathroom scale and weighs around 9 pounds. It has a compact and neat design. It is also extremely lightweight and portable.
#3 Easy to Use
The massive LCD display offers easy readability. It also comes with a wide range of metrics. The device is accurate and comes with an LCD display that is easy to read.
#4 Multiple Users
The Tanita scale is easy to read and comes with a weight capacity of a maximum of 330 pounds, which means it can track multiple users. The monitor further tracks the measurement of close to 4 people. Results are saved so progress can be measured.
#5 Advanced Technology
This awesome model uses Bioelectrical-Impedance-Analysis as a technology. The complete rate of body measurements is consequently analyzed. This device is also extremely precise. Information can be accessed with ease and can remember details for 4 people.
#6 Control Your Body Health
This scale provides details about body fat, the weight, water, muscle and bone mass, BMR, metabolic age and a rating of the physique. These are important details so body health can be controlled and the device is useful. The distinctive muscle mass measure assesses the muscles in your body. All you need to do is type in your gender, height, age, and weight in the unit memory and you can cull out the exact information in seconds. This unit comes in 3 modes namely guest, standard, and athlete. It monitors your entire weight loss picture.
The model comes with compact dimensions of 13x2x12″ and the weight increment is 0.2 lbs, while 0.1 is the increment for body fat. The model can choose the desired means of measuring, choosing from kilograms or pounds. The model comes with a sleek design and a glass platform that is tempered. This design detail makes it perfect for any bathroom. It operates on four pairs of AA batteries.
#7 Easy to Use
This scale is extremely easy to use because it has a simple, easily readable menu. As the model comes with buttons instead of a touchscreen, its durability is in place. With this unit, the fat content, weight and other measurements can be calculated in under a minute.
#8 Solid Warranty
This manufacturer offers a 3-year warranty compared with other analyzers in the category that have one or two year warranty. The website can yield further information on how to operate this Tanita model.
#9 Reliable Scales
This brand is associated with advanced electronic scales for those monitoring their health. With massive experience in the industry, the brand offers reliability when it comes to most advanced scales. Tanita products deliver superior quality and are accurate, resilient and easily usable as well as perfect for those who want to live a healthier life.
#10 Multiple Readings
There are many body fat scales for purchase. This one is exceptional as multiple readings are provided. As against limited features of other units, this can list body parameters creating a complete analysis of body composition. While it costs a lot, it is a good investment in furthering a weight loss diet. It offers ease of use and accuracy of measurement on account of advanced technology.
User Experience
This Tanita digital bathroom scale offers a lot of measurement options and has been highly rated by users. Specifically, customers have praised its three-year warranty with the chance to make repairs quickly for any troubleshooting required. This scale works out well for managing a lot of metrics and is prized for its accuracy.
Pros
The scale offers a lot of measurement options.
It even provides an option for measuring visceral fat levels in association with fat stored in the abs cavity and around vital organs so ensuring this stays down is essential.
The metrics like measurement of water weight and metabolic age are additional benefits.
This monitor is associated with the excellent design and its compact size makes it the best fit for your restroom.
Metrics used on this scale can offer to track of a wide variety of fitness goals, whether one wants to cut down on fat or put on muscle.
This scale is highly accurate and is even tried out in hospitals.
Cons
At this cost, it is a machine that is expensive.
If you want a simpler scale with limited functions, this is not it.
The buttons on the scale are not as resilient as they should be.
There is a paucity of replacement parts on sale.
Final Verdict
This is the perfect scale on getting health and fitness on track again. This Tanita scale is known for its value when it comes to recording diverse metrics for multiple users. From the measurement of body fat to muscle mass and metabolic age, there is a wide range of metrics that can come into place. Choose this multifaceted digital bathroom scale for the best features and functionality.
To buy the Tanita digital bathroom scale, try the next link.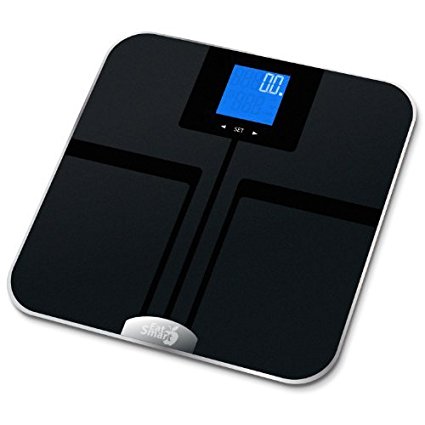 Rather than waiting for the health and fitness goals to be aligned, you need to go the extra mile and take a proactive step. One of these steps includes getting a digital bathroom scale. EatSmart is the body fat scale which offers so much more than just the measurement of the weight. It also comes with an all-important percentage of body fat. This product offers many benefits over its rivals.
What It Claims
This EatSmart scale employs bio-electrical impedance technology that sends electric pulses across the feet. One needs to enter data such as height, weight, age, activity level, and gender to get accurate readings. This weighing scale can offer up to 8 users. It measures muscle mass, bone mass, body fat percentage and total body water percentage. Rather than having a button pressed, all you need to do is step on the scale and it works well. This software for auto-recognition ensures the scale is able to find out about the user based on earlier weight.
Features
#1 Unique Design
This digital bathroom scale has a unique design with a glass platform that can be seen for easy visibility. It comes with an additional black LED lighted display with black letters over a blue background to ensure easy readability. Additionally, the design ensures safety with a thick 8-millimeter tempered glass. The design also has nonslip grips totaling 4 in all on the back. Platform measures 12 x 13 inches and is 1.8 inches off the ground.
#2 Auto-on Technology
This bathroom scale comes with a freshly updated EatSmart Auto-On technology. The aim is to stand on the scale and turn it on. It also turns off automatically. Tape measures come alongside for weight loss goals management. The scale is technologically advanced with latest sensor technology in up to 4 high precision sensors providing accurate readings. The scale also provides auto calibration, which works well if you want to store the scale in an upright position and use it later.
#3 Can Weigh Heavy Loads
It can measure weights up to 400 pounds or 180 kilograms. It has graduated increments of 3 and 02 ounces. If the format has to be switched from pounds to kilograms or vice versa, there is a button beneath the scale for managing this and it remembers preferences.
#4 100% Money Back Guarantee
This manufacturer provides money guarantee of 100% on this scale and offers exemplary customer service. It's a unique clear design and low cost are added attractions.
#5 Accurate
Additionally, the device has recorded the accuracy of 100 grams which is working out well when one compares it to other smart scale devices.
#5 Comes With Batteries
This device offers four powerful AAA batteries for machines to function well. The batteries come with the machine so you don't have to worry about the purchase of new pairs. The scale comes with software that actually detects your identity when you stand barefoot on the scale.
#6 Easy To Use
This scale can be simple to use and permits the automatic storage of information. Using this accurate scale, gender, age and height can be entered and the weight, water weight, and BMI are also measured by the scale. The scale does not distinguish between those with the same height or weight, but it stores the profiles in the machine. Consequently, the scale displays matching profiles on the screen and arrows are used to reach the specific profile. Many models are measured in pounds or kilograms. The machine features auto-on or auto calibrations.
User Experience
This EatSmart weighing scale has garnered thousands of positive reviews on Amazon, numbering over 4500+ at the latest count. It has been rated 4.4/5 making it one of the most highly rated weighing machines in the market. Close to 75% of the users have given this scale a rating of 4/5.
Pros
The EatSmart Precision Digital Scale offers an amazing design. It fits into any bathroom without a fuss.
It also offers automatic on function, Unlike other smart scale machines, one only needs to stand on the machine and it works just fine.
The display works well because it stands out, making easy readability possible.
The blue background of the weighing scale is bright enough to come handy in low or dimly lit places.
Close to 8 people can have their information stored.
The data you enter on this scale remains private.
Entering information such as age, gender, weight, height, and activity is important.
The scale measures body fat percentage, bone as well as muscle mass and total body water percentage.
The scale can handle up to 400 pounds of weight.
With its BIA technology, it uses pulses through the feet to identify and weigh you.
Additionally, the package also comes with a tape measure for measuring the waistline.
Its sleek and trendy design makes for an amazing addition.
The scale can be shared with many users.
It switches on automatically and has a night light function.
It enables people to track the muscle mass.
Clarity of the LCD display makes results in the dark visible.
The slim, modern design is a valuable addition with the additional benefit of step on technology
Cons
The weight shows discrepancies post usage so the product may not have the staying power to be durable.
Additionally, people talk about the accuracy of the scale, but when comments are read, the critics talk about deficiencies.
One such shortage is the lack of Wi-Fi capacity to upload details on the smartphone.
Additionally, if there is excess moisture in the bathroom, the scale shows a problem in terms of accuracy.
While the scale offers detailed measurements, it lacks Wi-Fi capacity so it cannot be uploaded onto not just the smartphone but any device such as laptops or desktops.
Final Verdict
A lot of reviewers have rated this EatSmart scale positively when it comes to muscle mass measurement and body fat percentage. The scale works well, comes with a handy manual and 4 AAA batteries to operate the machine which offers an amazing touch. The top-rated BIA technology used by this scale permits accurate readings and offers multiple users of up to 8 people. Additionally, the step in technology is an amazing addition with a large LCD display with backlit screens guaranteeing the visibility at any time in the night or day. This scale offers measurement options required apart from just body fat percentage metric, measuring water percentage, muscle mass and bone mass which offers usefulness for athletes. It offers the best value for money weighing scale. It also stores a lot of data and offers accuracy and technological touches.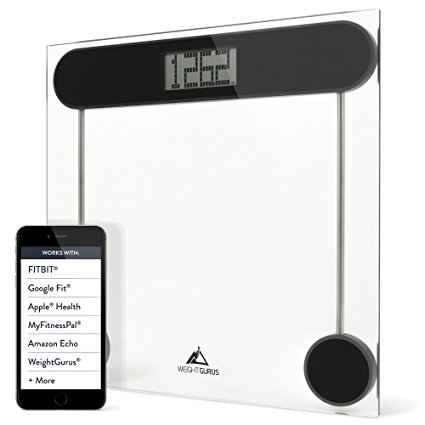 This Weight Guru machine is a budget category weighing scale, which apart from its slow price, is highly advanced in terms of technology. It offers a cost-efficient solution for your weighing needs.
What It Claims
This cost-effective Weight Guru weighing scale offers value for money. It offers multiple metrics, not just weight. Additionally, it records up to a set of 8 users and 4 sensors for accuracy in terms of reading. It also comes with compact size, a free app, and warranty that is rock solid at 5 years. It also offers a premium quality brand.
Features
#1 Multiple Measures
Apart from BMI or body mass index metrics and usual body weight, the Weight Guru scale offers water weight, lean mass, body fat and bone mass measurement. It records data across a wide range of metrics.
#2 Wide Range of Users
It records measurements of close to 8 persons and has over 4 sensors for accuracy in reading.
#3 Compact Size
The scale offers handy, compact dimensions at just over 12 inches in length, weighs less than 4 pounds and has a massive display making it easy to observe measurements.
#4 Free Application
This Weight Guru app permits keeping the details of the weighing in by the side. Scanning the code with the smartphone camera ensures that data gets transferred onto the app. This is a cost-efficient option to Bluetooth enabled technologies. The app can be used with platforms like Fitbit and Google Fit. It can be used to track the measurement and permit colorful graphs to see the advancement.
#5 Warranty
Weight Guru offers a five-year warranty for this product. It is one of the top warranty durations in the industry. It has a total of 400 pounds as a weight capacity.
User Experience
This Weight Guru weighing scale offers premium quality, accurate results and an easily readable LCD display. Receiving over 4144 reviews, it has attracted a positive rating of 4.4 out of 5. The sensors offer accuracy of results and the LCD numbers and displays are large. This weighing scale has also been praised for permitting a wider range of health metrics to be measured, not just weight.
Pros
These 4 sensors offer excellent quality and provide accuracy of results most times.
The LCD display is easy to read and the bright backlit display ensures you can measure yourself easily even in the dark.
This weighing scale comes with apps that offer compatibility with numerous platforms and permit syncing of measurements with the smartphone.
The weighing scale monitors progress and has a 400-pound capacity, offering the best standards in the market.
Extra metrics offer a complete picture of health.
The Bluetooth connects to leading fitness apps.
It also provides up to 6 different body measurements.
Cons
Taking data off the scale and onto the smartphone requires careful handling as a barcode needs to be scanned.
If the smartphone is not able to block the light, it will face a problem with the scanning of the bar code.
The scale's accuracy appears to degrade across a duration of time.
Final Verdict
The app on Google Play and App stores can be used to check out charts and graphs while boosting weight loss. This scale may have batteries that are not long-lasting and the problem of getting the smartphone to read the barcode on the scale is tough. It can be hard based on the smartphone model and if the barcode cannot be scanned, a critical feature is missed out on. The Weight Guru offers numerous great features and the app works well. Additionally, it measures bone mass, water weight, and lean mass metrics apart from usual weight and body fat metrics. From a budget scale, this offers a lot of benefits. When numerous metrics are factored in, Weight Guru offers the best scales in terms of value for cash. Get the best from the product at the price point.
While the Weight Guru scale offers a lot of value, it also comes with certain pitfalls. Check what you can expect from this scale before purchasing it. With a large surface to stand on, this scale offers the best benefits. It has an auto shut off in the event that it is not turned off. The scale also has a non-slip scratch resisting base so it can be used on any surface including hardwood floors. The number one scale brand in the US, Weight Guru assists through weight loss goals. The company also gives some portion of the profits to charity. Additionally, there is auto calibration so mechanical adjustments need not be made. The scale offers accuracy of plus or minus 0.2 pounds. Measurements can be synced with smart devices apart from smartphone apps like Apple Health and Google Fit. it offers a secure connection between the app and the scale or device. Even if the phone or device is not synced, information can be stored until one is ready to sync. The scale also comes with a set of 4 AAA batteries and offers quality customer service.
To buy this Weight Guru scale, try the next link.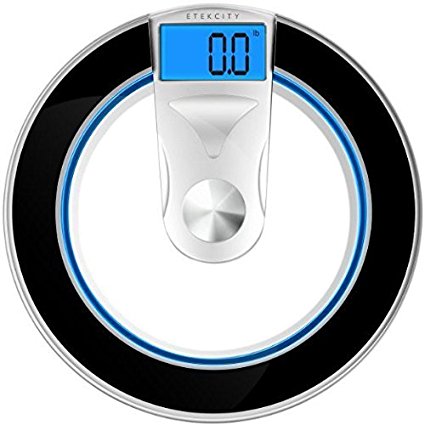 Whether one needs a strict and rigid workout routine or way to fulfill a new year's resolution, tracking weight, fat, BMI and more is possible with the best smart scale in the market. This is the Etekcity Smart Body Fat Scale for some people. Smart scales such as these are a perfect way to keep weight loss objectives under check. Calculating and tracking body weight, water, far, bones, muscles, visceral fat, BMR and BMI results are easy with this scale.
What It Claims
Calculating and tracking different metrics are easy with this scale. This Etekcity digital bathroom scale is a wonderful choice whether you want to connect with apps on the phone or tablet and get all inclusive outcomes not possible from a conventional bathroom scale. This brand of digital scales is known for its high precision sensors for attaining accurate results.
Features
#1 Wide Range of Applications
Calculating and tracking fat, water, body weight, bones, visceral fat, bones, basal metabolic rates, and body mass index are easy with this digital scale. It connects with apps on the tablet or smartphone and provides unusual results. This super smart scale can offer high precision sensors to offer instant accurate results. It also comes with a sizable, sharp LCD display making the measurement easy to read.
#2 Built for Performance and Precision
As it connects to smartphone apps through Bluetooth enabled technology, this scale offers ease of use. The weighing scale records data and syncs it as per the app. It also features high precision sensors ensuring round the clock accuracy. A 400-pound restriction means most individuals can use this weighing scale. It also supports unlimited individual profiles so it works best for large families or groups if the aim is to gain or lose weight, add muscle or more.
#3 Device Checks Who Uses It
Additionally, the weighing scale ensures that information is not confused with another individual's, so the device can check who is using it and how. It displays the profile before displaying important data such as weight. The sleek tempered glass machine is durable and has an on/off system for optimal battery life and convenience.
#4 App Permits Goal Setting
One of the most outstanding features of this scale is that the app permits goal setting, so foods consumed and workouts carried out are monitored. The information in question is analyzed and synced completely to offer clear line and bar graphs of data. This also makes it easy to scale how one is doing. Choosing measurements in pounds or kilograms powered by 2 AA batteries makes it portable. Unlike other smart scales that offer very little aesthetic appeal, this digital scale is sleek, appealing and works well for any decor. It offers easy readability for numbers as it comes with a 4.3 inches large screen.
#5 Easy to Use
This app offers instant reading with zero requirements to switch the scale or tap. It comes with non-slip rubber feet, so one does not have to worry about scratched floors. Using 4 high precision sensors, accurate measurements can be delivered. Additionally, the scale measures up to 400 pounds besides having an auto-shutoff feature to conserve energy. It is also pre-calibrated for speed and convenience. It also provides safety and exceptional sturdiness as it is designed with tempered glass.
#6 Ensures Safety Through Support
Apart from its 4 sensor technology delivering professional dependable accuracy, it comes with a tempered glass platform that provides support and safety.
#7 Durable and Dependable
This gadget is powered with 2×1.5 voltage AAA batteries to ensure energy storage is optimized. It is composed of stainless steel material 12x12x0.9 giving the durability and stability needed while measuring weight.
User Experience
Currently, there are 11,322 positive reviews and a rating of 4.3/5 for this scale on Amazon. This means the Etekcity scale is performing its task well when it comes to creating the perfect profile for users. The scale also scores on its massive weight limit of 400 pounds, its capacity to track your body metrics such as BMI and weight as well as body fat percentage.
Pros
This scale permits unlimited user profiles as compared to those scales which offer a maximum of 6-8 multiple users.
This digital Bluetooth weighing scale scores on accuracy as well and it is a good option.
The scale is known for multiple metrics such as body fat percentage, BMI and weight.
This scale works well for families or groups that want to take a fitness challenge.
This unit can handle weight for up to 400 pounds, a standard across the board.
This scale offers consistent weight measurements.
It is a scale which is easy to set up and one of the quickest units tested.
The user manual is detailed and comprehensive.
Using the scale is as easy as stepping on it and letting it walk you through different ways.
Cons
While setting up the scale to connect with the application can be hard, this comes with a manual that ensures the machine is up and running though you have to follow the directives.
Another drawback is the problem with personal preferences other than Bluetooth apps, as it comes with an app that tracks a lot of data and this can be challenging and complicated to use.
Most scales are minimalist but this scale comes with a lot of choices.
Final Verdict
While setting up the scale, the app lacks user friendliness and is limited in what it displays. But the metrics it offers through its apps ensures this Etekcity scale scores on precision. Additionally, it shares weight loss progress with others. The bathroom weighing scale is the heaviest unit in the lineup, measuring 5.6 pounds. It is a compactly sized scale at 12.7×12.8 inches and 0.94 inches in height. Etekcity measures this unit with a one-year standard warranty. It also provides exceptional support resources. So you can ask questions about the scale and product manual on the site at any time. Helpful resources are available on the blog. This smart scale is a wonderful weight loss product with fitness and all-around capabilities to achieve fitness and weight loss goals. The machine is also well designed and can fit other bathrooms. Calculating and tracking body weight, water, bones, fat, muscles, visceral fat, BMR and BMI results are just some of the metrics this scale provides. It integrates well with different smartphones making it the best digital smart scale available. It offers an exceptional choice for those who appreciate optimal connectivity and compatibility.
To buy the Etekcity Scale, try the next link.
How To Use a Digital Bathroom Scale
The digital body weight scales covered in this review offer exceptional results and quality. They have been rated highly and praised by those who have observed their efficacy in measuring body weight. Durable cost-efficient and helping in tracking health markers, they come with a lot of benefits. Once these devices are purchased, you can access effective weight measurements. Digital weight scales vary in their features, but not in their precision when it comes to accurate readiness which can be relied on. Many types are available in the market, but while buying the scales, you need to be clear about how to use the digital ones. Here's a handy guide.
#1 Switch on Digital Scales
Bringing the weight digital scales in, you need to place these on the level, flat surfaces to get the best readiness when possible. Switch and press the on and off key or plugin to get the measurement.
#2 Choose Preferences
Some scales can identify you when you step on the weighing machine. Others come with accurate weight readings for the different categories. Set the unit of measurement in case required.
#3 Get the Reading
Getting the reading is easy on some scales. Others offer more complicated metrics through apps.
#4 How to Step Up on The Scale
While using the digital weight scale, make sure you step up with care and wait for some time. You need to keep steady and not make sudden movements while taking your weight reading. Measuring yourself in the same period in the day, it is important to consider factors that influence readings such as menstruation in women, dehydration or water retention.
#5 Calibration
The digital weight scale needs to be calibrated as well. All digital weight scales may be calibrated accurately when they are purchased from the manufacturer, but when exposed to daily use, calibrating the digital scales is important. The calibration button needs to be pressed and held until the display delivers zero value and scales go into calibration mode. For recalibrating the machine, you may also need a professional for the job. Additionally, placing calibration weights onto scales allows the weight to rest on scales for about 5 seconds. Most modern digital scales reset and restart post the calibration and may be carried out, or reset if they do not start out on their own. The digital weight scale needs to be used with care and without overloading extreme weights. This ensures accuracy and functionality.
Testing the Weighing Scale For Accuracy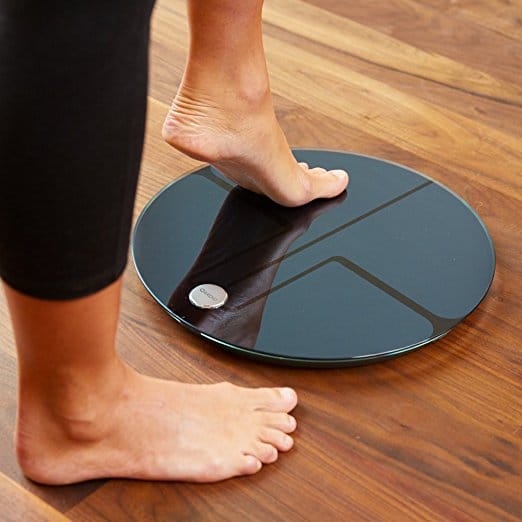 A digital weighing scale takes the work out of taking measurements. The accuracy of digital scales is critical. In case the weight is off by even a gram, it can take the accuracy out of the digital weighing scale.
For calibrating the scale for accuracy, it is important to use accurate weights like plastic or metal. Once the scale is on, the weight needs to be placed on the scale's center. It takes several seconds to weigh and find the final weight. In case the scale registers a single pound, it offers accuracy and if off, the weighing scale needs to be calibrated.
For reading the scale for calibration, remove the weight from the scale and switch off the power. The digital weight scale needs to cool down for some minutes, allowing the scale to reset. Once the cooldown period takes place, the scale needs to be turned on again. Find the buttons you need to calibrate the scale. This can appear in various ways such as Function, CAL, LG, KG, MODE or FUN. In case this does not appear on the digital scale, it can be located towards the back. Turning the scale and looking for the right place to activate the function mode is important. Once the button is pressed and held down, the screen on the scale changes. The scale remains in calibration mode followed by a number. Certain digital scales offer a number without showing the calibration indicator on the place.
The scale gets ready to place weight on it. Once the scale has been settled on the weight of the object, the calibration button needs to be held down. The scale can be turned off once the indicator suggests it. Once thirty seconds are over, the scale needs to be turned back on and calibrated.
How to Get Accurate Reading
To get the most accurate reading from the bathroom scale, you need to place the weighing machine on a hard flat surface. This can range from ceramic to porcelain, hardwood or concrete. Soft flooring such as linoleum, carpeting, vinyl or more can cause small weight variations depending on the cushion needed. Bathroom scales come with 4 precision sensors. For maximizing accuracy, sensors need to be placed on flat and hard surfaces.
Weighing in on a consistent schedule, whether daily, weekly or bi-weekly is important. Picking the same time of the day for weighing in is important. Weighing the first thing in the morning and right before bedtime the next day does not provide an accurate weight picture. Weight fluctuates by 1-4 pounds in a single day.
The best time to weigh yourself is first thing in the morning, right before breakfast. This provides the most accurate read on the weight. Some fat measurement scales transfer data over Wi-Fi to the phone or tablet, ensuring that staying on track manually is possible. Along with this weight, the scale monitors muscle mass, body water, and body fat.
Once the scale has been moved such as sliding by even a few inches, it needs to be calibrated. This permits the scale to reset internal parts and find the correct zero weight to ensure the accuracy of readings. In case the scale is moved and not recalibrated, it causes fluctuations in readings. For top results, stepping on to the scale and standing still is important. Forgetting an accurate reading, you should stand on the scale for only 3 seconds. Moving and shifting the weight while standing on the scale can cause fluctuations and errors in weight. Standing comfortably on the scale is important. If you have a big build, it is important to opt for larger frames.
As it goes with any electronic product, excessive use of digital scales causes wear and tear. If you cannot recollect the date of purchase, it may be time to buy a new one. Maintaining consistency when it comes to weighing in and scale placement ensures that the scale can function accurately. This enables a true picture of health and weight.
Important Features To Watch Out For in a Digital Bathroom Scale
According to WHO, obesity has doubled since the 80s, and around 65 percent of people live in nations where obesity destroys more people than hunger or lack of food does. To weigh the weight, you need an accurate scale. Modern scales can range from analog to complex digital ones that gather information about different uses, such as detecting BMI, body fat, bone mass and more. Before taking decisions, a lot of factors need to be considered.
Many ways are there to consider how to buy the best digital bathroom scale. You need to ensure that you can get the features you need, otherwise, it can be really cumbersome to return a scale that does not work well.
Another important factor to consider is whether it is traditional, digital or electronic. Newer electronic and digital scales come with amazing features. Older scales provide weight in pounds, stone or kilograms. Fresher scales provide other functions too such as battery levels, body mass index and more.
Looks is another aspect where you need to study the machine carefully. Purchasing an aesthetically appealing scale that can suit your decor and is easy to clean, without nooks and crannies where dust accumulates is important. Bathroom scales can also be color coordinated to the design.
Apart from weight, scales also permit tracking of body fat, lean and muscle mass, BMI, BMR and water ratio. You need to consider all the aspects before making the purchase.
Certain scales permit connection to Wi-Fi networks and send information to the app. Connecting to cloud storage or using the scale with a fitness tracker can prove beneficial too. So check the scale for integration capabilities.
More smart home devices have arrived for use. You need to pick a smart scale, as it provides intelligent monitoring of your health and fitness without letting you do a lot of work.
Tracking statistics automatically is also important. The best bathroom scales are those that function well with fitness trackers. When a Wi-Fi or Bluetooth enabled scale is compatible with fitness trackers, just one app is needed to see data from different devices. Adding the heart rate monitor or at home, blood pressure monitor can ensure a better and holistic picture of health.
Smart scales know the difference between a few users and can track weights privately and separately. Sharing data among doctors and family members is an option too. When a smart digital scale is used, weight is automatically logged on each time, one stepson. Best scales measure body fat and some of these track water percentage and bone density as well. The resting heart rate can even be detected through the feet in case of some scales.
While certain people want to track weight and steps taken to get a better sense of health, some people may need weighing machines for training purposes. For this purpose specifically, you need a scale that can track not just weight, but other health markers and indicators too.
Whether your scale is Bluetooth enabled, wirelessly enabled or both, you need to consider various factors before setting to work. Convenience is the key here as well as price. Daily weighing on a Bluetooth enabled scale and on to an app that is to be tracked needs a device alongside. In case the fitness tracker, smartphone or running watch is far off, the sync may be adversely affected. On the other hand, wireless scales do not come with these problems. They sync data as there is a decent signal from the router. Wireless syncing is more reliable and affordable as well.
Certain people like seniors or pregnant ladies may have unique needs for tracking their weight. Impedance measurements are not advisable for those who are expecting or have implanted devices like pacemakers. Though a few scales support impedance measures, full tracking mode is needed with impedance shut off in such cases.
Testing and rating numerous smart scales, there is a clear link between rating and price. The best scales easily cost a pretty penny. What makes them expensive are the syncing and app capabilities. Cheaper scales have fewer features and more limitations. Before investing in a digital scale, it is important to know the cost-benefit analysis.
For those opting for bathroom scales, purchasing one that is smart is important. It offers exceptional value for families, groups and health-care providers to accurately and effortlessly monitor weight over an extended period of time. Finding a scale that suits your needs is important.
Optimal weight capacity is yet another consideration. Digital bathroom scales come with weight capacities from as low as 300 to as high as 550 pounds. Fresher models have more capacity between a low of 350 and a maximum of 450 pounds.
Smaller measurement increments are another factor to consider. Those with measurement increments that are small and well spaced offer greater accuracy in the reading. Exceptional scales have increments of around 0.2 lbs.
Different mode options are also to be counted on. Top scales offer measurements in kilograms and pounds though some models come in stones.
Moreover, multi-user capacity and memory to store their data are to be taken into account as well. Certain scales have internal and/or cloud-based memory that stores historical information for one or additional users. If the entire family is monitoring the progress, multiple capacities for tracking are useful.
An additional point is the state of the display. A well sized, backlit display can be easier to see. The best scales offer LED-backlit displays, so you can take your weight in dim or no lighting with ease.
It should also come with a suitable size of a platform, the wider platform makes it easier to rest on more so for those with mobility issues or larger sized feet. The bathroom scale should have a platform ranging across twelve inches or greater. Wider scales take up additional floor space which can be a major problem in a small bathroom.
While some scales measure body fat and other composition metrics, it can be an accurate prediction of your health as opposed to simple measurement of weight.
Accuracy is another factor on which your body fat scale should score. Whether one uses BIA or hydrostatic weighing, the technique should be practical.
Unique bathroom scales should also not sacrifice appeal for utility or vice versa. Whether one opts for glass platforms, colors, chrome accents or any kind of decor, portable scales are also available. When a lot of digital scales function well, you have to choose one that works best for you.
If you want to locate your measurements and numbers on the move, and have access to your own data via smartphones or on the internet, the functioning of technologically advanced smart scales is a must. These scales update information to apps and make it simple to track a whole lot of health metrics. While smaller scales are pricey, they also offer additional functionality.
Judge the functionality of the digital scale in terms of instructions. There are so many experts and user reviews out there. It is important to reach a balance.
While shopping for a scale, it is important to track weight loss properly if the scale does not measure weight in an accurate way. While purchasing an analog scale, buyers should ascertain if the scale has a zero calibration or zeroing out the starting weight. The scale should be easily adjusted to begin exactly at zero or calibrated to account for additional weight such as clothing. Digital scales need to be programmed to the zero calibration when nothing else is present on the scale. Analog scales do not display individual ounces. So it is better to opt for digital scales that measure pounds and ounces. Readouts can be off when placing the weighing machine on textured or grout ridden floors. For carpeted bathrooms, it is essential to look for scales with adjustable feet to lift sensors off the plush surface and encourage more accuracy.
The range of the scale is also another important consideration. Ultimately, when checking for weight loss, users should be able to use the results of the weigh-in. As most scales are on the floor where the user stands, easy readability is a must. Number displays should be big with bright backgrounds and digits. Digital scales with large electronic numbers are easy to read from 5-6 feet away.
Some smart scales take intelligent functioning to new heights such as electronic voice reading weights allowed, body fat measurements, paper printouts, water weight tracking or bone mass calculation. Some scales come with memory features that are programmable to track elements of health for differing users.
Muscles weigh more than fat, so it is helpful to know your BMI and body fat percentage. BMI scales are generally inbuilt in digital scales. Tracking water weight can help dieters understand natural weight fluctuations and calculation of bone mass can be important for women concerned about osteoporosis or those taking medications that affect bones.
Conclusion
Ultimately, the body fat scale or digital bathroom scale can do it all. From weighing your weight to your body fat percentage, water weight, bone mass index, the basal metabolic rate to a whole lot more, the scale proves handy for those with big fitness, and weight loss goals. Apart from pointing out the different health markers, there are also factors like functionality, aesthetics, durability, intelligent or smart functions, Wi-Fi or Bluetooth functionality or both. Consider the body fat scales that score best on these parameters and offer a great deal more than average functionality.