A rowing machine offers a great cardio workout. Rowing machines may have the same basic features and designs, but there are scores of factors on which they differ. This review seeks to analyze the features, specifications, pros, and cons of each of these machines and present you with a lineup of the best rowing machines. First, we need to consider the parameters on which rowing machines differ.
Best Rowing Machines
| Picture | Product | Capacity | Footprint | Seat Height |
| --- | --- | --- | --- | --- |
| | | 500 lbs | 9 x 4 feet | 14 inch |
| | | 117 lbs | 84 x 21 inches | 22 inch |
| | | 250 lbs | 58.25 x 42.5 inches | 18.125 inches |
| | | 250 lbs | 25.2 x 80.3 inches | 19 inches |
Rowing Machines: The Differences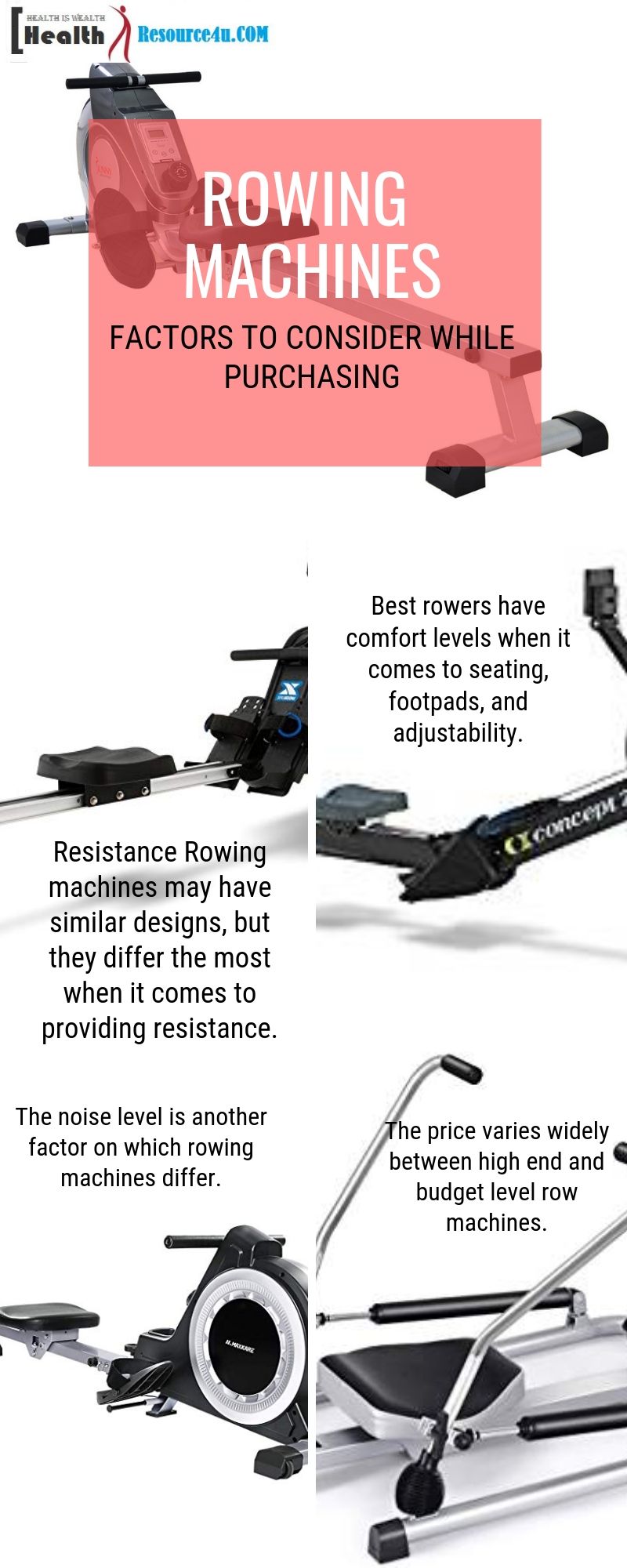 #1 Resistance Type
Rowing machines may have similar designs, but they differ the most when it comes to providing resistance. Workouts are only effective if the resistance is optimal. Types of resistance include:
Water resistance
Magnetic resistance
Piston or hydraulic resistance
Air resistance
Each resistance type has benefits and a rowing feel which are unique, so this must be taken into account.
#2 Comfort, Adjustment
Best rowers have comfort levels when it comes to seating, footpads, and adjustability.
#3 Level of Noise
The noise level is another factor on which rowing machines differ. Indoor rowing machines are far noisier, and while some people don't mind it, others looking for smooth and silent operations have a major issue.
#4 Workout Space
A good amount of dedicated space in your living area will go for placing the rowing machine. While there are some compact models, most rowing machines have longer footprints.
#5 Price
The price varies widely between high end and budget level row machines. Highly-priced models take in plenty of usages and last through more wear and tear. Cheaper models are easier to work out and if there is a budget, choose low-maintenance models.
#6 Maximal User Weight
Rowing machines handle more weight than other exercise machines. Heavier users mean the machine has to have a high weight capacity.
#7 Storage Features
While some rowing machines are foldable, others are not. So this factor needs to be considered while taking rowing machines into account. Storing the machine is easier if it can be folded well.
#8 Row/ Computer Monitor
Rowing machines come with a handy computer that provides information such as calories expended, distance and time traversed, and so forth. Additionally, the need is to check if the rower has the option to connect with apps so that data can be uploaded and tracked.
#9 Easy Assembly
The rowing machine may be easy to assemble once, but doing it, again and again, can be a nightmare, if it is pretty complicated. Due diligence is important to get optimal exercise equipment that works well.
#10 Warranty
Another important consideration is the warranty. Decent warranty that covers frames and parts is important.
Benefits of Rowing
Rowing is a fantastic cardiovascular workout. It strengthens major muscle groups within the human body. This low impact exercise is challenging, and while it tones the body and burns calories, it can only initiate weight loss when paired with a healthy diet.
Exercising with proper techniques is essential. There are massive muscles in the leg where the workout action takes place. Injury to the lower back prevents bending too far forward in the row as well. Maintaining an upright 90-degree angle is beneficial for strengthening the core. You also need to check the legs for the motion rather than relying excessively on the back and arms. Check with the physician before commencing on a new fitness regime.
Weight Loss
Improve cardio fitness levels and build muscle on the path to healthy weight loss. If shedding pounds of fat is the goal, a rowing machine can help you to get there. The rowing machine is better for burning calories than the stationary bike and is also easy on the joints. It works out the lower part of the body. For upper body weight loss, a stationary bike is a far better option.
Rowing machines provide an intense total body workout. The exercise burns massive amounts of calories during the actual time and also for the period after the stoppage. This effect is called the afterburn impact. The body needs to be worked hard so that it keeps burning calorific fat even when rowing activities are not taking place. This phenomenon is known as excess post-exercise consumption of oxygen and offers added advantages for those who want to access weight loss.
High-Intensity Interval Training is a great way to burn fat, create toned muscles, and improve the cardio strength levels. Ability to change the resistance of the rowing machine means the equipment is perfect for this exercise. Rowing is a cardio workout. But it involves more than just that. The heart rate climbs, and rowing also requires the use of the legs, quads, cables, glutes, and hamstrings. You need to pull with arms, shoulders, arms, and abs and engage the back. Excellent posture and correct form are the key to optimal workout and avoiding injuries.
Types of Rowing Machines
Air Rowing
This rower is suited to provide the best rowing experience. This machine is perfect for professionals who want to work out in their free time at home. Choose Air rowing machines for getting a challenging workout that makes it possible to add value to your workout.
Hydraulic Rowing
This rowing machine has hydraulic cylinders connected to the handle end. This leads to less space usage, and its compact size is coupled with handles and seats that are fixed. This rowing machine offers fixed hand movements and no leg drives. These machines are associated with a lower price.
Magnetic Rowing Machine
This is equipped with electromagnets to provide a quiet workout and steady resistance. This ensures that noise is not made and the machine operates silently. If you want to access a silent and quiet rowing machine, you should go for this one.
Water Rowing Machine
This is a rowing machine which costs a lot but is well built. It is better than the air rowing machines because resistance is created by moving the paddle in the water tank. These machines provide a fantastic workout experience that is worth it.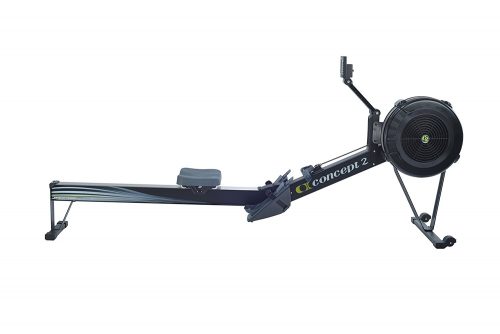 The Concept 2 Model D Indoor Rowing machine with PM5 Monitor has everything you need for a smooth and sturdy workout. The flywheel design ensures a quiet, rowing experience. The frame is created to separate in dual pieces for quick storage. The model's style fits every home environment and permits the user to make a selection from varied workout programs. The intuitive, user-friendly design permits comfort, and the general structure promotes a natural arm and hand posture while using the machine.
Associated with a brand known for durability and solid machine construction, the Concept 2 Model D Indoor Rowing Machine is made to last and works out well for incredible fitness equipment investment. It has CrossFit Boxes around the world on account of its attractive and user-friendly design. With a 14 inch comfortable seat and a nickel-plated chain, it produces an intense cardio and toning workout. The model's construction focuses on force distribution between different muscle groups, and the mechanics deliver an exercise that is balanced and well-coordinated.
With a hi-tech PM5 as the performance monitor, you can be clear about the information in association with training goals. Concept 2Model D Indoor rowing machine is the best choice for advanced users, who want a workout to challenge their fitness levels.
Specifications
This is a 24x96x14 inches rowing machine. It has the latest performance monitor named PM5 for detailed and accurate training knowledge.
The Flywheel and Spiral Damper permit adjustable resistance. Aluminum rail capped with stainless steel tracks for smooth seating is another benefit. Ergonomic handles, fans engineered to lower noise and footrests which are a comfy addition to the machine.
The machine also has a quick-release frame lock and caster wheels for transportation. With an adjustable monitor and battery-powered method, it separates into dual pieces for secure storage.
The PM5
This monitor has a LogCard and USB cable connection the PM5 to the computer and accessing the LogCard Data Strokes Per Minute.
So, you can get an idea of the distance covered, calories burned, pulse meter, and heart rate.
Guarantee
This rowing machine has a 5-year frame warranty and a 2-years part warranty. Customers report that the Concept2 Model D is a machine which is packaged well and takes less than 30 minutes to open.
Pros
Dependable Design and Performance
This is training machinery with distinctive features. Featuring a massive frame that can deal with even the most challenging workouts, the Concept 2 Model D is compact in terms of design and size to be part of the home environment.
PM5 Monitor
This is a fantastic workhorse device that is simple and makes working out easy. The performance monitor has a pulse meter that displays strokes per minute, heart rate, calories burnt and distance covered.
Value for Money
This is not the cheapest rowing machine in the market, though it is not the costliest either. But, if you are going to spend money on value for cash purchase, this is the ideal rowing machine for the job.
Foot Pads
The Concept 2 Model D Indoor Rowing Machine is reliable, modern machinery that offers features comparable to the Water Rower and Life Core R100. The FlexRest footpads are ideal for working out well.
Natural, Safe Workout
The Concept 2 Model D ensures a natural, safe workout that does not strain the muscles or cause injuries. This rowing machine is constructed so that it trains muscles equally well, and provides an intense workout that challenges your body fitness levels. Cardio and strength training work well, and you get durability and comfort in one shot.
Adjust Tension Levels
The flywheel and spiral damper permit the user to adjust the level of tension and resistance quickly and efficiently at any moment during the workout. Seat movement is seamless and smooth as well as quiet.
Efficient Monitor
Concept 2 Model D has an excellent monitor. This keeps people updated continuously on the strokes per minute, calories burnt, heart rate, distance covered, and more. Training becomes far more natural and this is one of the best rowers for this reason. Reliable, trustworthy and dependable, this rowing machine offers a powerful workout.
Ergonomically Designed
The Concept2 Model is the best rowing machine when it comes to ergonomics, user-friendly handles, and nickel chain, along with a double powder coat and a high gloss finish. This luxury machine is easy to store as well; it can be folded and does not demand plenty of space. Physical fitness levels and body shape are toned using this amazing rowing machine.
Unique Features
Weight Capacity of up to 500 pounds
Built-in monitor
Adjustable footrests
20-inch seat height
Good grip handles
Top-quality
Excellent for losing weight
High space efficiency at 8×2
The rowing machine requires the footprint of 9×4
Device can be separated into two pieces and reassembled in minimum time
Sliding seat permits rowing motion providing a full-body workout
Flywheel design ensures smooth movement and quiet operations.
Spiral damper permits the rowers to change the airflow to the flywheel to assess the feel of the strokes and adjust accordingly
Low Maintenance
Home fitness machines require constant maintenance and repair. The model's nickel-plated chain requires less maintenance and minimal oiling. This saves cash, effort, and time. Smooth motion is possible while exercising.
Designed for Multipurpose Use
The Model D is designed for commercial as well as home use. It has toughness and durability to last for a long time. These machines can be located in boat houses, health institutions and training facilities across the world
Machine That is Easy to Assemble
The machine takes barely 10-15 minutes to assemble. With a monorail length of 54 inches and an inseam of 36, Concept 2 offers extra-long monorail too.
Huge Weight Capacity
The machine can take up to 500 pounds of weight capacity. It has a well-reputed customer service and can bear all kinds of strains and stresses, with parts readily available for replacement.
Cons
Seating Problems
Some users have complained the Model D has an uncomfortable seat. It is more significant than comparable machines meaning space-conscious users will have to locate same at home for storage.
Damage, Incorrect Assembly
Users have also found their machines damaged or assembled incorrectly. Reassembly and new parts were required in some cases.
Monitor Not Mac Compatible
The Monitor is not compatible with iOS.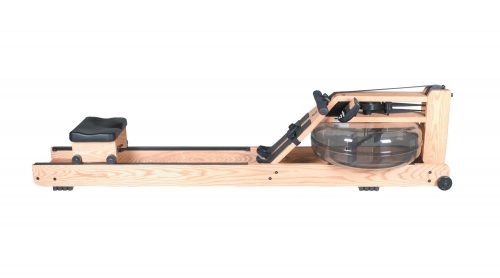 Whether you are looking for an intense, low-impact workout or a light one, this rowing machine gives excellent results. It offers numerous programs for the user and design and built is such that safety is assured. From the novices to advanced users, this machine suits all.
It has a handcrafted, solid ash wood appearance. The other finish is the Honey Oat stain in Danish oil. The choice of wood as an aesthetic material is not the only factor. This wooden body also supports better sound vibration absorption and distribution. The user has a smooth and quiet workout.
WaterRower's WaterFlyWheel also has a dynamic resistance model. So users can adjust their difficulty levels, and the ergonomic, intuitively designed seats and dual-rail models ensure smoothness of operation as well as safety and security. The Water Rower also features a performance monitor called the S4, which is a user-friendly companion to track and optimize the workout.
Made of wood, this is a convenient and durable rowing machine. It has a water flywheel, and so replicates a real boat. With a built-in monitor to record your heart rate, stroke rate, time, etc., this 117 pound 84x21x22 inch rowing machine offers smooth and flowing movement to get a comfortable workout. Good grip handles, low impact exercise, and support for heavyweights make this ideal for challenging your fitness levels. It has the best technologies and satisfies users delivering quick results.
Features
It has a water flywheel, and the 117 lb rower can support up to 1000 pounds of weight. Paddles are enclosed in a water tank, and there's a built-in monitor.
The dimensions are 20(H) x 22.25(W)x 82.25 (L). American ash wood frame, heavy Oak Stain Danish oil finish with a dual-rail design, it has 15-inch ergonomic handles.
The rowing machine is polar compatible and can support a maximum user weight of as high as 350 kgs.
Its LDC S4 performance monitor offers intensity in terms of miles per second, miles per hour, stroke rate, heart rate, distance traversed, calories burnt, and workout duration.
Warranty
With a 5-year frame warranty and a three years parts warranty, this rowing machine is well packaged and easy to assemble. With the assembly tools and instruction guide included, there is no problem in putting together the rowing machine.
Pros
Longevity
This is a next-gen machine which lasts a lifetime, making a substantial investment for money and adding to the environmental aesthetics as well. Rowers may be stylish or durable, but this rowing machine combines both.
Top Grade, Professional Rowing Machine
Beginners, as well as experienced athletes, can use this machine. It combines elegance with durability and provides a smooth, quiet workout. Setting specific goals and achieving them is easy.
Reliable
The WaterRower Natural Rowing Machine is reliable equipment offering well balanced total body workout. It is perfect for home training without disturbing others. Easy to transport, store, and handle, the water rowing machine also adds to the surroundings.
Comfortable, Cushioned Seats
The seats are exceptionally well padded, making it super convenient. Rowing can be tough without a comfortable position and can cramp the hips. So, this padding is perfect as a user-friendly feature that boosts your workout.
Handle Grip and Heel Rest That's Firm
Another benefit is that the handlebars are easy-grip and user-friendly too. The grip does not get slippery or loose, and its ergonomic design ensures that you can work out for hours without hurting your hand. Rest your feet during the rowing exercise and get a good grip through the heel rest.
Use Water Resistance
Unlike rowing machines using weights and other forms of resistance, this uses water. This is one of the most challenging workouts you can select.
Ergonomic Design
One this rowing machine is assembled, you will see how easily it can be used. Working hard to use it effectively is no required. You need to push yourself to the next fitness levels without pushing dozens of buttons and jumping through hoops. Customize your workout and set the pace based on your needs. There is also a three year part warranty so you can push this machine to its limits.
Cons
Tough to Decipher Instruction Manual
Understanding the instruction manual is hard. Designing the process and step by step formulas are tough to follow through. But if you apply yourself to the machine, you can set it up (with a little effort).
Only One Type of Resistance
The rowing machine offers only one kind of exercise. So while you can work out one part of your body, the other remains untouched.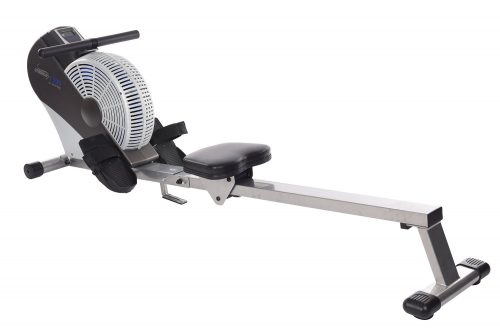 The Stamina Air Rower is a cost-efficient, top-quality rowing machine great for users at any level. It is also called Stamina ATS Air Rower 1399. This rowing machine uses air resistance, making it the best in its category. It has a steel frame and sturdy construction. The sliding seat is padded and upholstered, so the cushioning offers comfort.
The Air Rower has a computer monitor which displays everything from speed to covered distance, calorific burn and time took to work out. The rowing machine is built to last and perfect for maintaining as well as increasing fitness levels.
With a built-in monitor to track time, speed, distance, and other minute details, the Air Rower are perfect for a better workout because of its compact design. You can even fold it and place it aside. Floor protectors are in place to ensure portability and prevent skidding.
With a sturdy frame that offers foot straps and easy handles, you get a comfortable workout and excellent grip. With a total of 55 pounds, the measurement is 77x18x22 inches and can increase the weight up to 250 pounds.
Features
The height of this rowing machine is 22 inches, while the width is 18 inches and the length is 77 inches. The folded dimensions are 48, 18, and 28, respectively. It has wind resistance, upholstered seat, steel frame, and large footpads.
The LCD is easy to read. It also has floor protectors and built-in wheels.
The computer monitors the distance covered, speed and time taken, the calories burnt.
Warranty
There's a 90-day parts warranty and a three-year frame warranty.
The Stamina ATS Air Rower 1399 is easy to assemble, and the box comes with a detailed instructions manual. Assembly takes 15 to 45 minutes, based on the user experience.
Pros
Quality
The Air rower is perfect in terms of top quality, secure storage and ease of use and air resistance all at budget prices. The machine is ideal for beginners, moderate users, and advanced pros altogether. You can get the perfect cardio workout, sculpting the upper and lower parts of the body in a little impact way.
Air Resistance
Wind resistance is the smoothest kind in the world. The more and harder you work out using this resistance, the more intense your workout will be. This differs from magnetic or water resistance.
Easy Storage
The rowing machine has compact dimensions which means it can be easily stored.
Best Design
The Stamina Air Rower is padded and upholstered. It is extra comfortable to sit and work. Overall device design and air resistance translate into a challenging workout.
Cons
More Expensive
The cost of the rower is something where budget-conscious consumers have an issue.
Loud
The machine operates on wind resistance, so it is not silent like magnetic resistance. This means the machine is noisy in some ways.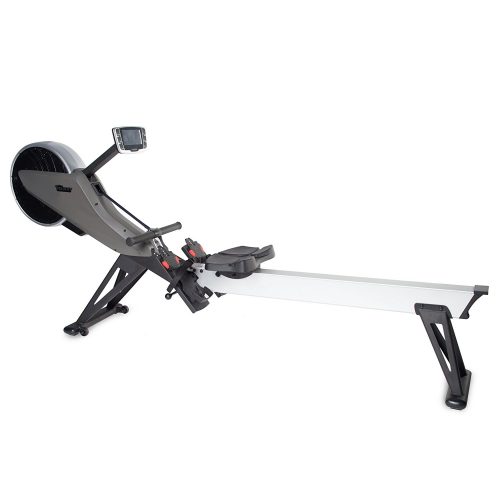 The Velocity Exercise CHR-2001 is a magnetic rowing machine that works smoothly and quietly. The drum magnetic control system and electronic tension control allow adjustment of resistance to the exact level desired. When there is experience in rowing or discovering the benefits of rowing for exercise, the Velocity rower is perfect for a smooth and intense workout.
The magnetic rowing machine has an easy to read LCD screen and various training programs that make it superb. The rower can be folded and transported. It has a saddle and support that delivers stable performance.
Features
The 25.2 x 80.3 x 20.1 dimensions of this rowing machine make it compact and right for any space. Drum Magnetic Control for adjustable magnetic resistance ensures smooth and seamless operations. Electronic tension control, chest strap for heart rate monitor and a polyurethane molded saddle foldable for storing make this perfect. The maximum user weight is 275 pounds.
The computer of this magnetic rowing machine records rowing time, strokes in a minute, distance traversed, calories burned, heart rate, pulse meter, and more.
Warranty
There is a 5-year warranty on the frame and a 90 day one on the monitor with a 30-day warranty on other parts.
Pros
Easy Assembly
Customers find that this magnetic rowing machine is safely packaged and easy to assemble. It does not take more than half an hour to put together, and the parts are
easily connected following the instruction manual.
Quiet Operations
Magnetic drum resistance with electronic controls ensures you have a robust but seamless and quietly operating rowing machine. The automatic features on the Velocity exercise rower are worth the extra cash.
Comfortable
The seat rail is long enough to adjust to most leg lengths. The machine is adjustable and comfortable with a massive PU saddle. The handles are padded, making a firmer grip possible. Its fluid motion prevents injury and durable frame as well ass sturdy footrests are other benefits.
Cons
Lesser warranty and no on-off switch are some of the drawbacks.
Conclusion
All in all, these rowing machines offer a challenging workout that makes fitness enthusiasts sit up and take notice. The features of most of these rowing machines are outstanding, and many are available at budget-friendly prices. This is what makes the rowing machine the perfect fitness equipment for taking your exercise routine to a whole new level.
Save