Using a high-quality and best vitamin C moisturizer should be a part of a healthy skin care routine. It is essential to use a good moisturizer on your skin because this provides a layer of moisture to protect your skin. Vitamin C is a natural antioxidant, and because the body doesn't produce that itself, we need to get it from external sources.
Why Use Vitamin C Moisturizers
Vitamin C is probably one of the best vitamins that you can put on your skin. It helps to protect the skin from the effects of sun damage and also helps to boost collagen. When used in conjunction with vitamin E, it works even more effectively. If you want to look young for longer, then you should make sure that you use a good vitamin C moisturizer.
Although it is important to eat a healthy diet that includes sources of Vitamin C, it is also important to apply vitamin C to your skin. This is because it helps to protect against sun damage and even help to prevent skin cancer from developing.
How to Find the Best Vitamin C Moisturizers
When you are looking to buy a high-quality vitamin C moisturizer, you should look for one that contains a high amount of vitamin C. Many dermatologists recommend that there is at least 15% vitamin C.
Also, look for a moisturizer that also contains vitamin E. Hyaluronic acid is another good ingredient for your moisturizer because this helps to make the skin look fuller and reduce the appearance of wrinkles. Another important ingredient is B3 because this can help to reduce the appearance of dark spots.
One thing to be careful is that vitamin C can sting the eyes, so you should always avoid getting any of the moisturizer in your eyes.
This review will look at the 3 top vitamin C moisturizers on the market and will help you choose which is the best one for you.
3 Best Vitamin C Moisturizer Cream review

InstaNatural Vitamin C Moisturizer Cream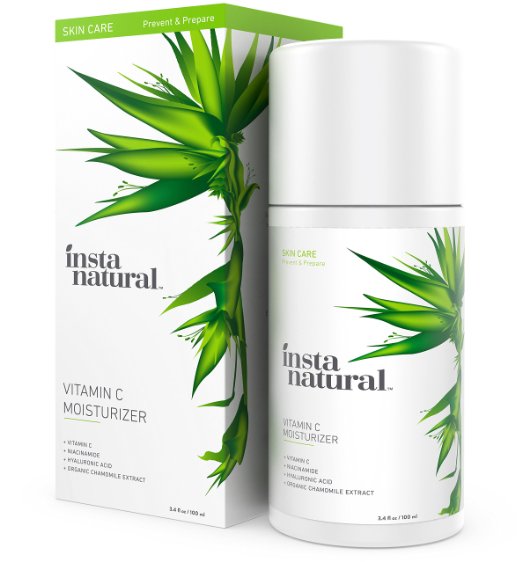 Top of the list on the best vitamin C moisturizers the InstaNautral Vitamin C Moisturizing Cream. This moisturizer contains a high amount of vitamin C (20%) as well as hyaluronic acid and vitamin B3. These ingredients work together to help keep your skin hydrated and free of pollutants.
The ingredients will also help to reduce the appearance of fine lines and wrinkles, giving your skin a younger, fuller look.
The moisturizer cream is best suited for people with normal, combination or oily skin. Many people like the fact that it is unscented. This means that it will not interfere with other skin care products you are using.
The cream comes in a pump-action bottle and one push of the pump will give you just the right amount of cream to fully cover your face. Because it has a good consistency, a little will go a long way.
Product Features
What are the main features of InstaNatural Vitamin C Moisturizer Cream? Here is what you get:
Contains natural and organic ingredients
Lightweight formula
Large 3.4 fl oz bottle
No parabens, alcohols, or sulfates
Constantly receives good reviews
Money-back guarantee
Ingredients in InstaNatural Vitamin C Moisturizer
The vitamin C moisturizer by InstaNatural contains many natural ingredients that can help your skin look great. What are the main ingredients?
Vitamin C 20%
Hyaluronic Acid
Vitamin B3 (niacinamide)
Jojoba oil
Plant stem cells.
Benefits of InstaNatural Vitamin C Moisturizer
This natural vitamin C moisturizer helps to keep your skin looking and feeling great. The unique formula will help to brighten your complexion and it contains a large amount of vitamin C. The moisturizer has been designed for both men and women and for all skin types. Although, if you have very dry skin, this may not provide enough hydration.
Purchase This Product On Amazon
Body Merry Super C-22 Vitamin C Moisturizer Cream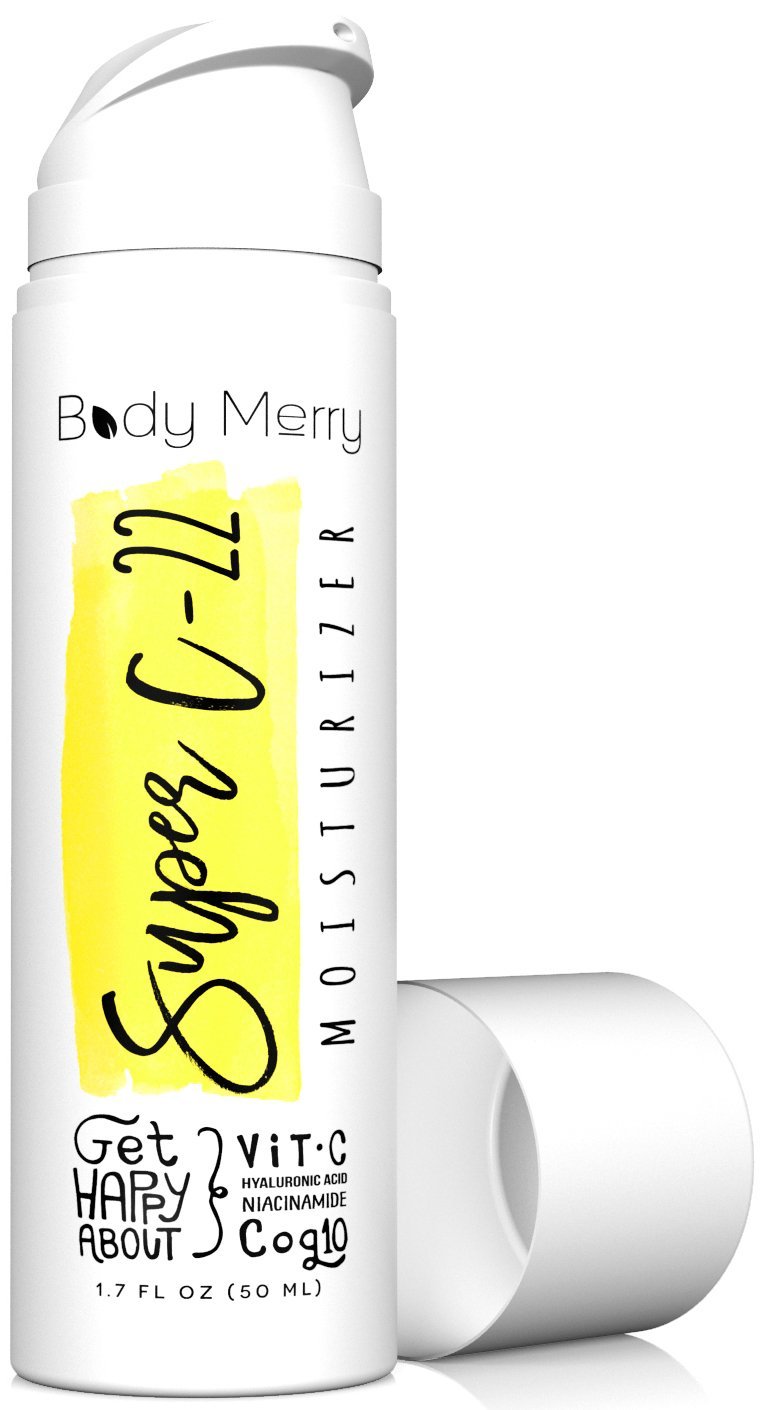 If you are looking for a vitamin C moisturizer for dry skin, then this Vitamin C moisturizer by Body Merry is a perfect choice. It contains vitamin C 22%, Hyaluronic Acid 20%, and Vitamin B3 2.5%. This makes this moisturizing cream a very potent cream with a lot of antioxidants.
One unique feature of the Body Merry Super C-22 Vitamin C Moisturizing Cream is the addition of CoQ10 to the ingredients. This helps to boost the antioxidant properties of the cream.
The moisturizer contains natural ingredients which won't irritate your skin. The cream also has a light citrus fragrance which will please both men and women alike.
The cream is light and will help to hydrate your skin. People with very oily skin may find that it is too oily for daily use, but it can still work well as a night cream.
Product Features
Here is a list of the main features of the Body Merry Super C-22 Vitamin C Moisturizer Cream:
Potent formula with vitamin C, Hyaluronic acid, vitamin B3, and CoQ10.
Helps to lighten the skin and remove dark spots
Light and gentle formula
Works like a serum and moisturizer together
Suitable to wear under makeup
Paraben free
Ingredients in Body Merry Super C-22 Vitamin C Moisturizer Cream
The vitamin C-22 moisturizer by Body Merry contains a number of natural ingredients to help reduce wrinkles and brighten your skin. What are the main ingredients?
Vitamin C 22%
Hyaluronic acid 20%
Vitamin B3
Vitamin B5
CoQ10
Clementine essential oil
Shea butter
Jojoba oil
Vitamin E
Benefits of Body Merry Super C-22 Vitamin C Moisturizer Cream
With many natural ingredients and a high percentage of vitamin C and Hyaluronic acid, this is a great vitamin C moisturizer. It is good for all skin types, but especially if you have dry skin. It does a good job of making your skin look brighter. The Body Merry Super C-22 Vitamin C Moisturizer Cream represents value for money.
Purchase This Product On Amazon
Murad Essential-C Day Moisture Broad Spectrum SPF 30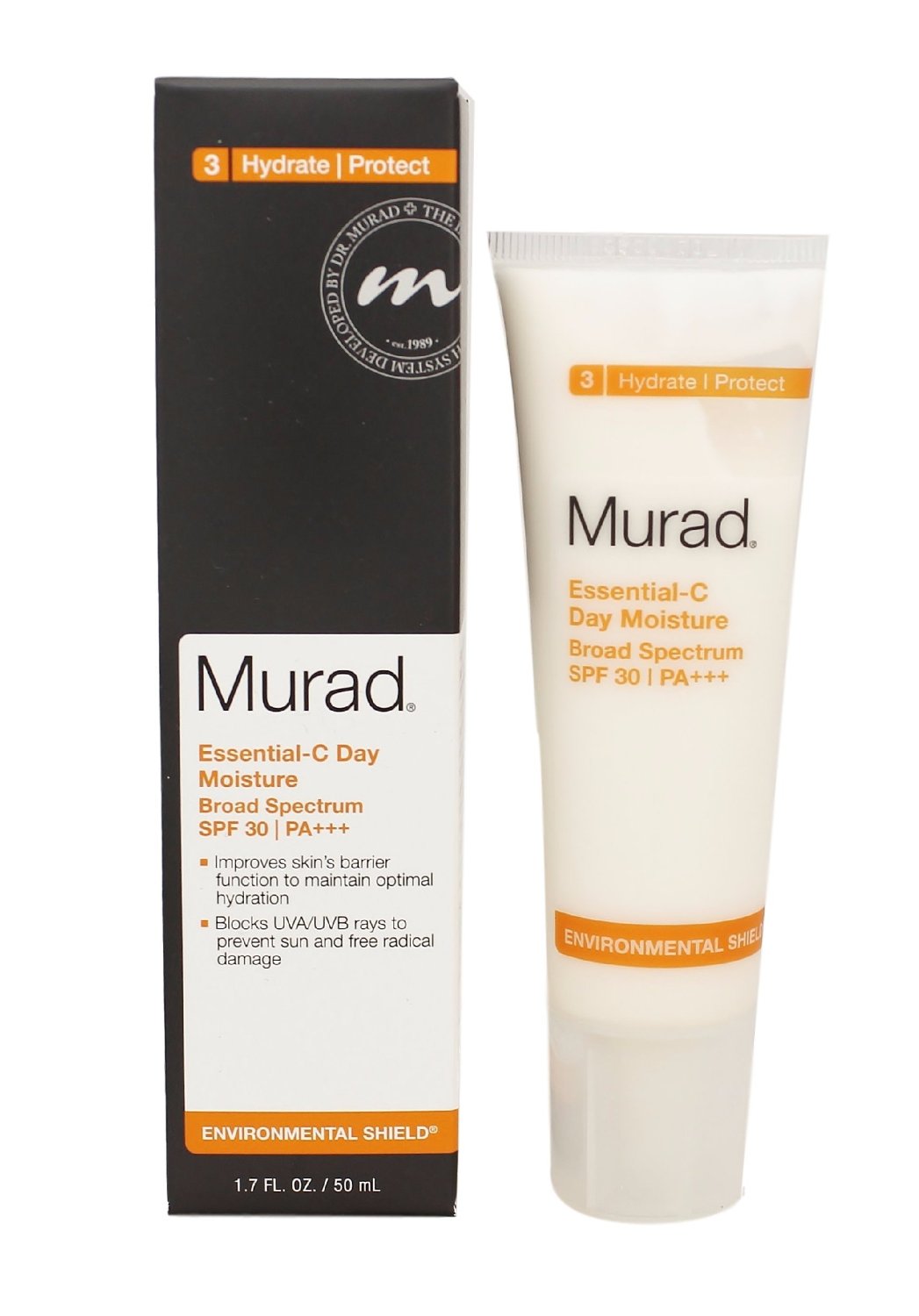 Murad was founded by a dermatologist and the company is well-known for its high-quality skin care products. The Murad Essential-C Day Moisture moisturizing cream helps to protect your skin because it has SPF 30 protection. This is enough to completely protect your skin from sun damage.
The moisturizing cream also contains vitamin C which acts as a natural antioxidant to protect your skin from the damage of free radicals.  Other ingredients in the moisturizing cream help to repair damaged skin and help the skin regain its firmness and elasticity
The product has been scientifically tested and has proven results in making skin appear lighter. It also contains unique patented properties which you will not find any other vitamin C moisturizers.
Product Features
If you buy Murad Essential-C Day moisturizing cream, what can you expect from the product?
Broad spectrum sun protection from UVA and UVB damage
A number of natural extracts to heal and repair the skin
Visible improvement in the radiance and firmness of the skin
Moisturizes all day
Contains no sulfates and phthalates
Ingredients in Murad Essential-C Day Moisture Moisturizing Cream
Murad's Essential-C Day Moisture SPF 30 moisturizing cream has ingredients to hydrate and protect your skin. What are the main ingredients?
4 ingredients for UVA and UVB sun protection
Vitamin C
Amino acids
Seaweed extract
Ginkgo biloba leaf extract
Grape seed extract
Passiflora extract
Benefits of Body Murad Essential-C Day Moisture Moisturizing Cream
Although this is one of the most expensive vitamin C moisturizing creams on our list, it has proven scientific results and many users highly rate this cream. The Murad Essential-C Day Moisturizing Broad Spectrum 30 SPF cream provides amazing results on the skin. That is why it is among the top 3 vitamin C moisturizers.