The cellophane hair treatment is a hair health-improving procedure in which the hair cuticles are sealed with the help of cellophane. This works wonder in improving your hair quality and appearance. The benefits of cellophane hair treatment are enormous which everyone must try at least once.
It adds natural shine and volume to your hair with very little effort and expense. It prevents dryness problem of your hairs by locking its natural moisture content for a longer duration.
It is much effective and better than other common hair treatments which promise several things but their results are hardly fulfilling. Moreover, it is not as expensive and time-consuming as other commonly used hair treatment available in the market.
It can change the overall texture of your hair along with adding luster and locking moisture content in your hair. This is the reason it is also known as a hair-gloss treatment process.
Its procedure is very simple which involves cuticles coating with the silicon-based polymers which actually adds a glossy shine in your hair. This product is found in clear and tinted formula which is quite safe.
Those who are struggling with their lifeless, dry, and dull hair issue must try this treatment method for complete and effective changes and improvement in their hair health and look.
Its hydrolyzed proteins and silicone formulations work dramatically in sealing the cuticle which helps in reducing hair porosity leading to protection from frizzy hair concern.
This special feature and benefit of this treatment makes this usable for conditioning the dry ends, hair color, and adding a glossy finish after hair rebounding, relaxing and perm services.
Though this hair treatment doesn't straighten your hair, however, it helps in reducing your curls little bit and stimulates the effectiveness of hair straighter and other such appliances effect for giving a more beautiful appearance to your hair.
What is Cellophane Hair Treatment?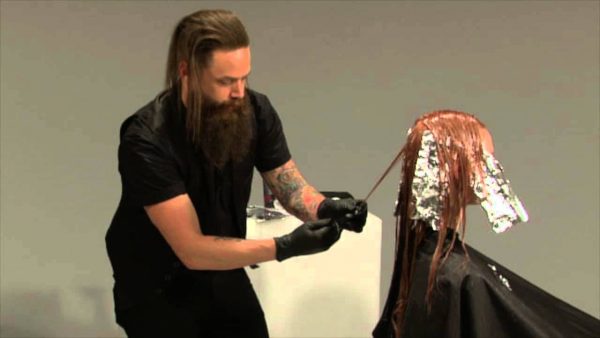 Cellophane hair treatment is a chemical process which aims at improving your hair texture by making it softer, stronger and shiny. It repairs all your damaged hairs caused by different hair treatments applications and prevents frizzy hair issue.
In this particular treatment, cellophane is sealed in your hair cuticles in order to improve the quality of your hair by locking moisture content in it so that it won't look dry and lifeless anymore.
Hence it controls almost all your hair concerns by making it softer, stronger, glossy and frizz-free. This procedure makes sure that you won't have to suffer from dry and damaged hair issue by locking moisture permanently in this.
This is the perfect treatment for maintaining your hair health in good condition lifelong. The cellophane which is used in this treatment supply nutrients and proteins to your hair and make them healthy from the deep inside.
It provides strength and shines to each strand of your hair which ensures complete safety as this procedure involves processing only on your hair surface, not to the hair roots. So there is no risk involved regarding scalp or hair roots damaging.
If you have not used any hair treatment as of the date and worried whether this treatment may cause harm to your hair health making it even worse from now then leave your worries completely. This chemical process is absolutely safe and it is for everyone irrespective of your hair texture and quality. Moreover, it is less expensive and time-consuming so you can try this at your home itself.
Benefits of Cellophane Hair Treatment
The application of cellophane hair treatment process can offer following benefits to your hair-
It is Less Time Consuming than Other Hair Treatments
The cellophane hair treatment takes a very lesser amount of time in its processing with a comparison to other common hair treatments available in the market. Just like other procedures you don't need to sit and wait for as long as a half or a whole day in-salon for completion of this treatment.
Overall it takes only 1 hour time which includes the timing involved for applying cellophane on tresses which depends on your hair density and length, and apart from that, you need 30 minutes time for resting the cellophane before removing it or rinsing it.
On average this hair treatment doesn't take more than 1 hour and 30 minutes time of yours. So it doesn't interfere with your whole day routine. You can have this treatment and just continue without your other daily life deals without any trouble.
It Adds Natural Shine to Your Hair
The cellophane hair treatment is not just a hair coloring process but its effect and benefits are far more than that. It adds a natural shine and luster to your hair which you can hardly expect with such hair treatments.
If you want to color your hair but worried about your hair damaging risk associated with the coloring process then this is the most reliable process for you.
It will add beautiful color to your hair as per your desire without causing any kind of damage. Moreover, This hair treatment ensures that your hair won't remain dry and shine less any more by locking moisture content and adding gloss to your hair naturally along with coloring it with your desired color.
It Doesn't Cause any Harm to your Hair Shafts and Scalp
Just like any other normal hair dye treatment the cellophane hair treatment doesn't cause any harm to your roots and scalp. This particularly happens because in this procedure your scalp and shafts remain untouched and the whole processing revolved around your hair strands.
Moreover, this coloring process doesn't use any harmful toxic chemical like ammonia or peroxide which is quite harmful to your hair roots as it can cause major damaging.
Hence it ensures silky, shiny, and healthy hair by keeping intact the natural moisture level of your hair which it has before the application of this treatment.
It can be Done At Home Also
Along with its multidimensional benefits for your hair, the best part of this hair treatment is that it can be done at home also without anyone's support. That means a full saving of expensive salon charges which they charge for this particular hair treatment just in one sitting.
It takes a very lesser amount of appliances so even you don't have to worry about those expenses also. Moreover, you can offer repetitive hair care treatment to your hair for maintaining its health and beauty permanently once its effects reduce after a stipulated time as it can be done at home with a very little or negligible expense.
It is Completely Safe
With this hair care treatment, you won't have to worry about hair damaging or any other kind of hair health risk because it is absolutely safe and proven technique recommended by the hair experts.
As in this procedure, only your hair strands are used so there is no risk of hair roots or scalp damaging which generally involved with other common hair treatment methods available in the market.
It is totally pigment-free treatment and external process as only lower tresses of hair are processed. So it is safe for everyone who wants to give a stylish look to their hair without any damaging risk.
Increases Hair Thickness and Strength
If you want to increase your hair thickness then this hair treatment process is perfect for you. It will add natural thickness to your hair along with adding shine and beauty to it. It makes your hair smoother, glossy and beautiful.
It repairs your damaged hair by locking moisture to your hair roots and improves the hair quality and appearance. Every single fiber of your hair is treated in this process which prevents frizzy hair issue. Also, it adds strength to your hair hence relieves from hair fall problem to make your hair dense and beautiful naturally.
Protects from Environmental Damages
The cellophane hair treatment process protects your hair from environmental damages which generally happens when your hair comes in the contact of environmental dirt and pollution. Hence keep your hair healthy naturally for a very long duration.
Process of Cellophane Hair Treatment
The steps or procedure of cellophane hair treatment is so simple that it can even be done at home also. In this particular process, your every hair strand is coated with certain polymers that cover the hair cuticles in such a fashion that there would be no dryness or hair damaging occur. It can be done at home also without going to a beauty salon or parlor.
To start with this hair treatment you need to wash your hair thoroughly with a good mild shampoo then you can apply cellophane on your wet hairs. This process doesn't need any special appliances, use only a color bowl and brush is enough for applying this. However, it should not be applied with your fingertips.
Divide your washed hair into four parts equally and then clip each part tightly. Now one by one you can apply cellophane to every part or divided sections of your hair. Make sure that you don't touch your scalp or hair roots, it is only meant for hair strands. Now cover your whole hair till its full length (from top to bottom) with cellophane.
Once you have finished with the application of cellophane on your hair then cover it with a hair cap and let it relax for some time at least for 30 minutes. It is always advised to use at least one shade darker hair dye than your original hair color in order to reflect its effect visible.
In order to ensure the more benefit of this hair treatment, you can wrap your hair in a saran or use a hairdryer for drying your hair which will ensure greater absorption of moisture level to give more nourishment to your hair.
After 30 minutes remove the cellophane and wash your hair again with a mild shampoo. After washing apply a conditioner all over your hair to avoid frizzy hair issue.
Once your hair gets dry completely you can do any styling as per your wish with this new and beautiful look of your hair.
Is Cellophane Hair Treatment Contains Any Side Effect Risk?
This is a very common query which anyone may have who is planning for having this hair treatment. However, the good news is that the cellophane is absolutely safe and toxic-free.
Its benefits are enormous which one can hardly get through a single hair care treatment process. It has a dual advantage because it enhances the look and appearance of your hair along with enhancing its health without any fear of damaging. It makes your hair strengthen, shiny and prevent frizzy hair issue which is a very common hair concern.
It takes care of your hair health in all respect. The products used in this particular treatment process contains high grade of proteins and nutrients which are vital for your hair health especially if your hairs are dry and lifeless. It provides strength and fibers to your hair for enhancing its health and density.
As in this particular hair treatment, the processing is done only in your hair fibers so your hair roots and scalp remain untouched. Hence no damaging risk involved neither for your hair roots nor for your scalp as it is totally and an external process.
Moreover, in this coloring treatment, no pigmentation is used instead the color and shine are added to your hair through the glossing agents. It can also plump and fill your hair shafts and thereby seals the layer of hair cuticles.
The single issue involved with this hair treatment is that it doesn't last for a longer duration as it comes with either temporary or semi-permanent form or option. After 8 to 10 times hair shampooing the color gets washed away on an average.
In spite of its short term effect no doubt the benefits of cellophane hair treatment are much greater so it seems considerable to afford this hair treatment on a frequent basis in order to maintain your hair healthy and beautiful forever.
View Article Sources