Coconut water is one of the most amazing natural medicines given by nature. This works wonder on improving your hair health along with stimulating hair growth by simply using coconut water.
In one term it can be said that usage of coconut water for hair growth is the ultimate solution if you are sick and tired of trying other hair care remedies without any satisfactory output.
It works on inside out principle means you can use it directly or can even drink it which will work in a much effective way by giving nourishment for your hair growth from the deep inside of your body.
The health benefits of coconut water are tremendous, this is the reason why even in the cases of major health illnesses often the healthcare specialists recommends for drinking coconut water as a daily health drink.
It saves you from the heatstroke from the scorching heat of hot summer days by keeping you hydrated and this hydration work is not only for your other body parts but it is for your hair and skin as well which are the true measurement of anyone's beauty and even health.
A rough and dull hair not only reflects that your hair is unhealthy and ugly but it also depicts that your internal health is lacking with vital nutrients.
Here-in-lies the true importance and value of coconut water which works on dual formula means it will give nourishment to your hair follicles in both the ways whether you consume it directly or apply it over your hairs.
In today's fast-paced lifestyle and pollution full outer environment it is simply impossible to give protection to your hair from external damaging.
As soon as your hair comes in the contact of external polluted environment it started losing its natural essence and good health leading to hair fall, split ends, hair thinning and breakage started to occur in almost no time, which can even cause baldness if not protected at right time,
So to make your path easier today we have come up with some more effective natural hair treatment methods which can be done with the most reliable and effective ingredient that is coconut water. So go through the below article and get rid of your hair problems naturally and in a very cost-effective manner.
Hair Benefits of Using Coconut Water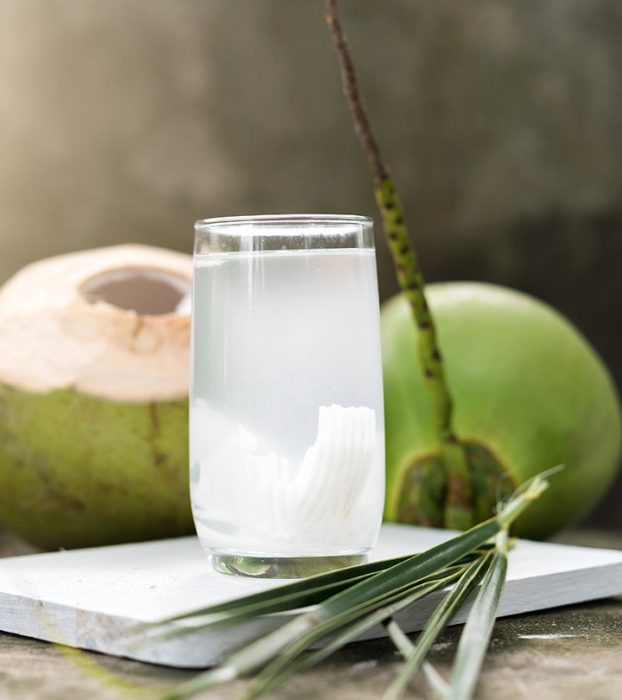 Coconut water helps in treating several types of hair related issues in a very safe and effective way with its consistent application. Some common hair health benefits that you can get by using the coconut water are enlisted below.
Helps in Controlling Dandruff
The coconut water application on your scalp can relieve you from irritating dandruff problems if you are a sufferer of this hair problem since long past. Simply massaging with this water in your scalp not only reduces and removes dandruff from your scalp but also relieves from irritation associated with this hair problem.
Its antifungal properties fight against the dandruff-causing elements in the scalp and hence leave you with fresh, clean, and healthy dandruff free hair.
The application process of this home ready is very easy. You just need to mix 5 tbsp of coconut water into half tbsp. of neem oil. Now massage with this prepared mixture in your scalp and hair for a few minutes and then leave it for one hour.
After that wash your hair with a mild shampoo. An only one-time application of this natural treatment in a week is enough to relieve you from dandruff issue in hairs and scalp permanently.
Stimulates Blood Flow in Scalp
If you are suffering from severe hair loss problem then you must use coconut water home treatment in your hair for preventing further hair loss and improving your hair density.
Coconut water is a rich source of lauric acid which helps in strengthening your hair rots hence help in enhancing overall hair density by reducing the severe hair fall problem.
Also, its light massage in your scalp is enough to stimulate blood circulation which helps for stimulating the growth of new and healthy hairs. Also with improved blood circulation in your scalp, your hair roots get more strengthened and don't fall easily. As a result of it, the coconut water ensures a healthy and natural hair growth. 
Hydrates Your Hair
Coconut water is a natural hydrating agent which can easily hydrate to your dry and dull hair and scalp naturally. In the lack of hydration multiple hairs related problems develop. Moreover, the growth of hair is not possible unless it remains hydrated all the time which is the basic need for healthy hair and its growth.
The hydrating properties of coconut water help in strengthening your hair roots. Also, it boosts the blood circulation in hair follicles as well as in scalp which altogether helps in boosting healthy hair growth.
Nourishes Your Hair
Your hair starts looking dry and lifeless in the lack of necessary nutrients. However, this issue can be easily resolved with the effective coconut water home remedy.
Coconut water is a rich source of essential nutrients and minerals such as vitamins and calcium. By offering the necessary amount of vitamins to the hair follicles it boosts the size of your follicles leading to the growth of stronger, thicker and longer hair become possible.
Also, it ensures that your hair strands grow much stronger and thicker one in order to ensure long and dense hair. The hair strands are made of proteins and coconut water contains a good level of protein nutrient. Hence when applied on your hair it can easily fulfill the necessity of proteins in your hair strands which again stimulates the hair growth.
The vitamins and minerals content of coconut water ensures that your hairs would not get damaged from infections to ensure only healthy hair growth in your scalp.
Protects from Scalp Infections and Lice
Coconut water is rich with anti-bacterial and anti-fungal properties which protect your scalp from different types of scalp infections such as lice, dandruff etc which are one of the vital hair related concerns.
Also with such type of hair infections, the healthy growth of hair is simply impossible. However, with coconut water application these underlying issues can easily be treated and hair loss can be prevented.
A simple massage with coconut water in the scalp by mixing neem oil in it can kill fungus responsible for dandruff.
Adds Shine to Your Hair
A simple coconut water hair rinsing can add an attractive shine to your hair which enhances the beauty of your hair by double. If you have damaged locks then coconut water can do wonder in treating this concern if you use it as a conditioner after shampooing.
In order to enhance the shine of your hair, you can prepare a very effective home remedy by using coconut water as a primary ingredient. Mix coconut water, yogurt, and honey in a bowl and apply this mixture evenly in your hair from top to bottom.
Let it sit for 20 minutes and then wash your hair with a mild shampoo. This remedy will totally change the look and appearance of your hair by adding a beautiful shine to it.
Prevents Hair Breakage Problem
Coconut water diminishes and prevents the hair breakage issue by conditioning it naturally. It is a rich source of lauric acid which is known for its conditioning property. It strengthens your hair proteins as well as hair roots which are very helpful in protecting your hair from breaking out.
Massage your hair and scalp with the mixture of coconut water and yogurt and leave this mixture for one hour in your hair. Rinse your hair after one hour. This home remedy will prevent your further hair breakage problem moreover will boost healthy hair growth.
Treats Hair Dryness
The regular application of coconut water in your hair can easily relieve you from the dry and rough hair issue. Massage your scalp with coconut water before bathing in the morning and only after this massage goes for taking a shower.
Regular practice of this trick will bring back lost nourishment of your hair by making it softer, smoother, and healthier. Also, the coconut water application works as a natural conditioner as it can easily penetrate your hair shafts hence nourishes your hair roots and makes it healthier, softer and stronger naturally.
Tips for using Coconut Water for Hair Growth
You can use coconut water in the following ways for boosting its health and stimulating hair growth faster, natural and safer way.
Coconut Water as a Conditioner
Instead of using a market's conditioner which is mostly rich in chemicals it's better that you use a natural homemade conditioner which you can easily prepare with the coconut water.
Mix coconut water with natural hair oil and then apply this prepared conditioner in each of your hair strands evenly. This will penetrate the roots of your hair and increase the effectiveness of natural oil by ensuring maximum moisture level to your roots and strands.
This trick will make your hair much softer, and smoother naturally and prevents frizzy hair issue in a safer way so that hair damaging would not happen.
Coconut Water as After Wash Rinse
Coconut water is much easier in application with a comparison to any other hair care remedy. You only need to pour this water directly in your scalp and hair that is enough to offer essential nutrients to your hair for ensuring its healthy growth.
Massage your scalp with coconut water which is the best way to provide its antifungal proteins and benefits into your scalp. After that rinse hair with a shampoo. Only this much activity is enough to keep your hair protected from damages and stimulates its faster growth.
Coconut Water as Hair Mask
Coconut water is a very effective natural hair mask. You just need to mix some coconut water as per your hair density into fruits mash like bananas or avocados and then apply it in your hair directly.
Let it sit for one hour so that your hairs can absorb its full essence in this duration. After that wash your hair thoroughly with a mild shampoo. Use this hair mask at least one or two days a week to improve your hair quality and to promote healthy hair growth.
Coconut Water for Curly Hair
Coconut water is an amazing curly hair solution spray. Curls are beautiful but excessive curls are too heavy to manage which needs extra care. Here you can get good support by using coconut water in your curls to manage them in a much comfortable way.
Fill coconut water in a spray bottle or even you can mix it with water to use the solution of coconut water and plain water. Spray this into your hair and you will feel how refreshing your hair becomes and even much easily manageable.
Drink Fresh Coconut Water
For speeding up your hair growth and for enhancing the quality of your hair you can even drink the delicious and highly nutritious coconut water directly as even this trick will also work effectively like any other coconut water hair treatments.
Drink one glass fresh coconut water in the morning in your empty stomach. Daily practicing of this habit will help in improving your immunity power, boosting metabolism function, detoxifies toxins and reduces LDL cholesterol level. With all these health improvements you are likely to get abundant hair growth in a natural and healthy way.
Coconut Water as a Remedy for Frizzy Hair
Coconut water is a very easy and cost-effective frizzy hair solution. Make your hair straight, soft and tangle-free with the direct application of coconut water mask on your hair so that you can comb them easily without any risk of hair fall which is quite possible if you have frizzy hair.
Mix coconut water with apple cider vinegar or other natural product that are good for hair health and apply this mask on your hair. Within a few minutes, your hair comes into easily manageable position. Now style them the way you want it to look and stay beautiful always.
Now you are well aware of how effective is the coconut water for hair growth. So start using this effective natural ingredient in your hair and stay away from those expensive saloon charges as now all your hair problems will be treated under one rough or solution that is with the versatile coconut water.
View Article Sources