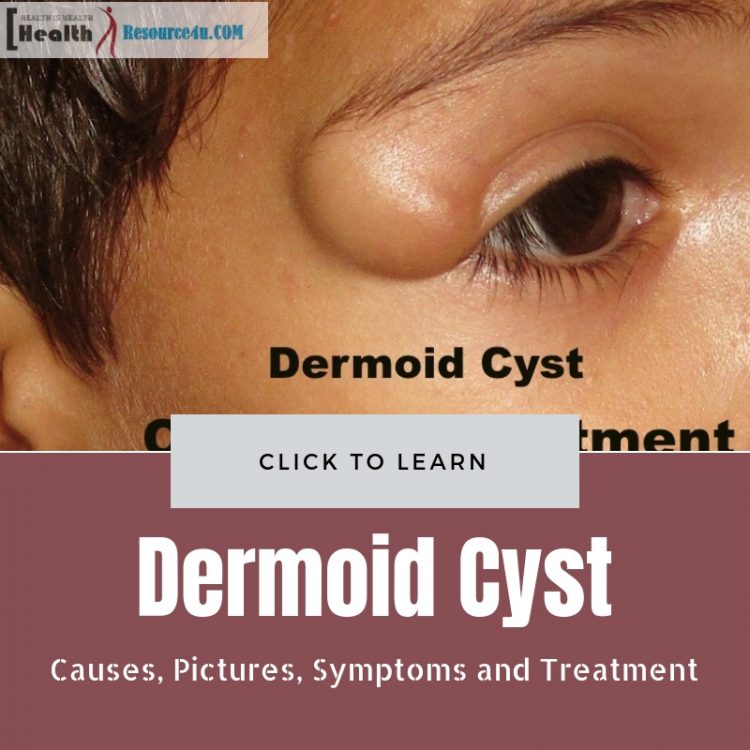 A dermoid cyst is a substance filled sac formed by skin like cells, hence the name. The sac develops into a thick leather like outer wall. Like other cysts it forms somewhere in the body but doesn't really belong there. These cysts are usually located in the spine, abdomen, and sinus' or around the surface of the skin. The contents of dermoid cysts, however, are a little different compared to other cysts. Inside, one might find more than the usual air, gases, fluids or semisolids of other cysts. Because they develop from embryonic cells, any type of bodily tissue, organ or limb could grow within the sac. In fact, you might even find eyes! Usually skin, hair and fat, though.
Causes of dermoid cyst:
The term cyst is misleading, because a dermoid cyst is actually classified as a teratoma. In other words, it is a cyst like tumor. Like a congital birth defect, some embryonic germ cells started growing in a region of the body where they were not meant to be. This usually occurs during fetal development and may not be detected till later in life. It is also possible for a cyst to develop at any point at which germ cells are introduced to an area via intentional or accidental means. Think fertility treatment or spinal treatment.
Dermoid cyst Symptoms:
Dermoid cyst symptoms are the same as most cysts. The cyst itself could be tender and painful or you might not feel anything at all. Unless one grew on your face you might not even know you have one. Of course, the location and size of the cyst could produce secondary symptoms if it were to interfere with another body structure or organ system.
A spinal dermoid cyst could produce mere back pain. It could also produce any symptom associated with nerve impingement at the level of the cyst. The nerves in your lower lumbar (common area for dermoid cysts) are responsible for feeling in the low back and legs. Also, this is where the nerves are that control the muscles of your bowels and other vital organs. It follows that a large enough cyst pressing on some of these nerves can produce pain as well as symptoms of incontinence or constipation.
Dermoid cysts can even be found on the scalp, which can make your next visit to the salon or barber a little on the interesting side as you may opt for laser hair removal instead of your usual hair cut. These cysts may also be found under the skull and are usually asymptomatic. In the event one formed large enough under the skull neurological symptoms might be present.
Ovarian dermoid cysts tend to produce more symptoms than the rest if they do not resolve on their own. This is due to being located near so many organ systems. Urgent urination can occur when the bladder is pressed on. Constipation could occur if the bowels are affected. Abdominal pain, painful sex, vaginal bleeding and nausea are common symptoms.
Dermoid cysts are benign 98% of the time, so do not worry about cancer. Your doctor can help ease your worries on that.
The more common problems associated with dermoid cysts vary from person to person and depend highly on the size and location of the growth.
Women with ovarian dermoid cysts usually are those with most concern. These cysts can be very painful just being present due to the many organs and tissues that are present near the growth. Forget about the painful sex. She has this thing pushing on all kinds of stuff. The biggest concern, however, would be the growth getting big enough to put pressure on the ovaries. Possibly twisting the organ around in such a way that its blood supply is cut off (torsion). This situation would be an emergency and constitutes the largest reason why the cyst should be monitored by your physician after discovery.
Diagnosis:
If you have a dermoid cyst on your face diagnosis is simple. Internal cysts are usually found during routine scans. Either on accident or after complaints of pain somewhere in your body. Imaging studies can help determine that a mass is a cyst. After that, a biopsy and/or blood test can help determine malignancy (uncommon for dermoid cysts) and help reduce the size.
Treatment of dermoid cyst:
Sometimes no treatment is the best treatment option. For example, ff your benign dermoid cyst has no affect on your overall health then your doctor might only monitor its growth. Who couldn't use an extra set of hands, anyway? If you and your doctor decide to take action a few options are available.
Aspiration (drainage via syringe) can be performed on simple fluid filled cysts. This can be an easy procedure done on near surface cysts or labroscopically on deep cysts.
Ablation can be performed on some cysts. This is done by injecting the cyst with a dye that kills it. The body then destroys and gets rid of the rest of the cyst material.
For your likely compound (solid, semisolid material content) dermoid cyst; surgical removal is often the best option.
When treatment options are decided it should be important to consider why the treatment is being done. Also, to speak to your doctor about the risks associated with each procedure. Do keep in mind that removing a cyst for cosmetic reasons should not necessitate more risk than a life saving procedure.
Prognosis:
The outcome for dermoid cyst sufferers is good due to the cyst itself often causing no significant issues. The size and location determines everything, too. Basically, the cyst will left along as long as it has not interfered with any other body systems as it typically will do no harm. The biggest concern after treatment, assuming no other systems were affected, would be possible recurrence after removal. So, you should talk to your doctor about specific types of cysts and there likelihood of recurrence in order to gain some peace of mind. In general, however, as long as every cell is removed, likelihood of recurrence is low. Some types of surgery are more successful than others when considering the amount of cyst if any might be left. This also should be considered with your doctor before a surgical plan is set in place.