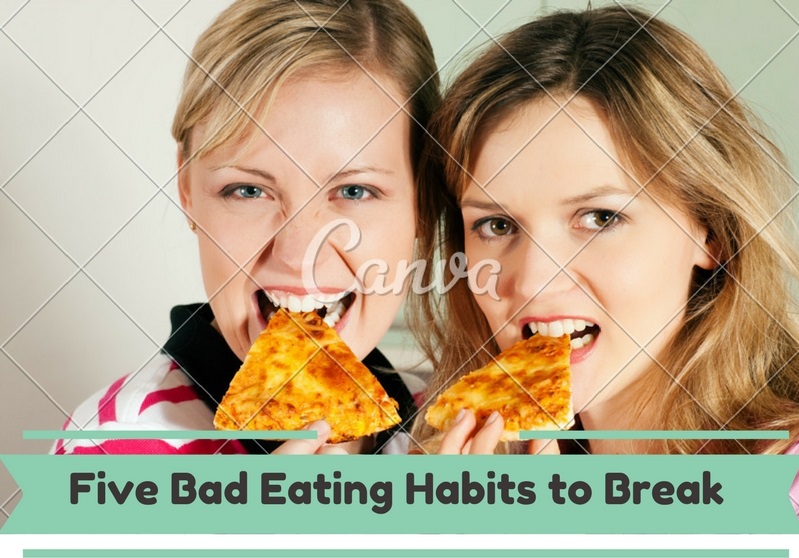 As people learn more about nutrition, most bad eating habits are something one is aware of. But there is a lack of understanding on how to counter these. While we know that overeating is bad, for example, but what do we do about this? For weight loss and optimal health, it is important to get rid of bad eating habits. Read on to find out 5 of the worst eating habits and how you can work around them.
Bad Eating Habits and How to Break These
#1 Poor Meal Planning
One of the biggest problems with nutrition is poor meal planning. Last minute eating choices, opting for fast food on the go and not planning the weekly meals better can have adverse impacts across the year. Save money, effort, time and cut down on calories using meal planning. Try to add healthy portions of wholegrain, salads, green veggies, and other healthy, nutritious foods brimming with vitamins, minerals and other essential elements integral to preserving the health of the body.
#2 Excessive Outside Eating
Restaurants and takeaways are known for their massive portion size, and sodium rich, processed foods. Instead, make the effort to prepare meals at your home and use tips such as ordering nutritious food while outside. Salty and fat rich foods which are processed and devoid of nutrients are almost everywhere. Instead, you need to be able to read the food labels and assess the freshness and wholesomeness of food. Another no-no is sugar rich food, which is almost inevitable should you choose to eat out. Apart from candies, cookies, and sodas, there are so many unexpected sources of sugar that include bread, condiments, and even salad dressings. Check the inventory of complete sugar in the diet and check to fend off empty calories.
#3 Mindless Eating, Giant Portions
This eating habit goes hand in hand with obesity. Whether you are sitting in front of the television and gobbling junk food or grabbing a sugar-rich meal on the move, it will do a lot more than satiate you. Refined fat and sugar will lead to paunches, unhealthy medical states and worse if you do not curb this bad eating habit. Eating smart and for the right reasons is important. Don't consume food when you are distracted or facing schedules.
Eating food mindlessly can have a serious consequence on the health of the individual. Leaving the house for office or work without nutritious packed meals because you are short on time, means you will instead have to opt for processed foods that are kind to your taste buds, but not your waistline. Try to cut down on this by measuring portions, eating packed healthy meals and avoiding a calorific overload. The perfect portion of optimal sizes ensures that you eat smart and right. Rather than avoiding calorie-dense foods, try and eat smaller portions as this will lead to satiation and safeguard your health too.
#4 Liquid Calories: When Juices Are Not A Health Option
Sugar-sweetened beverages such as sodas, juices, and other such drinks can prove disastrous for your health. Instead, you need to sip on calorie-free beverages such as seltzer, non-sweetened tea and water if you want to hydrate yourself and keep your body healthy, without going into a glucose overdrive.
#5 Not Eating Enough= When Less Is Not More
Less food does not mean more weight loss. Not taking enough calories in a day hits energy levels, stimulates the appetite and leads to overeating later/ This is why you need to exercise portion control and have heavy breakfast followed by lighter meals throughout the day. Not eating the right number of meals each day is one of the most common bad choices when it comes to meals. Numerous people have 1-3 meals in a day. The eating habit of turning to such a small number of meals means your body is overloaded with enough food to up the metabolic rate. Fewer nutrients are being used resulting in more fat being channeled away. This limits metabolic growth and leads to unhealthy and impaired metabolism which harms health and appetite too. Eat 5-7 smaller meals in 24 hours of the day and space them apart from each other by 2-3 hours allowing metabolic rates to remain optimal.
In case the diet is not monitored effectively, this can cause a problem in the metabolism. Check to see that daily calorific intake come within the similar range each day. Moreover, average everyday intake must be the same after several weeks. Don't push intake levels to extremes because you would them damage your body and create metabolic overdrive or imbalances. There may be a difference of as much as five hundred calories within a day and calories that are roughly within the same range can prove beneficial for your daily metabolism.
The body will start starving if your metabolism is damaged and your body is deprived. The body may enter starvation mode, storing fat and using muscle mass instead of calories for energy, which can prove harmful in the long run. Skipping meals like breakfast or dinner is an inconsistent factor that is a bad habit. Most commonly, people in a hurry skip breakfast. But this does not work out well. The most critical meal of the day is breakfast. If you rest all night and if your body then has no fresh nutrients for fueling energy needs, this can create nutritional deficits and again can induce the starvation mode.
Another problem is when you don't eat enough and then succumb to a late night supper snack. This can cause your body to store more fat. Carb consumption can also add to the calories, as starchy food is rich in calorific value. Eating too little or too much is a serious issue and you need to ensure that a balance is maintained for healthy intake and optimal weight. Eating more or less than the body needs can trigger weight gain or loss, excessive muscle building or strength loss. As with anything, eating in excess or extremes can have serious consequences.
Eating the incorrect kinds of food can lead to serious medical problems. Too much salt or sugar can trigger cardiovascular diseases. Excessive sugar causes coronary heart disease, diabetes, periodontal disease, and arteriosclerosis. Salt in excess can trigger the bone loss, hypertension, neurological disorders, cancer, and stroke. Diet needs to be formulated to give a nutritious boost to mental and physical health, instead of depriving the individual of healthy growth.
Conclusion
You are what you eat is an ideal saying because it holds true both ways- whether you choose a healthy diet or an unhealthy one, the consequences will be equally apparent.So, from skipping meals to eating out too much, consuming unhealthy snacks, drinking calories, not reading nutritional labels more efficiently or eating massive portions can have serious problems. Eat from smaller dishes and never take food directly from a package or container. Eating at night is not a good idea either. After dinner, stay out of the kitchen and don't raid the fridge. If hunger pangs still strike, choose mint or tooth brushing to take the food's taste and desire away.
Snacking 24/7, eating too fast or gobbling junk food on the run can prove to have adverse consequences. Take breaks, eat leisurely and make sure that you do not push your body to either extreme when it comes to eating food. Emotional eating, succumbing to stress and using food as a tool is also something to watch out for. We live in modern, stressful times and it becomes essential to create the best nutritional intake to sustain our body to meet these challenges. Eat right and soon you too will have perfected the art of eating smart. If you are looking for some healthy nutritional supplements , you may check Predator Nutrition .