Metabolism is defined as the sum of the physical and chemical processes in an organism by which energy is made available for our use.  Now you ask what does this have to do with anything.  Well it is by metabolism that we can move, breath, eat, exercise and basically being able to move and function throughout the day.  Metabolism allows us to do any activity we chose to do that involves energy, so in short just about everything in life.  With an ever so increasing focus on health, fitness, nutrition and overall wellness these days, metabolism can and should be used to our benefit.  By finding ways to boost our body's metabolism we use energy by burning calories. Let metabolism do all of the work and use it to help accomplish your diet, fitness and nutritional goals.
Here are a few ways on how to Boost Your Metabolism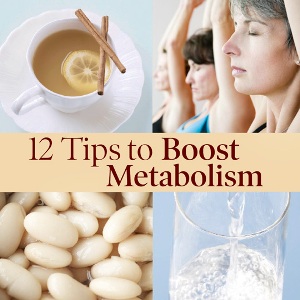 Eat more, weigh less.                                                                                                                                                
Food, food and more food, now that what I'm talking about. One of the best known ways to boost metabolism is through a nutritious diet regimen.  Eating healthy foods, based on a timely schedule is key.  Yes, eat, eat and eat some more!  Now I'm not talking about a thanksgiving smorgasbord every meal, just a snack like portion.  The principle here is to eat a small amount often, about every 2 hours or so.  By doing this, we are constantly forcing our body to utilize energy for digestive purposes, boosting our metabolism and in turn burning calories, leading to a life of improved health, and wellness.  Because you are eating so frequently to keep your metabolism working hard on burning up all of your calories, variety is necessary.  There are plenty of great fruit and veggie options out there to help you in all your weight loss goals; you just need to look for a second to find them. In the end it will all be worth the little bit of time spent searching.
Breakfast, wake up and start your metabolic engine.                                                                                     
Though we do burn a certain amount of calories while we sleep, it is nowhere close compared to that during fitness and exercise.  Breakfast is a great way to start the metabolic engine, waking up from a slowed metabolic process.  It is said that all you need to rev up the metabolic machine in the morning is a mere 250 calories.  Again, it's important to incorporate healthy foods as a nutritional diet regimen, you want your weight loss to be a healthy experience as well.  Caloric dense foods is a must, no empty calories, this will put a halt to your diet and fitness achievements.  One wellness tip is to add vitamin c and chromium to your diet, they both boost metabolism and help burn calories. It's also said that cinnamon is a super spice for revving up the metabolic processes; it could be used in your morning shake, with oatmeal or Greek yogurt, all kinds of fruits etc.  It supposedly can boost your metabolism by up to twenty-fold.  So go chew on a cinnamon stick and forget about it.
Light up your metabolic fire with exercise.            
Another great way to boost metabolism is through frequent fitness and exercise.  By doing an aerobic exercise such as running, jump roping,      Zumba or weight lifting etc. you can boost your metabolism and burn up all kinds of calories for several hours after.  Another part of your health and fitness regimen should be some type of anaerobic exercise such as weight lifting or short bursts of intense exercises.  By not keeping your muscles in a stressed state for over a minute as seen with running or cardio training, you enter the anaerobic world.  This form of workout can also boost metabolism and burn calories for up to 7 hours after you finish.  This is great for any fitness enthusiast wanting to light a fire to his or her metabolic engine.
By implementing a few lifestyle changes, you will see your overall health and fitness goals achieved.  A feeling of overall health and wellness will ensue and a new vigor will set in.  Let your diet and exercise dreams be fulfilled by focusing on increasing your metabolism.