Now, you may have heard of Chia Heads and Chia Pets, you may not be familiar with the dietary power of chia seeds. These nutrition-packed seeds used by ancient North and Central Americans have long been used for food, but it's only lately that world seems to have gotten out about the benefits of adding chia seeds to your diet. Made famous in Christopher McDougall's famous running book Born to Run, the Tarahumara people of North Mexico have used these chia seeds to increase their endurance and fuel their cross-country running sprees. How do these seeds yield such amazing results? Let's peer into their composition and find out.
The Nutritional Composition of the Chia Seed
Chia seeds are sources of one of the most shocking assortment of nutrients in any one type of food. With Omega-3s, lots of protein, fiber, and slow-burning carbs, these seeds are ideal meal additives and can do you wonders. Chia seeds also contain stunning levels of various essentials vitamins and minerals. With more calcium than dairy and more potassium than bananas, chia seeds are great for building strong bones, teeth, and tissues, and for greater digestive health and energy. When it comes to antioxidants, forget blueberries! Chia seeds have even more of this essential nutrient than the leading fruit sources.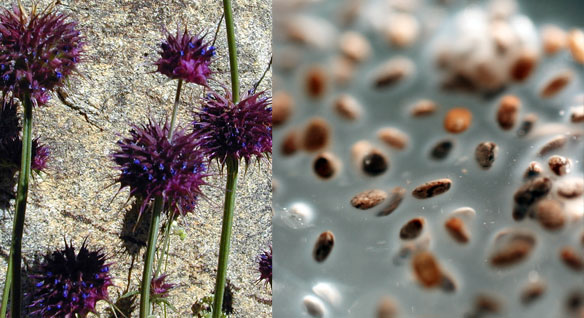 Image Source: planetmattersandmore.com
Perhaps the most important nutrients available in chia seeds are the fatty acids. Omega-3 fatty acids are important because they help prevent cardiovascular disease, certain types of cancer, and even act as anti-inflammatories for those with arthritis or injuries, both internal and external. Omega-3s are also used in preventing developmental disorders and boosting brain function and health. Omega-3s are in high demand but dieters can often only get it by consuming plenty of fish or buying synthetic supplements. Chia seeds are a much cheaper options and leave you feeling much less full. A tablespoon of chia seeds offers nearly 70 times the Omega-3s of a piece of fish! Additionally, chia seeds are significant sources of sodium, calcium, potassium, phosphorus, manganese, zinc, and even decent amounts of copper! All of these minerals are essential to bodily functions and general health. Thus, I believe I make my point that chia seeds are truly amazing little things. Here are some benefits that people who consume chia seeds claim to experience:
Chia Seeds and Losing Weight
The very name of the seed, in Nahuatl, means "oily". The reason the seed was called this was because of the slick, gelatinous coating it develops when wet. This happens because the hydrophilic seed absorbs water so well. This coating comes in handy in several different ways. First of all, when eating chia seeds in a fluid or in a mushy solid like oatmeal, the seeds expand to several times their normal size and can leave the eater feeling fuller than they normally would. Therefore, those who make chia seeds a normal part of their diet tend to eat less. Secondly, the jelly coating draws out digestion across a longer period of time. By the time stomach acids actually get to the seed itself, much of the other food in your system has already digested. What this does is boost your metabolism by keeping the fire burning much longer. You'll notice that many fad diets require dieters to eat more like 5 or 6 meals a day. This is why. The longer your stomach is converting food to usable energy, the higher your metabolism. When you eat simple sugars, they burn off really quick, and your blood sugar drops causing you to crash. Chia seeds burn much longer, thus keeping your healthy blood sugar levels more steady and encouraging your body to burn fat. Chia seeds are great for those who suffer from diabetes for this reason. A steady burn throughout the day will keep you alert and firing on all engines as you work and play. Consider taking a few spoonfuls of chia seeds with you throughout the day to eat/drink when you begin to feel hungry in between meals.
Boosting Endurance
Chia seeds help your body burn fat, but they also help you do the necessary exercise for getting fit. The jelly coating we mentioned earlier is useful to runners and other endurance athletes because it enables them to stay well-hydrated during exercise. Dehydration and the loss of electrolytes are the primary reasons that people give up when the going gets tough in an exercise regimen. Chia seed enable the body to retain water and store up complex carbs for the fourth quarter.
Another reason chia seeds help athletes finish the course is that they have a great mixture of insoluble and soluble fibers. Soluble fiber is usually digested very quickly, whereas the other kind takes much more time. So the effect is that the athlete gets the benefit of the first energy boost from the soluble kind and then is able to sustain activity for long periods of time as the insoluble fiber finishes burning off. If your blood sugar levels throughout the day were graphed, what chia seeds help do is flatten out the peaks and troughs, making for a smoother and more well-regulated metabolism.
The Best Ways to Eat Chia Seeds
So if I've convinced you to try chia seeds for yourself, here are a few great ways to incorporate them into your diet:
• Mix with a smoothie or protein shake
• Eat on oatmeal with other toppings
• Mix with water, sugar, and lime juice to make the Mexican "chia fresca"
• Mix in a favorite fruit juice or cereal
• Just eat them raw! Many say they have a nice nutty flavor. Just make sure they don't get caught in your teeth.
So regardless of whether you are a competitive athlete, or just a guy or gal who wants to drop a few pounds, chia seeds are a true superfood that will definitely aid you in your quest