There are hardly any Indian women who have not ever tried henna on her hairs, at least once. While Henna is supposed to be a herbal remedy for a bunch of hair problems there are many who will complain that using henna was the reason of premature greying of their hairs. Staying in tune with this dilemma, in this article we will try to find out an answer to the question, Henna is the remedy or the cause of grey hairs?
What is henna?
Henna is actually the name of a flowering shrub commonly grown in tropical regions of India. The plant comes with green, small leaves that produce a particular reddish-brown color on smashing up. Original Henna powder is supposed to be a dust of the dried leaves of this plant.
The fresh henna leaves as well as the powder prepared from the dried henna leaves can be used for coloring hairs and skin. Henna is also commonly used to make tattoo on the hands, commonly known as Mehendi.
Pure henna is a completely natural ingredient and due to its natural coloring property it can be used to hide the grey hairs. Henna also has some nourishing and conditioning properties that can even be effective to deter the natural process of hair greying, at least to some extent.
Can henna cause premature greying of hairs?
As far as the natural, pure henna leaves or pure henna powder is concerned they can never be the cause of hair greying. Once you use the pure henna powder or paste on your hairs it will give a reddish brown color to the hairs and if you stop using it, the color will go away on its own with time depending on several factors.
So, if you already have grey hairs, regular use of pure natural henna will cover them and after you stop using henna, the color will go away slowly and your grey hairs will start to look grey again. However, that will never cause the greying of hairs that were not grey at the first place.
Henna has strong coloring properties but as it is completely natural it does not affect the natural pigments of the hairs. It only covers up the pigmentation when applied and once it is removed naturally with time your hairs will get back their original color.
To sum it up, the pure henna which is produced from the dust of the dried henna powder or made from the paste of the fresh henna leaves can never cause hair greying rather it can be a natural remedy to treat the problem of premature hair greying.
How henna causes hair greying?
We have already made it clear that natural henna powder will never cause greying of hairs but there are many ladies who will like to differ from our point due to their negative experiences with henna.
The problem here is that, what is sold in Indian market as henna or henna powder or even herbal henna powder is not always the pure henna with the ability to cover grey hairs, without any side effects.
Instead, most of the brands selling henna powders add a number of chemical colors and dyes along with the natural henna in their products. These modified henna powders certainly give a much deeper color to the hairs even on a single application but like every other chemical dye they cause hair greying after a single or a few applications.
So, if your experience with henna has been bad, it is not the natural henna to be blamed for, it is the wrong product that has caused the greying. If you are using any henna based product that also combines other chemical dyes it can certainly cause hair greying.
The key
There are three types of henna powder commonly available in the Indian market and the key here lies in picking the right product. The types of henna powder available in India can be broadly categorized under these three headings,
Pure henna powder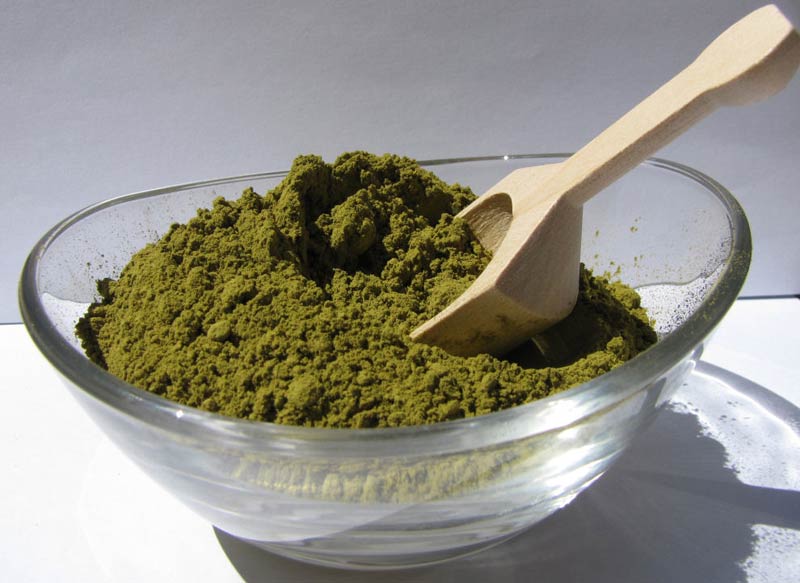 This henna powder contains nothing else other than the dust of dried henna leaves. They are the safest for application on hairs and even on hands. They come with a distinctive smell of henna and provide a natural color on hairs and skin.
However, the color given by the pure henna powder on hairs is not very deep and it is never black, rather slightly on the reddish-brown side. The staying power of the color of pure henna powder is also comparatively less and it starts fading within a week, unless repeated within short intervals.
Herbal henna powder with natural ingredients
This is the other type of henna powder available in the market. These henna powders contain pure henna powder along with a number of other natural hair coloring and hair conditioning agents.
Some of the common natural ingredients that are often present in these henna powders along with the pure henna dust include blends of coffee, tea leaves, shikakai, amla, hibiscus and a number of other components like Bhringraj and Brahmi that can be helpful to give complete hair care while providing natural colors on hairs.
These herbal henna formulations offer a deeper color and it has a comparatively longer staying power. The color given by these henna powders depend on the particular type of natural ingredients used in a particular formulation marketed by a particular brand.
Henna hair color powder
This is the third type of henna powder or henna hair color that is most commonly available in the Indian market. These products are basically hair colors with henna and other natural ingredients for minimizing the harmful effects of hair dyes on the hairs.
These henna blends offer different colors according to the color of the dye used in the product and the color is much deeper and stays for longer. However, as these products come with dye hence they might cause hair drying as well as hair greying.
If you are looking out for a hair color that comes with some natural ingredients and helps in minimizing the negative impacts of hair dyes, you can easily opt for this type of henna hair color powder.
Conclusion
So, now as you know the answer to the question, Henna is the remedy or the cause of grey hairs? It must be clear to you that your experience with henna fully depends on the type of product that you have used.
While pure henna powder or henna powder with natural blends will help in preventing premature graying, the henna hair color powder with chemical dyes can be a cause of greying of hairs. You have to keep in mind that the products sold in the Indian market under the name of Henna powder do not necessarily contain the same ingredient and their naming is also quite vague.
So, do not go by the name of the product when you are selecting a henna powder. Check out the brand value as well as the exact composition of the henna powder before spending your money on it. If you are able to pick the right product according to your needs, it will never give you an unwanted result.