Banana is not only great for your health; it also offers some notable benefits when applied on your skin. Banana contains a bunch of nutrients that are particularly helpful to nourish and protect the skin. So, using homemade banana face masks can be an effective yet pocket friendly way to make sure that your skin is healthy and glowing.
You must be curious to know, why banana is preferred as one of the best natural ingredients from the fruit world for skin care. Actually, it is the nutrients present in Banana that help the skin in multiple ways. Banana is rich in potassium, B-vitamins, Zinc, Lectin, Vitamin A, C, E and Amino acids all of which can serve different purposes for the betterment of the skin.
The potassium in banana helps in hydrating the skin, while the amino acids and Vitamin C help in strengthening the connective tissues and improves skin elasticity. B vitamins along with Vitamin E give protection to the skin from oxidative stress. Lectin and Zinc improves the skin's natural ability to fight germs and infections while Vitamin A helps in skin healing and controlling the signs of aging.
So, with a banana face pack, you get not only a glowing skin but also a healthy skin. Banana face masks are ideal for fighting signs of premature skin aging and any other skin problems, starting from acne to hyperpigmentation or lack of skin elasticity. Before moving to the best Homemade Banana Face Masks for Glowing Skin, we will take a quick look at the benefits banana face masks can offer,
Top benefits of Banana face masks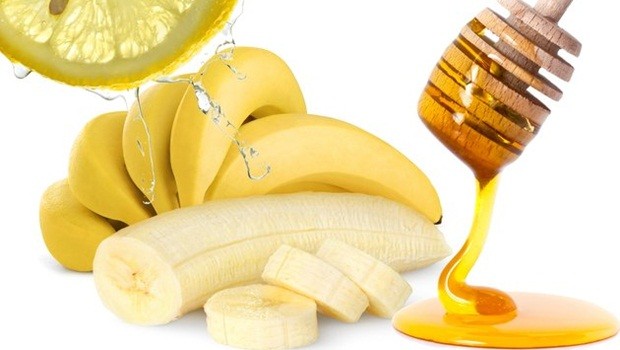 Moisturizes dry skin
One of the primary benefits of banana face masks is that it leaves the dry and parched skin well moisturized but not oily. Potassium, Vitamin E and A, present in banana improves overall moisture level in the skin and also enhances the moisture retaining ability of the skin, which is most essential for keeping the skin hydrated and glowing.
Gives anti-aging benefits
Signs of skin aging are one of the most dreaded skin problems at the present times. Banana face masks has the ability to help you get rid of fine lines and wrinkles with regular use. If you are suffering from uneven pigmentation, which is also a sign of skin aging, banana face mask can be of great help. The vitamins (A, C, & E) present in Banana along with the amino acids can improve skin elasticity and overall skin condition.
Lightens marks and spots
One of the reasons that banana face masks are used for adding glow to the skin is that, banana is capable of lightening scars and marks on the skin. The ingredients present in banana nourish the skin and helps in removing unwanted scars and hyperpigmentation with regular use. It is also a natural treatment to get fairer skin tone.
Helps in treating acne
The presence of Zinc and Lectin in Banana makes it capable of fighting the acne causing bacteria. Hence, if you have acne prone skin, a regular banana treatment will not only help in healing the scars caused due to acne but will also make sure that your acne gets dried quickly. Banana peel is often considered as the best treatment to get rid of acne and its marks.
Adds glow to the skin
Banana pack nourishes and moisturizes the skin. Provides the skin with essential nutrients and helps in lightening dark spots. As a result, after applying a banana face pack, you end up with a natural glow on your face that makes your skin look healthy.
Homemade banana face masks for glowing skin
Instead of spending a lot of money in parlor for getting that glow, try out any of the next banana face pack treatments at home and you are sure to appreciate the results,
Banana and Avocado face mask for glowing skin
Just like banana, avocado is another fruit that is rich with nutrients and can be highly helpful for nourishing and protecting the skin. If you are looking for quick glow on your skin, try out this pack and you can enjoy the instant glow after removing the pack.
What you will need
Banana – 1/2 (medium size)
Avocado – 1/2 (medium size)
Honey – 2 spoon
How to prepare
Preparing the Banana, Avocado face mask is as simple as anything. All you need to do is to collect the fruits, remove the skins and smash them together to make a smooth paste. Now add 2 spoons of honey to the mixture and mix again to make a homogenous paste. You should apply this freshly prepared pack, keeping the pack stored and using later is not recommended.
How to use
First make sure that your face is clean. It is best if you can use this pack after exfoliating your skin. Apply an even layer of the pack on your face and let it set for 20-30 minutes. After this time, massage your face lightly with the pack for 4-5 minutes and finally remove with a damp washcloth. Wash off with normal water only after 30 minutes of removing the pack.
Banana and curd face pack for skin glow
To enjoy instant skin glow, you can opt for a homemade face pack made with Banana and sour curd. This pack will nourish the skin, help in removing skin tan and will promote nice and natural glow on the skin. The pack has no side effects and it is easy to prepare. Just make sure that you use homemade sour curd in the pack.
What you will need
Banana – 1 (medium size)
Sour curd – 2 spoons
Turmeric paste – 1 spoon
Fuller's earth powder – as required
How to prepare
Take the banana, peel the skin and smash it to a smooth paste. Add the sour curd. Prepare fresh turmeric paste by grinding turmeric root. Add 1 spoon of this turmeric paste to the pack and mix all the ingredients properly. You will need to use the fuller's earth powder in the pack in order to ensure that it sticks properly onto the skin.
How to use
Once the pack is prepared, apply a layer of the pack onto your face after cleansing and preferably exfoliating the skin. Add the fuller's earth powder as required to make the pack stick onto the face properly. You can also spread a gauze pad over your face and then apply the pack over the gauze. This will ensure that the pack sticks properly onto your skin. After application leave on for 20-30 minutes and then remove the pack. Wash off with water after an hour.
Banana and egg face pack for glow
Egg is a highly nourishing food. It is rich in multiple nutrients and amino acids. Including eggs in your at home skin care regimen can give you multiple benefits including skin glow. You can use the banana and egg skin pack to reduce signs of aging and to enjoy a younger looking skin that glows with health.
What you will need
Banana – 1/2 (medium size)
Egg – 1
Olive oil – 1 spoon
How to prepare
Take the egg, break it and beat it well till it becomes frothy. Take the banana, smash it really well or even better grind it to make a smooth paste. Now, add the egg with the banana slowly while mixing it with a spoon. You can also put the egg with the banana together in a mixer to get a homogenous mixture. Finally add 1 spoon olive oil to the pack and you are ready to start application.
How to use
Clean and exfoliate your skin. Apply the pack directly onto your face in an even layer. Leave on for 15 minutes or until your skin feels a bit stretchy. Now remove the pack with a wet washcloth and wash off with excess water. This pack will add glow to the skin that is sure to be noticed.
Banana, milk cream and oats face pack for healthy glow
Milk cream is the ultimate solution to nourish and rehydrate dry skin. Oats on the other hand is an efficient skin nourisher that also helps in removing tan and gives anti-aging benefits. A pack made with these three ingredients can give you healthy and glowing skin.
What you will need
How to prepare
Smash the banana and add the milk cream with it. Now add the oats in it and let it stand for 10 minutes. Finally mix all the three ingredients together and your pack is ready.
How to use
Simply apply this pack onto your clean face and let it set for 20-30 minutes, This pack will nourish your skin and can be ideal for adding glow to your skin during the winter season. After the time has passed, soak your hands in water and rub your skin lightly with the pack. Finally remove with excess water and you can see the glow the pack has added to your face.
Banana, milk and lemon face pack for instant fairness and glow
To get that party ready instant glow and fairness you can try out this easy Banana, milk and lemon face pack. These ingredients are most expected to be already in your home. All you have to do is to mix them in proper proportions and enjoy a small nap with the pack on your face. Here is how to prepare and use the pack,
What you will need
Banana – 1/2
Milk – 3 spoons
Lemon juice – 1 spoon
Cucumber juice – 1 spoon
How to prepare
Grate a cucumber and squeeze out the juice. Take the milk in a container and add 1 spoon of this freshly prepared cucumber juice into the milk. Then add the lemon juice and mix well. Finally smash the banana and add the milk, lemon juice and cucumber juice mixture with it. Using a mixer for this step can be most effective as that will ensure proper distribution of the ingredients.
How to use
Once the pack is ready apply it fresh onto your well cleansed skin. After application let it set for 15 minutes and then rub the pack lightly on your face with your damp hands before washing off with water. This pack can be most helpful in removing tan and hyperpigmentation on the skin, revealing a fresh and glowing complexion.
Mixed fruit pack with banana for skin glow
A mixed fruit pack made with banana can be a perfect treatment for your skin to get that special glow. The mixed fruit pack offers multiple skin benefits and also helps in fighting the signs of aging. It helps in banishing skin dryness naturally and gives a long lasting glow on the face. Read on to know how to prepare and use it.
What you will need
Banana – 1/2
Apple – 1/2
Tomato – 1/2
Papaya – 2-3 cubes
Green grapes – 5-6
Brandy – 2 spoons
How to prepare
Take all the above fruits and wash them clean. Now put these fruits in a pressure cocker and place it on the oven for 10 minutes, on medium flame. Do not add any water in the pressure cooker. After 10 minutes, turn the oven off and let the cooker cool down on its own. Once the cooker has cooled completely, open the lid and take out the fruits along with any juice that has come out of the fruits, in a clean glass bowl.
Now smash all the fruits together and once the pack is completely cold add 2 spoons of brandy to it and let it set in the freeze for the night in a covered glass jar. In the morning strain the pack a little and collect some juice from it, so that the pack is drier and can stick better to the face.
How to use
First make sure that your face is properly cleansed before using this pack. It is best to exfoliate your skin after cleansing before using this moisturizing pack on your face. Before you apply the pack, take some of the extracted juice in your hands and massage your skin lightly with it.
Now apply the pack onto your face and if needed, add some Fuller's earth powder with the pack to increase its stickiness on the skin. Let the pack set for 30 minutes at least and then remove. Wipe your face with a damp wash cloth but do not wash off with water. You should wash off your face with excess normal water after 30 minutes of removing this pack.
Banana and Aloe Vera pack for instant glowing skin
Aloe Vera is a rich natural source of Vitamin E and a bunch of other skin nourishing ingredients that can make your skin glow naturally. When added with banana and a few other ingredients, the resulting pack can do miracles for your skin. To get glowing skin quickly, try out this homemade face pack,
What you will need
How to prepare
Take a fresh Aloe Vera leaf and scrap out the pulp. Grind it into a smooth paste for using in this pack. Take the almonds and crush them without adding any water. Now take the banana and smash it along with the Aloe Vera pulp to make a homogenous mixture. Add the crushed almonds on the top of it and finally add two drops of carrot seed oil. Mix the ingredients properly and your pack is ready to apply.
How to use
Use this Homemade Banana Face mask for Glowing Skin only after cleansing and preferably scrubbing your face. Apply the pack in an even layer and leave on for 20-30 minutes. Then first remove it with a damp washcloth. Live on for another 30 minutes and then wash off with plain water. You should not use Carrot seed oil in the pack if you are allergic to it.
Frequently Asked Questions
This FAQ section will answer your common queries about the Homemade Banana Face Masks for Glowing Skin,
FAQ #1 Who can use Homemade Banana Face Masks for Glowing Skin?
The homemade banana face masks described above are completely safe for use on any skin type. However, if you have allergies from certain ingredients, like milk, Vitamin C, tomato or anything else used in the pack, it is best that you keep that particular ingredient out of the preparation. Also opt for a patch test before using the pack on a wider area of the face if you are not sure about the ingredients you are allergic to.
FAQ #2 Who can get the best benefit of these Banana face masks?
Everyone, irrespective of their skin type and age, can be benefited by using these homemade masks regularly. However, some of these masks might not be suitable for extremely oily skin, particularly during hot and humid summer days. If you have dry skin, you can enjoy most of the benefits of these glowing face masks made with banana.
FAQ #3 How often should I use these packs for best results?
Using these packs once a week is enough to keep your face glowing. You can use these treatments right before going for a special occasion to get that instant glow. Using these packs routinely will ensure that the glow on your skin becomes permanent and will also give your skin all the anti-aging benefits.
FAQ #4 Shall I use these packs if I have acne?
Banana, particularly the skin of banana can be very helpful to control acne. A pack made only with banana can also be an effective acne healer. Many of the packs mentioned above that do not contain any oil or cream based ingredients can also be used effectively on skin with acne to get the best results. However, some of the above packs include a number of oily ingredients along with banana and these ingredients might not be ideal to apply on skin that is already suffering from acne.
FAQ #5 Will these packs help if I have sun tan?
These Homemade Banana Face Masks for Glowing Skin can be very effective to remove sun tan as well. The ingredients of these packs nourish the skin and also help in controlling hyper pigmentation and uneven skin tone. So, if you have sun tan, these packs can give you double benefits by removing the tan and also adding glow to the skin.