Of course you want your teeth to be white and your breath to smell sweet, but that's not the only reason to take care of your teeth and gums. You oral hygiene impacts your overall health. Research shows that inflamed gums from gum disease lead to generalized inflammation. This increases the risk of other health problems such as stroke, type 2 diabetes and heart attacks. That's why it's important to keep your teeth and gums healthy and disease -free. Fortunately, lifestyle and dietary habits play a key role in the health of your mouth. With a little preventive care, you can have healthy gums and teeth for life.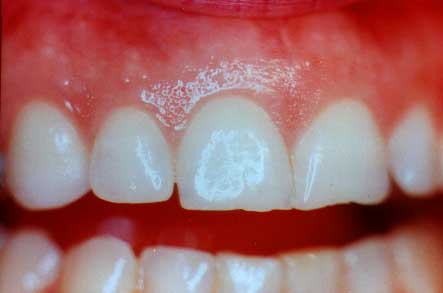 For Healthy Teeth and Gums, Practice Preventive Care
Follow the guidelines recommended by the American Dental Association to keep your teeth and gums healthy. Brush with a fluoride-containing toothpaste twice a day, and floss at least once daily to remove plaque that can lead to gum disease. Flossing removes food particles and plaque between teeth that a toothbrush can't reach. Fluoride prevents dental caries and helps to re-mineralize teeth. Use a toothbrush with soft bristles, and replace it every three months or when the bristles look worn. Get a professional cleaning to remove tartar build-up around teeth, and identify any tooth and gum problems before they seriously impact your health.
Avoid Eating Foods and Drinking Beverages That Contribute to Tooth and Gum Problems
Plaque is a sticky bacterial film that forms along the gum line. When plaque bacteria are exposed to sugar, they produce acid that damages tooth enamel and leads to dental caries and gum disease. That's why it's important to limit the amount of sugar in your diet.
Soft drinks and energy drinks are particularly harmful to teeth and gums not only because they contain large amounts of sugar but because they're acidic enough to erode away a tooth's protective enamel covering. As the acid in these beverages dissolves away tooth enamel, it reveals more of the dentin underneath. This causes teeth to look yellow and discolored.
Acid erosion also makes teeth more susceptible to cracking and increases tooth sensitivity, but soft drinks and energy drinks aren't the only culprits. Fruit juice, vinegar and wine are other common beverages that damage tooth enamel due to their acidity. Avoid these beverages as much as possible. If you drink them, wait at least an hour before brushing. The acid in these drinks temporarily softens tooth enamel and makes them more susceptible to damage. Rinse your mouth with water instead.
Foods That Promote Healthy Gums and Good Oral Hygiene
Some food and drinks help to keep your teeth and gums healthy. Green tea slows down the growth of bacteria that cause dental caries and gum disease, but white tea has even stronger anti-bacterial properties, which helps to remedy bad breath caused by mouth bacteria. Tea also contains tooth-protective fluoride. On the down side, tea can temporarily stain teeth, but these stains can be removed with a professional cleaning. Herbal teas don't have the same benefits. In fact, some herbal teas are acidic enough to damage tooth enamel.
Some research shows foods containing "friendly bacteria" called probiotics reduce the number of bacteria in the mouth that cause tooth decay.  Yogurt that contains active cultures is a good source of probiotic bacteria, although it's important to choose a variety that's low in sugar. A study published in the Journal of Dentistry found children who ate greater quantities of yogurt had a lower incidence of dental caries. This wasn't true of other dairy products such as milk and cheese.
Foods with a high water content like raw fruits and vegetables also promote healthy gums and teeth by diluting out some of the acid produced by mouth bacteria that contribute to dental caries.
Other Tips for Healthy Gums and Teeth
Check your medications. Some medications including common ones like antihistamines used to treat allergy symptoms reduce the flow of saliva, which makes it easier for mouth bacteria to proliferate and cause problems.
Stop smoking. Smokers are more susceptible to gum disease and dental caries. To reduce tobacco cravings, chew sugar-free gum that contains xylitol. This sweetener used in some other sugar-free foods as well seems to protect against dental caries.
The Bottom Line?
Good oral hygiene is important not only for healthy gums and teeth but for overall health. Follow these guidelines to keep your "pearly whites" and your gums in tip-top shape for life. For more information you can visit The Dental Clinic