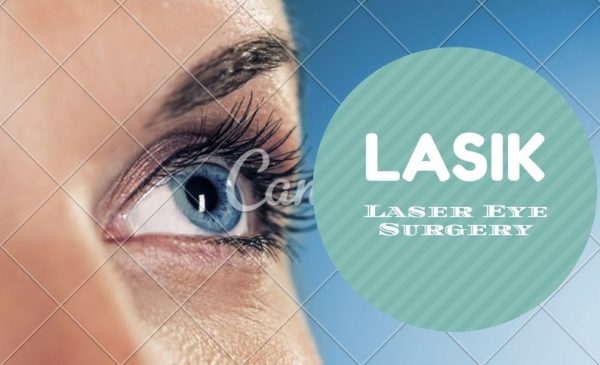 LASIK or Laser, In-Situ Keratomileusis is a common surgery used for correcting vision in those suffering from nearsightedness, farsightedness or astigmatism. LASIK implies the use of a laser surgery to reshape the cornea. The laser beam is applied in situ beneath the corneal flap. The procedure utilizes a specialized laser known as the excimer laser to correct refractive errors. This surgery also improves vision and checks the need for glasses or contact lenses. It changes the shape of the cornea, which is the transparent front covering of the human eye. The excimer laser has been used for many decades now. The LASIK surgery was specifically credited to Ioannis Pallikaris, a Greek inventor around 1991.
Procedure
Before: How to Prepare
Before the LASIK eye surgery is carried out, you generally meet a coordinator or the surgeon to agree regarding the procedure. Following this, your medical history is assessed, and the eyes are completely examined. Initial tests include refraction, corneal thickness, air pressure, corneal mapping, and pupil dilating. Once the initial assessment is completed, the surgeon will ask for any queries you may have. If rigid permeable contact lenses are worn, they should be left out at least three weeks prior to the evaluation. Other kinds of lenses should not be donned three days before the evaluation. Check with the surgeon by showing your glass prescription for review.
On the appointed surgery day, a light meal should be consumed before going to the doctor and taking prescribed medications. Eye makeup should not be worn. Neither should there be bulky accessories in the hair that interfere with head positioning.
What Happens During the Surgery?
During a LASIK process, a trained and skilled eye surgeon performance the surgery by creating a precise, corneal flap through the use of a micro-keratose. The flap is pulled back to reach the underlying corneal tissue and the reshaping of the cornea in a pre-specified unique pattern for each individual. The gentle repositioning of the flap follows onto the cornea. No sutures are needed.
The micro-keratome (also known as the femtosecond laser) creates a thin flap in the cornea. Once the cornea is reshaped, it can focus light onto the retina. Once the flap is positioned back, the surgery is over. The LASIK surgery does not require general anesthesia– local will do. Patients may also need mild sedatives and support after surgery.
Kinds of Surgery for Correcting Refractive Error
Wavefront Optimized LASIK
Wavefront-optimized LASIK refers to the type of laser surgery which uses wavelength laser. The surgery is carried out based on factors like:
Glass prescription
Corneal Curvature
Thickness
This form of refractive surgery applies energy in a unique fashion to the corneal periphery. Laser reduces complications such as glares, halos and night based vision problems characteristic of conventional treatments. This type of LASIK surgery is also referred as custom or wavefront LASIK. The advantage of this variant is that not only is the basic refractive error of the patient corrected, higher order visual problems can also be treated. In wavefront-guided LASIK, a special mapping is needed prior to surgery for irregularities in the optical system of the patient. The factors can impact:
Night vision
Contrast Sensitivity
Vision Quality
Significant irregularities in the wavefront mapping can be corrected using this type of LASIK surgery. Treatment is on the basis of generation of the wavefront map.
Other types of refractive surgeries include advanced surface ablation, phakic intraocular lenses, conductive keratoplasty, inter corneal ring segments. These laser vision correction surgeries work by reshaping the cornea. LASIK is one of many refractive surgeries to correct the shape of the cornea.
Advantages of LASIK Surgery
The first and primary consideration is that LASIK surgery works really well to correct vision. Close to 96% of the patients get their desired vision following LASIK. LASIK surgery is also extremely pain-free. Vision is corrected immediately or the day following LASIK. No bandage or stitches are required once LASIK is completed.
Adjustments can be carried out after LASIK to further correct vision, with changes in age. Once LASIK surgery is carried out, patients may even no longer need eyeglasses or contact lenses. Though LASIK surgery is technically complex, very few risks are associated with it.
Recovery & Side Effects
Recovering from LASIK surgery in the first 1 day to 2 days is sometimes associated with discomfort. Side effects, if any, are extremely rare. These include glare, seeing halos around images, difficulty at driving in the night, fluctuation in vision and dry eyes.
Following LASIK surgery, eyes will dry up though they do not feel that way. Prescription eye drops will be needed to counter infection and inflammation. Eyedrops should keep your eyes filled with the right amount of moisture. Drugs may cause slight blurring or burn when used. Only use eye drops prescribed by your eye doctor. Rapid healing takes place after LASIK eye surgery. For a few days following the surgery, the vision may be hazy and blurry. Follow-ups will be based on the decision of your surgeon, though generally the doctor is revisited for evaluation 24-48 hrs after the surgery. The surgeon also reviews the situation within the beginning 6 months at regular intervals.
LASIK along with PRK and LASEK has high success rate and assured safety. Treating myopia, hypermetropia and astigmatism are now easy. Live without glasses or contacts with LASIK surgery to see you through. Loss of vision from this surgery is extremely rare. Side effects and surgery complications, if any, can be resolved with extra surgery or medical care.
There are potential risks and side effects you should be aware of, though. Choose a skilled and experienced LASIK eye surgery expert for the best outcomes. He/she should perform the evaluation carefully including checking the shape and thickness of the cornea to check for dry eyes. General health and medical history, as well as medications being taken, are considered. But not every person is a suitable candidate for LASIK eye surgery. Specific conditions and anatomical factors can raise the risk of unwanted outcomes or limited LASIK results. This can range from thinness and irregularity of cornea to large pupils. High refractive error, unable vision, and dryness in the eyes can also be deterrents. Complications are more likely with advanced age, pregnancy and certain autoimmune disorders like lupus.
LASIK eye surgery was introduced more than 2 decades ago. It is one of the safest eye procedures with serious complications below 1 percent. The top candidates are those with mild to moderate vision problems and adequate corneal thickness. It takes 10 minutes per eye and results in 20/20 vision without glasses or contact lenses. Recovery time is a few weeks to several days for the stability of vision.
Side Effects and Risks
Slight, short-lived discomfort and vision problems may result. Discomfort may occur post surgery such as mild irritation and light problems. This is normal and expected. Halos, star-bursts, and glares in low lit environments, dryness of the eye and hazy vision ,as well as reduced sharpness of visual acuity, may be noted. Such problems generally go away by 3-6 months.
Flap difficulties can result if the LASIK is not performed correctly. It can fail to stick to the surface of the eye or striae; fine wrinkles could also develop in the flap. These flap complications cause optical aberrations and distortions in vision. Flap problems impact less than 0.3 to around five percent of all such procedures.
Irregular astigmatic vision may result, caused by lack of equality in the curved corneal surface. This occurs from laser correction not centered effectively or from the wrong type of healing. Re-treatment or additional surgery may be needed in such cases. Another problem that can take place is the ingrowth of the epithelium. This ingrowth is self-restricted and causes no discomfort generally. But, blurred vision can be occurring, and surgery may be needed to lift the flap, removing the epithelial cells.
Diffuse lamellar keratitis or DLK results when swelling that is uncontrolled occurs after surgery. This can even lead to vision loss. It may require the use of steroids and antibiotics to cure. The flap may also need to be surgically cured.
Keratoconus may also result, from the uncommon bulging of the surface of the eye that can take place if the tissue is removed from the cornea before the surgery and it is weak. Post the surgery; it is not a risk factor. Dryness of the eyes can result in temporary dry eye syndrome. Dry eye problems go away once the eye's healing is complete.
Significant overcorrecting, under correcting or regression can be a rare scenario post surgery. Less than perfect outcomes may include lack of response to laser eye surgery in known ways. Additional laser vision corrections may be needed in such cases.
Eye infections rarely occur post surgery. Medicated eye drops are a must, however. Oversize pupils, haze visual aberrations, irregular flap and dry eyes can be some of the side effects for which further treatment and/or surgery may be needed. If you need any help on LASIK Laser Eye Surgery, please visit Eye7 Hospital.